19 August 2013
As a historian I'm spending much of my time in archives and libraries. Carrying huge folios or maps is the only physical activity involved in that – but sometimes my research takes me to other (maybe slightly more exotic) places.
I've just come back from an extraordinary trip to Ecuador and Venezuela where I followed the footsteps of Alexander von Humboldt for my new book 'The Invention of Nature'. Armed with transcriptions of Humboldt's letters and diaries – which were of course mostly done in the British Library – I climbed in the Andes, paddled down the Orinoco and got soaking wet in the Llanos.
From 1799, for almost five years Humboldt travelled through South America, Mexico and Cuba – I had only 15 days (and I skipped Mexico and Cuba). I went to the archives in Quito where I saw Humboldt's passport from the Spanish king and many of the drawings he did while in South America. I saw river dolphins swimming in the Orinoco and capybaras playing in the flooded plains of the Llanos. Tarantulas were our breakfast, lunch and dinner companions – not quite what I'm used to in the Rare Books Reading Room in the British Library.
Most exciting of all, however, were the Andes. Humboldt spent months and months climbing along the mountain chains and valleys, gathering material for his new vision of nature. When he reached Quito in early 1802, he systematically climbed every volcano nearby. He crouched on a precariously small rock ledge on the Pichincha to stare into the deep crater, on the Antisana he encountered rain and wind so vicious and cold that it felt like ice–needles piecing his face, he tried (but failed) to reach the perfectly cone–shaped summit of the Cotopaxi and then went up the Chimborazo (then believed to be the highest mountain in the world).
I tried to do some of this – I got to the crater rim of the Pichincha, but no way I was going to hang over that ledge! On the Cotopaxi we were enveloped in thick fog and didn't see a thing. My fabulous guide Juan Fernando Duran Cassola found the hut on the Antisana at 4000m where Humboldt spent a miserable night before climbing the volcano. Standing there last month on a clear sunny day with the glorious snow–capped peak of the Antisana behind us and four majestic condors circling above, we were suddenly surrounded by a herd of wild horses. Research can't get better than that – or, so I thought … until we went up the Chimborazo.
It was on the Chimborazo that Humboldt's vision of nature as a unified whole came to a conclusion – a web of life in which everything was connected. For Humboldt, climbing the Andes was like a botanical journey which moved up from the equator to the poles – the whole plant world seemed to be stacked up on top of each other. The zones of vegetation ranged from tropical plants to the snow line near the peak. There were palms and humid bamboo forests in the valleys, and further up conifers, oaks, alders and shrub-like berberis similar to those in the European and northern Asian climates.  Higher still, Humboldt encountered Andean zones with alpine plants, many of which were similar to those he had seen in Europe. With 'a single glance', he said, he suddenly saw the whole of nature laid out before him.
As we scrambled up the barren slopes of the Chimborazo with the air getting thinner and every step getting harder, I couldn't imagine how it must have been for Humboldt. At least I had seen photographs of the Andes before I went there, but here was Humboldt, a former Prussian mining inspector, dressed very inappropriately for such a climb and carrying his instruments up the volcano. Every few hundred feet, for example, he would measure the boiling point of water, he measured the blueness of the sky and bottled air to investigate the chemical components. Madness. I was wearing proper hiking boots and only a little rucksack with some food, extra clothes and water (and didn't have to camp outside) but still every step was exhausting.
When we reached 5000m (the highest base camp today on the Chimborazo) we stopped – less than 1000m below where Humboldt went. The clouds came rolling in while we were bathed in sunshine. This really felt like being at the top of the world – and very close to Humboldt.
Andrea Wulf is an Eccles Centre Writer in Residence for 2013.
05 April 2013
No, nothing to do with Kerouac this time. It's conference season again and we've been busy sorting ourselves out in an effort to get to the major annual gatherings.
The British Association for Canadian Studies conference Crediting Canada: Canada as an economic world leader? has already kicked off at Canada House. Sadly Phil is unable to get to all of it but he will be putting in an appearance today, when the conference transfers to the British Library. And Professor Phil Davies, Director of our Eccles Centre, will also be around and will introduce Professor Rosemary Chapman's Eccles-sponsored Lecture From Cannons to Canon: Writing the Literary History of Francophone Canada. 
Next up it's the Society for Latin American Studies conference at the University of Manchester, and we're pleased to report that it's luckily happening just before Beth goes off on maternity leave! She will be attending on Friday 12th April and has convened (and will be chairing) the panel Peasants, Liberalism and Race in the Americas, which will feature speakers from Chile, Peru, Mexico, the U.S. and the University of Zurich.
And finally, Matt, Carole and Phil Davies will be 'Heading West' for the 58th annual conference of the British Association for American Studies, to be held at the University of Exeter, April 18-21.  As usual, Matt and Carole will have to arrive promptly as the BAAS Library and Resources Subcommittee session is up first, with Jane Rawson (Bodleian Library) on "A resource for American Studies students@: simply delicious," and Martin Eve (University of Lincoln) on 'Issues Surrounding Open Access.' The rest of the programme is as packed and diverse as ever (with no doubt the inevitable infuriating panel clashes), but we're particularly looking forward to the Eccles Centre lecture by Professor Paul Gilroy on Race and Racism in the 'age of Obama,' not to mention the Gala Dinner and Awards Ceremony, which will include the announcement of all the Eccles Fellowships.
So, if you're attending any of the above, look out for us and come and say hello. We're happy to talk to you about your research and how the British Library's collections might help you.
We should also flag up that there are a lot of Eccles events coming up over the next couple of months. Immediately after the BAAS conference we have an exciting one day film-related conference Movies for Hard Times: Hollywood and the Great Depression, which is organised in collaboration with UCL's Institute of the Americas, but there's also much more to look forward to. You can find the full listing of Eccles events here.
[C.H.]


15 March 2013
The British Library has recently acquired a fantastic digital resource on Latin America: 'Latin American Newspapers 1805-1922'. This database includes over forty titles and tens of thousands of digitised issues of Latin American newspapers from across the region – Mexico, Central America, the Caribbean, Brazil and the Southern Cone. You can find the resource on the Library's e-databases page and registered readers no longer have to be in our reading rooms to get access!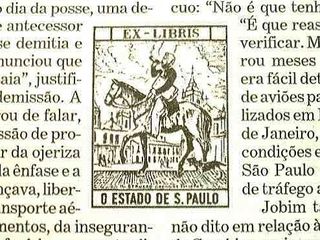 Detail from Estado de Sao Paulo. Image from Wikipeida.
In his seminal work Imagined Communities Benedict Anderson argues that newspapers, and the spread of newspapers in Latin America in particular, were the cornerstone of the formation of the modern nation. And you will find in this collection contemporary accounts of the struggles for independence, nation building, and the abolition of slavery in Latin America. So whether here at St. Pancras or at home, login and enjoy a fascinating read!
[ENC]
04 March 2013
I'm in Stockton, California to do some research on the American (Scottish–born) naturalist John Muir, who is today known as 'Father of the National Parks' in America. Here at the Holt–Atherton Special Collections at the library of the University of the Pacific they have the most amazing Muir collection, including his letters, journals, notebooks and much more. Michael Wurtz, the wonderful archivist here, gave me a special tour of the collection and I would like to share one of the treasures with you – one of Muir's letters, written in autumn 1870 to Jeanne Carr during an excursion in the Yosemite.
It's my favourite Muir letter. I had read before because Muir's correspondence is online.But to actually see the real thing was incredible because Muir wrote this rapturous love letter about the sequoias (those gigantic redwoods) with ink made of the sap of the trees. The writing still shines reddish purplish today.
Even the letterhead is fabulous 'Squirrelville, Sequoia Co, Nut time'


John Muir Papers, Holt-Atherton Special Collections, University of the Pacific Library. © 1984 Muir-Hanna Trust
And then Muir starts with: 'Do behold the King in his glory, King Sequoia. Behold! Behold!', rhapsodising about the magnificent redwoods. 'But I'm in the woods woods woods, & they are in me-ee-ee. The King tree & me have sworn eternal love - sworn it without swearing & I've taken the sacrament with Douglass Squirrell drank Sequoia wine, Sequoia blood, & with its rosy purple dress I am writing this woody gospel letter.'
Here is a man who is not afraid of just letting go when it comes to nature.
'I wish I was so drunk & Sequoical that I could preach the green brown woods to all the juiceless world, descending from this divine wilderness like a John the Baptist, eating Douglass squirrels & wild honey or wild anything, crying Repent, for the Kingdom of Sequoia is at hand'
And later on a little attack on politicians and 'civilised' people in general: 'living King-juice for all defrauded civilization' and 'sick or successful, come suck Sequoia & be saved'
You got to love this man. This was definitely one of those research days that I will never forget. And now I'm off to the Yosemite to get my own dose of being Sequoical.
Click here for the letter
 - Andrea Wulf, Eccles Centre Writer in Residence, 2013
16 January 2013
Andrea Wulf is one of our two Eccles Centre Writers in Residence for 2013.  She will be posting here throughout the year.
The year 2013 started perfectly because the wonderful Eccles Centre for American Studies very generously made me one of their Writers in Residence. Equipped with my new staff pass (and canteen pass), I took my residency in early January — in the Rare Books and Music Reading Room at the British Library.
I'm researching my next book 'The Invention of Nature. Alexander von Humboldt's New World' — a non–fiction book which tells the story of the German scientist and explorer Alexander von Humboldt (1769–1859) and how his visionary ideas of nature changed the way we see the world. On first sight that might not look very North American (i.e., as in the Eccles Centre for American Studies), but it actually is… because I'm looking at his influence on people such Henry David Thoreau, John Muir and Thomas Jefferson, among many others.
And though I read/work/research in the Rare Books reading room about a bunch of guys from the nineteenth century, it doesn't mean that I'm not finding stuff which could have been written yesterday. Take last week – I had complained to a friend that a newspaper had recently changed a couple of my sentences in my piece without telling me. My friend reminded me of that fabulously outrageous Giles Coren email to his editor at the Times, in which Coren exploded over a deleted 'a'. The next day I was in the Library, reading Henry David Thoreau's Correspondence when by sheer coincidence I came across an equally furious letter which Thoreau had written in 1858 to his editor at the Atlantic Monthly.

Henry David Thoreau, by Samuel Worcester Rowse (www.walden.org/Institute/Images/VII.%20Rowse.jpg) [Public domain], via Wikimedia Commons
Having discovered that one of the sentences in his article had been deleted in a 'very mean and cowardly manner', Thoreau dashed off a letter that will still delight many writers and journalists today. 'I do not ask anybody to adopt my opinions, but I do expect that when they ask for them to print, they will print them, or obtain my consent to their alteration or omission', he wrote. First it seems as if he was still trying to control his anger somehow but by the last paragraph Thoreau explodes into this sentence: 'I am not willing to be associated in any other way, unnecessarily, with parties who will confess themselves so bigoted & timid as this implies'. And it goes on.  He never wrote for the Atlantic Monthly again (at least as long as the editor James Russell Lowell was in charge). So, a hurrah to Thoreau and to the serendipity of research.
— Andrea Wulf, Eccles Centre Library Writer in Residence 2013
25 October 2012
I am in Philadelphia at the moment, spending four weeks at The Library Company thanks to a short-term fellowship.  While I'm here, I'll try and post the occasional update, partly about Philadelphia and the U.S. (it is election month, after all) and also about some of the research I'm doing on the production and consumption of early American newspapers.
There are a number of Fellows here at the same time, and the Library has a very sensible tradition of a regular seminar in which we present our programme of work. I heard about a fascinating project to follow how the image of Confucius was spread and shaped in the Antebellum period, and spent twenty minutes talking through my own project.  However, I couldn't help but have my attention drawn to something that was starting me in the face in the bookshelf on the left: a golden lion's face.
This was the famous 'Lion's Mouth' suggestion box, introduced by Benjamin Franklin as one of the founders of the Library in about 1750.  You can see a picture of it here.  The text reads, 
GENTLEMEN
ARE REQUESTED
To deposit in the 
Lion's Mouth
THE
TITLES OF SUCH BOOKS
As they may wish to have
IMPORTED
I am rather jealous of this.  At the British Library, we welcome suggestions for acquistions (from Gentlewomen as well as Gentlemen), but by the far more prosaic method of an email to americas@bl.uk or via the Reading Rooms' 'pink slips' as they are known.  I hereby start a campaign for the St Pancras equivalent of the Lion's Mouth.  But what creature would be suitable for our own reading room?
Suggestions below, or Tweet them to @_Americas.
[M.S.]
13 June 2012
Team Americas' intern, Brendan, has been using the Library's early American science materials, here's what he found: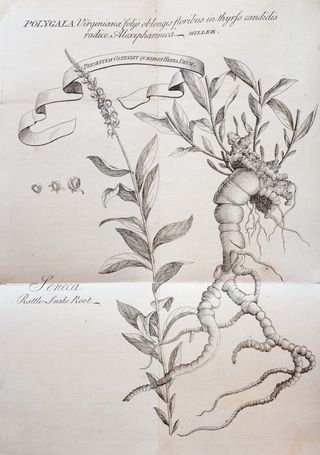 A botanical illustration of Seneca Rattlesnake Root printed in 'An Epistle to Dr. R. Mead Concerning the Epidemical Diseases of Virginia …' (1738) [BL Shelfmark 1170.f.13]
Every once in a while, you stumble across something that really catches your attention.  Perhaps it stirs up a memory, excites a childhood interest or fulfils a passing curiosity.  For me, it was a combination of all of the above.  I had the pleasure of coming across a rather nondescript book in a long list of early American science-related materials that the Library houses, which contained fascinating primary medical research for a wonder-drug that found its way into the hands of an American physician via the Seneca First Nations.
In 'An Epistle to Dr. R. Mead Concerning the Epidemical Diseases of Virginia …' [BL Shelfmark: 1170.f.13], published in 1738, Dr. John Tennant set out to demonstrate the real and potential benefits of providing preparations of Seneca Rattlesnake Root to patients suffering from diseases of the lung.  While the Seneca First Nations have used the root as a cure for venomous rattlesnake bites for centuries, Dr. Tennant, having seen the treatment in action, noted similarities between some of the symptoms of a snakebite and the respiratory diseases which plagued Virginians (namely pleurisy and peripneumony).  As a result, he predicted that an infusion of the root might yield positive outcomes in both cases.  He tested his hypothesis directly on his patients with careful consideration of their well-being and was met with some spectacular results.  Some of the stories that he includes are exciting to say the least, with near misses and great triumphs! 
This book provides a wonderful, and fairly easy-to read, snapshot of European medical practice in the Americas at the beginning of the eighteenth century.  Along with the application of the root infusions, Dr. Tennant explains how this new treatment fit into contemporary medical theory, discussing it in combination with bloodletting and taking the cardinal humours into consideration.  This document and others like it in the Library's collections not only provide us with a window into eighteenth century science, but also serve as an ethnobotanical record outlining the uses of exotic plants and their relation to indigenous knowledge.  It highlights the First Nation's willingness to share ancient information and collaborate with the settlers.  This book can be seen as a bridge between cultures, linking Europe to the Seneca and other First Nations groups.
At around the time that this book was published, Seneca Rattlesnake Root was arriving in Europe for the first time.  It would later become a mainstay of the nineteenth century pharmacist's cabinet as a treatment for pneumonia.  Today, it is harvested in North America by the First Nations and sold all over the world to ease the symptoms of respiratory ailments.  It regularly appears as an ingredient in cough medicines and in drugs produced to treat bronchitis and asthma.  For additional information visit the Government of Canada's 'Seneca Snakeroot' information page here.
[BAC]
Americas and Oceania Collections blog recent posts
Tweets by BL_Americas
Other British Library blogs