22 January 2022
Today we celebrate the 30th anniversary of Dr Roberta Bondar blasting off from the John F. Kennedy Space Center and becoming Canada's first female astronaut and the world's first neurologist in space!
Bondar had dreamt of this moment from an early age. As a child she showed an aptitude for science and when she was around 12 years old her father built her a laboratory in their basement. Following high school, she obtained a Bachelors degree in Zoology and Agriculture, a Masters degree in Experimental Pathology, and a PhD in Neurobiology. She became a medical doctor in 1977 and was admitted to the Royal College of Physicians and Surgeons of Canada (in neurology) in 1981.
When Canada's National Research Council set up the Canadian Astronaut Program, Bondar immediately signed up. She was selected in December 1983. In 1986 the Challenger disaster threatened the entire space shuttle programme. However, a three-year investigation resulted in its revival and in 1990 Bondar learned she would be the next Canadian astronaut to go into space. 1
Along with six colleagues, Bondar was on board the Space Shuttle Discovery from 22 - 30 January 1992 as part of the first International Microgravity Laboratory mission - the precursor to the International Space Station. The main goal of the mission was to study the effects of microgravity on a variety of organisms and the physiological changes that occur in a weightless environment. As 'Payload Specialist 1', Bondar conducted over 40 advanced experiments for 14 countries. Many of these focused upon the effect of weightlessness on the human body - for example, on eye motion, the inner ear, the elongation of the spine and back pain, and energy expenditure during a spaceflight. Others explored the effects of microgravity on other life forms, including shrimp eggs, lentil seedlings, fruit fly eggs and bacteria. 
Bondar's ground-breaking work enabled NASA to better prepare its astronauts for long stays on the International Space Station. Following her career as an astronaut, she collaborated with NASA and led a space medicine research team investigating the neurological symptoms seen after spaceflight and their connections to neurological illnesses on Earth, including Parkinson's disease and stroke. 
After many years working as a scientist, Bondar forged a new path and became an Honours student in Professional Nature Photography at the Brooks Institute of Photography in California; here, she was profoundly influenced by the work of renowned American photographer, Ansel Adams. She later created the Roberta Bondar Foundation and writes of this transition:
It took time, considerable reflection and detailed planning to build a Foundation focused on two of my passions, the environment and education. Following the razor-sharp focus and discipline involved in being an astronaut and scientist, I chose to apply my love of photography to foster sustainable development. Few get to view our earth from space. It puts unimaginable perspective on life and our stewardship of the planet. I made it the catalyst to a new career. My camera lens is my way of giving back in exhibits, seminars, schools across Canada and overseas.
For her book Passionate Vision: Discovering Canada's National Parks (Vancouver: Douglas & McIntyre, 2000; British Library shelfmark LB.31.b.21551), Bondar photographed Canada's 41 national parks from Gwaii Haanas in the west to Terra Nova in the east, and Point Pelee in the south to Quttinirpaaq in the north; the book includes 100 of her photos as well as six images from space.
Now in her mid-70s, Roberta Bondar remains tireless in her commitment to environmental and scientific education and to deepening humanity's love for planet Earth. She is an Officer of the Order of Canada, a Specially Elected Fellow of the Royal Society of Canada, holds the NASA Space Medal and has her own star on Canada's Walk of Fame. 
Footnotes:
1. On 5 October 1984, Marc Garneau became the first Canadian to go into space; he went on two further missions in 1996 and 2000. Roberta Bondar was the second Canadian in space.
17 November 2021
With COP26 now over in Glasgow, I have looked to the Library's Oceania collections for examples of book artists tackling some of the themes under discussion by world leaders during this crucial conference. The items selected use creative responses to recollect, witness, and foretell the impact of climate change in the Oceania region and beyond.  
Carbon Empire by Allan McDonald 
A primary goal of COP26 was to secure global net zero emissions by the middle of this century and keep the target of limiting global warming to 1.5 degrees. Getting anywhere near to achieving this aim will require radical change and commitments from countries around the world to limit deforestation, phase out coal for renewable energy, and switch from petrol and diesel to electric cars. Allan McDonald's 2017 photobook, Carbon Empire (YD.2020.b.233), documents petrol stations across New Zealand in different stages of transition. The photographs capture the effect of a change in petroleum laws which forced many independent stations out of business - weeds flourish where petrol pumps once stood, for sale signs replace advertising logos, and a full car park is more reminiscent of a graveyard than a sign of prosperity. And so, the images also offer a vision of a world where petrol stations have fallen out of use and lie abandoned to become rusting monuments of the past. 
Witness by Clyde McGill
Our reliance on fossil fuels and its impact on Indigenous cultural heritage is explored in Clyde McGill's monumental book, Witness (HS.74/2407). The Australian artist travelled to Murujuga (Burrup Peninsula), northern Western Australia to see the petroglyphs, or rock art, first created by the Aboriginal people of Murujuga over forty thousand years ago and added to continuously until the nineteenth century when this community of artists was eradicated through European colonisation. There are between 1-2 million petroglyphs depicting thylacines, megafauna, ceremonies, human faces, and geometrics on this site which is considered the largest continuous rock art gallery of its kind. Yet this part of northwest Australia is also home to massive iron ore, oil, coal, mineral and gas reserves, and when McGill visited prior to creating the book in 2016, this highly significant cultural heritage site was at risk of destruction from large-scale mining operations. Witness doesn't attempt to document the petroglyphs, but rather records the artist's experience of his visit to the sacred site through a collection of visceral and confronting paintings, handwritten notes, and performance. 
Stolen Waters by Marian Crawford and Peter Lyssiotis
The damage wreaked by the extraction of fossil fuels is similarly interrogated in Stolen Waters (RF.2018.a.87), a collaboration between Australian book artists Marian Crawford and Peter Lyssiotis. This compact 2013 artists' book examines the environmental damage to our waterways from mining. The names of major disasters are emblazoned on the pages including the BP Deepwater Horizon oil spill in the Gulf of Mexico in 2010, and the OK Tedi Mine disaster during the 1990s in Papua New Guinea. This accusatory typography is in stark contrast to the black and white images of a jellyfish suspended in a dark sea (or is it an oil slick?). 
Picturing the Island by Marian Crawford
A further goal of COP26 was to protect the communities and ecosystems most affected by climate change, including the Pacific Island region; an early and increasingly visible victim of the climate crisis with much at stake in the outcome of COP26. Rising sea levels here are already contaminating fresh water supplies and agriculture, and threatening to engulf many of these small island nations, including Kiribati; a set of low-lying islands in the central Pacific Ocean. Artist Marion Crawford spent her childhood on the island of Banaba (previously Ocean Island), part of the nation of Kiribati where her parents worked for the British Phosphate Commission (BPC). The BPC managed the mining of the island's phosphate resources until these were exhausted in 1979. The environmental impact of extensive mining has left the Banaba Islanders without fresh water sources and reliant on a desalination plant for clean water. Crawford's 2016 photobook, Picturing the Island (RF.2017.b.99), uses colonial archival material, including text in Gilbertese and English and photopolymer prints, in juxtaposition with her own memories to reflect on the changes, including environmental damage, undergone by her childhood home. 
Miami Underwater by Bronwyn Rees
The topic of global warming and rising sea levels is similarly interrogated in Bronwyn Rees' Miami Underwater. Rees is an Australian printmaker whose richly textured work explores landscape and wilderness, often depicting nature as an unforgiving force. Although her work is primarily focused on Australian landscapes, in 2014 she turned a city in the USA at the mercy of the encroaching sea to create Miami Underwater. This small handmade book has a strong environmental message and incorporates text extracts from Tony Davis' Underwater Cities (2011). The varying sizes and texture of the pages require careful handling of this item by the reader, lending a feeling of vulnerability. The overall effect is of a portent; the book feels as if you have just retrieved it from floodwater.  
Lucy Rowland, Oceania Curator
References
Crawford, Marian and Lyssiotis, Peter (2013) Stolen Waters. Victoria, Australia: Carbon, Masterthief. Shelfmark RF.2018.a.87
Davis, Tony (2011) 'Underwater Cities: Climate change begins to reshape the urban landscape' [Online] October 27, 2011. In Grist.org  Available at: https://grist.org/cities/2011-10-26-underwater-cities-climate-change-begins-reshape-urban-landscape/ 
Crawford, Marian (2016) Picturing the Island. Melbourne, Australia: Marian Crawford. Shelfmark RF.2017.b.99
McDonald, Allan (2017) Carbon Empire. Auckland, New Zealand: Rim Books. Shelfmark YD.2020.b.233
McGill, Clyde (2016) Witness. Fremantle, Australia: Clyde McGill. Shelfmark HS.74/2407
Rees, Bronwyn (2014) Miami Underwater. Melbourne, Australia: Bronwyn Rees. Shelfmark (awaiting shelfmark)
13 June 2012
Team Americas' intern, Brendan, has been using the Library's early American science materials, here's what he found: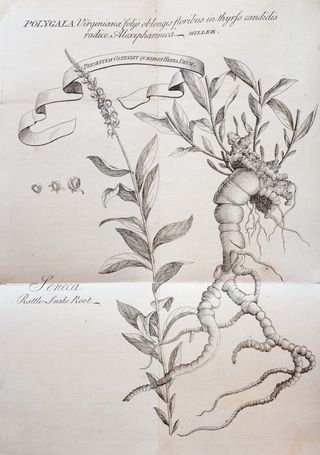 A botanical illustration of Seneca Rattlesnake Root printed in 'An Epistle to Dr. R. Mead Concerning the Epidemical Diseases of Virginia …' (1738) [BL Shelfmark 1170.f.13]
Every once in a while, you stumble across something that really catches your attention.  Perhaps it stirs up a memory, excites a childhood interest or fulfils a passing curiosity.  For me, it was a combination of all of the above.  I had the pleasure of coming across a rather nondescript book in a long list of early American science-related materials that the Library houses, which contained fascinating primary medical research for a wonder-drug that found its way into the hands of an American physician via the Seneca First Nations.
In 'An Epistle to Dr. R. Mead Concerning the Epidemical Diseases of Virginia …' [BL Shelfmark: 1170.f.13], published in 1738, Dr. John Tennant set out to demonstrate the real and potential benefits of providing preparations of Seneca Rattlesnake Root to patients suffering from diseases of the lung.  While the Seneca First Nations have used the root as a cure for venomous rattlesnake bites for centuries, Dr. Tennant, having seen the treatment in action, noted similarities between some of the symptoms of a snakebite and the respiratory diseases which plagued Virginians (namely pleurisy and peripneumony).  As a result, he predicted that an infusion of the root might yield positive outcomes in both cases.  He tested his hypothesis directly on his patients with careful consideration of their well-being and was met with some spectacular results.  Some of the stories that he includes are exciting to say the least, with near misses and great triumphs! 
This book provides a wonderful, and fairly easy-to read, snapshot of European medical practice in the Americas at the beginning of the eighteenth century.  Along with the application of the root infusions, Dr. Tennant explains how this new treatment fit into contemporary medical theory, discussing it in combination with bloodletting and taking the cardinal humours into consideration.  This document and others like it in the Library's collections not only provide us with a window into eighteenth century science, but also serve as an ethnobotanical record outlining the uses of exotic plants and their relation to indigenous knowledge.  It highlights the First Nation's willingness to share ancient information and collaborate with the settlers.  This book can be seen as a bridge between cultures, linking Europe to the Seneca and other First Nations groups.
At around the time that this book was published, Seneca Rattlesnake Root was arriving in Europe for the first time.  It would later become a mainstay of the nineteenth century pharmacist's cabinet as a treatment for pneumonia.  Today, it is harvested in North America by the First Nations and sold all over the world to ease the symptoms of respiratory ailments.  It regularly appears as an ingredient in cough medicines and in drugs produced to treat bronchitis and asthma.  For additional information visit the Government of Canada's 'Seneca Snakeroot' information page here.
[BAC]
13 March 2012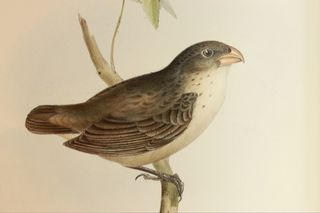 Illustration from the birds focussed volume of, 'The Zoology of the Voyage of HMS Beagle'
A couple of weeks ago I spent a Sunday afternoon at Down House, where Charles Darwin lived and wrote his famous works. Many things struck me that afternoon but the map of the Beagle's voyage reminded me that Darwin's journey is a piece of history which provides a link between all of us here in the Americas and Australasian Studies department. Duly motivated, I decided to do a short blog on the Beagle's presence in the Library's collections.
The British Library holds a lot of material which refers to or resulted from the work conducted by Darwin and others during the voyage of HMS Beagle. Not only are there many copies of, 'On the Origin of Species' but there are also less popularly know publications, such as Darwin's paper, 'The Structure and Distribution of Coral Reefs, etc.' (shelfmark: 07109.i.13). Amongst all of this, my favourite publication related to the expedition is, 'The Zoology of the Voyage of HMS Beagle' (which I also saw on display at Down House).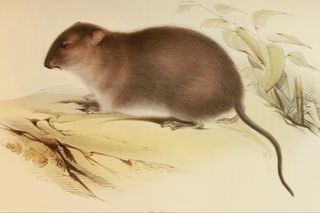 Illustration of Australia's Mus Fuscipes, from the mammals volume of, 'The Zoology of the Voyage of HMS Beagle'
'Zoology' is a detailed account of the animals and fossils encountered and collected during the voyage of the Beagle with each volume being drawn together by various authorities of the time. Between them, the five volumes provide accounts of the various specimens collected and are richly illustrated with examples from various parts of the voyage (although the lithographs of Galapagos finches are understandably the most eye catching).
The account also underlines the scope and scale of the Beagle's voyage and Darwin's collecting, neither of which were necessarily unique to the time but they do illustrate a globalised scientific process. Unfortunately, it's becoming something of a trend for me to blog about restricted items and once again the library's original 'Zoology' (shelfmark: 791.I.17,18) is on this list. However, there are also some very good reproductions available in the reading rooms, not least the Royal Geographical Society's 1994 commemorative edition (shelfmark: Cup.410.g.500).
[PJH]
28 October 2011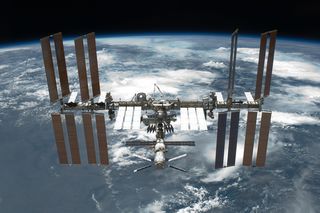 The International Space Station, May 2011
 Last night the Quebec Government Office in London hosted the event, 'An Evening in Space with Canadian astronaut, Julie Payette', at the Science Museum's Imax cinema, and Carole and I were invited along. The evening started with a screening of the rather awe-inspiring 'Space Station 3D'. Photographs and videos of space have been part of our visual heritage for a long time and have perhaps lost some of their early impact but the 3D effect and immersive screen reinvigorates the wonder of seeing the Earth from space.
The film is worth seeing, and Julie Payette's short lecture that followed was a treat for anyone who has even fleetingly wanted to be an astronaut. The emphasis of the talk was on how being in space opens up questions about how we relate to land on Earth and our own cultural differences. This was driven home by a great piece of 'it's Earth, but not as we know it' where photographs of parts of the world were shown in a different orientation from that which we would normally see and without any borders or human mapping. The effect of this re-imagining of familiar places was thought provoking and gave an insight into how being an astronaut must drastically change your world view.
One other thing that was mentioned which you may want to know: apparently, you can't see the Great Wall of China from space but you can see the Pyramids and the wake of ferries in the English Channel. It seems the contrast between light and dark is the main way of perceiving things from such an altitude, with the Wall not providing much contrast to its environment while the Pyramids and the bow wakes of ships do.
Finally, the evening drove home to me just how much of a presence Canada has in space, whether it be in the form of astronauts such as Julie Payette or equipment such as the 'Canadarm', a robotic arm used to manipulate loads from the Space Shuttles. You can find out more about Canada's activities in space via the Canadian Space Agency website and more about the International Space Station via the NASA site, or even through the British Library's own resources. I've just been bowled over by the amount of results returned by typing 'International Space Station' into Primo, with everything from books on building the station, to journal articles on experiments run there being available.
[PJH]
19 September 2011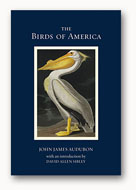 John James Audubon's Birds of America is undoubtedly a treasure but, it must be said, a bit unwieldy, especially in its double-elephantine folio.  Much handier is this new iPad version, which I spotted being announced on Twitter this morning.  It can be seen in its new habitat in two formats: the full, 'complete version', and the lesser-spotted 'highlights version'.  Both can be purcashed via eBook Treasures (along with other tomes, such as Blake's notebook).
More birds from the blog's backlist.
[MJS]
17 December 2010
Two of the things that happened this week were: (1) A Celebration of Swearing and Profanity, with participants from Viz and In the Thick of It, as part of our Evolving English exhibition; and (2) the launch of the Google Books Ngam Viewer Beta.  Important, sensible research has taken place on this corpus of words, as the New York Times has noticed, but I did what I suspect many others did and combined (1) and (2).
What did I learn?  Well, there is steady increase in the proportion of a word beginning with S, starting in the '60s, and plateauing in 1980s, before rising in the '90s.

A similar pattern is revealed by [f***]:

 
Except, there is more of a pronounced lull in the '80s, and its rise starts a little later.
Now for the C-word:

A little more random, a later start, but more of a backlash in the 1980s.  As a control, here's [Apple Pie]:

What explains this?  Can we tie it into a narrative of progressive easing up in censorship (or a decline in literary standards), followed by a backlash, perhaps lead by Reagan-era cultural politics and embodied by Tipper Gore's explicit lyrics stickers?  Does the line of the C-word graph point to the extra-layers of profanity attached to that epithet?  And what does it mean in terms of gender politics? I'm sure we'll here a lot more about this sort of research, not least as a starting off point for more in-depth enquiry and for raising questions.  That's my excuse.
Update: more in the Grauniad.
[M.S.]
08 October 2010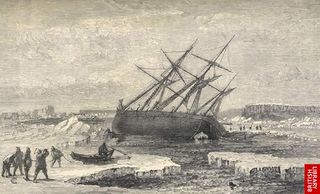 The voyage of the "Fox" in the Arctic Seas: a narrative of the discovery of the fate of Sir John Franklin and his companions / Francis Leopold McClintock. London: John Murray, 1859. BL: 10460.d.2.
 
Information about the Polar Regions is currently being accumulated in vast quantities by governments and scientific bodies across the globe. This is not a new phenomenon as the history of human interaction with the Arctic and Antarctic is one littered with paper, maps and other notations. The British Library collections are a significant repository of these materials, with holdings relating to the Arctic dating back at least as far as the sixteenth century. In the current geopolitical climate these materials can provide us with insights into how current interactions of government and corporate interests with the Polar Regions may develop.
The North West Passage has long been a subject of fascination to explorers, profiteers and geopolitically minded governments and the history of its exploration by British interests is well documented at the British Library. In sixteenth-century accounts of the search for a passage to the East via the north of the Americas, by the likes of Sebastian Cabot and Martin Frobisher, we see concerns familiar to current interest in the Arctic. Rights of access to profitable trade routes and prospecting for resources are significant concerns to these explorers, set against a background of major geopolitical change as Europe's power balances shift in the aftermath of Columbus navigating to the Caribbean.
Nineteenth-century collections in the Library bear out a similar tale, although by this point the major actors in the sphere of Arctic exploration and exploitation are the British Navy, Canadian government and Hudson's Bay Company. The writings of Sir John Barrow are spread across the Library's collections and his accounts of the significance of the Arctic to the British empire are punctuated with warnings about threats to sovereignty posed by business interests and geopolitical concerns raised by the actions of countries such as Russia. We also begin to clearly see the importance of science as a tool for envisioning, delimiting and enforcing control over the Arctic, as evidenced by the significant role of factually accurate illustrations and detailed cartographic charts in writings from this time.
Historical collections are a significant resource to contemporary researchers interested in today's Polar geopolitics. Scratching the surface of the Library's collections reveals a long history where exploration and science are used to assert sovereignty and define borders. It also suggests cyclicality to these events and highlights the significance of wider geopolitical pressures, motivated by periods of change, to the intensification of interest in the Arctic across a broad historical transect. More information on these resources can be found here should you wish to use these collections to supplement your research.
[P.J.H.]
Americas and Oceania Collections blog recent posts
Tweets by BL_Americas
Other British Library blogs