11 April 2022
As we continue our series highlighting the breadth of electronic resources available for researchers at the British Library, this blog will discuss some of the collections which can support those exploring US Politics and Political History. All resources can be accessed from our Electronic Resources page, and some are available remotely once you get your free Reader Pass. All previous posts in the series can be found here.
There are many resources which can help uncover the operation of government, with Congress being especially well represented. The Congressional Record Permanent Digital Collection 1789-1997 and the US Congressional Serial Set 1817-1994 provide impressive levels of insight into the legislative process. The Congressional Record is a substantially verbatim account of the remarks made by Senators and Representatives while they are on the floor of the Senate and the House of Representatives (the equivalent of the UK's Hansard). It also includes all bills, resolutions, and motions proposed, as well as debates, and roll call votes. The Serial Set is comprised of the numbered Senate and House Documents and Senate and House Reports, bound by session of Congress. There is also a dedicated selection of maps with the Serial Set. The Serial Set, and its maps, can be accessed remotely by registered Readers. The maps can be browsed by State as well as topic. The image below shows the Indian Reservations in the United States in 1940.
The Library's selection of electronic resources is very wide, and it is worth looking at resources which may not seem immediately 'Political Studies' yet may still hold relevant material. For example, the American History, 1493-1945 resource is drawn from the diverse collections of the Gilder Lehrman Institute of American History in New York, and has some fascinating collections including materials related to the private lives of First Ladies, and Presidential Pardons. Below is part of the pardon by President Polk of an elderly counterfeiter, Samuel Howard, convicted of passing counterfeit coin and sentenced to three years' imprisonment, who was pardoned due to age, previous honesty, his family's dependence on him, the small amount of counterfeited money involved, and the judge's recommendation for clemency.
Similarly, there are many aspects of US domestic politics which are well-covered in other thematic resources focused on different identity groups, such as women's suffrage campaigns, LGBTQ+ political activism, and African-American civil rights campaigns and political activism. For example, the African American Communities resource holds legal papers of justices and policymakers which shed light on the politics around busing and school desegregation, including the Algernon Lee Butler Papers, 1928-1978, from the Southern Historical Collection at the Wilson Library, University of North Carolina at Chapel Hill. The Butler Papers consist of Butler's political, legal, and personal papers from 1928 until 1978. Featured are a wide variety of writings and speeches Butler produced on political, educational, and civic topics, including materials relating to school desegregation and civil rights cases.
There are many full-text US newspapers available in the electronic resources, which were covered in this earlier post. These newspapers are a fantastic resource for many aspects of US social and political life. Importantly, these don't just include historical newspapers. The British Library subscribes to the excellent NewsBank: Access World News resource, which is available via Remote Access for registered Readers. This is an extraordinary database and an excellent resource for events from the 1980s to the present, including full-text coverage of more than 1300 American dailies such as the Boston Herald (1991 to the present) and the New York Post (1999 to the present); transcripts of more than 200 major TV news and radio programmes including 60 Minutes (2004 to the present) and Fox News Channel (2003 to the present); full-text coverage of more than twenty news magazines; output from more than 300 web-only sources; and access to more than 80 newswires.
Finally, our electronic resources are very strong on US foreign policy and international relations, particularly how other countries viewed the US. These include the Confidential Print: North America, 1824-1961 collection which comes from the National Archives at Kew and contains British Government documents covering the US (as well as other parts of the Americas). The collection covers topics such as slavery, Prohibition, the First and Second World Wars, racial segregation, territorial disputes, the League of Nations, McCarthyism and the nuclear bomb. For a broader global perspective, researchers can explore the excellent Foreign Broadcast Information Service (also available via remote access). FBIS was a US government operation which translated the text of daily broadcasts, government statements, and select news stories from non-English sources. The idea was to understand more about foreign opinion of the United States and its policies. It is an archive of 20th century news from around the world, offering global views on US foreign and domestic policy after World War II. The documents cover the Cold War, the Middle East, Latin America, the Soviet Union and more. Below is an example from the Soviet Home Service criticising America's perceived plans in Asia as it ended the official postwar occupation of Japan.
This whirlwind tour of the Library's e-resources has just scratched the surface, but it does give an indication of the wide range of collections which include materials helpful for both historic and contemporary US Political Studies. For those interested in diving further into US politics at the Library, do check out the Collection Guide for US Federal Government Publications. 
By Cara Rodway, Eccles Centre, April 2022
20 December 2021
This third - and deliberately brief - instalment of our e-resources blog series focuses on the Library's 'bibliographic' e-resources!
By and large, searching this kind of e-resource will not bring up the full-text of books and articles. Instead, you will be given a list of citations which you then need to track down elsewhere. For example, if your search brings up a journal article that looks interesting, you will need to see if the British Library or another institution subscribes to that journal in order to be able to read the article itself.
While this might at first glance seem disappointing, the unique and utterly brilliant selling point of these databases is their capacity to stop you from ever again needing to note down and follow-up footnotes as you attempt to uncover all the previous research on your topic.  Instead, in a matter of moments, you will be provided with accurate, up-to-date information about everything that has already been published in your field.
So, how do they work?
In brief, they are compiled by teams of highly-skilled indexers whose role it is to assign multiple index-terms to every article in a particular journal, thereby providing you with the greatest possible chance of retrieving citations that are relevant to your research.
All mainstream subjects – history, literature, politics, sociology, economics, art, music etc – have at least one dedicated bibliographic e-resource and these can be found by using the Subject search facility on the Library's portal. These subject-specific e-resources include, for example:
America History and Life, which currently indexes articles in 1,648 journals covering United States and Canadian history and culture
MLA International Bibliography, which currently indexes 6000+ journals in literature, language and linguistics, literary theory and criticism, and folklore, and which adds over 66,000 citations every year
HAPI Online (Hispanic American Periodicals Index Online), which currently indexes 400+ journals and includes 335,000+ citations in total
Other bibliographic e-resources cover multiple subjects, for example: Humanities Index; Arts and Humanities Citation Index; and Social Sciences Full Text (selective full-text coverage since 1994).
And some bibliographic e-resources focus on a particular type of content, for example:
Proquest Dissertations and Theses and EThOS index, in different ways, doctoral dissertations and Master's theses 
Poole's Index to Periodical Literature, 1802-1906 offers digitized access to William Frederick Poole's ground-breaking attempt to make accessible the vast amount of magazine and journal content published in the 19th century. 
Below are some of the bibliographic e-resources with Americas content that are currently offered by the British Library, but please take a look at the full range of these resources on the Library's website as there will be at least one database that will make your literature search both quick and comprehensive; some of  these resources will include books as well as journal articles, and an increasing number of them are, happily, offering full-text access:
ABELL (Annual Bibliography of English Language and Literature)
America: History and Life
Anthropological Index Online
Applied Social Sciences Index and Abstracts
Art Index
Arts and Humanities Citation Index
Book Review Digest Plus (1983- ) & Book Review Digest Retrospective, 1903-1982
Chicano Database
EconLit
EThOS
HAPI Online
Humanities and Social Sciences Index Retrospective, 1907-1984
Humanities Index, 1962 – present
International Political Science Abstracts
MLA International Bibliography
Music Index
PAIS International
Policy File Index
Poole's Index to Periodical Literature, 1802-1906 (Part of Eight Centuries)
Proquest Dissertations and Theses
RLIM Abstracts of Music Literature
SciELO Citation Index
Social Sciences Citation Index
Social Sciences Full Text
Wishing you a wonderful festive season and all the very best until 2022 when the next blog in this series will highlight everything you need to know about Americas-focused Women's Studies e-resources!
04 August 2020
This post by Carmen Logie is part of a special Summer Scholars blog series highlighting the recent research Eccles Centre awards have supported across Caribbean, Canadian and US  collections.
My work in the field of HIV began in the early 1990s, before we had effective anti-retroviral therapy.  I had just moved from small town Ontario, to a big Canadian city - Toronto.  It was the first semester in my undergraduate degree when a fellow student asked me if I wanted to volunteer with her on what was then called the 'AIDS' floor of a local hospital.  Always interested in learning about something new, I agreed.  Little did I know that would change the course of my life.  The floor was sectioned off for only people with HIV, and by the time people reached the stage of being hospitalized, for many they were in the last stages of life.  As a volunteer my job was anything that the patient wanted—to run and grab a newspaper, to escort them to the smoking area (when there was such a thing), or to help the nurses feed someone.  Sometimes I would just sit and hold someone's hand.  Myself and other volunteers were often the only visitors some patients had, having been abandoned by their friends and family due to HIV-related stigma alongside with homophobia, as many at the time (as today) living with HIV in Canada were gay and bisexual men.  Knowing that people were sick and alone due to stigma sparked my passion on stigma in the field of HIV and sexual health.
Fast forward 26 years and it is my first week at the British Library for my Eccles Fellowship in March 2020.  A new virus—COVID-19—had recently emerged and was stirring global fear and panic.  A few weeks prior to arriving in London I had conducted a media interview on stigma directed toward persons of Asian descent in Toronto, Canada related to COVID-19. I reflected on the roots of this stigma, and its parallels to HIV-related stigma.  While at the British Library I was inspired to re-read books on HIV-related stigma from the beginning of the epidemic.  Classics like Susan Sontag's AIDS and Its Metaphors led me back to her earlier work, Illness as Metaphor.1 I also revisited D. Crimp's AIDS: Cultural Analysis/Cultural Activism.2
Reading these pieces from early in the AIDS pandemic was striking.  I was inspired to write two commentaries on parallels between HIV-related stigma and COVID-19 stigma.  Sontag had warned about using military metaphors to describe the HIV and AIDS pandemic decades ago: "We are not being invaded.  The body is not a battlefield.  The ill are neither unavoidable casualties nor the enemy.  We—medicine, society—are not authorized to fight back by any means whatever."3  Yet the panic and fear regarding COVID-19 was palpable.  While this fear was understandable, the use of military metaphors in framing COVID-19 exacerbated the xenophobic responses, including hate crimes, toward persons of Asian descent in Canada and other global contexts.  Othering—distinguishing oneself as 'normal' in comparison with the 'abnormal' other—has been a central part of understanding and approaching illness throughout history.  Crimp reminds us from his discussion of the framing of HIV in the early days as impacting the '4-H's' (Haitians, haemophiliacs, heroin users, 'homosexuals') that illnesses are often blamed on the racial, foreign or otherwise 'immoral' other.  Although COVID-19 was named to avoid association with a place of origin, even in July 2020 world leaders continue to refer to it as the 'China virus'.  People who are not following public health measures have been labelled 'super spreaders' and even 'intentional murderers'.  This blaming of individuals leaves the larger social and structural factors contributing to COVID-19 vulnerabilities—including racism, poverty and insufficient access to PPE—unaddressed.
Yet reading Sontag's and Crimp's work more than 30 years after it was written also provides me with hope.  They both underscore the solution to stigmatizing and blaming groups of people for illnesses lies in strengthening communities.  We need to remind one another of our shared humanity in order to build solidarity and caring networks that support one another to engage in COVID-19 preventive practices and care for one another when we are sick.  These networks have already been formed; for instance, across the globe people are sewing hand-made masks to share with others, and some are shopping and checking in on the wellbeing of the elderly.  Sontag powerfully reminds us that we are unified in our vulnerability to acquiring illness:
"Illness is the night-side of life, a more onerous citizenship.  Everyone who is born holds dual citizenship, in the kingdom of the well and in the kingdom of the sick.  Although we all prefer to use only the good passport, sooner or later each of us is obliged, at least for a spell, to identify ourselves as citizens of that other place." (Sontag, 1978, p. 3).
I disappointingly had to leave my Eccles Fellowship early, after the Prime Minister in Canada requested Canadians return home as the border was closing.  Being at the British Library when this pandemic was spreading inspired me to go back to the books on early HIV and AIDS activism, to reach back in history and learn from the way we stigmatize new infections—and from the way we can challenge this stigma and build stronger communities.  My research has now expanded to understanding and tackling COVID-19 stigma across the globe, hoping we can learn from the past to dig out the root causes of stigma and plant seeds of solidarity and care.
Carmen Logie, Eccles Centre Visiting Fellow 2019, is Associate Professor, Factor-Inwentash Faculty of Social Work, University of Toronto, Toronto, Canada.
For further discussions of stigma, listen to Carmen's podcast series, 'Everybody Hates Me: Let's Talk About Stigma'. This podcast invites a range of weekly guests to talk about all different kinds of stigma. Why does it matter? What does it look like? What can we do about it? https://www.buzzsprout.com/1024792
References:
1.  Susan Sontag, AIDS and its metaphors. New York: Farrar, Straus and Giroux; 1989. General Reference Collection: YK.1993.a.100;  Susan Sontag, Illness as Metaphor. New York: Farrar, Straus and Giroux; 1978. General Reference Collection: X.329/11987.
2.  D. Crimp,  AIDS: cultural analysis/cultural activism. Cambridge, MA: MIT Press; 1987. p. 3–16.  General Reference Collection: YC.1992.b.5679.
3.  Sontag, 1989. p. 180.
Articles supported by this Eccles Fellowship:
C. Logie, 'Lessons learned from HIV can inform our approach to COVID-19 stigma.'  Journal of the International AIDS Society. 2020, 23:e25504
C. Logie and J. Turan, 'How do we balance tensions between COVID-19 public health responses and stigma mitigation? Learning from HIV research.'  AIDS & Behavior. 2020, 24: 2003-3006.
23 July 2020
This post by Vanessa Mongey is part of a special Summer Scholars blog series highlighting the recent research Eccles Centre awards have supported across Caribbean, Canadian and US collections.
How far should diplomatic protection extend?  Surely, consul James Buchanan argued, there must be limits to American "humanity."  In Belize, a British settlement in Central America, Buchanan was trying to understand his responsibilities towards U.S. citizens.  The hurricane season of 1849 had caused a few ships to wreck near the coast and the officers, crew, and passengers had sought refuge in the port of Belize.  They turned to Buchanan for help.  The consul paid for a few destitute sailors to return home, but the situation soon got out of control. Officers demanded he pay for their room and board.  Sailors asked storekeepers to send their bills to him.

When the consul refused to reimburse all these expenses, the crew complained to the local British police and magistrates.  They turned to the Act for the Relief and Protection of American Seamen (1796) that provided certificates for the protection of sailors.  They argued that the U.S. government owed them not only diplomatic but also financial protection. Buchanan was as annoyed as he was confused.  He asked the State Department what to do with U.S. citizens stranded abroad.  He confessed that he had "no legal knowledge of what the consul's duties are in this matter."
The correspondences of U.S. consular representatives in the British Library abound with this kind of complaints and queries.  Many politicians, jurists, and citizens in the United States embraced the view that individuals had a natural right to leave their country.  Increasing numbers of U.S. Americans traveled abroad during the nineteenth century. Some served in Latin American independent armies and navies.  Many settled in neighbouring foreign territories like Florida, Texas, and California, eventually leading the United States to invade and annex these territories.  Freedom of movement often bolstered U.S continental and commercial ambitions.
Although the nineteenth century saw relatively unregulated movement, the right to travel was racialized.  Freedom of movement was often a privilege of European and Euro-descendants as shown by tensions surrounding Chinese immigration to California and issues around enslaved and free travelers of African descent moving across state and national lines.
Even for free white U.S. Americans, the right to travel freely created new challenges: what happened when citizens crossed international borders and got into trouble abroad? Instrumental in defining and implementing diplomatic protection were consular networks.  Lacking a significant overseas presence in the first half of the nineteenth century, the U.S. government possessed neither the resources nor the capabilities to monitor the activities of their citizens abroad.  With no formal training, consuls were the ones on the ground who assisted Americans when they ended up in jail, aided them in navigating estate and inheritance issues, or represented their legal interests.  They often had to decide whether an individual was really a U.S. citizen, and therefore entitled to consular protection, at a time when no definition of national citizenship existed.
During the first half of the nineteenth century, the United States could not set up permanent consular posts in India.  The British kept tight control over the region, thwarting U.S. consuls in Calcutta (Kolkata) and Bombay (Mumbai).  The India Office Records and Private Papers in the British Library show that tensions frequently erupted between British and U.S. representatives.  British authorities complained about distressed sailors who ended up in their care.  One U.S. consul in Singapore simply refused to help naturalized American citizens, arguing that those who were born British subjects fell under the Common Law doctrine of perpetual allegiance.  In brief, once British, always British—especially if these individuals were potential drains on consular finances.
In addition to uncertainty and confusion expressed by U.S. consuls, these correspondences also reveal how U.S. citizens understood their rights and responsibilities.  When they had the resources or the connections, they sent letters to journal editors in the United States, hoping to put pressure on consuls.
This early phase of diplomatic experimentation came to an end in the middle of the nineteenth century.  As the U.S. consular service expanded outside of Europe and the Americas and into China, Japan, and Siam, the government formalised the diplomatic and consular system in 1856.  A reform legislation introduced salaries for a greater number of consular officials, hoping to reduce corruption and professionalise the service.  The same year, the State Department received sole issuing power over passports and limited their use to U.S. citizens, thus reducing the autonomy of consuls.  The Civil War (1861-1865) prompted a sharp growth of the consular service. At the end of the war, the fourteenth amendment defined national citizenship to include all persons born or naturalized in the United States.  Monitoring international travel served as a testing ground for restrictions of citizenship rights along class, gender, and racial lines.
Dr Vanessa Mongey, Eccles Centre Visiting Fellow 2019, is on Twitter @VMongey
Resources consulted:
For US Federal Government Publications, the finding aid Diplomatic Records: A select catalog of National Archives Microfilm Publications (shelf mark OPL 973.0076) is available in the Social Sciences reading room. It has been annotated to indicate which microfilms are in the British Library and gives their shelfmarks. I made particular use of 'The correspondences of U.S. ministers at overseas posts' (shelfmark SPR Mic.B.21) and 'U.S. consuls at overseas ports' (shelfmark SPR Mic.B.22). The India Office Records and Private Papers: the general shelfmark is IOR/Z/E/ and this is the collection guide. 
Further reading:
Fahrmeir, Andreas O. & Patrick Weil (eds.), Migration Control in the North Atlantic World: The Evolution of State Practices in Europe and the United States from the French Revolution to the Inter-War Period. New York: Berghahn Books, 2002. British Library shelfmarks: Document Supply m03/17964; General Reference Collection YC.2003.a.13981; General Reference Collection DRT ELD.DS.515229.
Glanville, Luke. "The Responsibility to Protect Beyond Borders." Human Rights Law Review. 12: 1 (2012): 1–32.  British Library shelfmarks: Document Supply 4336.440550; General Reference Collection ZC.9.b.7074.
Green, Nancy L. "The Politics of Exit: Reversing the Immigration Paradigm." The Journal of Modern History. 77: 2 (2005): 263-289. British Library shelfmark: Document Supply 5020.680000.
Jones, Martha S. Birthright Citizens: A History of Race and Rights in Antebellum America. Cambridge: Cambridge University Press 2018.  British Library shelfmark: YC.2019.a.4852.
Kennedy, Charles Stuart. The American Consul: A History of the United States Consular Service 1776–1924. New York: Greenwood, 1990. British Library shelfmark: YC.1992.b.1026. (Rev. ed. published by New Academia Publishing, 2015). 
Perl-Rosenthal, Nathan. Citizen Sailors: Becoming American in the Age of Revolution. Cambridge: Harvard University Press, 2015. British Library shelfmark: YC.2017.a.660.
Phelps, Nicole. Researching the U.S. Consular Service https://blog.uvm.edu/nphelps/
11 February 2017
Eighty years ago today – following a 44-day sit-down strike at their plant in Flint, Michigan – General Motors (GM) formally recognised the United Automobile Workers (UAW) as the sole bargaining authority for the striking workers.

Wikimedia Commons, provided by Farm Security Administration. LC-USF34-040028-D.
It is almost impossible to over-estimate the impact this recognition had upon both the unionisation of the American automobile industry and the labour movement across the United States.
In the early years of the Great Depression, increased workloads and cuts in pay were commonplace across the auto industry. In 1935, the average auto worker's income was barely half that deemed by the government to be a minimum for a family of four. The following summer, hundreds of workers died in Michigan auto plants due to the heat wave and on-going poor working conditions. Theoretically, such conditions made these plants ripe for union organisation. However, strikes in 1930 and 1934 had been viciously broken up by the Flint police, aided by company informers; indeed, GM paid $839,000 for detective work in 1934 alone (1).
In 1935, the passage of the National Labor Relations Act – which legalised strikes – invigorated the Congress of Industrial Organizations' efforts to unionize industrial plants across the US. The following summer, UAW officials unaffiliated with existing (GM-infiltrated) locals began organising in Flint – an audacious plan, given it was essentially a company town; yet, they recognised the pay-off could be enormous. To avoid detection, they met with workers in their own homes and encouraged them to join; many did so. General Motors' reaction was swift. On 29 December union leaders learned that over the New Year's holiday the company planned to remove the huge and vital 'dies' used to make car bodies. If this happened, cars could be made elsewhere, thereby weakening the union's strategic position. Recognising what was at stake, the workers refused to leave the plant.
The next 44 days were unprecedented in the history of American labour. Inside the plant, the workers organised themselves into committees for cleaning, defence, entertainment and exercise, while supporters outside brought them food and supplies.
Wikimedia Commons, provided by Farm Security Administration (LC-USF34-040031-D).
Finally, on 11 February 1937, GM signed an agreement recognising the UAW, and agreeing not to discriminate against those workers who had struck. The following year, nearly one-hundred sit-down strikes took place in auto plants across the country; UAW membership rose from 50,000 to 300,000; and auto worker wages rose by as much as 300%. This historic sit-down strike presaged a decade of intense union activity across American industry, and an extraordinary improvement in the lives of ordinary workers.
The British Library holds a wide variety of materials documenting the labour movement within the United States, including: reports, newspapers and recruiting pamphlets by individual unions, the CIO and the American Federation of Labor (AFL); Congressional hearings, reports, and federal legislation; publications by political parties, including the Socialist Party and the Communist Party of America; and reports by civil rights organisations. Additionally, the rise and activity of the unions may also be documented through our extensive collection of American newspapers, secondary sources, and electronic databases.
George E. Novack, Witch-hunt in Minnesota: the federal prosecution of the Socialist Workers Party and Local 544, CIO. New York: Civil Defense Committee, [1941?]. Shelfmark: YD.2005.a.6863; The CIO: what it is and how it came to be. Washington, DC: Committee for Industrial Organization, 1937. Shelfmark: YD.2009.a.1501
Communist Party of the United States. For a Powerful, United A.F. of L. New York: Workers Library, 1936. Shelfmark: YD.2007.a.1654; Communist Party of the United States. Greetings to the American Working People on the Occasion of the First Anniversary of the Great Labor Merger, AFL-CIO! New York: Labor Committee, Communist Party, USA, [195?]. Shelfmark: YD.2009.a.1322
John G. Kruchko, The Birth of a Union Local: the history of UAW Local 674, Norwood, Ohio, 1933 to 1940. Ithaca, NY: New York State School of Industrial and Labor Relations, Cornell University, 1972. Shelfmark: q72/20497
1. "The 1936 - 37 Flint, Michigan Sit-Down Strike," BBC, Retrieved May 18, 2012, from http://www.bbc.co.uk/dna/place-london/A672310 
Jean Petrovic
07 April 2015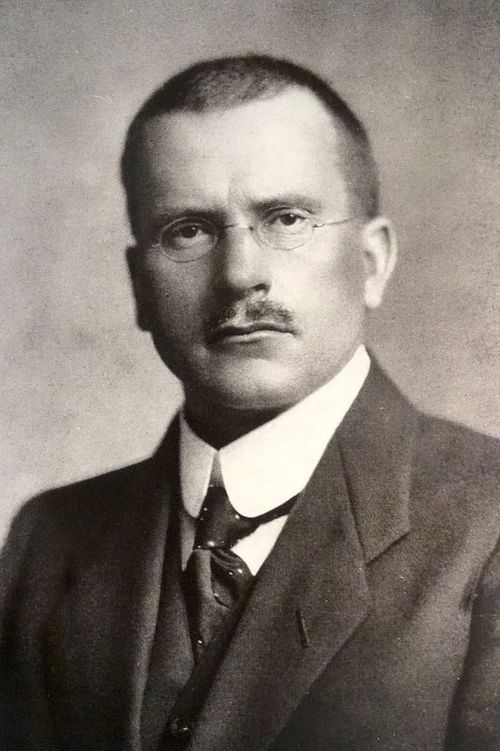 Carl Gustav Jung, image from Wikipedia
[Ed: This is the final part of Matthew Neill's reaction to 'Jung in India', stay tuned for more 'Team Americas bookshelf as well as some sad Lines in the Ice news later this week]
The British Library naturally has an impressive collection of the works of Carl Jung, books about Carl Jung and his psychology, as well as more personal accounts of his life. As a Curator at the British Library responsible for Book Selection for South Asia in English, I was interested to see that a book about Jung in India had been written by Sulagna Sengupta called not unsurprisingly: Jung in India.
My own interest in Jung is both personal and professional. I am a Licenced Practitioner of Neuro-linguistic Programming and was taught personally by Richard Bandler the co-creator of Neuro-linguistic Programming. In this context, Jung has given me a richer understanding of the workings of the human mind at the level of the unconscious and conscious aspects of our reality.
Naturally I was excited by the prospect of reading Sengupta's book, and I have in one earlier blog written about Jung's itinerary in India, drawn from the researches of Sengupta. To be sure, Sengupta has written a book that has been meticulously researched. It is a good book. However, rather than showing us how Jung's Indian trip fed the development of Jung's ideas, it is in fact quite the reverse. 
What one can say is that the book has unearthed an accumulation of archival evidence that Jung made a trip to India. Sengupta does highlight Jung's profound interest and respect for Indian spirituality. She shows, however, that India at the time, had little interest or understanding of Jung's ideas. Jung simply failed, in general, to register upon the antennae scientific India.
It is apparent that Jung published nothing about India after his return. Most of his lectures in India, which were not understood, were recapitulations of his earlier lectures in Europe and his views on Indian spirituality were already formed and written about in his works.
Jung's visit, made possible by the British Indian authorities rather than Indian psychologists, had virtually no effect on the development of his ideas. His ideas on India had already been formed years before by reading Indian texts. Thus, his trip was an unexpected opportunity to confirm his convictions but it produced no new writing.
What it did produce in Jung was the very clear, the view that Indian spirituality was wholly incompatible with the development Western psychology. As Sengupta suggests: "Jung did not dwell on the unpleasant aspects of his journey in his writings, [in fact, his writings on India predated his visit to India] nor did he leave a commentary on Indian psychology, Freud's links with India, British science, or his encounters with the Indians with whom he shared contentious views. Instead he spelled out the differences between East and West in his writings and explained the differences between his psychology and Freud's."[i]
Jung's view of India was thus:
'India's civilization and psychology resemble her temples, which represent the universe in their sculptures, including man and all his aspects and activities, whether as a saint or brute… India represents the other way of civilizing man, the way without suppression, without violence, without rationalism.'
Those mysterious truths that were so evident to Jung in Indian temple art, architecture and iconography seemed to have bypassed Western Society altogether. By contrast, Jung argued that the comparative quest for scientific and technical explanation of knowledge in Western history had achieved a separation between the conscious and unconscious faculties of the human psyche. By contrast, this had remained more integrated in the Eastern mind.
Although it is not brought out clearly enough in Sengupta's book Jung's trip to India didn't alter his views, they really just added further definition to his pre-1937 views as expressed in his writings. Sengupta is unclear on this. Since all his writings concerning India were written before the trip and he wrote nothing after we could assert that the visit itself made no contribution to Jung's ideas.
Sengupta is to be credited with the realization that:
"…the differences he felt with India sharpened his feelings about his own culture. Jung came to respect his Western scientific stance and cultural roots more after his Indian intermezzo. The tenets of his empirical work, which did not strike him as anything unique in the Western milieu where he worked, turned out to be of extraordinary importance when placed alongside the theoretical notions of Indian philosophy. In Jung's view, the scientific and empirical mind-set of the West was inherently opposed to the intuitive and idealistic attitude of the East. The fields of Western psychology and Indian philosophy were therefore disparate, and this realization brought for Jung positive affirmation of his work and a renewed regard for his empirical values."[ii]
Thus, Jung left india and closed the book on the East. He did not open it again before his death in 1961.
30 August 2013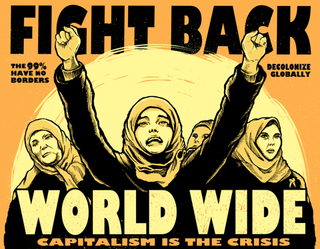 Colectivo Cordyceps, Mexico City, Mexico (website: Justseeds Artists' Cooperative)
If you've been to our Propaganda exhibition (and if you haven't, you only have until 17 September), you might have spotted the above print. It's in a fairly dark corner, so unless you looked at it carefully (or read the accompanying label) you might not have realised that it is a relatively recent poster coming out of the Occupy Movement. It was interesting to me that Ian, one of our Propaganda curators, should choose that particular poster out of a portfolio of prints that we acquired from Occuprint last year. Viewed up close, the text  'the 99% have no borders' is a bit of a give-away, but from a distance it looks like a fairly traditional political poster which could come from more or less anywhere (in fact it's from Mexico) and from any period.
The use of prints and posters to disseminate views on political issues and causes is nothing new of course, – they've been employed pretty much ever since the invention of printing, but they really came in to their own in the early twentieth century as technological developments enabled the relatively cheap mass production of posters. And they remain a simple but effective way of reaching the public and getting a message or viewpoint across.
I've been fascinated by the sheer volume, diversity and creativity of printing that has come out of the global Occupy movement. The portfolio alone is a good example of this – 31 hand silk-screened prints by 31 artists/groups, chosen out of hundreds of submissions from across the world, but all reflecting the values and many concerns of the movement. A fundraising initiative for Occuprint (a non-profit group affiliated to but independent from the Occupy Movement), the portfolio has been issued through the Booklyn Artists' Alliance in an edition of 100. It is curated by Booklyn's Marshall Weber and Occuprint organiser Jesse Goldstein, together with various other Occuprint editorial committee members. The portfolio also includes a copy of issue 4 (November 2011) of the Occupied Wall Street Journal, a special folio issue on the poster art of the Occupy movement, the curation of which led to the establishment of Occuprint itself. Occuprint's website was also launched in November 2011 and now hosts hundreds of images, including the portfolio prints and submissions, all of which can be freely downloaded for non-commercial purposes. More posters continue to be added and the website offers not only a wide range of support materials for local activists, but a fantastic resource for studying the art of Occupy (and much more besides).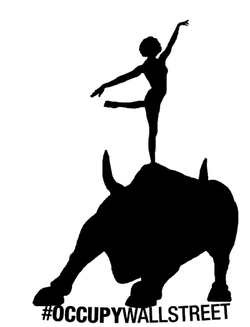 Creator: lots of people  #Occupy Wall Street NYC General Assembly
When Occupy Wall Street (OWS) sprang up in September 2011 with the occupation of New York City's Zuccotti Park, its birth was announced with a particularly arresting and now iconic image – that of a ballerina on top of the Wall Street bull, which appeared in Adbusters, the Vancouver-based anti-consumerist magazine. The bull is just one of the many new symbols that has emerged out of Occupy graphic art, and it is joined by more traditional images (e.g. the raised fists in Fightback), plus appropriations and re-interpretations (e.g. the Guy Fawkes mask, and David Loewenstein's underground 'inverted' fist ).  As Marshall Weber has noted, there is evidence of a variety of historical art influences in the imagery -from Russian Constructivism to Latin American political graphic art to Pop. Although the quality of imagery varies enormously, there are some wonderful, memorable and humorous posters, and it is clear that poster-making is an important strategy for participants of the Occupy movement.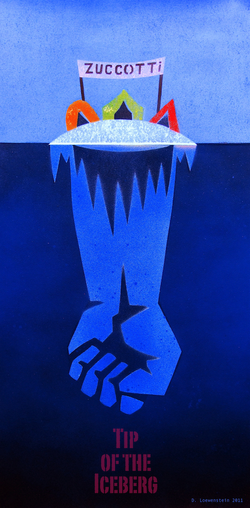 David Loewenstein, Lawrence, Kansas. http://www.davidloewenstein.com
Occuprint organiser Jesse Goldstein describes the graphic work coming out of Occupy as 'social movement culture,' quoting Dara Greenwald and Josh MacPhee's definitition of this as work 'born from a context in which large numbers of people mobilized to achieve transformation goals.' He says that perhaps the single cohesive thread of Occupy's cultural work is 'a self-assured dismissal of corporate media channels and the confidence that alternatives can be, and are being, built.' The graphic work is just one aspect of a growing number of cultural practices which include social media, public camping etc., and Goldstein goes on to say that, 'While it's too early to tell, there does seem to be the possibility that Occupy will successfully reclaim a portion of the cultural commons from a media sphere that has thoroughly infected our everyday lives with ubiquitous branding, messaging, news cycles, and stylized uniformity.' He notes that many of the images on the Occuprint website were created for local use and then passed on to Occuprint, whilst others only exist in the virtual world -'copies without originals.'  He also emphasises the importance of the idea of imagining the future in this social movement culture. 'If anything, the work focuses on the future of the movement itself, and the constituent power that will be required to make the world anew.' - Alexandra Clotfelter's poster The Beginning is Near, being a perfect example of this.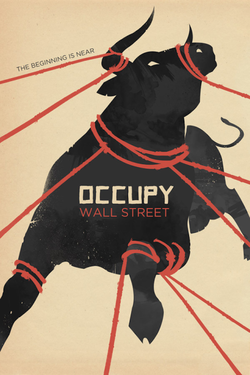 Alexandra Clotfelter, Savannah, GA  Website: http://www.ladyfawn.com
Goldstein acknowledges that 'The images on our site will one day be important, collected, preserved and themselves referenced, as the past is referenced today….The Occupy movement has become conscious of itself as an active producer of history, and this future potential permeates the social movement culture that is beginning to take shape. This, I believe makes the collection at Occuprint an archive of the future.' For me, there was never a doubt that we should have at least some of this material in our collections since it would be important for future researchers studying a whole range of subjects. Aside from the portfolio, we have collected placards, leaflets and other ephemera that help bring to life the movement, culture and a wide variety of political, social and economic issues. The images have in fact already appeared and been discussed and debated in a number of journals and blogs (see below for a few examples). So perhaps not only is the beginning near, the future is now.  
Jesse Goldstein, Occuprint: Archiving the Future, Socialism and Democracy vol.26, no. 2, July 2012 (available online in the library's reading rooms)
Sarah Kirk Hanley Ink: Political Art for a Contentious Time art:21 September 14 2012
Nato Thompson, "Debating Occupy," Art in America 100, no. 6, July/August 2012, pps. 99-103 (includes several images from the portfolio accompanied by statements from artists, curators, writers, and critics on the impact of the Occupy Movement).
[C.H.] 
24 January 2013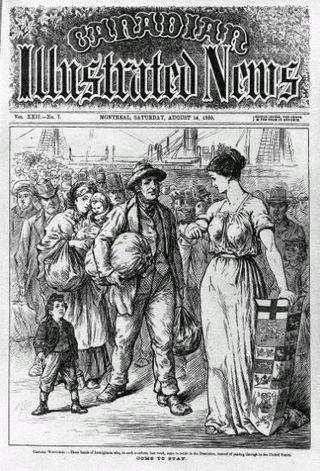 'Come to Stay' by Henri Julien, printed in the 'Canadian Illustrated News' [1880, copy in the BL newspaper collection]. Image from Wikipedia, courtesy of Library and Archives Canada.
It's that time of year again, when many of us start to think about what it would be like to live in a climate of year-round warmth. Oddly though, it's usually around this time of year when my mind meanders onto the large selection of British Library materials detailing the possibilities of emigrating from Britain to nineteenth century Canada.
While the Library's collections document, sometimes inadvertently or in passing, the migration experiences of the many different populations who moved to Canada it is in illustrating the opportunities for English, Irish, Scottish and Welsh families (and individuals) that it provides the richest source. Particularly for the mid-nineteenth century the collection holds many items that document the potential of Canada as well as alluding to some of the push factors causing people to consider taking a risk on the empire.
Locating this material takes a little doing, not least because, as with the above illustration, a number of interesting sources are articles or depictions that form part of a larger holding. However, there is a large cache of items that can be found using the search terms 'emigrate British North America' or 'emigrate Canada' in Explore (you can also do this by province). Items returned from this search include, 'Shall we Emigrate' [1885, BL Shelfmark: 10411.bb.25(5)], 'Emigration Practically Considered' [1828, BL Shelfmark: T.1244(7)] and 'North America Viewed as to its Eligibility to British Emigrants' [1848, BL Shelfmark: 1304.a.12], to name a few. There is also a large sub-collection of microfiche material provided by the Canadian Institute for Historical Microreproductions which can be found using a subset search in Explore.
The Library also holds a few notable facsimile reprints, such as a 1971 version of Catherin Parr-Traill's, 'The Canadian Settler's Guide' [BL Shelfmark: X.955/2390]. As well as notes on the climate and agricultural prospects of Canada, which are common to many of the accounts (with varying decrees of politeness), Parr-Traill's account also includes notes on home-making, Canadian society and the opportunities for leisure. Such detail is perhaps why Parr-Traill is one of the best remembered writers in her field but the many other accounts found in the collections are worth looking at for their many details on the who, how and why of migration to Canada.
[PJH]
Americas and Oceania Collections blog recent posts
Tweets by BL_Americas
Other British Library blogs