26 July 2012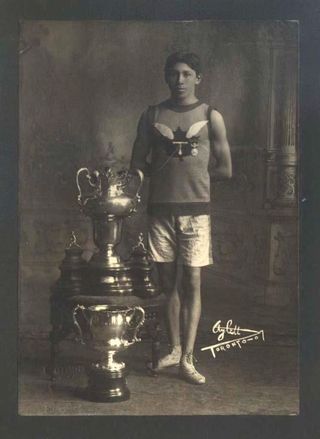 Tom Longboat, photographed in 1907 by Charles Aylett (BL Shelfmark: HS85.10)
It's a baking hot day, the Olympics are upon us, and I've been reminded of an event in the 1908 London Olympics which also occurred on an oppressively hot day. The 1908 marathon was the height of drama - half the field failed to finish and the initial winner was disqualified.
One of the many runners who collapsed before the end was Canada's Tom Longboat, a bright new athletics prospect and member of the Onondaga. The photo above was taken after Longboat stunned many in North America by winning the 1907 Boston Marathon with no real form under his belt; this success meant he arrived at the Olympic Games with high expectations heaped upon him. Longboat was exposed to a potent mix of nationalist expectation, racial predjudice and a voracious media, something I've written about for the Library's Sport and Society pages.
There are many views on what undid Longboat on the day of the 1908 marathon and the heat must certainly have contributed. Hopefully the weather will be kind to London 2012 and all its competitors.
And a reminder that we have a great exhibition on in our entrance hall: Olympex 2012: collecting the Olympic games
[PJH]
23 July 2012
An American didn't win the Tour de France this year (although the exceptional Tejay van Garderen came fifth and put down quite a marker by winning the white jersey for the best young rider).  However, we do have a fine set of broadsheets printed by the U.S. press Lead Grafitti from the 2011 Tour.  Here's the plate for that year's Stage 7, 'nothing and then all hell breaks loose'.  What a difference a year makes.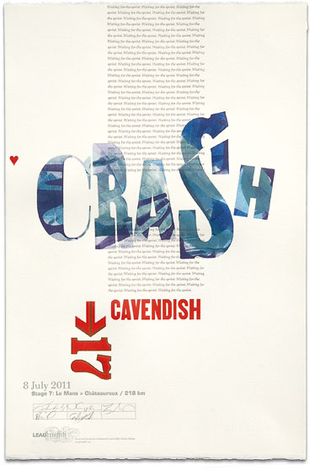 We should probably do a post on
Wiggo
 and
Gen. Ambrose Burnsides
 at some point, but in the meantime,
chapeau
to all the riders, and Le Gentleman in particular.
[M.J.S.]
29 June 2012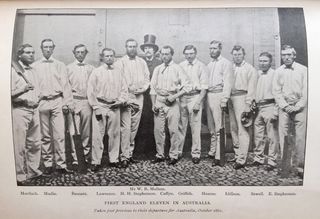 First England Eleven in Australia, from 'Seventy-One Not Out' [Shelfmark: 07905.g.30]
Ok, we'll come clean. Team Americas is actually Team Americas AND Australasia but there aren't enough of us to keep a regular blog going on Australasian topics. Since Dr Phil is now having to cover the area due to Nicholas's departure to pastures new (literally - he's gone off to farm in France!), he's sneaking in this post on one of his favourite subjects. And if you're interested in things Australasian, we do have a Twitter account @BL_Australasia.
Given today is the beginning of Australia's One Day International Series in England it seems appropriate to interrupt the blog's usual service for some notes on Australia and England's cricket heritage.
The focus here is very much on beginnings as the Library holds works relating to both the first England tour of Australia and vice versa. The first England touring eleven to visit Australia did so in 1861-62 and their matches are recounted later, in 1899, by William Caffyn in 'Seventy-One Not Out' [Shelfmark: 07905.g.30]. This wasn't quite the England tours we are used to seeing; the team was gathered by a commercial sponsor (Messrs Spiers and Pond), the team itself was not exactly 'all-England' (most of the North declined to tour) and they played Australia teams of eighteen and twenty-two players.
The tour was a success as it drew large, enthusiastic crowds to every game and it proved that subsequent tours would both be of enjoyable quality and financially viable. Caffyn seems pleased with the quality of the matches but devotes an awful lot of his narrative to the activities of Australia's mosquitoes – it would seem they plagued him more than the opposing bowlers. Subsequent England tours to Australia would follow, although the fractious relationship which has defined this rivalry was soon to develop.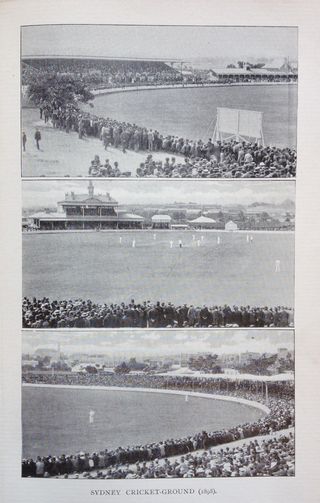 Sydney Cricket Ground, 1898, from 'Seventy-One Not Out' [Shelfmark: 07905.g.30]
Australian teams would soon be visiting England too, although the first tour (that of the Australian Aboriginal Cricket Team) is only recorded in Library holdings such as Wisden (Shelfmark: RH.9.X.1553) and the cricket-minded newspapers. The 1878 tour of England, which was captained by D. W. Gregory and also played in the United States during these travels (and is thus the best link to this blog's usual content I could make) has marginally better representation, including a lengthy discussion of the impending tour in the Melbourne-published Conway's Australian Cricketers' Annual [Shelfmark: P.P.2638.fa].
Of course, the 1878 tour saw a strong Australian team begin to build the reputation and legacy which stands today. While this post merely charts some beginnings the Library's collections of cricket publications, newspapers and other materials tell the history of what was to come; Ashes, Dons, Bodylines and all.
[PJH]
07 June 2012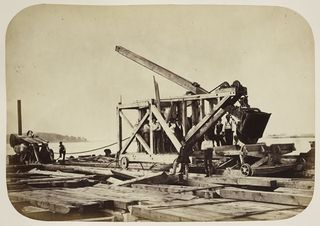 'Construction of the Victoria Bridge, Montreal: dredging machine', William Notman, 1858 [Shelmark: C.161.g.2]. Displayed as part of the British Library's Points of View exhibition.
Keeping my recent Quebec run going, I'm going to jump a few centuries ahead from Samuel de Champlain's work and into the realm of nineteenth century photographers; in particular, Montreal's William Notman. Notman has been cropping up quite a bit in my work recently, I used some of his photographs in the display mentioned in my last post and CBC Radio have recently posted a very good documentary about his work on their website.
Notman, for want of a better way of describing him, was one of those canny individuals with an excess of talent and a knack for being in the right place at the right time (overlooking his suspected bankruptcy in Scotland, a possible reason he settled in Montreal). His photographs were of a very high quality and his savvy for branding and promotion allowed him to develop an international reputation for himself. An example of this is his decision to create an ornate Maple box of stereoviews which was presented to the Royal Family at the opening of the Victoria Bridge, an action which would eventually allow him to call himself 'photographer to the Queen'.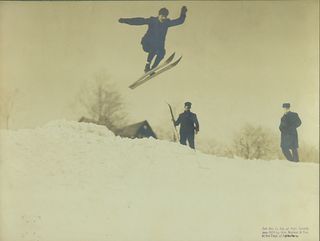 'Ski Jump, Montreal', copyrighted by William Notman and Son, 1905. Part of the Library's Canadian Colonial Copyright Photographs collection [Shelfmark: HS.85/10]
The technical skill and photographic flair of Notman led to him creating some of Canada's iconic photographic images, such as 'Caribou Hunting, the Chance Shot' which is held in the Notman collection of the McCord Museum. Indeed, Notman's skill and reputation was such that by the 1860s he was known as Canada's great portrait photographer and a fixture on the British colonial traveller's list. By the time of his death in 1891 the reputation of the Notman brand was such that his descendants could maintain a successful photographic business using the family name.
The British Library has a surprising collection of Notman related photography, largely as a result his work being used to illustrate books or his successors depositing 'William Notman and Son' work for copyright deposit. As a brief illustration, 'Portraits of British Americans' is a three volume work containing many Notman photographic portraits [Shelfmark: 010803.f.1], while 'The Canadian Handbook and Tourist's Guide' by H. B. Small is illustrated by some striking Notman landscapes [Shelfmark: 10470.e.31]. Finally, the Library also holds copyright deposit photographs from William Notman and Son, with the volumes of 'Notman's Photographic Selections of Canada' containing photographs from Quebec, British Columbia and the rest of Canada [Shelfmark: Maps 8.bb.1]
[PJH]
16 May 2012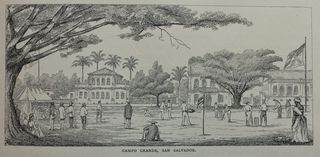 Cricket on the Campo Grande, from Wild (1878), 'At Anchor' [Shelfmark: 1786.a.6]
Tomorrow is the beginning of a few weeks of divided loyalties for me, as England take on the West Indies in the first summer series. In honour of the occasion I thought I'd post a nugget from a paper I've written for the Library's 'Sourcing Sport' event on 21st May.
That paper is on cricket in the Americas and while I was researching it a particular detail caught my eye, that is the insights British colonial shipping can give to the spread of the game. Two non-Americas examples are the earliest record of a game of cricket being played in India (Port of Cambay, 1721. Recorded in Downing (1737), 'A Compendious History of the Indian Wars' [Shelfmark: 800.c.16]) and Darwin's relatively well known Beagle voyage diary entry about cricket being played in New Zealand (December 1895, 'Journal of Researches into the Natural History and Geology of the Countries visited during the Voyage of HMS Beagle Round the World' [Shelfmark: X.319/3182]).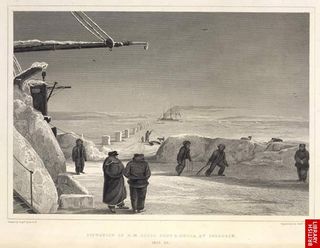 Cricket on the Arctic ice, from Parry (1824), 'Journal of a second voyage for the discovery of a North-West Passage from the Atlantic to the Pacific' [Shelfmark: G.7394]
Because of similar circumstances there was opportunity for the etching at the top of this piece to be made. It depicts a match between expatriate Britons and the crew of HMS Challenger on the Campo Grande, San Salvador, and is an example of cricket being spread into the informal British empire (as the expatriates and sailors were all there as a result of British investment in the building of a local tramway).
However, as interesting as the Campo Grande illustration is, the depiction of cricket being played on the Arctic ice (from William Parry's account of a voyage to chart the Northwest Passage) takes the award for 'most striking ground' - although it might also win 'worst wicket'. These references and others in the Library's collections attest to how much the spread of cricket owes to the enthusiasm of British sailors; they also represent a useful source to further question the relationship between sport and empire
There is a great deal the Library's collections can tell us about sport and society, as previous posts here and next week's 'Sourcing Sport' will show. As to the rest of what makes cricket special, hopefully Sammy, Strauss, et al will furnish that argument.
[PJH]
11 May 2012
Yesterday, between giving a talk at the Brighton Museum on Magna Carta and watching a two-handed Shona performance of Two Gentlemen of Verona at Shakespeare's Globe (brilliant, despite only catching the word for 'dog' (imbwa)), I needed some food.  Thankfully, the London cafe Look Mum No Hands was at the apex of the relevant railway lines.  But not only were they serving up some tasty food, they were also hosting a book-related appearance of the blogger and writer, Bike Snob NYC.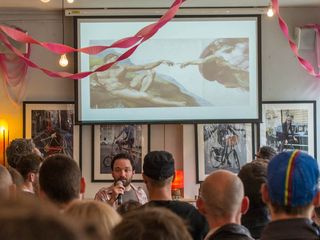 The Snob's blog hit critical mass during the late-naughties' hipster boom in Brooklyn and NY, a time that also saw a marked increase in cycling and bike 'culture' (with a consequent boom in periodicals, zines, blogs and books, such as this one published by the University of Oregon press and reviewed by the non-car-owning David Byrne). So much so, that the identity of the Snob became News That's Fit to Print, and was eventually 'unmasked' by the New York Times.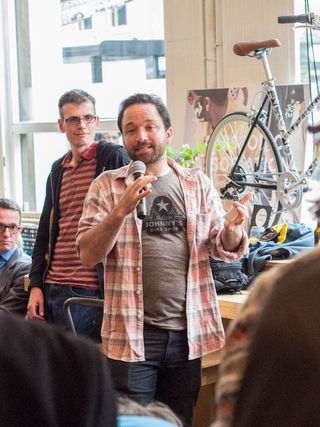 The Bike Snob enlightens cyclists
The Snob was in town talking about his second book, The Enlightened Cyclist, which reminds us that the daily commute is perhaps one of the only remaining contacts with have with our primeval state, and then takes the riff from there, bringing together some lame jokes, salient advice, acute observation about bike 'culture' (and some of the best writing I've read about 9/11) in well-designed book that reminds us of why the codex form can work so well.
After an illustrated talk about the indignities of commuting, there was the chance to buy copies, and to have then inscribed by Sharpie (and once again wonder what happens when and if all books are electronic).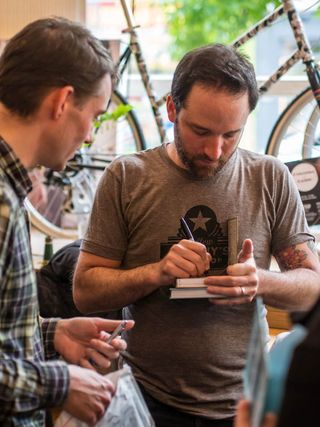 Fortified by my supper, I stood in line, and explained that the British Library was something like the New York Public (without the lions), and that I would add the Snob's first work, Bike Snob: Systematically & Mercilessly Realigning the World of Cycling to the collections.  Would he care to add a message for the British people, and indeed to future generations of readers.  Here it is: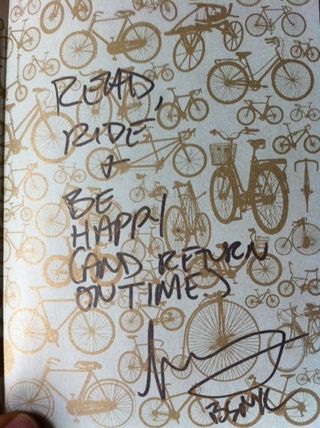 Read, Ride & Be Happy (and Return on Time)
Good advice, especially for a Friday (although, clearly, this will have to be added to Document Supply, rather than reference, stock).
N.B., An earlier blog post talked about some of the resources we have on cycling; the Library's Sports Study Day is also looming (21 May). 
[M.S.]
27 April 2012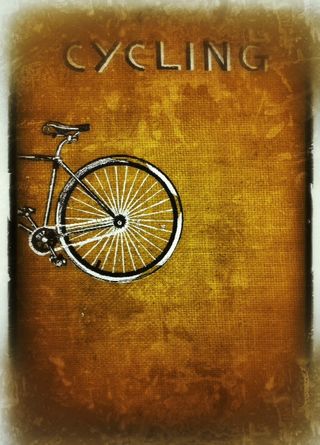 Luther H. Porter, Cycling for Health and Leisure, New York, 1895, cover
On 21 May 2012, The Library is hosting a Sports Studies Day (and, no, we won't be wearing just our pants and vests and holding eggs and spoons).  It's titled 'Sourcing Sport: Current Research; British Library Resources',and I've been starting to do some work in advance of the section on the right hand side of that semi-colon.
Rather than cover all of U.S. related sports, from basketball to Ultimate Frisbee (we have an ex-Royal Holloway Blue on Team Americas for the latter, btw), I've opted for what I thought would be a little more focused: bicycling.
I was mistaken, since that sport has generated a vast literature and, of course, dates back to the second half of the nineteenth century.  It also encompases a great range of disciplines, from multi-day track racing at the heart of Madison Square Gardens, the monuments of the Spring Classics and the Grand Tours to modern-day mountain biking and BMX.  And this is putting aside the history of leisure, class, and gender, all of which have been influenced by that world-changing two-wheeled invention.  This will all be boiled down to a short overview, with some pictures, too.
But since the London Tweed Run is not so very long away, I was particularly struck by this collection of wool fabric samples contained in a pamhlet of uniform regulations produced by the Cyclists' Touring Club in 1888 (recently renamed from the bicyclists' touring club because of the growth in popularity of tricycles).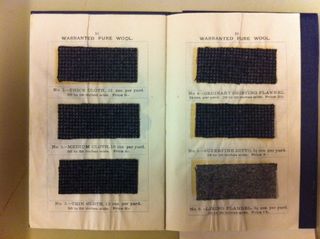 Cyclists' Touring Club, Uniform rules & regulations, London, 1888.  Wool samples.
These could be run up into some rather natty outfits: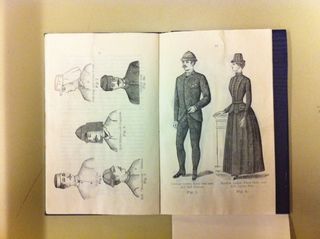 The American author, Luther H. Porter (whose book on the health benefits of cycling's cover has been meddled with at the top of this post) also offered advice on clothing, particularly on the liberating bloomers and other 'rational' female costumes.  Men were also advised: 'Stockings of dark gray or some plaid look best in the long run; black ones are more dressy, but show dust badly'.  Sadly, rain rather than dust is our current environmental enemy of sartorial success.  Bloomers below: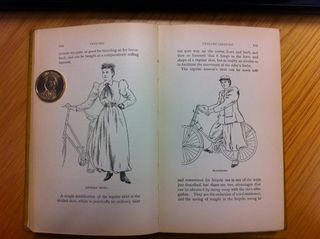 You can find out more about the consequences for life in America (and elsewhere) of such clothing in Sarah A. Gordon, 'Any Desired Length': Negotiating Gender Through Sports Clothing, 1870-1925', in P. Scranton, ed., Beauty and Business: Commerce, Gender, and Culture in Modern America, New York & London, 2001, as well as on the Annie Londonderry website (She's also graced the Team Americas blog).  Younger readers may also appreciate Shana Corey, You Forgot Your Skirt, Amelia Bloomer!, New York, 2000.
Expect all this, and more, on the 21st.  Including the Wheelmen's Patrol songbook cover: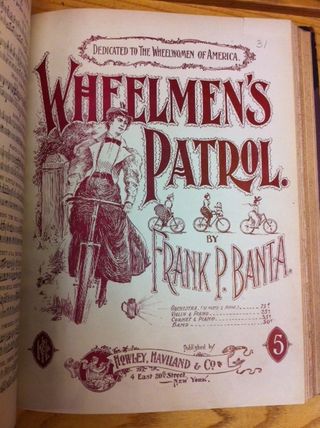 And possibly cheerleaders.
Here's the blurb from the Library's What's On page (more also on the Sport and Society pages, which are also charting the summer Olympics):
If you are a sports researcher, a historian or simply interested in sport and its background join British Library curators and academic experts as they unlock the secrets of the Library's sports collections and showcase their explorations into the world of sports research.  
Participants will be given the opportunity to discover a wide range of sports resources: from sound files, ephemera, images and historical materials to publications from other countries including Russia and the USA.  
Speakers include Professor John Horne, Professor Andrew Sparks, Professor Matthew Taylor and Professor Kath Woodward.
It should be enlightening, fun; and the £10 registration charge includes Peyton & Byrne sandwich lunch and refreshments (and, for the cyclists, possibly a cakestop).
[MS]
30 March 2012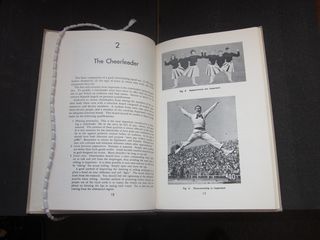 Cheerleading,  Newt Loken, Ronald Press: New York, 1961, Second Edition [Shelfmark 72/16766] 
 
Recently I went to see my daughter in the end of term performance of her cheerleading class.  It was a superb spectacle full of pizzazz, pom-poms and endless amounts of energy topped off with a touch of self consciousness. It was a worthy reward for the audience of proud parents who had dashed to make the mid afternoon engagement.   
It got me thinking about what we have in the collections relating to cheerleading. According to The Berkshire Encyclopedia of World Sport (HLR 796.03), it is a sport in its own right, with professional teams, competitions and leagues, and can be traced back to the 1840s, where it developed as part of the military traditions of the U.S. Army and Navy.  In its earliest incarnations injured or substitute players would lead the cheering from the bench. By the 1900s the role of "yell leader" was created - a prestigious position to hold, comparable to the quarterback on the football team. 
It was not until the 1920s that women first started to become involved, and the University of Minnesota was one of the first to have female cheerleaders. But at the time, these women were perceived to be encroaching on male sporting territory and as a result, were often viewed as being too 'masculine'. However, it was the post World War II years, and in particular, the forming of the National Cheerleaders Association in 1948 by Lawrence Herkimer that saw the development of the sport into what we recognise today.  By the 1970s, cheerleading was considered a 'natural' female activity, but it was still as late as 1971 that Harvard University finally permitted women cheerleaders.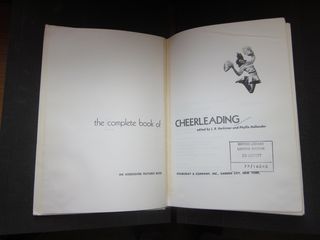 The Complete book of Cheerleading, Eds. L.R.Herkimer and Phyllis Hollander, Doubleday & Company: New York, 1975 [Shelfmark:77/16045]
Explore the British Library  provides us with a number of useful resources which include cheerleading manuals and various articles in medical journals assessing the injuries one might sustain while participating in the sport. In addition there are numerous books and articles which examine the sport from a cultural context and which engage it from a sociological and/or feminist perspective, addressing the rigidly gendered perceptions of the activity and its political ramifications. Of particular note is the way that 'radical cheerleading' was incorporated into the marches of the anti-capitalist protest movements of the 1990s.
Further Reading:
Women, Sport, and Culture Eds. Susan Birrell & Cheryl L. Cole Human Kinetics: Champaign IL 1994 [YC.1995.b.6129]
Go! Fight! Win! Cheerleading in American Culture, Mary Ellen Hanson, Bowling Green State University Popular Press: Bowling Green OH 1995 [YA.1996.b.7135] 
Laura Grindstaff and Emily West, "Cheerleading and the Gendered Politics of Sport" in
Social Problems Vol. 53, No. 4, November 2006, pp. 500-518
Jeanne Vaccaro, "Give me an F: Radical cheerleading and feminist performance" Women & Performance: a journal of feminist theory Volume 14, Issue 2, 2005 pp. 43-50
[J.J.]