28 September 2022
This month's e-resources blog explores five wonderful resources offering full-text access to a wide variety of magazines and comics. 
Please note: all of these resources can be accessed remotely with a British Library Reader Pass.
Entertainment Industry Magazine Archive, 1880-2015 covers the history of the film and entertainment industries, from the era of vaudeville and silent movies through to the 21st century. It includes numerous trade magazines which have effectively provided the main historical record for their subject areas throughout the 20th century – Variety (1905-2000), The Hollywood Reporter (1930-2015), Billboard (1894-2000) and Broadcasting (1931-2000) – as well as more specialist titles, such as American Cinematographer (1930-2015), Backstage (1961-2000) and Emmy (1979-2015). The inclusion of consumer and fan magazines enables researchers to retrieve industry news items, features on technological breakthroughs and in-depth interviews with major artists, together with photographs and illustrations, gossip columns, listings, reviews, charts and statistics. Items such as advertisements, covers and short reviews of films, music singles or other works have been indexed as separate documents enabling researchers find all the relevant material for their search topic.
Men's Magazine Archive contains a handful of US titles, with two being particularly notable. Founded in 1845, the tabloid-style National Police Gazette was in print for over 120 years and initially covered matters of interest to the police – in particular, lurid murders and Wild West outlaws. It also focused on sport, and its plentiful images of burlesque dancers and strippers meant it was a fixture of nineteenth and early twentieth century barber shops. In many ways, the Gazette was a forerunner to illustrated sports weeklies, girlie magazines, celebrity gossip columns, and sensational journalism. Published in New York, The Argosy/Argosy was one of the "big four" pulp (all-fiction) magazines. It had many different iterations, and its writers included Upton Sinclair, Zane Gray and the former dime novelist William Wallace Cook. From the early 1940s, much of its fiction content was replaced by "men's magazine" content. The magazine ceased publication in 1978.
Trench Journals and Unit Magazines of the First World War contains over 1,500 journals and magazines written and illustrated by service personnel in the infantry, artillery, air force, naval, supply and transport units, military hospitals and training depots of all combatant nations. Not only did these magazines create a sense of esprit de corps and raise the spirits of the unit through humorous stories, poems, jokes and parodies, but they also documented the unit's unique circumstances and experiences. The vast and previously unrecognised corpus of war poetry, written by a multitude of hitherto unknown poets, offers a vital counterpoint to the more established authors who emerged from the Great War. NB – a similar resource, Service Newspapers of World War II, was covered in our e-resources blog in November 2021.
Underground and Independent Comics, Comix and Graphic Novels is the first-ever scholarly online collection for researchers and students of adult comic books and graphic novels. From the first underground comix of the 1960s, to the work of modern sequential artists to the present day, it covers the full spectrum of this visual art form and offers 200,000 pages of original material alongside interviews, commentary, criticism, and other supporting materials. Please note that it contains graphic material that some may find offensive.
Vogue Archive contains the entire run of US Vogue, from its founding to the present day and includes all text, graphics, ads covers and fold-outs, indexed and in colour. Vogue was founded in New York in 1892 as a weekly society paper catering for Manhattan's social elite. After being purchased by Condé Nast in 1909, not only did the quality of the paper, printing and illustrations all improve, but there was a new focus on fashion and the magazine quickly became one of the icons of the modern age. The Archive's contents represent the work of the greatest designers, photographers, stylists and illustrators of the 20th and 21st centuries and are a primary source for the study of fashion, gender and modern social history.
11 September 2019
Of course there are far more than five reasons why The Testaments has jumped to the top of our reading list and why its publication was among one of the most eagerly anticipated of 2019, if not the decade. But along with the other eight million people around the globe who own a copy of The Handmaid's Tale, we are more than a little excited for the follow up to arrive at the Library.
Last night I went to the National Theatre's live screening of Margaret Atwood in conversation with journalist Samira Ahmed, an event that was streamed to 1,400 cinemas of Handmaid fans all over the world.
The atmosphere of the crowd was one of eagerness and total awe as Atwood spoke of her journey to writing The Testaments, and as she recalled the world setting which brought about the idea for The Handmaid's Tale almost four decades ago. Atwood's ability to turn the answer to every question into a carefully considered and utterly compelling story never ceases to amaze me. Her historical, literary and worldly observations from the past and present entwine with her fiction to create stories that readers embark on with a kind of dreaded excitement; part of you can't wait to open the book, while the other knows it's almost too frighteningly close to reality to want to step into.
So as we patiently wait for The Testaments to arrive for the Library's collection, here's a very brief reflection of five of my takeaways from last night's launch event – and the things I'm most looking forward to encountering in the reading of the novel.
Three new voices
While The Handmaid's Tale was told solely from the perspective of Offred, The Testaments, as the name implies, includes the testimonies of three different voices. One we are familiar with from The Handmaid's, that of the formidable Aunt Lydia. Then we are introduced to two new young women – one rescued from Gilead while still a baby (Daisy), and Agnes, who grew up in Gilead and knows no other way of life. We learn of what drove Lydia to her position of power and of her life before Gilead, and of the parallel lives the Daisy and Agnes have led. The evening's event featured readings from the book by Ann Dowd (who plays Aunt Lydia in the TV adaptation), Sally Hawkins and Lily James. Atwood hinted that their separate tales may be more connected then first meets the eye…
Historical nods
History has a funny way of repeating itself. Many of the issues raised in The Handmaid's Tale and The Testaments, such as men abusing positions of power, rules and laws being created and imposed by those who will never be impacted or effected by their force, the restriction of free speech, episodes of violence and mass execution, 'are not new motifs' Atwood said on more than one occasion. When asked about how Atwood conjures up her dystopian worlds, she very matter-of-factly stated that 'these are not made up', instances of all have taken place in the real world over the course of time, and continue to do so. Atwood mentioned historical figures and events that had influenced her writing: Henry VIII, Thomas Cromwell, Mary Queen of Scots, Stalin, Pinochet, the division of Germany, extreme Puritan traditions in America, the fear of 70s cults, and a disturbing story from the Old Testament (the concubine of a Levite), to name but a few. Literary influences from Vasily Grossman and George Orwell also resonate through her pages.
Equality Now
Through her writing and public eminence Atwood continues to strive for equality for women and the launch of The Testaments is run alongside a campaign with Equality Now, an organisation supporting 'a just world for women and girls'. When asked about how Atwood felt about the use of the Handmaid's outfit by political activists in recent years, particularly around the abortion debate in the US, Atwood highlighted its silent power – women wearing the attire can't be penalised for any reason – they have their heads down, they are quiet, they are covered to the ankle – yet their visual protest speaks volumes. An element of pride was detected in Atwood's voice when she spoke of how her timeless creation has become such a cult image and sign of resistance.
Atwood's dark optimism
 'The Handmaid's Tale is optimistic' Atwood told us with a wry smile. Of course the audience laughed. The fact that it ends with a symposium shows that humanity has survived the atrocities of the Gilead regime. When we survive history we do what we always do with it, 'turn it into something studied in schools, a symposium, or a theme park' Atwood joked (but we all know it's true). She insinuated that the same element of hidden optimism is buried within The Testaments too; we know that some children are rescued, Daisy is the living proof. But what lasting damage is done? And what becomes of Aunt Lydia and Agnes?
Climate change
In a world that seems on the brink of collapse 'what can we do to save humanity?' Atwood was asked by one of the audience members. Her response: the number one thing we need to address right now is the issue of climate change.
In a passage from the voice of Aunt Lydia, a world ravaged by extreme weather and its disastrous effects is described; a frightening echo of the pictures we see on the news today with more and more frequency. 'When the environment is disturbed, you get more social unrest' Atwood proclaimed. She spoke of her admiration for activist Greta Thunberg and of her optimism around young people and the Extinction Rebellion campaign. 50 years ago when scientists foresaw the climate crisis no one listened, Atwood remembered, but now we have people paying attention, and acting, and who will soon be able to vote on these matters. It seems even the green figure on the front cover of the book could be a nod to Atwood's concern on this subject – the daughter of an entomologist, Atwood grew up frequenting the forests of Quebec and Ottawa, even living in them in a tent as a young child while her father built their log cabin home.
'You don't believe the sky is falling until a chunk of it falls on you' were the last words Ann Dowd as Aunt Lydia read at the event and the youthful looking silhouette of the girl on the book's cover, arms outstretched, is the figure of hope on which the evening's focus ended. Atwood maintained that climate change needs to be the primary focus for politicians today and we are not too late to address this.
[RSW] (overjoyed that her copy of The Testaments arrived by the time she finished writing this blog) 
Suggested reading
The Handmaid's Tale by Margaret Atwood (Heinemann New Windmills, 1993), General Reference Collection Nov.1993/888
Wilderness Tips by Margaret Atwood (Bloomsbury, 1991), General Reference Collection Nov.1992/377
Strange Things: the Malevolent North in Canadian Literature by Margaret Atwood (Clarendon Press, 1995), General Reference Collection YC.1997.a.983
Margaret Atwood edited and with an introduction by Harold Bloom (Chelsea House, c2000), Document Supply m00/27831
Mary Queen of Scots (Pitkin Pictorials, 1973), General Reference Collection YK.1993.b.3611
The rise & fall of Thomas Cromwell: Henry VIII's most faithful servant by John Schofield (The History Press, 2011), General Reference Collection DRT ELD.DS.321626
Life and Fate by Vasily Grossman (Vintage Classic, 2011), General Reference Collection DRT ELD.DS.190531
Nineteen eighty-four: a novel by George Orwell (S. J. Reginald Saunders and Company Limited, 1949), RF.2018.a.197
Daniel Deronda by George Eliot (William Blackwood & Sons, 1876), General Reference Collection 20098.bb.21.
The Tombs of Atuan by Ursula K. Le Guin (Gateway, 2015), General Reference Collection DRT ELD.DS.12524
02 September 2016
If Netflix's smash hit Stranger Things has taught us one thing this summer, it's that even in 2016 we have serious nostalgia for all things 1980s. From Toto's Africa to Dungeons & Dragons the show celebrates all that was great about the 80s. But there's one reference most cultural commentators have missed – microfilm.
In Episode 3 Police Chief Jim Hawkins visits his local Library and makes full use of the Library's microfilm collection to research the LSD mind-control experiments of the creepy Dr. Brenner. It's a triumphant moment and one which celebrates a technology most modern researchers overlook.
Figure 1:© Netflix
The British Library has an extensive microform collection relating to the American government and so if you fancy yourself as a bit of a modern day Chief Hopper then the Social Sciences Reading Room is the place to start. And don't worry if you haven't used microform before, our reading room staff are on hand to guide you through the simple process and that eighties technology is much more robust than today's!
So what collections do we have available?
Well, we can't promise you'll find things on LSD mind-control but the British Library has an extensive collection of U.S. government documents and archive materials available on microform. As a federal government depository library, the Library holds a vast set of U.S. Government Printing Office documents, including Congressional reports, committee hearings and bills. These can be accessed via the CIS Indexes on the shelves in the Social Sciences Reading Room.
Figure 2: Example of some of the CIS Indexes in the Social Sciences Reading Room
The Library also holds a significant number of NARA documents, including Presidential Papers. The full collection is listed by subject in the Social Sciences Reading Room card catalogue and most collections have indexes available on the reading room shelves. Some of the collections we hold include, Nixon's Presidential Papers relating to China-Vietnam negotiations and the Department of Justice's Classified Subject Files on Civil Rights.
Figure 3: Examples of some of the microform collection subject guides available
If Stranger Things has prompted you to revisit your favourite books, films and songs from the 1980's, why not hop on your BMX? and come down to the British Library and get hands on with the microform collections to boost your research project?
Figure 4: © Netflix.
A detailed description of the collections is available in our 'Guide to United States Official Publications in the British Library' (PDF format). - See more at: http://www.bl.uk/collection-guides/united-states-federal-government-publications#sthash.uMGqFc21.dpuf
Mark Eastwood
14 August 2014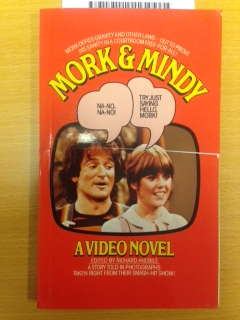 Richard J. Anobile, Mork & Mindy: a video novel (London, 1980 ed), Shelfmark X.958/21638.
For obvious reasons, one of Team Americas favourite films is Night at the Museum. It was playing on one of the TV channels on Monday night, and once again I enjoyed Robin Williams doing his turn as Tedddy Roosevelt. Like most people, I suspect, it was surprisingly sad when I woke up the next morning to hear the news of Williams' death, something that has been reflected in the extraordinary amount of column inches and screen time that followed the news.
I wondered what we might have in the collections from happier times, and called up the volume shown above (saving the The World According to Garp for another day). It's billed as a 'video novel', a rather unusual form of publication which riffs off the novelty of the new-fangled video recorders of the 1970s, and tells the story of everyone's favourite Orkan (Mork) and his Coloradan housemate, Mindy, via 'photographs taken from their smash-hit show', Mork & Mindy (which ran 1978-82). Apparently based on an hour-long special, it uses what looks like frames taken from a VCR to tell the tale in comic-book fashion, complete with speech bubbles. Our copy arrived via Hong Kong, a legacy of colonial copyright legislation. You can read more about the novel on Chris Pearce's comics blog.
Naturally, and now somewhat poignantly, the final pages show Mork calling his Immenseness with his final report, signing off as ever with his Orkan salutation:
'Na-no, Na-no!' 
[MJS]
11 September 2013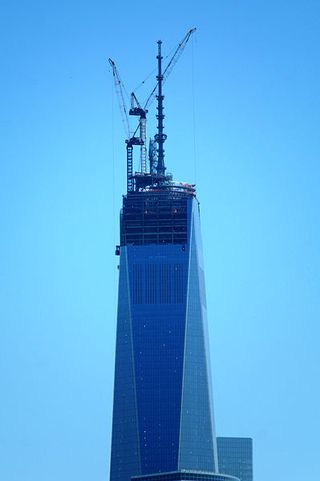 Spire installed at the top of One World Trade Center by Alec Perkins 

It hardly seems possible that it's 12 years since the horrors of 9/11. As usual, over the last week or so the TV networks have been showing numerous programmes relating to the events of that day but it's been good to also see some stories which focus on post 9/11 developments in New York. I would recommend in particular that you try to catch Belfast-born artist and film-maker Marcus Robinson's Rebuilding The World Trade Center, an artistic project "about reconstruction, ambition and humanity."
In 2006, when Ground Zero had finally been cleared and the numerous disputes around the rebuilding resolved, Robinson was given permission to document (through film, photography, drawing and painting) construction on the  World Trade Center site, which must be one of the most scrutinised building projects in the world. Through time-lapse photography (with 13 cameras taking a frame once every 30 minutes), we get to see exactly what goes in to the construction of  a skyscraper (the focus is on Tower One), as beautifully edited sequences distill over 7 years work to almost the blink of an eye. Interspersed with the time-lapse photography are numerous interviews with the army of people who are needed for such a massive building project – surveyors, site managers, engineers, construction workers and a whole host of others, many of whom wanted to be involved in the project for very personal reasons.  And although the photography is stunning, it is the construction workers and riggers who are the real stars (and heart) of this story of epic architecture and engineering (they are aptly described as a kind of Greek chorus by one reviewer). In particular, it's amazing to watch the legendary iron workers as they walk across open girders hundreds of feet in the air in the world's most dangerous circus. "I see a lot of things up there, I get chills, see shadows. I don't know if you call them ghosts or whatever, but you feel stuff. They're trying to tell you something." comments Joe "Flo" McComber, one of a long line of Mohawks who have been involved in building New York's skyscrapers since the early twentieth century.  And look out for the wonderful Chantelle Campbell, an ex-secretary but now concrete carpenter, who isn't content with doing "light work" but says "I want to be seen on the same level as the men… I don't have the type of personality where I'm going to back down. That gets me a lot of respect." And you really can't imagine anyone arguing with her.
Ending (well almost, but not quite) with a joyful party on the roof, Rebuilding the World Trade Center is an uplifting film in every sense.  The actual end and final stage of the build was in fact the incredibly complex and dangerous crowning of Tower One with a huge metal spire earlier this year. The Tower, standing at a symbolic 1,776 feet, is now the tallest building in the U.S. But it was never just going to be about building a new skyscraper - for the crew, or New York. As Marcus Robinson says, "They are healing a scar in the bedrock of the city, in its skyline, and in many ways what they are doing is part of a much greater act of rebuilding and healing."
The documentary is currently still available on the Channel 4OD website and we'll acquire a copy on dvd for the collections when it becomes available.
 [C.H.]
20 June 2013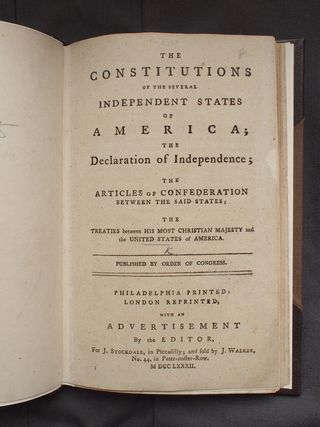 The Constitutions of the Several Independent States of America, London, 1782, British Library Shelfmark 8177.cc.45.
Once upon a time in Seattle, Niles and Frasier Crane decide to dissolve their connections with their wine club and to institute their own (Niles: 'my enthusiasm for the wine club has started to turn...', Frasier: '... it used to be the the wine club.  Now it's just the teasing people club.').  Their enthusiasm for their new club grows apace:
FRASIER
So what's preventing us from starting a whole new club from scratch?  
NILES
We could really get back to basics!
FRASIER

Something that's just about wine! And a clear constitutional procedure for enjoying it!
NILES

Yes, only maybe this time the governing body could be bicameral!  
FRASIER
Well, I don't know, Niles, there is something to be said for the parliamentary system!
NILES

Well, either way we have to have a strong judiciary to keep it in check.
FRASIER
God, I love wine.
The next scene opens with Frasier and Niles huddled over their new constitution, quill pen and parchment in hand.
It's not just Frasier and Niles, of course, but the US as a whole could be said to have 'Constitution Complex', with its balanced clauses and elegant eighteenth-century language burrowed deep within the core of national memory.  The US Revolution itself, it could be argued, was also the result of a widespread early American engagement with republican and constitutional ideals.
As a physical document, surrounded by inert gas, and tucked up at night in bomb-proof vaults, the Constitition is something of a civic shrine, often making an appearance in disaster movies: zapped by extra-terrestrials, crumpled by natural disaster, or incinerated by terrorists and troublemakers.
The text also has a strong, online presence, as well as a regular series of books arguing the various sides of how to interpret it, especially since the rise of 'originalism' in the 1980s, a line of political and legal argument that seeks to interpret the Constitution as it was understood by its creators and agreed at the Ratification, 225 years ago.  The founding fathers, in these readings, are often found to be rather conservative in outlook.  Others read the text as a 'living constitution', a founding document that nonetheless has to change with the times.   (The tone of the debate sometimes brings to mind Frasier's criticism of the original wine club).  For a balanced starting point, the Library of Congress offers a good overview of many online resources, as, of course, does the US National Archives. (And, dare we say it, our own Online Gallery feature on the American Revolution.)
This said, the Complex can't just be diagnosed in the US.  As the imprint above shows, Britain (and for that matter, France), were obsessed with constitutionality.  Printers, such as the pro-revolutionary publisher John Stockdale, found that constitutions, whether printed cheaply or in deluxe vellum volumes, were a good publishing bet.  Frasier and Niles would have felt quite at home.
[M.J.S.]
28 October 2010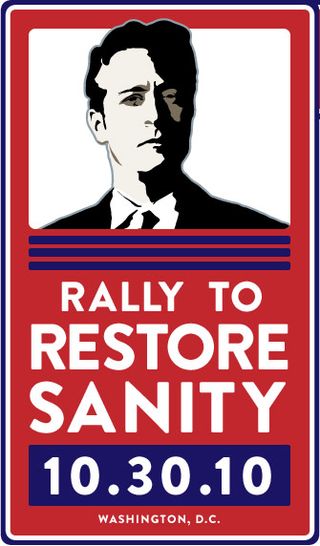 Team Americas are likely to be glued to More4 this evening, as President Obama makes his first appearance on the Daily Show as POTUS.   We are also waiting for reports on the Million Man March - March for Sanity/to Keep Fear Alive on Saturday.  We can't decide whether this is all a good thing of Swiftian brilliance, or some sort of post-Baudrillard ridiculousness, and are slightly troubled as to how historians of the future will get hold of the online and television materials that document/create this phenomenon.  Something else to worry about/keep fear alive, I suppose.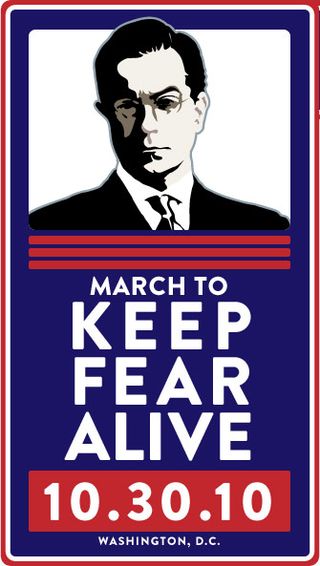 [M.S.]
06 May 2010
We have a General Election today in the UK, and this means that there are certain rules about what can be discussed on blogs by public servants.  But, I think I'm safe to say that in order to get into political zone, I watched a couple of episodes of West Wing, that great liberal fantasy, last night while bashing out a few stationary miles on the cycle trainer.
During the second episode ('In Excelsis Deo', series 1), President Bartlett visited a bookstore to pick up a few presents for Christmas.  Needless to say, his staff were not much amused by this scholarly expedition.
Would it be possible to recreate this scene at the BL?
1. BARTLET: Oooh! 'The Fables of Phaedrus,' 1886, first edition, red leather label, gilt lettering, engraved frontice. Phaedrus, you know, who was a slave, but later granted his freedom by Augustus, wrote his animal fables in iambic verse.
Not sure what is meant by first edition here, but there was a grammar school edition of Phaedrus published by Longman in New York and London, 1887 ([shelfmark 11306.aaa.33])
2. JOSH:A book which if I was stuck with it on a desert island, I still wouldn't read it, 'The Adventures of James Capen Adams, Mountaineer and Grizzly Bear Hunter of California.' I believe I would eat this book before I read it.

Conservation may have something to say about that. Published in San Francisco in 1860 at at 10882.bb.4. (Adams named one of his bears Ben Franklin, something Josh could surely have, ahem, joshed about).
3. BARTLET:All right. You know Zoey is starting Georgetown in two weeks, I was thinking about getting this for her. 'The Nature of Things. A Viviscalic Poem Translated from the Latin of Titus Lucrecius Carus.' Leo looks to Charlie with a disbelieving look.

Trickier.  It looks like Viviscalic is a transcription error, so that leads us to possibly this edition: 
Watson, John Selby. Lucretius on the nature of things : a philosophical poem in six books / (London : Henry G. Bohn, 1851.) [X3/2479]
Later, Josh presents Donna with a gift:
3. DONNA: Skis would have killed you?
I assume Heimlich Beckengruber on The Art and Artistry of Alpine Skiing is as fictitious as Bartlett himself.
A survey of 'In the Thick of It', may, of course, have come up with some different results.
Anyway, go vote.
[M.S.]

Americas and Oceania Collections blog recent posts
Tweets by BL_Americas
Other British Library blogs