16 December 2011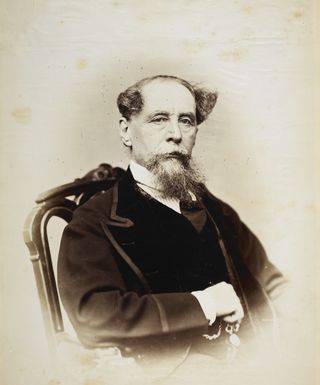 Portrait of Charles Dickens from J. Forster's 'The Life of Charles Dickens' (shelfmark: YA.1993.a.5369)
The British Library's Folio Gallery has a new exhibition up, 'A Hankering After Ghosts: Charles Dickens and the Supernatural'. The exhibition has been put on to mark the bicentenary of the birth of Dickens, who was born on the 7th February 1812, and is well worth a look. While I paid the exhibition a visit the other day it reminded me of some of Dickens' writings, which I had been meaning to read for some time, the notes on his travels to North America in 1842.
 'American Notes for General Circulation' is a travelogue resulting from Dickens' travels and experiences in America and Canada, the Library holds a copy at shelfmark, Cup.410.g.25. The account is well worth a read for the author's flair and as an interesting travelogue in its own right. What caught my attention was Dickens' devotion of the final thematic chapter to the topic of slavery in America. Dickens is strongly critical of the practice and goes to great lengths to illustrate the horrors of slavery through the reproduction of adverts regarding run away slaves.
Dickens is withering in his criticism of Republicans who maintain a system at odds with their stated values, denouncing these individuals as thinking they, 'will not tolerate a man above [them]: and of those below, none must approach too near' (p. 41). He also notes there to be a significant proportion of this group who would, 'glady involve America in a war, civil, or foreign, provided that it had for its sole end and object the assertion of their right to perpetuate slavery' (ibid). While the causes of the later civil war are complex such a statement does seem unnervingly prescient.
Even though the Library's 'A Hankering After Ghosts' led me to call up Dickens' 'American Notes' this chapter caught my attention for another reason, the Americas department's collaborative doctoral award on slavery in Canada. The award is currently open to applications and anyone who is interested can find more information on this previous post.
[PJH]
03 June 2011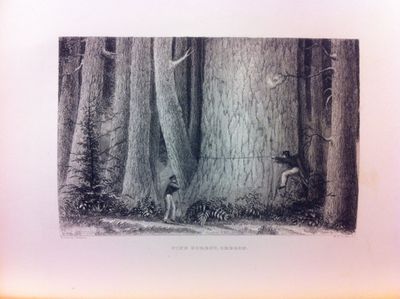 from Charles Wilkes, Narrative of the United States Exploring Expedition... 1838-1842 (Philadelphia, 1845), vol. 5. [10001.d]
19 January 2011
Phil wrote some months back about stereoscopic photography, and I was struck by a current reprint of some U.S. Civil War '3D' photographs that I came across during the AHA, so I thought I would start to have a look at some of the photographically illustrated Americana in the collections.  First up is Porter's Impressions of America (1899), an account of a British scientist's journey from New York to Colorado Springs via Niagara, Yellowstone Park, San Francisco, Yosemite and Utah. There's a copy online, thanks to the University of California Library (and a .pdf available via the British Library's online catalogue).
You will, however, need a pair of stereoscopic glasses to get a full effect.  There are a pair in the back of the British Library copy at shelfmark K.T.C.103.b.3 (which is also signed by Porter); these are sadly lacking in the copy at at 10412.d.11.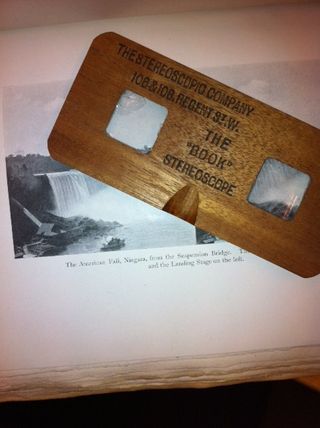 Readers will find an account of the stereoscopic effect, a considerable amount of detail on the flora, fauna and geography Porter encountered along his way: in Manitou Grand Cavern, CO, for example, his guide plays the stalactites with a 'sort of drumstick', playing 'soft, bell-like notes, sometimes almost nasal... Thus we heard "Rousseau's Dream," and other airs, ending with "God Save the Queen"' - or, perhaps, 'God Save America'.  The effect knocks the show caves in Cheddar into touch.  Porter concludes with some speculations on the periodicity of the Gulf Stream, the American and Canadian Falls, Mirages, Photographic Methods and Geysers.  The final page includes a table of temperatures 'made with due care, on the summit of Pike's Peak, during the morning of September 7, 1897, by the author on five men' in the sleeping room at 8:15.  The author hoped that the observations 'may interest physiologists'. 
[M.S.]
20 January 2010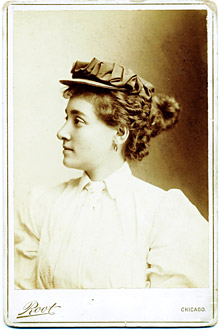 A letter from Peter Zheutlin in the New Yorker("Product Placement", 18 Jan 2010) leads to yet another chain of thoughts.  Zheutlin, following a piece on Tiger Woods and commercial endorsements, draws the reader's attention to the endorsement by professional and amateur cyclists 'for at least a decade' before 1905.  In 1894, his great-grandaunt, Annie Kopchovsky, advertised Londonderry Lithia Spring Water during her ride around the world - the first by a female cyclist - and later advertised Sterling bicycles as the machine used for the second part of her circumgyration (she even travelled under the name Londonderry).  Sterling bikes, it seems, were also endorsed by Annie Oakley, the sharpshooter.
By co-incidence, we have been acquiring one or two early trade catalogues of U.S. bicycle manufacturers (as well as holding many of the newspapers advertising Sterling's products, with all that they reveal about commerce, adventure and feminism); colleagues on Dach Blog have also been writing about what can be learnt from adverts.  And readers may also be interested to know about this post by Francisca Pérez about how ads are being used for research on 'Everyday Practices and Representations of Domestic Space, Santiago, Chile, 1930-1960'.
Meanwhile, Zheutlin is also doing his own product placement.  Annie Londonderry's Extraordinary Ride. Around the World on Two Wheels, is out now...
(and for more on the sports studies collections at the library visit the relevant 'help for researchers' section of the BL site)
[M.S.]
01 December 2009
A conversation with Jamie, Head of Literary Manuscripts, at lunch brought up the not-so-well-known, Tennessee Williams play, The Milk Train Doesn't Stop Here Anymore (1963, and turned into the Elizabeth Taylor/Richard Burton film, Boom! in 1968).  Conversation turned to the phrase 'milk train', which summoned up images of early morning steam trains bringing churns into London from Devon, Somerset and other bucolic places.  What was Williams doing with this very English sounding phrase, we wondered ignorantly?
Turns out we were wrong, in a way.  The milk-train hails from 1850s America (OED: '1853 Knickerbocker 42 532 The '*milk-train' still had the right of way'), and rather than gently rattling along, stopping at every little station, it races to town, having the right of way at junctions. (Having 'highballs', in fact: 'Milk trains'..have 'rights' over the rails and get nothing but 'high balls')
One of the references in the Dictionary (via high ball) pointed to Milk and Honey(1930), by 'Dean Stiff', and something we've relatively recently acquired in first edition for the Americas Collections.  The title is one of the pioneering sociological works of 'participant observation', providing an insider's view of a slice of society.  (You can read more about the sociologist in question, Nels Anderson, at the University of New Brunswick.)  The book provides a guide to 'hobohemia', a glossary, several cartoons; and also an account of the train routes ridden by the 'hobos' of 1920s and 30s America.  The Milk and Honey route ran from Boston to New York, but any 'railroad running through a valley of plenty may be called a milk and honey line' (24).  The D.R.G. (Denver and Rio Grande Railroad) may signify also the Damn Rotten Grub, while the M.K.T. Bible-belt railroad of Missouri, Kansas and Texas was known as 'Moral, Klannish and Theological'.
Still, there was a more English reference in the OED: '1930 P. G. WODEHOUSEVery Good, Jeeves! ix. 251 Her intention was..to..leave by the next train, even if that train was a milk-train, stopping at every station.'  Bertie would probably like a highball, too...
[M.S.]
Americas and Oceania Collections blog recent posts
Tweets by BL_Americas
Other British Library blogs