04 September 2017
Greetings from Darwin! I am currently very fortunate in that I am travelling around Australia for PhD research and learning about life and culture directly from the Aboriginal designers in the Northern Territory that I am interviewing. Prior to coming out to Australia I had to conduct most of my research online. In this post I have put together a list of websites that I recommend to anyone who is interested in gaining further understanding of Indigenous Australia. I have also included a list of books from the British Library that I found useful.
There are several hundred different Indigenous language groups with differing cultures and beliefs. In my list below I have tried to provide more general information, rather than represent each group. If you are interested in a specific community, many do have their own websites which will provide information on their beliefs and history.
I welcome any suggestions of other online and offline resources that are helpful for educating unknowing outsiders, I am sure there will be many I do not know about yet. I hope to put together a similar list for Maori culture and politics so would appreciate any recommendations for that. Just tweet me - @JoannePilcher1
Websites
The Guardian Online, Indigenous Australians:
https://www.theguardian.com/australia-news/indigenous-australians
This page provides a range of articles on different issues related to Indigenous politics and culture. There are exhibition reviews, personal essays and commentary on current affairs.
@Indigenous X:
A blog run and written by Indigenous Australians covering anything from current affairs to a history of Indigenous representation in comic books. They also have a twitter account (@IndigenousX) where different Indigenous Australians are invited to host and run the account and tweet about things related to their expertise.
NITV:
National Indigenous TV is a channel on SBS that is made by and for Indigenous Australians. While the channel may not be available internationally, their website and Facebook page share lots of information on current affairs.
Menzies Centre For Australian Studies:
https://www.kcl.ac.uk/artshums/ahri/centres/menzies/index.aspx
Part of King's College London, The Menzies Centre does not focus specifically on Aboriginal and Torres Strait Islander Australia but does have a range of interesting talks and events that sometimes relate to this area, such as a recent talk by Marcia Langton on Indigenous art. They also have a twitter (@menziescentre) and Facebook page (https://www.facebook.com/AusNetwork/) that regularly have information shared on them.
Australian Government:
http://www.australia.gov.au/about-australia/australian-story/austn-indigenous-cultural-heritage
The Australian government website has an overview of the heritage of Australian Indigenous culture.
Facebook Groups
Many of the above websites have Facebook pages that are worth following. The two listed below do not have websites.
Blackfulla Revolution:
https://www.facebook.com/ourcountryourchoice/?hc_ref=ARSENjrSyYj8gYEUr-tttpgbQIJ1tVh8SqARY7pMiX7uM4Am_TR-vTz7x7bOCpvw2w8
This group shares a wide range of posts and articles related to life as an Indigenous Australian.
Aboriginal News – Australia:
https://www.facebook.com/AboriginalNewsAustralia/
This page regularly posts articles related to Indigenous Australian current affairs. They collect articles from a range of sources.
Podcasts
It's Not a Race:
http://www.abc.net.au/radionational/programs/itsnotarace/
This podcast covers a variety of topics surrounding racial identity within Australia and discusses issues Indigenous Australians face in several episodes.
Books
There is a wealth of information available within the British Library on the Aboriginal and Torres Strait Islander peoples of Australia. There are too many topics to go into specific areas on this list so I have selected ones that give a 'whistle-stop tour' of Indigenous Australian culture and history. All of the below are available in the British Library collections and I have included their shelfmarks.
Rachel Perkins and Marcia Langton, First Australians: An Illustrated History, Carlton, Vic.: Miegunyah, 2008, [Asia, Pacific & Africa LD.31.b.2662]
This book was produced as an accompaniment to a nine part series on the history of Indigenous Australia. I have selected this as it gives a general overview but anything by Marcia Langton is worth reading, she is considered to be one of Australia's most important Indigenous historians and is the Foundation Chair in Australian Indigenous Studies at the University of Melbourne.
Australian Aboriginal Studies Journal, Australian Institute of Aboriginal Studies, Melbourne, 1983 –
[General Reference Collection X.0525/685, General Reference Collection ZD.9.a.1762, Document Supply 1796.654990]
Some printed copies of this journal are in the British Library collections, the rest are available online through the library database.
Stephen Mueche and Adam Shoemaker, Aboriginal Australians: First Nations of an Ancient Continent, Thames and Hudson, London, 2004. [General Reference Collection YK.2011.a.3122]
This short book gives a general introduction to different beliefs and histories across various communities within Australia.
David Unaipon, ed by Stephen Muecke and Adam Shoemaker, Legendary tales of the Australian aborigines, Melbourne University Press, 2001 [General Reference Collection YC.2002.a.21382]
Unaipon is credited with being the first published Aboriginal Australian author and appears on the fifty-dollar note. He toured Australia collecting the local stories of various communities and translating them into English in the 1920s; initially his publishers sold his work to an English man who published it in his name instead. Unaipon's original manuscript was found and republished in his name in 2001 by Muecke and Shoemaker
Pauline E.McLeod, Francis Firebrace Jones, June E. Barker Gadi Mirrabooka: Australian Aboriginal Tales from the Dreaming, Englewood,Colo. [Great Britain] : Libraries Unlimited, 2001
 [General Reference Collection YK.2003.b.2308]
Many compilations of Indigenous Australian stories can be considered as exploitative as they are sharing stories that could be sacred without permission from the communities the stories are from. This compilation has been produced by the story custodians themselves who have permission to share them. 
By Joanne Pilcher
Joanne Pilcher is currently carrying out a PhD placement project at the British Library, exploring contemporary publishing in Australia. If you would like to know more about placement opportunities at the Library for doctoral students please click here.
22 July 2015

The written word, as we all know, is a bit passé. But Team Americas is keeping with the now, and putting some spoken-word Americana on Soundcloud, thanks to the Eccles Centre (they were all recorded at various events organised by the centre).
The latest is the Future of the Arctic, marking the United States' 2015 role as Chair of the Arctic Council with a panel discussion on this now precarious region. 
[MJS]
21 July 2013
At last, dear reader, we can announce the end of the inconsistencies that have plagued this blog since the early, exploratory days. BL or British Library; 'digitize', 'digitise' or 'digitalise'; to Oxford Comma, or not; Vampire Weekend or 'Vampire Weekend'; The New Yorker-esque coöperate or the plainer co-operate; 11, eleven or XI. Pipping to the post the Times Literary Supplement's long-awaited and updated style guide, which still remains in their basement, we are working on applying some in-house suggestions that have been drawn up. (It's British Library and 11 from the list above.  'It's-es' can flourish – but we can say farewell to 'digitize' and its longer cousin, while also shouting a welcoming 'hey!' to the en-dash).
There is a very American tradition of this sort of thing.  Noah Webster did his best to reinvigorate the language in the republican United States with his dictionary of 1806. This was a land that had need for 'squash' and 'skunk', and no truck for fancy, tyrannical (and complicated) vowels in 'color'. The MLA and Chicago Manual of Style continue to dominate the scholarly apparatus of student essays and academic monographs (as well as causing fearsome programing (or is it programming) in citation management tools such as Endnote or Zotero). But the big beast in the land of the style guide – and one that is as much loved as Big Bird or Liberty Enlightening the World – is that perennial publication: The Elements of Style, also known as 'Strunk and White' after its two authors/editors. 
This work, now used and held in affection by students and writers for a couple of generations, may be said to have had two lives, a lifecyle charted in Mark Garvey, Stylized: A Slightly Obsessive History of Strunk and White's The Elements of Style (2009).* In 1957, the New Yorker published a piece by EB White about a textbook he had used at Cornell as a student, known as the 'little book': a 'forty-three page summation of the case for cleanliness, accuracy, and brevity in the use of English'. Written by William Strunk, it had been privately printed in 1918 and reprinted and revised a few times, the last of which was published in 1935. According to the essay, Strunk had been White's 'friend and teacher' at Cornell, and the book had always made an impression on him.   White had been sent a copy of the 'little book' by a former classmate, Howard Stevenson (editor of the Cornell Alumni News), after the two had reminisced about it the previous summer. (Stevenson obtained a copy from the university library – not, as White put it, 'filched from the library', but with the permission of the librarians (Garvey: 57-59)). The New Yorker essay, published in the 2 July 1957 issue under the title 'Letter from the East', reflected on White's move from a mosquito-plagued apartment in Turtle Bay to a farm in Maine, and the need to 'simplify my life... burning my books behind me, selling the occasional chair, discarding the accumulated miscellany'. He could not, however, part with Stevenson's recent gift, in part because of his memories of the eccentric and confident Professor White, and in part because of 'its sharp advice'. Jack Case, an editor at the Macmillan Company, was struck by the piece, found the textbook, and reissued it, along with the essay and revisions and additions by White as The Elements of Style in 1959. Within a year, 200,000 copies had sold; and the injunction 'omit needless words' was drummed into the popular consciousness.
White, the author, of course, of Charlotte's Web (1952) and Stuart Little (1945) (as well as Is Sex Necessary? Or, Why You Feel the Way You Do with James Thurber (1929), has his biographers in Scott Elledge, E. B. White: A Biography (New York, 1984) and Isabel Russell, Katharine and E. B. White (1988) and has had many of his letters and essays republished; his papers are at the Cornell University Library. Strunk, on the other hand, only has 'a small number of letters to him by William Dean Howells' in Cornell (American National Biography). Neither is he similarly remembered in print if we put aside The Elements of Style and White's final version of his essay in The Points of My Compass (1962).   
This is a shame. But we will do what we can in this post. In our office, fresh from the stacks, is a copy of J Fenimore Cooper, The Last of the Mohicans, published as a Chambers Standard Authors  in 1911.  Strunk had edited it 'for school use'. The temptation, of course, is to search Strunk's prose for evidence of his stylistic advice, and more particularly transgressions of them.* This is a little cruel; instead, there is evidence of his lively awareness of language and the effects of style.  From the first page of preface we find this: 'with this preliminary explanation of his reasons for introducing so many unintelligble words in the very threshold of his undertaking...'. A proto-'omit unnecessary words'! But, alas, this is not Strunk, but Cooper.  For the professor, we must turn to the notes at the back. Ballston gets it in the neck: 'watering-places.  Saratoga and Ballston. The latter has long lost its former prominence'. He helpfully explains to the student: 'In Coooper's day, the old practice of prefixing quotations to essays and to chapters of novels was still in voyue.' We like this efficient, and allusive, explanation: 'Horican... nearly all of their appellations were descriptive of the object. Thus, a literal translation of the name of this beautiful sheet of water, used by the tribe that dwelt on its banks, would be "The Tail of the Lake"'. Elements of the 'little book': 'children which. "Which" was formerly often used where we now say "who,W, but in other passages Cooper shows that he was careless in his use of relatives'; 'admiration. Wonder.  Now obsolete in this sense'; 'should know. Note the form'; 'they moved.  Note the unfortunate result of the carelessness in the use of the pronoun'; 'On the contrary, etc. Badly constructed sentence' [see, again, the note for p. 427].
We now jump forward from 1911 to 1936, and MGM's vision of the Italian Rennaissance: 'Romeo and Juliet', a no-expense-spared prestige adaptation of Shakespeare during Hollywood's Golden Era. Produced by Irving Thalberg, directed by George Cukor (and staring John Barrymore, Leslie Howard, Violet Kemple Cooper, Basil Rathbone and C. Aubrey Smith – and, with above the title billing, Norma Shearer, the director's wife), and with costumes by the young English designer Oliver Messel, the film made much of its attempts at authenticity, with special study guides prepared for schools.*** In order to present a genuine vision of Renaissance Verona, Jacob Burckhardt-reading researchers were employed, and genuine ducats  were even used as props. For Thalberg, it would be the play Shakespeare would have made if he had access to film, MGM's coffers and south Californian sunlight  (See Russell Jackson, Shakespeare Films in the Making: Vision, Production and Reception (Camdridge, 2007). The script was by Talbot Jennings, who had recently written Mutiny on the Bounty (1935) and went on to write The Good Earth. And, William Strunk Jr, of Cornell University, as the credits at the start of the film proudly proclaimed, acted as 'literary advisor'. Strunk, who went to Hollywood for six weeks and stayed for a year (and where he was fondly known as 'the Professor'), offered up notes on Renaissance Italian customs, and even 'additional dialogue', following Jenning's departure (quoted in Jackson: 130).  Each set is 'crammed with period detail' (Jackson: 133), suggesting that the director paid attention to the suggestions of the researchers, including Strunk. We are sad to note that the dove-house suggested for the Capulet garden did not make it into the final set. 
Here, Strunk was perhaps ahead of the game. He suggested, 'with some hesitation', whether the famous prologue might be delivered 'from the stage of the Elizabethan theatre (The Swan),' anticipating, Jackson suggests, Olivier's famous opening to 'Henry V' (1944).
The film opened in the autumn, with the press relieved that 'there is nothing deep, or classic, or highbrow about it. Nothing to frighten you away.' (New York American, 21 August; Jackson: 156).****  The film, despite a good turn of phrase, lacked what Variety liked to call 'box-office socko'.
Strunk went on to omit needless scenes elsewhere: cutting Anthony and Cleopatra to a two-act Broadway play in 1937. Theatre-goers missed Enobarbus's suicide, among other things, and the show went dark early.
[MJS]
* 'For an Elements of Style disciple, [the typescript of the 1959 edition] is an inspiring sight, imparting something like the electric thrill of proximity to history I felt when leaning over the Magna Carta in the subdued lighting of the British Library.'  (Garvey: 77)  [N .B., surely 'leaning over Magna Carta?' - ed]
** Do not apply this approach to this blog
*** See Romeo and Juliet.  With designs by Oliver Messel (London, 1936).  The colour plate edition is at shelfmark 11767.d.15
**** The age of the two principals caused some comment, not least by Joan Crawford: 'Christ, I couldn't wait for those two old turkeys to die, could you?' (Jackson: 160).
24 October 2012
 In Matt's last blog Film and On the Road, he referenced Truman Capote's quote (often misquoted),'That's not writing. That's typewriting.'  At the time, a dim memory surfaced in my foggy brain, only to disappear again almost immediately. But it reappeared at the weekend, when a friend and I were browsing in the wonderful bookshop at the Whitechapel Gallery. My friend suddenly waved in front of me a copy of Kenneth Goldsmith's Uncreative Writing: managing language in the digital age. And then I remembered – Goldsmith includes a piece in the book entitled 'Retyping On the Road.' He talks of meeting some students who had been given assignments to write a piece in the style of their favourite author. One had chosen Kerouac and complained at how meaningless the exercise had seemed. Goldsmith thought she would have been better off going on her own road trip, - but then came to a another conclusion. He recalled often seeing art students engaged in copying old masters – and wondered if such 'copying' could be applied to literature, quoting from Walter Benjamin's Reflections 'the power of the text is different when it is read from when it is copied out.' Perhaps the student could retype some (or even better, all) of On the Road, and she might thereby succeed in getting 'inside the text.'
The British artist Simon Morris came across Goldsmith's suggestion and decided to carry it out. Using the scroll edition of On the Road, he began to retype one page a day from the book on his blog Getting Inside Jack Kerouac's Head. He began on May 31, 2008 with that first sentence 'I first met Neal not long after my father died,' (of course, I immediately wondered why he had omitted the second met – it should be 'I first met met Neal'), and continued to the end of the page (ending in mid sentence), then continued the next day with the next page and so on. Every day he would spend c.20 minutes typing a page, finally completing his task in March 2009. Morris says that he would proofread each page, checking for mistakes (so how did he miss that met met?). Having never read the book before, he describes it as 'the most thrilling read/ride of my life,' and talks of the insights he gained into Kerouac's writing. Goldsmith picks up on the fact that Morris found himself accidentally adding his own words – as Kerouac's 'shorthand' allows the reader to complete sentences in their heads. Morris would then delete his own additions in the checking process, but acknowledges that he might have missed some. Goldsmith suggests that Morris's appropriation of the text 'need not be a mere passing along of information,' but something more creative which could lead to 'producing different versions and additions – remixes even- of an existing text.'  Appropriation and re-purposing are of course recurring themes in Goldsmith's writing – often controversial but always challenging and thought-provoking (see for example, his piece in The Chronicle of Higher Education).
The web was the perfect conduit for Morris's performative project – predigital it would have been an altogether different proposition. So the rather surprising culmination to the project was the publication – in print – of Morris's Getting Inside of Jack Kerouac's Head. The book mimics almost exactly the design and typography of the Penguin edition of On the Road (google it), and includes Morris's blog, but commences with the last blog and works backwards. As Goldsmith comments, 'it was jarring to see a blog-driven project reborn as print.' For me, it's a step too far - the blog I get, but not the book.
So has the project been a success for Morris? 'One would hope for some truly profound response but really there is none. I don't feel anything at all. A bit like Jack Kerouac's own journey on the road and into himself in search of something he never really finds…… all I can really say with any certainty is I've never spent such a long time with a book or thought about any book as much.'
For those of you wishing to engage with Kerouac's own typing, the On the Road scroll is on display at the Library until December 27.
[C.H.]
17 March 2010
One of the things that we hope this blog does is act as a sign post to interesting things, whether they are in the British Library or elsewhere.  So, without further ado, here's the start of a list of American Studies blogs that you may find interesting (in no particular order at the moment).  We'll also create an RSS bundle as well (watch this space).
1. Fordham American Studies Blog
This includes some interesting posts by undergraduates, as well as staff and grad students.  Of note is the posting on 'Preserving American Journalism' by Amanda Fiscina (8 Feb 2010).  And, as is perhaps appropriate for a Jesuit college, the entries with the most comments seem to relate to religious matters.  [And we're pleased to note that our listing has been noticed! 14/4/10].
2. African American Studies at Beinecke Library
A rich resource, going back seven years.
3. nsarchive.wordpress.com [added 18/2/10]
The National Security Archive, based at George Washington University, collects and publishes declassified documents obtained through the Freedom of Information Act. This is their lively blog, which Jerry discussed here in February 2010.
4. Americas Al Jazeera Blog [added 13/4/10]
A picture, some editorial and, usually, several comments on events from across the Americas.
5. Unframed (LACMA) [added 20/5/10]
Not so much American Studies, but one of the best museum blogs around.  Have a look at their new 'all-collections' landing page post.

[M.S.]
27 October 2009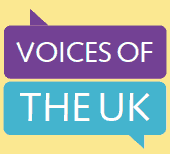 I mentioned that the British Library has several curatorial blogs in the last post.  I'm pleased to note that another one has joined the roster: Voices of the UK - a blog about the BL's audio collections of British accents and dialects.  Among the first of Jonnie, Jon and Helen's posts is one about British Caribbean recordings made in Huddersfield - "Poppy-show and kiss-teeth".   A quick click, and you can find out more about patwa, "KST" and the Database of Regional English ...
[M.S.]
Americas and Oceania Collections blog recent posts
Tweets by BL_Americas
Other British Library blogs