05 August 2019
Above: 'Tee Yee Neen Ho Ga Row, Emperor of the Six Nations' from Add MS 5253.
On July 22nd, the Eccles Centre was pleased to host a group of students from the University of British Columbia's Institute for Critical Indigenous Studies, who were visiting London as part of their course led by former Eccles Visiting Fellow, Professor Coll Thrush. The plan for the day, however, was a little bit different from our usual student visit days. As part of our work with the Beyond the Spectacle project, we wanted to go beyond the usual collections display and highlight research being done on these collections and how students and members of the public could take a lead role in disseminating the findings of this research.
The day started with some of the Library's more historic items. The Library's founder collectors, especially King George III, Sir Hans Sloane and Thomas Grenville, had a strong interest in North America and, as a result, collected significant works relating to the indigenous peoples of Canada, the Caribbean and the United States. A significant part of the Library's eighteenth-century collections are various materials relating to the 'Four Indian Kings' a visiting delegation from the nations of the Mohawk and the Mahican during the reign of Queen Anne. Etow Oh Koam, Sa Ga Yeath Qua Pieth Tow, Ho Nee Yeath Taw No Row and Tee Yee Ho Ga Row journeyed to England and London to make their case for greater support and interest from the monarch and their words were variously recorded and distributed. There were also illustrations made of the delegation, some crude and westernised while others, such as those found in the collection of Hans Sloane and reproduced here, are detailed and vivid. The display also highlighted the breadth of Library collections that speak to the history of contact between indigenous nations, North American colonists and Europeans, with material spread across the Library's manuscript, map, newspaper, printed book and other collections.
Above: the display taking shape. Image by Cara Rodway.
These collections, specifically those relating to indigenous travellers to Britain across the centuries, are being used by the Beyond the Spectacle project, on which the Eccles Centre and other British Library colleagues are partners. In the second half of the day researchers from the project, Jack Davy and Kate Rennard, worked with Roberta Wedge, who frequently runs Wikipedia editathon days with the Library, to illustrate how collections such as those at the Library can be used for research and to improve the information found on public websites and encyclopaedias, such as Wikipedia. It is not unfair to say that some of the students started this part of the day dubious as to how they could use their learning and recent research to update something like Wikipedia but the day provided openings to a different perspective. Roberta's work with Wikipedia and organising group edits of Wikipedia pages focusses on how the site can only reach its full potential if a wide range of individuals, publics and perspectives are contributing to the editing process. If this can be achieved, the content of Wikipedia and other online forums will reflect the diversity of the world in which we live and its complex history.
Above: students from the group researching and editing. Image by Phil Hatfield.
Part of the afternoon focussed on encouraging students to conduct their own research, based on the display from earlier in the day and using online archives and resources to dig into some of the other materials the Beyond the Spectacle project has been using. We are grateful to the British Newspaper Archive and Adam Matthew (creator of the American Indian Newspapers database) who both provided access to students on the day so they could engage with the materials held in their collections and use them in research and editing. Students used these materials to update entries on a number of Wikipedia pages, adding information to the page, 'Four Mohawk Kings', the page for St. Olave's Church (London), setting up a new page on the playwright and actor Gowongo Mohawk and making a number of other edits.
By the end of the day many of the students were motivated by the realisation of how much agency they have to develop content on sites like Wikipedia and excited by the new research skills they had learnt by using the resources of the British Newspaper Archive and Adam Matthew. For me a favourite moment was when a student, asked how the day had influenced their perspective on Wikipedia noted that now, 'Wikipedia is my new stomping ground'. The day showed the potential of supporting students and other researchers in gaining access to historic and digitised collections, it also highlighted how the knowledge gained from these can contribute to influential public sites. We hope to run similar events again, on a wide range of subjects, and thank Adam Matthew, the British Newspaper Archive, Wikipedia, Beyond the Spectacle and UBC for their support and partnership.
[PJH]
04 September 2017
Greetings from Darwin! I am currently very fortunate in that I am travelling around Australia for PhD research and learning about life and culture directly from the Aboriginal designers in the Northern Territory that I am interviewing. Prior to coming out to Australia I had to conduct most of my research online. In this post I have put together a list of websites that I recommend to anyone who is interested in gaining further understanding of Indigenous Australia. I have also included a list of books from the British Library that I found useful.
There are several hundred different Indigenous language groups with differing cultures and beliefs. In my list below I have tried to provide more general information, rather than represent each group. If you are interested in a specific community, many do have their own websites which will provide information on their beliefs and history.
I welcome any suggestions of other online and offline resources that are helpful for educating unknowing outsiders, I am sure there will be many I do not know about yet. I hope to put together a similar list for Maori culture and politics so would appreciate any recommendations for that. Just tweet me - @JoannePilcher1
Websites
The Guardian Online, Indigenous Australians:
https://www.theguardian.com/australia-news/indigenous-australians
This page provides a range of articles on different issues related to Indigenous politics and culture. There are exhibition reviews, personal essays and commentary on current affairs.
@Indigenous X:
A blog run and written by Indigenous Australians covering anything from current affairs to a history of Indigenous representation in comic books. They also have a twitter account (@IndigenousX) where different Indigenous Australians are invited to host and run the account and tweet about things related to their expertise.
NITV:
National Indigenous TV is a channel on SBS that is made by and for Indigenous Australians. While the channel may not be available internationally, their website and Facebook page share lots of information on current affairs.
Menzies Centre For Australian Studies:
https://www.kcl.ac.uk/artshums/ahri/centres/menzies/index.aspx
Part of King's College London, The Menzies Centre does not focus specifically on Aboriginal and Torres Strait Islander Australia but does have a range of interesting talks and events that sometimes relate to this area, such as a recent talk by Marcia Langton on Indigenous art. They also have a twitter (@menziescentre) and Facebook page (https://www.facebook.com/AusNetwork/) that regularly have information shared on them.
Australian Government:
http://www.australia.gov.au/about-australia/australian-story/austn-indigenous-cultural-heritage
The Australian government website has an overview of the heritage of Australian Indigenous culture.
Facebook Groups
Many of the above websites have Facebook pages that are worth following. The two listed below do not have websites.
Blackfulla Revolution:
https://www.facebook.com/ourcountryourchoice/?hc_ref=ARSENjrSyYj8gYEUr-tttpgbQIJ1tVh8SqARY7pMiX7uM4Am_TR-vTz7x7bOCpvw2w8
This group shares a wide range of posts and articles related to life as an Indigenous Australian.
Aboriginal News – Australia:
https://www.facebook.com/AboriginalNewsAustralia/
This page regularly posts articles related to Indigenous Australian current affairs. They collect articles from a range of sources.
Podcasts
It's Not a Race:
http://www.abc.net.au/radionational/programs/itsnotarace/
This podcast covers a variety of topics surrounding racial identity within Australia and discusses issues Indigenous Australians face in several episodes.
Books
There is a wealth of information available within the British Library on the Aboriginal and Torres Strait Islander peoples of Australia. There are too many topics to go into specific areas on this list so I have selected ones that give a 'whistle-stop tour' of Indigenous Australian culture and history. All of the below are available in the British Library collections and I have included their shelfmarks.
Rachel Perkins and Marcia Langton, First Australians: An Illustrated History, Carlton, Vic.: Miegunyah, 2008, [Asia, Pacific & Africa LD.31.b.2662]
This book was produced as an accompaniment to a nine part series on the history of Indigenous Australia. I have selected this as it gives a general overview but anything by Marcia Langton is worth reading, she is considered to be one of Australia's most important Indigenous historians and is the Foundation Chair in Australian Indigenous Studies at the University of Melbourne.
Australian Aboriginal Studies Journal, Australian Institute of Aboriginal Studies, Melbourne, 1983 –
[General Reference Collection X.0525/685, General Reference Collection ZD.9.a.1762, Document Supply 1796.654990]
Some printed copies of this journal are in the British Library collections, the rest are available online through the library database.
Stephen Mueche and Adam Shoemaker, Aboriginal Australians: First Nations of an Ancient Continent, Thames and Hudson, London, 2004. [General Reference Collection YK.2011.a.3122]
This short book gives a general introduction to different beliefs and histories across various communities within Australia.
David Unaipon, ed by Stephen Muecke and Adam Shoemaker, Legendary tales of the Australian aborigines, Melbourne University Press, 2001 [General Reference Collection YC.2002.a.21382]
Unaipon is credited with being the first published Aboriginal Australian author and appears on the fifty-dollar note. He toured Australia collecting the local stories of various communities and translating them into English in the 1920s; initially his publishers sold his work to an English man who published it in his name instead. Unaipon's original manuscript was found and republished in his name in 2001 by Muecke and Shoemaker
Pauline E.McLeod, Francis Firebrace Jones, June E. Barker Gadi Mirrabooka: Australian Aboriginal Tales from the Dreaming, Englewood,Colo. [Great Britain] : Libraries Unlimited, 2001
 [General Reference Collection YK.2003.b.2308]
Many compilations of Indigenous Australian stories can be considered as exploitative as they are sharing stories that could be sacred without permission from the communities the stories are from. This compilation has been produced by the story custodians themselves who have permission to share them. 
By Joanne Pilcher
Joanne Pilcher is currently carrying out a PhD placement project at the British Library, exploring contemporary publishing in Australia. If you would like to know more about placement opportunities at the Library for doctoral students please click here.
16 December 2013
Above: one of the many images that caught our eye (hover over the image for details)
Last week our colleagues from Digital Scholarship announced the uploading of 1 million British Library images onto Flickr Commons and into the public domain. In amongst all these images are a significant proportion of material from the Americas and Australasia, so naturally we lost a chunk of Friday sifting through them. Above and below are some of our current favourites from across the Americas and Australasia; we'll share even more as and when things catch our eye.
Keep an eye out for more announcements about public domain images in the new year, Team Americas should have some interesting things to share with you soon too...
[PJH]
19 July 2013
Above: barracks on the Churchill River. Geraldine Moodie, 1907. From Wikimedia Commons.

These works are free of known copyright restrictions.
Following on from last week's blog about Arctic journeys here are some more recent collection items that connect to the theme of exploration and geopolitics. They also happen to have been part of the recent Picturing Canada project, once again showing the diversity of the Canadian colonial copyright photograph collection.
The photographs shown here are the work of Geraldine Moodie, a photographer originally from Toronto who moved around Canada extensively with her family and husband, North-West Mounted Police officer John Douglas Moodie. One of John Moodie's most significant postings was as part of the Dominion Government expedition to the eastern Arctic and Geraldine accompanied him for part of this trip.
John Moodie and others who made up the official expedition (such as Albert Low) had a very specific mission, to use surveys, science and other forms of evidence gathering (not least photography) to assert Canada's sovereignty over the far north. While Geralinde Moodie had worked on official government projects before in the context of this expedition she was present as a civilian and the photographs she took were part of her own portfolio of work.
Above: portrait of women and children at Fullerton. Geraldine Moodie, 1906. From Wikimedia Commons.
As a result the photographs provide a view of the spaces and communities she found herself in proximity to that is somewhat different from the images produced by John Moodie and Albert Low. None-the-less they still represent a record of an expedition to the Arctic where exploration, science and technology all combined to assert the continuing sovereignty of Canada over the Arctic north.
The collections held at the British Library, therefore, are not just a window onto the early history of exploration and statecraft in the Arctic, instead these collections carry the story through to the twentieth and twenty-first centuries. Photographs, maps, newspapers, official publications, scientific journals and academic monographs are all part of telling this later history, a rich set of resources we look forward to the next Team Americas PhD student digging into.
One final thing, the photographs above are part of the Picturing Canada project and therefore in the public domain, with higher resolution images available from Wikimedia Commons. Other photographs by Geraldine Moodie can be found on the British Museum catalogue while work by Albert Low is available from Library and Archives Canada.
[PJH]
01 May 2013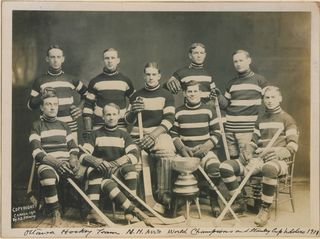 The 1911 Stanley Cup holders, Ottawa. Photographed by A. G. Pittaway [shelfmark HS85/10, copy. num. 23753]

These works are free of known copyright restrictions.
After a dramatic season on and off the ice the NHL playoffs start tonight. Since long before I was a curator I've taken an interest in most North American team sports and so I'm the one in the office who's been losing sleep to the NBA playoffs and, from tonight, the NHL.
The impending playoffs also reminded me that the Picturing Canada project has digitised a number of hockey photographs I should share on the blog. Included in this are photographs of the 1909 and 1911 winning teams from Ottawa, taken by local photographer Alfred George Pittaway who it would seem specialised in sports-related photography.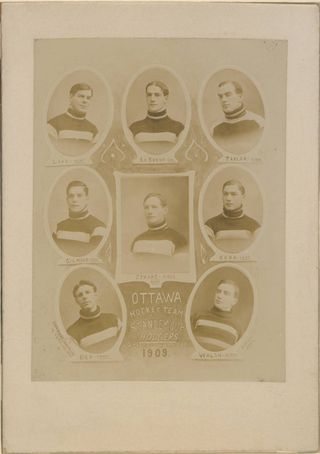 The 1909 Stanley Cup holders, Ottawa. Photographed by A. G. Pittaway [shelfmark HS85/10, copy. num. 20618]
Sports feature quite heavily in the collection, with everything from lacrosse and hockey to rugby and football photographed (alas, no cricket). Hockey though is unusual as a number of the photographs in the collection have more joviality in them than the usual photos of games in process or deeply serious team photos. It's also the only sport in the collection represented by women, as seen below (although I bet that assertion comes back to bite me). As with many sports the Library holds a surprising amount of material relating to hockey and its various influencing games, although that's a post for another time.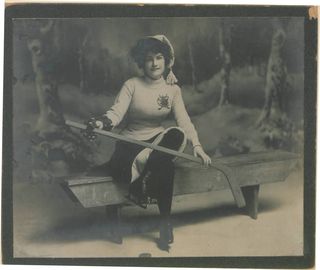 'Canadian Hockey Girl, Benched'. Photographed by W. E. Maw [shelfmark HS85/10, copy. num. 15498]
While all of this is very interesting I'd be surprised if any hockey fans reading this will be too concerned with researching the history of the sport in coming weeks. That said, there are historically significant notes dotted through this year, not least with two Original Six members facing off when Boston and Toronto meet. So, good luck to all your teams, enjoy the end of season spectacle and I hope you've enjoyed these glimpses into hockey's past.
[PJH]
12 April 2013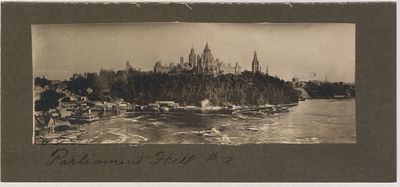 Miniature panorama of Parliament Hill, Ottawa [copyright number 22264, shelfmark: HS85/10]

This work is free of known copyright restrictions.
So, the day is here when Andrew and I get to show the first fruit of the Picturing Canada project to the world. Friday sees us present the initial outputs from the project to attendees of the GLAM-WIKI 2013 conference and it only seemed right to share it with our Americas blog readers too.
Digitisation is almost complete, with just the largest images still to come (a nice treat to end the project with), and while a few things need putting in place before we can host the images on the Library's Digitised Manuscripts page they are being gradually uploaded to Wikimedia Commons. Here the collection has a dedicated area which will soon have an introductory blurb and you can browse the collection as it grows over coming weeks.
That said, what have we got to show you? I briefly described the history and content of the collection a few weeks ago on the Americas blog but here are some fun extra facts. First off, we have so far mapped the collection's contents to over 300 different locations in Canada and you can browse this on the map above. This time it's a vector map so you can zoom in and out, clicking on the buttons for details on the location, how many photographs there are from each area and what time period they cover. I'm afraid there's no direct link to the photographs yet, as we're still uploading, but it will be available in the coming months.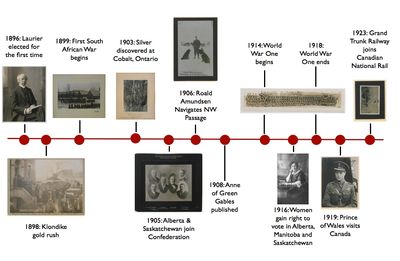 I've also got back to thinking about how the collection reflects the history of Canada. It provides a dynamic (and sometimes irreverent) lens on the many significant events that occurred between 1895 and 1924, both inside and outside of Canada. The above is one of the slides from Friday's presentation and it gives a highly selective and somewhat hap-hazard view of Canada's history during the period - but hopefully it provides a sense of some of the significant and / or interesting events of the period.
Over the course of the project Andrew and I have worked hard to make the metadata attached to these photographs usefully available as well as refining it and putting it to new uses. Hopefully the result of this will be a collection of photographs of use to historians of Canada, historians of photography, the writers of myriad Wikipedia articles and - you never know - the creator of the next cat-based meme.
I can live in hope... That said, if you put the photographs to any interesting uses please let us know.
[PJH & AG]
15 March 2013
The British Library has recently acquired a fantastic digital resource on Latin America: 'Latin American Newspapers 1805-1922'. This database includes over forty titles and tens of thousands of digitised issues of Latin American newspapers from across the region – Mexico, Central America, the Caribbean, Brazil and the Southern Cone. You can find the resource on the Library's e-databases page and registered readers no longer have to be in our reading rooms to get access!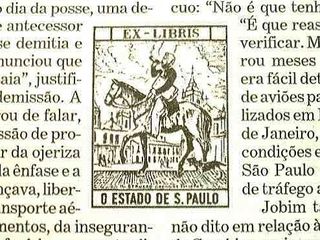 Detail from Estado de Sao Paulo. Image from Wikipeida.
In his seminal work Imagined Communities Benedict Anderson argues that newspapers, and the spread of newspapers in Latin America in particular, were the cornerstone of the formation of the modern nation. And you will find in this collection contemporary accounts of the struggles for independence, nation building, and the abolition of slavery in Latin America. So whether here at St. Pancras or at home, login and enjoy a fascinating read!
[ENC]
06 March 2013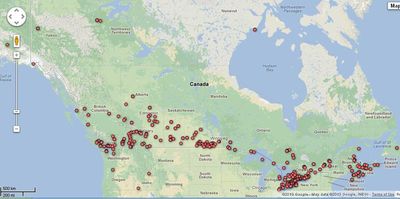 An early visualisation of the collection contents (click for more detail)

The works contained in this post are free of known copyright restrictions.
Those of you who enjoyed Team Americas' cat-themed post a few weeks ago will know that we are currently working to digitise a collection of Canadian photographs held at the Library. Since the digitisation is almost done Andrew and I are beginning to think about ways of displaying the collection and allowing access to the images, beyond hosting them on the British Library Digitised Manuscripts site and Wikimedia Commons.
Since I spent all my university life in geography departments one possibility popped straight into my mind - we could try and map the collection. The picture above is an illustration of the first attempt at this and hopefully I can soon share an interactive version with you. Why a picture at this stage? Well, truth be told, the first results contain a few bugs and I didn't want to give the wrong impression with an early version.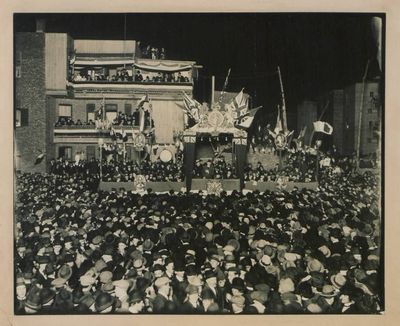 Sir Wilfrid Laurier speaking in Montreal, 27th Sept 1916. British Library shelfmark: HS85/10
That said this first try suggests that mapping would work as a way of opening access and providing users with an easy overview of the collection. It also begins to give a sense of the pattern and density of photographic deposits (important given this is a copyright collection), although this is skewed by the fact that the current map will only add one item to each location.


A pageant from the celebration of Quebec's Tercentenary, 1908. British Library shelfmark: HS85/10
There are a number of ways we could begin to use this as a tool to ask questions of the collection but it is important to note too that such a visualisation will be a good way for people to find the photographs that are of personal interest to them. In short, a map is by far the easiest way to see how many photos of Vancouver, Moose Jaw or Dawson the collection holds.
The above photographs are some examples of photographs that users will eventually be able to find via the map. I should note that the location data in any first version will be generic, pinning photographs to 'Vancouver, BC' as oppose to, 'Stanley Park Drive, Vancouver, BC'. It occurs to me that this level of refinement is something users could help to provide in the future, but one step at a time for now.
The next stage of the project, as Andrew mentioned a few weeks ago, is to tidy up the photographs we have already digitised and we are hosting an editing day on the 18th March. If the above map whets your appetite and you want to come along details can be found here.
[PJH]
Americas and Oceania Collections blog recent posts
Tweets by BL_Americas
Other British Library blogs