08 January 2013
Phil has been helping our office neighbours in the UK Web Archive team by putting put together a collection of websites on slavery and abolition. Since we know these are subjects of interest to our readers, we thought we'd flag up his latest blogpost. You can read his thoughts on web archiving and the selection process here, and you can go straight to the selected sites here.
04 January 2013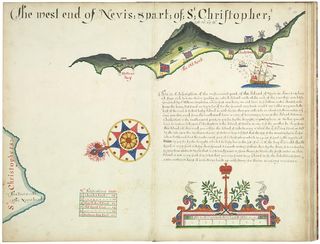 Map of Nevis and St. Christopher (St. Kitts), 1684 [Sloane MS 45] 
 
This work is free of known copyright restrictions.
There are two reasons for sharing the above with you, firstly that it is a rather beautiful and interesting old map. Secondly, that it's an example of how digital objects created by the Library in the last few years continue to evolve.
I was looking over the Caribbean Views collection, which hosts this map and a short text about it, when I noticed that its page now has a shiny 'View in Google Earth' button. Intrigued, I clicked it; only to find I don't have the plug-in installed here at the office. However, I gave it a whirl at home and rather enjoyed what I saw.
If you'd like to do the same head on over to the map's Caribbean Views page and give it a whirl. This piece of geotagging is part of the continuing BL Georeferencer project which you can find out more about here and see some of the results of here. Enjoy!
[PJH]
24 October 2012
 In Matt's last blog Film and On the Road, he referenced Truman Capote's quote (often misquoted),'That's not writing. That's typewriting.'  At the time, a dim memory surfaced in my foggy brain, only to disappear again almost immediately. But it reappeared at the weekend, when a friend and I were browsing in the wonderful bookshop at the Whitechapel Gallery. My friend suddenly waved in front of me a copy of Kenneth Goldsmith's Uncreative Writing: managing language in the digital age. And then I remembered – Goldsmith includes a piece in the book entitled 'Retyping On the Road.' He talks of meeting some students who had been given assignments to write a piece in the style of their favourite author. One had chosen Kerouac and complained at how meaningless the exercise had seemed. Goldsmith thought she would have been better off going on her own road trip, - but then came to a another conclusion. He recalled often seeing art students engaged in copying old masters – and wondered if such 'copying' could be applied to literature, quoting from Walter Benjamin's Reflections 'the power of the text is different when it is read from when it is copied out.' Perhaps the student could retype some (or even better, all) of On the Road, and she might thereby succeed in getting 'inside the text.'
The British artist Simon Morris came across Goldsmith's suggestion and decided to carry it out. Using the scroll edition of On the Road, he began to retype one page a day from the book on his blog Getting Inside Jack Kerouac's Head. He began on May 31, 2008 with that first sentence 'I first met Neal not long after my father died,' (of course, I immediately wondered why he had omitted the second met – it should be 'I first met met Neal'), and continued to the end of the page (ending in mid sentence), then continued the next day with the next page and so on. Every day he would spend c.20 minutes typing a page, finally completing his task in March 2009. Morris says that he would proofread each page, checking for mistakes (so how did he miss that met met?). Having never read the book before, he describes it as 'the most thrilling read/ride of my life,' and talks of the insights he gained into Kerouac's writing. Goldsmith picks up on the fact that Morris found himself accidentally adding his own words – as Kerouac's 'shorthand' allows the reader to complete sentences in their heads. Morris would then delete his own additions in the checking process, but acknowledges that he might have missed some. Goldsmith suggests that Morris's appropriation of the text 'need not be a mere passing along of information,' but something more creative which could lead to 'producing different versions and additions – remixes even- of an existing text.'  Appropriation and re-purposing are of course recurring themes in Goldsmith's writing – often controversial but always challenging and thought-provoking (see for example, his piece in The Chronicle of Higher Education).
The web was the perfect conduit for Morris's performative project – predigital it would have been an altogether different proposition. So the rather surprising culmination to the project was the publication – in print – of Morris's Getting Inside of Jack Kerouac's Head. The book mimics almost exactly the design and typography of the Penguin edition of On the Road (google it), and includes Morris's blog, but commences with the last blog and works backwards. As Goldsmith comments, 'it was jarring to see a blog-driven project reborn as print.' For me, it's a step too far - the blog I get, but not the book.
So has the project been a success for Morris? 'One would hope for some truly profound response but really there is none. I don't feel anything at all. A bit like Jack Kerouac's own journey on the road and into himself in search of something he never really finds…… all I can really say with any certainty is I've never spent such a long time with a book or thought about any book as much.'
For those of you wishing to engage with Kerouac's own typing, the On the Road scroll is on display at the Library until December 27.
[C.H.]
20 February 2012



Facebook logo from Wikicommons
Team Americas now has a rough-and-ready Facebook page. 'Like' us, if you like, and receive the odd update on British Library events, things we spot on the web, and news of when we've posted to the blog, as well as ask us questions via the 'Wall'.  Let us know what you think of it.
[MJS]
15 February 2012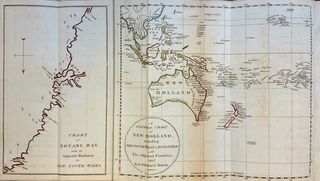 'A General Chart of New Holland, including New South Wales & Botany Bay', in 'An Historical Narrative of the Discovery of New Holland and New South Wales'
As I mentioned in a previous post on the Terra Nova expedition, 2011 was a busy year for the Americas section of the Library and one of the other developments was being joined by our colleague responsible for Australasian Studies. Unfortunately, Nicholas has now left the Library to enjoy the warmer climes of southern France and so the rest of us from Americas Studies are doing our best to direct readers interested in researching the area for the time being. This being the case, we thought we'd start the best way we know how - blogging.
The Library has a notable collection of materials relating to Australia, New Zealand and the Pacific Islands and we aim to show a selection of the historical works we have as 'guest posts' on the Americas blog. For today's post I happened to be looking at the voyage of Captain Cook to the west coast of Canada and thought the Australian materials included in the same volumes would make a good first Australasian post.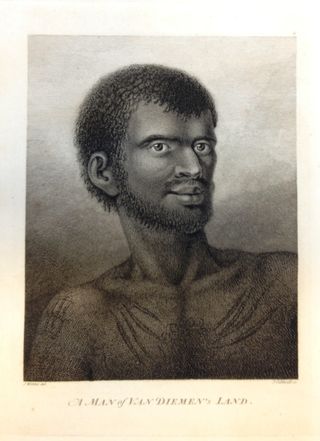 'A Man of Van Diemen's Land', contained in the supplementary plates to 'A Voyage to the Pacific Ocean'
Edited by John Douglas, 'A Voyage to the Pacific Ocean' (shelfmark: 10025.bbb.22) has a supplementary volume of plates and charts compiled during the journey, held at shelfmark, C.180.h.11. These charts and plates cover various parts of Cook's expedition and therefore range from Australia to Nootka Sound and illustrate the landscape, fauna and peoples encountered. The above, 'A Man from Van Diemen's Land' is an example of the illustrations included in the volume which charts the diversity of societies and environments encountered.
The Library's collections contain many materials relating to Cook's voyages, including books, maps and manuscripts. Another item I called up was the 1786 publication, 'An Historical Narrative of the Discovery of New Holland and New South Wales' (shelfmark: 1446.c.19). The piece is a much smaller, highly edited account of Cook's expedition which happens to contain the rather nice map seen at the top of this post. Given the amount of material the Library holds relating to Cook's expeditions it is tempting to keep posting highlights from the myriad publications and manuscripts in coming weeks, but rest assured a host of notable collection items on various subjects will be on display in subsequent guest posts.
[PJH]
19 January 2012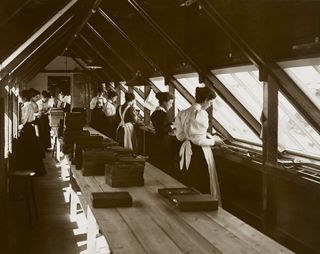 'Kodak factory at Harrow, 1890s'. Photographer unknown. British Library Kodak Archive A.1787
The news that Kodak is formally filing for bankruptcy protection has been coming for some time but it still represents a significant moment in the history of photography. Ever since George Eastman marketed his company's first camera in 1888 Kodak has framed the personal, family, social and political histories not just of the Americas but of a significant portion of the world.
As such, I decided to dig around and see the mark Kodak has left on the British Library's collections. In short, it's a big one. Some of the earliest materials we hold relating to Kodak were published by the company itself, for example the Kodak Press publication, 'Picture Taking and Picture Making' (1898, Shelfmark: YA.1998.a.14770). This body of material is quite large and covers various subjects, from 'Motion Picture Laboratory Practice, and Characteristics of Eastman Motion Picture Films' (1936, Shelfmark: 778.1258 DSC) to the journal, 'Dental Radiography and Photography'.
Far larger is the body of material which owes a debt to Kodak equipment in its production, including a number of our photobooks, travelogues, newspapers, journals, and so on. Some early examples here include the Countess of Aberdeen's, 'Through Canada with a Kodak' (1893, Shelfmark: 10470.b.35) and Alfred Leader's, 'Through Jamaica with a Kodak' (1907, Shelfmark: 010470.e.5). Both also illustrate how quickly Kodak developed an intimate relationship with the international traveller and the travelogues many of them produced.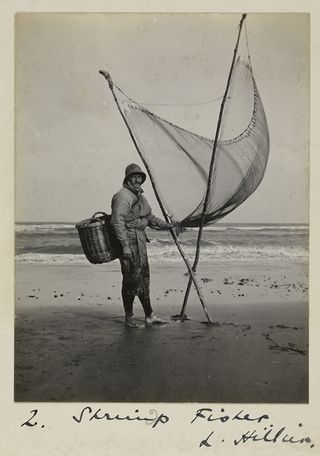 'Shrimp Fisher (September 1908)', entry for Eastman Plate Competition by L. Hillier. British Library Kodak Archive A.1997 
The Library's Kodak related collections do not end with published material, however. Two collections of particular note are, 'The Oral History of British Photography' and the 'Kodak Ltd. Archive'. Kodak receives multiple mentions in 'The Oral History of British Photography', often as a reminiscence but also because of the interviewing of people such as Robert Lassam (former curator of the Kodak Gallery). The Kodak Archive held here was donated in 2009 and is the corporate archive of Kodak's UK arm, providing access to photographs and documents which illustrate the development of photography in the UK as well as the company's history.
Kodak's global reach and legacy is borne out by how pervasive materials relating to or facilitated by the company are in the collections of the British Library and libraries across the world. This, therefore, is one of the many ways in which the significance of today can be impressed upon us.
[PJH]
02 December 2011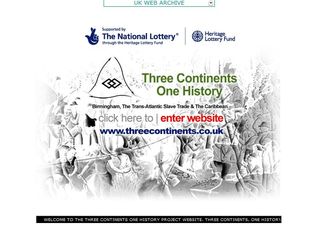 The UK Web Archive team, which includes several colleagues who sit behind the bookshelves that face me, now has a blog.  They're talking a bit about what they are up to, but also highlighting websites in their collections in a kind of online Advent Calendar.  Today's link seems apposite for our blog: 'Three Continents, One History: Birmingham, the Trans-Atlantic Slave Trade, & the Caribbean'
For the US, of course, there's the Internet Archive.
[MJS]
11 May 2011
The Library holds a large collection of electronic resources, from digitised newspapers to bibliographic databases and videos of theatrical performances (there's a guide here). In BL jargon, they're referred to as 'e-resources', and, on the whole, they are great. 
There are problems, though.  Not least, for many British Library readers, is the requirement that the resources can only be accessed in the reading rooms, typically on the Library computers, rather than their own laptops via WiFi.  Nor can they be accessed at home.
This, of course, is a result of the licencing restrictions, and the need to balance readers and publishers' rights and requirements.  But today, I'm pleased to report that a pilot programme has been launched, testing remote access to three resources we purchased from Readex: Early American Newspapers (1690-1876), World Newspaper Archive: Africa 1800-1922, and Foreign Broadcast Information Service: regions 1-4, 1974-1996.  I'm particularly pleased about the newspapers, but the other resources are great, too.
If you hold a St Pancras Readers Pass, then you should be able to access them via the link towards the bottom of the e-resources page using your reader pass number and password for the integrated catalogue.   There's also a link on the login page to leave feedback - which would be very welcome - as well as details about the terms and conditions and FAQs.   This pilot should run for six months. I hope that you find it useful for your research.
[MJS]
Americas and Oceania Collections blog recent posts
Tweets by BL_Americas
Other British Library blogs