23 October 2013
Review of the 9th Annual Conference of the Islamic Manuscript Association

The Islamic Manuscript Association is an organisation that promotes the cataloguing, digitisation, preservation, and research of Islamic manuscripts throughout the world.  This year's conference focused on manuscripts of the Mamluk Empire and its contemporaries.  From September 2nd to the 4th, researchers, conservators, curators and librarians from across the world gathered to share their knowledge on this topic at Magdalene College, Cambridge.  The conference's programme included 25 papers, of which I will discuss a selection in this blog.
Highlights included the presentation of Prof. Frédéric Bauden (Sorbonne – Paris IV), whose talk, "Manuscript Paper Formats of the Mamluk Period: The Contribution of Mamluk Chancery Paper," identified the author of a unique manuscript on Mamluk-era chancery practice, al-Thaghr al-Bāsim fī Ṣina'at al-Kātib was al-Kātim , as al-Saḥmawī (d. 868/1464).  Using al-Qalqashandī's well-known chancery manual, Ṣubḥ al-'Āsha' in conjunction with al-Saḥmawī's work, Dr. Bauden established that certain of  J. von Karabaček's calculations in his 1887 Das Arabische Papier were mistaken and are in need of revision. Throughout his paper, Dr. Bauden demonstrated the importance of chancery paper measurements for the study of Mamluk-era manuscripts.
Dr. Élise Franssen's (University of Liège) paper, "Al-Ṣafadī: His Personality, Methodology, and Literary Tastes Approached Through His Tadhkira,"  received a very positive response from the audience and elicited much praise from those present.  Dr. Franssen focused on an autograph volume of Ṣalāḥ al-Dīn Khalīl Aybāk al-Ṣafadī's (1297-1363) Tadhkira  that she described aptly as the author's commonplace book, in which al-Ṣafadī recorded texts he found interesting, appreciated on an aesthetic level, or wanted to incorporate into his own work.   In her paper, Dr. Franssen demonstrated how the study of this autograph lends insight into a Mamluk scholar's method of dealing with texts.
Dr. Muhammad Issa al-Sharafeen's (Al-Bayt University, Jordan) paper, "The Copyist in the Mamluk Period," examined the role of copyists – in contrast to calligraphers – in the production of manuscripts.  Dr. Sharafeen discussed many aspects of the manuscript production process that will interest codicologists, for instance the number of manuscripts that particular Mamluk-era scribes produced, the length of time it took for certain scribes to copy texts, and also the importance of accuracy in the professional practices of copyists and the mechanisms for correcting errors.  Dr. Sharafeen also established the identity of a scribe counterfeiting the famous calligrapher Ibn Bawwāb's hand, casting light on an interesting example of historical forgery.  
Mr. Christopher Braun (Warburg Institute), currently pursuing a PhD, presented a paper entitled, "In Seach of Buried Riches: Arabic Manuscripts on Treasure Hunting in Medieval Islamic Egypt."  While the extant manuscripts on treasure hunting date from the 18th and 19th century, the texts they contain are often much earlier, from the Mamluk and perhaps the Fatimid era.  These texts often included, in addition to instructions on where to locate the treasure, various incantations and techniques of divination in order to open the tombs in which the treasures were supposedly held.  His paper explored how these treatises may have been employed and some of the possible reasons for their creation, such as profiting from those gullible enough to purchase such manuscripts.
Dr. Osamu Otsuka's (Tokyo University of Foreign Studies) presentation, "A Forgotten Ilkhanid Historical Work: Abū al-Qāsim Kāshānī's Zubdat al-Tawārīkh," challenged the current understanding of Ilkhanid historiography by examining a neglected author, Abū al-Qāsim Kāshānī (d. 1335 AD) and his comprehensive history, the Zubdat al-Tawārīkh, written for the seventh Ilkhanid ruler, Ghāzān Khān (r. 1294-1304 AD) .   Dr. Otsuka compared this work with the well-studied Jāmi' al-Tawārīkh of Rashīd al-Dīn (d. 1318 AD) and argued that through a process of textual borrowing (what we today would call plagiarism but was common practice in the writing of historical chronicles in the premodern world), Rashīd al-Dīn adapted large parts of Kāshānī's more comprehensive Zubdat al-Tawārīkh into his Jāmi' al-Tawārīkh.  Because of the similarity between the two works, scholars have often deduced that the opposite was the case, that Kāshānī's work was the less original of the two, and Rashīd al-Dīn was the great chronicler; however, Dr. Otsuka sought to establish Kāshānī's rightful place in Ilkhanid historiography.
While the above brief description of a selection of papers from the conference does not give justice to the breadth and depth of scholarship presented in Magdalene College, it should give the reader an idea of the variety of topics that were addressed over the three days.  A suggestion to TIMA would be to publish the conference proceedings, as many of the papers are very useful manuscript curators and researchers.
Further events included a speech by Dr. Iman Ezz el-Din Ismail (General Director of the Egyptian National Library, Bāb al-Khalq) on the receipt of UNESCO protected heritage status for her institution's collection of Mamluk Qur'ans.  Workshops were also offered on digitistion and on how to contribute to a new world-wide union catalogue of Islamic manuscripts.
 Next year's conference will be held again at Madgalene College from August 31st to September 2nd, 2014, and the topic will be Manuscripts and Conflict.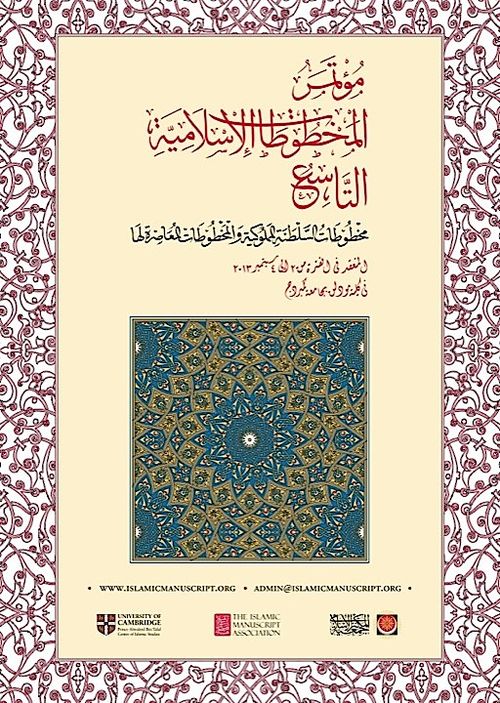 Nur Sobers-Khan, Asian and African Studies
Nur Sobers-Khan, Asian and African Studies

- See more at: http://britishlibrary.typepad.co.uk/asian-and-african/2013/08/index.html#sthash.CHUMO96m.dpuf