25 October 2013
Ramayana Re-Imagined
Mon 28 Oct 2013, 18.30-20.00
Centre for Conservation, British Library
Price: £7.50 / £5 concessions
The Ramayana is one of the great epics of the ancient world, with versions spanning the cultures, religions and languages of Asia. Its story of Rama's quest to recover his wife Sita from her abduction by Ravana, the Lord of the Underworld, has enchanted readers and audiences across the Eastern world for thousands of years.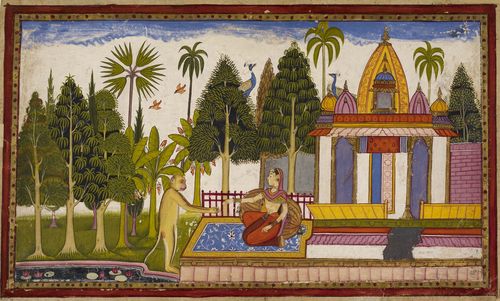 Award-winning poet Daljit Nagra, reading from his new version of the Ramayana, is joined by storyteller Vayu Naidu and musician, Ranjana Ghatak, for an evening of poetry and music to mark the British Library's involvement with Indian partners to digitally reunify one of the most lavishly produced manuscripts of this story.
Daljit Nagra was born and raised in West London, then Sheffield. He currently lives in Harrow with his wife and daughters and works in a secondary school. His first collection, Look We Have Coming to Dover!, won the 2007 Forward Prize for Best First Collection and was shortlisted for the Costa Poetry Award. In 2008 he won the South Bank Show/Arts Council Decibel Award. Tippoo Sultan's Incredible White-Man-Eating Tiger Toy-Machine!!! was shortlisted for the T. S. Eliot Prize 2011. Captivated by versions of the Ramayana his grandparents regaled him with as a child, he has created a vivid and enthralling version of this own.
Vayu Naidu is an accomplished storyteller, writer, performer and teacher. Her art of storytelling is derived from the Indic oral tradition and its energy comes quite simply through the telling, not reading, of a story. She has written for radio, television and theatre; appeared in films and her short stories have been published by The Critical Quarterly and Virago. Her novel, Sita's Ascent, launched at the Jaipur Literature Festival this year, is an exposition on one of the key characters at the heart of the Ramayana.
London born Ranjana Ghatak trained in North Indian singing, whilst immersing herself in the life and sounds of contemporary Britain. Her 2011 debut EP, Awakenin, juxtaposes the beauty of sacred Indian vocal music with dynamic yet sensitive arrangements. Having studied under Pandit Ajoy Chakrabarty, she has subsequently performed with Akram Khan and Nitin Sawhney, and toured nationally and internationally. In this performance Ranjana sings couplets from different versions of the Ramayana in various South Asian languages. She will be accompanied by the tabla.
In association with South Asian Literature Festival