When I became responsible in 1986 for what was then the Prints and Drawings section of the India Office Library, I spent many pleasurable hours going through the collections, many of which were not yet in printed catalogues.  An unexpected discovery was a group of five drawings from late 18th century western India in the hinterland of Bombay, an area from which not many paintings were known, whether traditional or done for British patrons.  These five drawings include a self-portrait and four animal studies by the Maratha artist Gangaram Cintaman Tambat from an album compiled around 1790-95 for Charles Warre Malet (1753-1815) of the Bombay Civil Service.  

Self-portrait of the artist with his guru, both seated facing the other in profile.  By Gangaram, 1790.  Inscribed (by Sir Charles Warre Malet): Gungaram by Himself, very like + a very ingenious Person at Poona in the service of CWM, by whom the subsequent native sketches were drawn chiefly from life + His Groo a celebrated holy Hermit near Poona.  Water-colour on paper; 250 by 362 mm.  Add.Or.4145 

Malet's importance stems from his last posting as the East India Company's Resident to the court of the Maratha Peshwa at Poona, 1785-97.  The Marathas under the Peshwas, hereditary chief ministers of the Maratha rajas, were the principal power in western India and through their wide-ranging generals and their armies they controlled almost all of northern and central India as well.  The Company was growing alarmed at what it saw as the increasing belligerence of Mysore under Tipu Sultan and his pro-French policy and Malet was able to negotiate a treaty of alliance between the Company, the young Peshwa Madhavrao II (or rather his minister Nana Phadnavis) and the Nizam of Hyderabad, which since these two states were often antagonistic to each other was something of a diplomatic triumph.  When in 1789 Tipu Sultan attacked Travancore, a Company ally, the Governor-General Lord Cornwallis invoked his alliance with the Peshwa and the Nizam to attack Mysore and for a while to neutralise it.  In 1791 Malet received a baronetcy for his part in negotiating the treaty.
Malet lived in great style at his house near the junction of the Mula and Mutha rivers at Poona, maintaining gardens, orchards and a menagerie, as well as employing artists such as James Wales (1747-95) and Robert Mabon (d. 1798) (see M. Archer, India and British Portraiture 1770-1825, London, 1979, pp.333-55).  Malet returned to Britain in 1798 accompanied by Susanna Wales, the daughter of the recently deceased artist James Wales whom he had befriended, and married her the following year.

A Representation for the Delivery of the Ratified Treaty of 1790 by Sir Charles Warre Malet Bart to His Highness Soneae Madarou Peshwa.  Aquatint by Charles Turner after Thomas Daniell, 1807.  63 x 89,6 cm.  K.Top.CXV 59-1-c. 

Susanna Wales brought back to England all her father's unfinished work.  This included his sketches for a large composition commemorating the 1790 treaty.  Malet asked Thomas Daniell to work the sketches up into a large oil painting (now in Tate Britain), and subsequently had Charles Turner engrave it in 1807.  The setting is the Durbar Hall of the Peshwa's Shanwarwada palace in Poona.  Wales's estate also included views of Bombay, which Malet arranged to have published in London in 1800, as well as his drawings of the Ellora caves, which he had Thomas Daniell engrave and publish as aquatints in 1803.  Malet's collection of Wales's drawings and sketches, along with his diaries, are now in the Yale Center for British Art, New Haven (see the exhibition publication by Holly Shaffer, Adapting the Eye: an Archive of the British in India, 1770-1830, 2011).
As is the case with most traditional Indian artists, we know nothing of Gangaram other than through his work and what Malet and Wales tell us.  Malet persuaded the Peshwa to establish a school for drawing in the palace at Poona and Gangaram seems to have been trained there in European techniques.  In addition to his animal drawings, he was employed by Malet to sketch Hindu architecture to illustrate Malet's writings.  Malet published a paper on the Ellora cave temples in vol. 6 of Asiatick Researches (1801), illustrated with nine engravings after drawings by Gangaram.  In a foreword to this paper dated 1794, Malet notes that Gangaram had already been to Ellora to make drawings of the caves, when he himself had been prevented by illness from making the journey.

Ravana shaking Kailasa (Siva's abode), at Ellora.  Engraving after Gangaram.  From Asiatick Researches, vol. 6, 1801, SV98, pl. E 


The Visvakarma cave at Ellora.  Engraving after Gangaram.  From Asiatick Researches, vol. 6, 1801, SV98, pl. I 

Malet noted in 1794 that Gangaram would be accompanying James Wales to Ellora to assist with his drawing of the temples.  Thomas Daniell engraved Wales's drawings of Ellora as Hindoo Excavations in the Mountains of Ellora (London, 1803) and it is possible that one of the plates shows Gangaram himself actually at work, although Wales also had another Indian artist from Goa named Josi with him as well.

An Indian artist possibly Gangaram sketching details of Hindu sculpture.  Detail from 'The Ashes of Ravana, interior view.' Plate 19 from Hindoo excavations in the mountain of Ellora, London, 1803.  X432/6 pl. 19 detail 

To return to where I started with Gangaram's animal drawings.  All these drawings are outlined in water-colour with a brush, the outlines brushed in with very transparent washes, the details worked up, and then the whole outlined again where necessary, normally on European paper watermarked with a lily.  The album and other items associated with Malet and Gangaram passed down through the Malet family and were sold at various times.  The portrait and the four animal drawings were acquired in 1982.

A light brown saluki.  By Gangaram, 1790.  Inscribed above: Chuba a Dog belonging to CWM.  Gangaram delint.  Water-colour on paper; 126 by 206 mm.  Add.Or.4146 


A black and white hound.  By Gangaram, 1790.  Inscribed above: Spring, and below: Gungaram.  Water-colour on paper; 134 by 182 mm.  Add.Or.4147 

   A lynx.  By Gangaram, 1790.  Inscribed above in pencil: Syah gush (Persian for lynx), and on the backing sheet: Lynx.  Water-colour on paper; 70 by 125 mm.  Add.Or.4149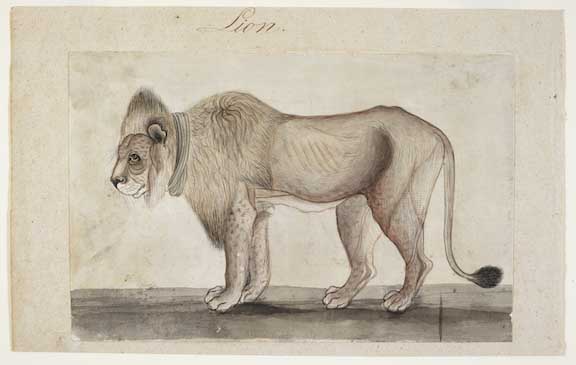 A lion.  By Gangaram, 1790.  Inscribed above: Lion.  Water-colour on paper; 161 by 243 mm.  Add.Or.4148 

Gangaram, living up to Malet's description of him as a 'very ingenious person' also produced models of some of these animals, so when a group of these models appeared on the market including a camel, elephant and rhinoceros (Hobhouse Limited, Indian Painting during the British Period, London, 1986, no. 9), it proved irresistible to acquire one, although not until 1993, that was already represented by its drawing in the collection.

A model of a lion.   By Gangaram, 1790.  Wax, possibly dhuna, the aromatic gum of the shal tree (Shorea robusta), painted; size of wooden base: 20.5 x 9.75 x 2cm; animal 12.5cm at highest point of mane.  F872 


Gangaram's lion.  F872, frontal view 

Gangaram has faithfully translated from paper to model the unhappy and mangy appearance of the poor lion including the halter round its neck.  Although Malet kept a menagerie, including the lion, some of the animals drawn by Gangaram belonged to the Peshwa, as Malet noted on a drawing of the Peshwa's elephant named Ali Bakhsh (see Indian Drawings of Plants and Animals, Spring 1986, Hobhouse Ltd., no. 7).  Some of the models have labels written by Malet ascribing them to Gangaram. 
Finally the opportunity arose again in 1987 to acquire another drawing by Gangaram from the same album, this time of a camel.

A camel facing.  By Gangaram, 1790.  Inscribed in ink: The Figure of the Common Camel of Hindostan accurately taken from a Living One by Gungaram Chintamun Tombut of the follg. Dimensions [with detailed dimensions].  Poona 1790.  C.W. Malet.  And in nagari: gangaram cimtaman tabat.  Add.Or.4364 

This drawing contains very precise measurements of the animal that must have been used when Gangaram made his scale model in wax - see Hazlitt, Gooden & Fox catalogue Indian Paintings for British Patrons 1770-1860, London, 1991, no. 5.
J.P. Losty, Curator of Visual Arts (Emeritus)