01 November 2015
New evidence for the style of the "Fraser artist" in Delhi: Portraits of Afghans 1808-10
One of the earliest European scientific accounts of Afghanistan is Mountstuart Elphinstone's An Account of the Kingdom of Caubul, and its Dependencies in Persia, Tartary, and India, which was first published by Longman, Rees, & Co in London in 1815 and went through several different editions in the 19th century.  Elphinstone's embassy to Shah Shuja', the King of Afghanistan (r. 1803-09) left Delhi in 1808 and proceeded via Bikaner, Bahawalpur and Multan, wishing to avoid the territory of Maharaja Ranjit Singh.  Beyond Bikaner they entered the remains of the Afghan empire created by the Shah's grandfather Ahmad Shah Abdali, and as they journeyed north along the Indus they met there increasing numbers of Afghans.  The Shah was waiting to greet them in Peshawar, his winter capital.  The embassy is described in the first chapter of William Dalrymple's recent The Return of a King (2013).  This blog is not concerned with the political motivation and results of the embassy (Shah Shuja' was in fact dethroned in 1809, but was reinstated by the British in 1839 with disastrous consequences), but rather with the artists who must have accompanied it.  Elphinstone's book contains ten illustrations of various Afghans in different costumes, which must have been done by Delhi artists accompanying the embassy in the period 1808-10.
In 1993 the British Library acquired an album containing the original drawings for all ten of the Delhi-school illustrations of Elphinstone's work (now numbered Add.Or.4670-79).  The album (numbered WD4317) also contains four watercolours by Robert Melville Grindlay of visiting Afghans done at Poona in 1813, which also were published in Elphinstone's book.  Grindlay, a Bombay Army man, subsequently founded the banking firm of Grindlay & Company in Bombay.  He was a skilled amateur artist and aquatints were made from his drawings for Scenery, Costumes and Architecture, Chiefly on the Western Side of India (London, 1826-30).  In 1813 Grindlay was given leave to accompany Lady Hood in a sketching expedition across peninsular India and stopped two months in Poona, where Elphinstone, after a year writing up his official report on the Afghan embassy, had been appointed Resident at the Peshwa's court (1811-18).  There Grindlay drew the four portraits of local Afghans that were added to the drawings portfolio and sent off to the publisher in London with Elphinstone's text.  In 1834 when in London and visiting the publisher, Grindlay was given back all the drawings, which he mounted up into this album along with other supplementary material and then subsequently offered it to Lord Elphinstone in 1865 when a biography of Mountstuart Elphinstone was being prepared after his death in 1859.
Seven of the drawings are of the greatest interest as evidence of the emerging naturalistic style of Delhi artists in the early 19th century.  The other three are more conventional equestrian portraits of court officials and do not concern us here (these are published in Dalrymple 2013).  Four of the paintings are by the one Delhi artist, c.1810.  These are highly competent drawings making use of a naturalistic pose against a plain ground.  Their clothes are softly modelled over their forms, textiles are rendered naturalistically, and flesh in a softly stippled technique.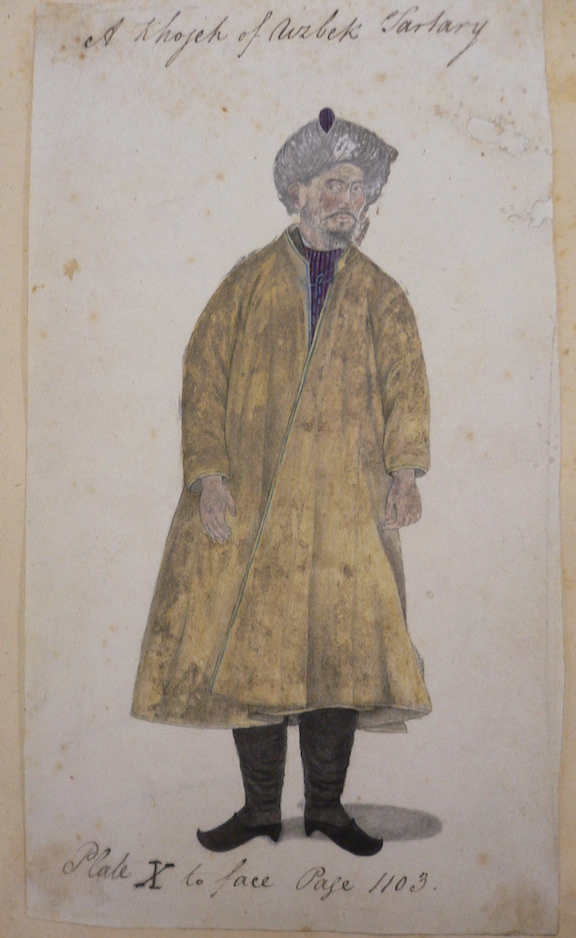 A Khojeh of Uzbek Tartary. By a Delhi artist, 1808-10.  Watercolour; 18.5 by 11 cm.  Elphinstone's Caubul, pl. X, opposite p. 469.  Add.Or.4670

Elphinstone notes that the portrait represents 'Mahommed Hussun, a native of Wurdaunzye near Bokhaura, whose father was an Uzbek and his mother a Syud'.  The natural swing of the unfastened coat is admirably caught by the artist, who has also added a stylized shadow of a sort that can be seen in all these drawings.

A Taujik in the Summer Dress of Caubul. By a Delhi artist, 1808-10.  Watercolour; 20 by 11.75 cm. Elphinstone's Caubul, pl. IV, opposite p. 434. Add.Or.4673

The Tajik's clothes are fully detailed and their patterns modulated to fit over his body.

Man of the Tymunee Eimauk. By a Delhi artist, 1808-10.  Watercolour; 19.5 by 12 cm.  Elphinstone's Caubul, pl. XI, opposite p. 481.  Add.Or.4676

Elphinstone writes that 'this is a good likeness of Kereem, a Hazaureh once in my service, but his face was more cheerful and good-humoured'.
Three more of the drawings are individually powerful portraits, by Delhi artists. 

Dooraunee Shepherd. By a Delhi artist, 1808-10.  Watercolour; 25 by 16 cm.  Elphinstone's Caubul, pl.  II (Dooraunee Shepherds), left hand figure only.  Add.Or.4671

The first of this group, a Durrani shepherd with beautifully modelled features, who stands against an uncoloured background, is a larger and more powerful version of the previous four, using the same technique and possibly by the same artist.  His subject's upright stance, and those of the previous four, is an obvious forerunners of the work commissioned by the Fraser brothers five years later.

Dooraunee Shepherd. By a Delhi artist, 1808-10.  Watercolour; 24.5 by 15.5 cm.  Elphinstone's Caubul, pl.  II, opposite p. 239, the figure on the right only, but reversed. Add.Or.4674

The remaining two are contrasted studies, the first another Durrani shepherd still employing the conventions of Mughal painting for the subject's face and landscape, with a more summary Europeanised treatment of the garments, and more smoothly modelled than Add.Or.4671.  He stands here against a landscape receding in belts of colour to the mountainous backdrop. 

A Khawtee Ghiljie in his Summer dress. By a Delhi artist, 1808-10.  Watercolour; 20.5 by 15.25 cm.  Elphinstone's Caubul, pl.  IX, opposite p. 443. Add.Or.4675

The second, a portrait of a Ghilzai, is the most powerful painting in the album.  He is seated on a red carpet with a diaper pattern and a white wall behind.  He has a most powerfully rendered face, but his hands and feet are perhaps less successful.  This powerful sense of a personality rather than a type, allied to the figurative stance of the other standing figures, makes these drawings the earliest so far datable portraits showing European influence on Delhi artists, several of whom must surely have accompanied Elphinstone's embassy.  The Delhi artists would have been employed with the two official surveyors Lieuts. Macartney and Tickell, as the embassy also had an information gathering purpose as well as a diplomatic one.  It is also to be noted that William Fraser was in the embassy, as was according to Hodson's Officers of the Bengal Army (although unmentioned by Elphinstone) Robert Skinner, brother of James Skinner, who along with William Fraser profoundly influenced the stylistic development of Delhi artists.  Some of Fraser's letters home describing Elphinstone's embassy are published in Dalrymple 2013, ch. 1.

Page from the Fraser Album.  Three villagers standing on a hillside, Mohan Lal, diwan of Nawab Zabita Khan Bhatti, Muhammad, a barber, and the tax-gatherer Salotar.  By a Delhi artist, 1815-19.  Watercolour;  31.4 by 42.2 cm.  Add.Or.4058

We can see the results in one of the pages commissioned by William and James Baillie Fraser, in which the three men are depicted in the same casually relaxed attitude as Elphinstone's Afghans, feet splayed, and with miniscule shadows, linked together by a fictitious landscape.  Although this album does not solve the problem of the emergence of the Delhi Company style, it proves that it was already in existence by 1810; and that artists capable of painting in a Europeanised naturalistic manner were known to Fraser before his brother James Baillie's arrival in Delhi in 1815, which set the two brothers off in their commissioning of studies of local people.  The artistic capacity to do so was already in existence.
Further Reading:
Mildred Archer and Toby Falk, India Revealed: the Art and Adventures of James and William Fraser 1801-35, London, 1989.
William Dalrymple, The Return of a King: the Battle for Afghanistan, London, 2013
Mountstuart Elphinstone, An Account of the Kingdom of Caubul, and its Dependencies in Persia, Tartary, and India, London, 1815.
J.P. Losty and Malini Roy, Mughal India: Art, Culture and Empire – Manuscripts and Paintings in the British Library, London, 2012, ch. 4.
J.P. Losty, Curator of Visual Arts (Emeritus)