24 June 2013
Review of Start-Up Saturday
I am a business information and IP specialist and the newest member of the team. As well as working on the enquiry desk in the Reading Room, I am getting up to speed with other parts of my job which includes giving one-to-one Business Information and IP Clinics for startup businesses. As part of my training, I attended the Start-Up Saturday workshop on Saturday 18 May, delivered by Emma Jones of Enterprise Nation.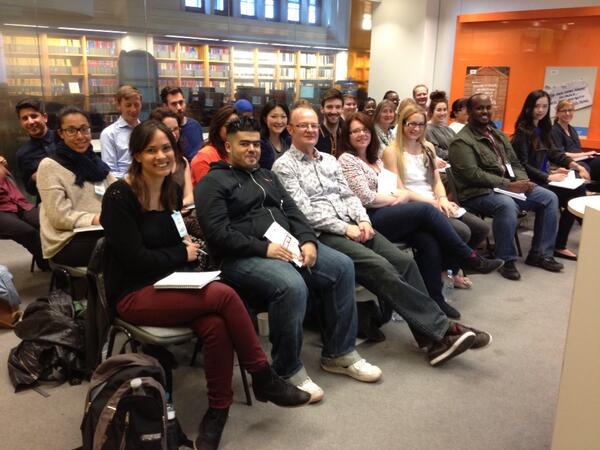 Here we all are - Photo by Emma Jones
The workshop began with an hour of introductions which created a real buzz. Emma chatted to all 30 participants and didn't let anyone hide away at the back. She managed to make a general point, a suggestion, give a contact or some words of encouragement to each person. Where appropriate, others joined in with ideas. With many of the participants she continued to use them as examples throughout the workshop -  a great way for all of us to learn what to do and what not to do when starting out.
It quickly became apparent how diverse the participants were: everything from someone who was actually knitting and making her products (pigs! at Piggyknits) in the workshop to designs inspired from manhole covers at mamimu-tokyo and pregnancy wear for active mums at Fitamamma! Others were at the pre-startup stage, some had been made redundant -  an opportunity to make a career change and some were there for inspiration, knowing they wanted to start a business but not yet quite sure in what area.
Emma taught by showing examples of websites, which made it very visual. This was backed up with a comprehensive book: The Start-Up Kit 2013, included with the workshop. There was definitely an emphasis on starting a business at home while still working –the '5 to 9' business which Emma has previously written about in another book. Some of the very practical points that were covered were 'Niche is good', what to put in a business plan, the importance of research especially market research, the must –dos (i.e. the legal bits) and building a home on the web.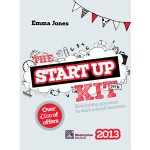 Photo by Enterprise Nation
Emma gave some powerful examples and told in stories rather than just plain facts which made it easier to understand. I have a particular interest in helping dyslexic entrepreneurs as I am dyslexic myself, and this was a very accessible workshop.
Attending as a member of staff gave me an opportunity to say more about our resources which are accessible for free at the Business & IP Centre, especially about the market research databases such as Mintel, Keynote and eMarketer. A few people spoke to me with specific research questions as well as contacting me on Twitter afterwards. I was happy to help.
I thought attending this workshop would give me an overview of how to start a business, and in that it succeeded. Overall: an extremely high-energy and inspiring workshop that was both practical and fun!