19 June 2013
Soul Trader the workshop with Rasheed Ogunlaru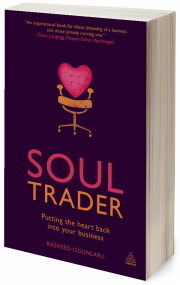 Back in October last year I reviewed Rasheed Ogunlaru's book Soul Trader - Putting the heart back into your business.
He has now developed these ideas into a workshop held in the Business & IP Centre, sensibly called Soul trader: Your life, your business.
Rasheed kindly invited me along to see how it can help you build a business in balance with your life, and in tune with your heart.
In the workshop we covered his eight 'C's for succesful business:

1. Clarity:
Identify your mission, talent, values and brand to develop a clear strategy to propel your business growth.

2. Customers:
Look at your business through customers' eyes to win custom, profit and loyalty.

3. Courage:
Gain inspiration to give you the same determination as a winning athlete.

4. Co-operation:
Building your network so you can create beneficial collaborations and partnerships.

5. Conversations:
Learn how to connect, create and convert leads to sales in person and online.

6. Creativity:
Know when to work, rest and be at your best so you can achieve a life balance.

7. Compassion:
Connect from the heart to be transformational not transactional.
Once again Rasheed used his unique combination of the heart and head to help the workshop attendees develop a vision of their business and life, as well as the practical steps they would need to take to acheive them.
I highly recommend this workshop for anyone about to embark on a business venture, or for those who are established but have lost sight of their business purpose.