08 July 2013
Congratulations to our FSB London Business award winners!
Congratulations to our two award-winning Innovating for Growth businesses who have recently been recognised for their business achievements in the Federation of Small Businesses London Business Awards 2013.  
We're delighted to hear that Flying Fantastic have been named winners of the Best New Business 2013. 

Flying Fantastic have a totally unique take on exercise and keeping fit with an aerial fitness centre offering aerial silks, aerial Pilates, aerial slings and aerial yoga. As a recent Pilates convert, I struggle enough with my feet on the ground so can't imagine the difficulty of aerial Pilates!
Identified by our small-business support programme as a fast-growth business earlier this year, they're destined to reach even headier heights!
Double congratulations to Ohyo  who won Enterpiring Business 2013 and founder, Guy Jeremiah who was runner up in the Real Life Entrepreneur category.
The innovative Ohyo water bottle can be carried in a pocket and reused up to 10,000 times! Defying the BBC Dragon's predictions, Ohyo has gone from strength to strength and is now stocked in major retailer, Boots. And can also be spotted on most of the desks of the Business & IP Centre team too!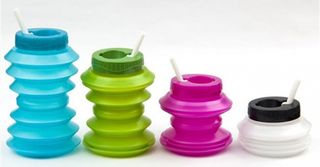 Ohyo collapsible water bottle
Since starting, Guy has used the Centre for a variety of reasons and more recently has been a member of Innovating for Growth, receiving £10,000 worth of bespoke advice and support to help his business get even bigger and better.
Congratulations to Flying Fantastic and Ohyo!
If you want to apply for £10,000 worth of bespoke advice and support for your business, have a look at our Innovating for Growth programme and see if you qualify. 
Innovating for Growth is part-funded by the European Regional Development Fund. 

Chloe Titcomb on behalf of Business & IP Centre