15 August 2013
China's top 20 western brands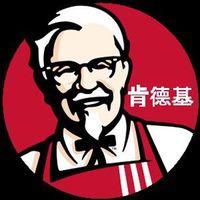 Last week the BBC published a fascinating report on the progress US companies have made in the rapidly growing Chinese market for consumer goods and services. Western brands 'more popular' in China.

The number one brand in China is fast food chicken restaurant chain KFC from Yum! Brands. The Chinese market contributes about half of Yum! Brands' overall profits. The company has about 4,400 KFC units in about 850 cities in China. It first entered the market in 1987. But in banking and telecoms Chinese companies still dominate.

The BBC asked global brand research company Millward Brown to find the 20 most powerful foreign brands in China, the ones that have gone in and succeeded where many others have failed.
A discussion on the Today Programme between presenter John Humpries and Peter Walshe Global Director of Brands at Millward Brown, produced a great definition of what makes a succesful brand:

Peter Walshe
Products that are delivering great quality in a meaningful way to consumers, are the ones that are bought again and again, by those very discerning consumers.

John Humphries - The assumption has been that in the West, you can sell anything to anybody if the advertising is good enough, and the marketing is good enough.

Peter - I certainly wouldn't agree with that at all. You can announce something , and providing your advertising clearly annunciates what it is that is special, good and interesting about that product or brand, people will listen, and they may well try it. But when they try it and it doesn't live up to that promise, you're in big trouble.

One of the reasons Omo is doing so well is that it has listened and adapted to its consumers locally. The way that you wash clothes is quite different in China, compared to some other markets. They have very carefully listened to consumers and created products that are relevant.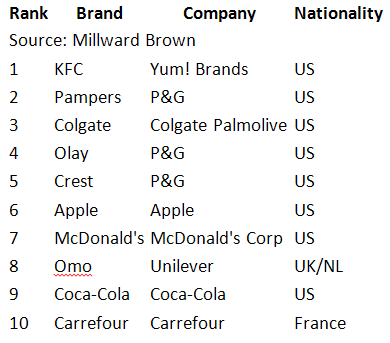 Here are some success tips from some of the top brands via Millward Brown:

Get in early
All of the brands have been pioneers in China, entering before 2000.

Understand your market
The Chinese market is changing quickly and many of the companies are learning to keep up.

Be bold
Having got in early, many of the companies are building on that advantage. Some of the numbers are staggering.

City strategy
Many of the brands that spoke to us stressed the importance of looking beyond the coastal cities of Shanghai and Beijing to the staggering growth and new consumers in cities across the country.

Build your team
Running a business in China is difficult to do from outside the country, and many of these multinationals tell us that their success is built on finding the best Chinese talent and joint venture partners.
Neil Infield on behalf of the Business & IP Centre
Chloé Titcomb on behalf of the Business & IP Centre - See more at: http://britishlibrary.typepad.co.uk/business/index.html#sthash.EudJwOtt.dpuf
Chloé Titcomb on behalf of the Business & IP Centre - See more at: http://britishlibrary.typepad.co.uk/business/index.html#sthash.EudJwOtt.dpuf
Chloé Titcomb on behalf of the Business & IP Centre - See more at: http://britishlibrary.typepad.co.uk/business/index.html#sthash.EudJwOtt.dpuf
Chloé Titcomb on behalf of the Business & IP Centre - See more at: http://britishlibrary.typepad.co.uk/business/index.html#sthash.EudJwOtt.dpuf