25 September 2013
Fashion has nowhere to go but in circles
'Fashion has nowhere to go but in circles' was a statement that my friend's mother told her and I can see the validity of the statement in many ways since starting at the Business & IP Centre. Fashion is one of the most popular industries among users of our Centre.
In my opinion, there have been some important business changes in the last 10 years of the fashion industry such as commercially viable vintage shops, boutiques, swish parties and other conscious efforts for ethical and sustainable business success without compromising people and the environment.
A couple of years ago, I acquired a heightened state of awareness of sustainability which was brought on by a night of fabulous fashion at an ethical fashion show themed 'Fashion with a Conscience' by the Ethical Fashion Forum at the William Morris Gallery in London. 
The London designers on the night created items that were ethically sourced, manufactured and distributed – this was a splendid ticketed fashion event which showcased their designs in the Gallery's spiral stairwell with various stalls and raffle prizes for goods served over a glass of wine and canapés. It was memorable evening but more than anything – it made me more conscious of ethical fashion in principle.
Roll on one year – whilst being part of the Women's Network working for the Greater London Authority, we were in the process of organising a number of events for the 100th International Women's Day and it was my suggestion for us to have an ethical fashion show not only to display some ethical fashions but to bring staff together and celebrate the day with some fun and facts!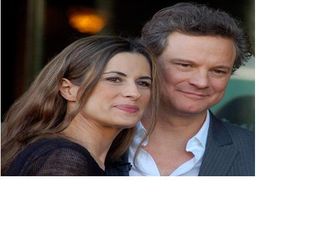 Colin Firth (actor) and his wife Livia Giuggioli (eco-entrepreneur).
Photo Source: Wikimedia
To cut a long story short, I eventually connected with designers Queenie and Ted who were very keen from the onset to take part and thus provided numerous marvellously designed 'upcycled' jackets for staff to model.  Coincidently, it was also the week of the Academy Awards Oscar's in 2011 where Colin Firth's wife Livia Giuggioli, eco-entrepreneur at Eco-Age, was also doing her bit to champion ethical fashion on the Oscar's red carpet.  Personally, I thought it all ended being a grand success on a monumental and fun occasion.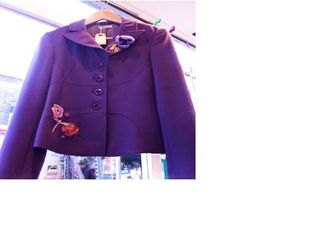 Queenie & Ted's Upcycled Jacket
The event was also a great way to meet with designers and female entrepreneurs Queenie and Ted who started their own company part-time by applying decorative resuscitation techniques to tired garments to create amazing one-off clothes.  Their business has grown since then and they now have a permanent presence and shop on Columbia Road market with even international customers when I visited. 
Back to the present, this brings me back to the saying above 'Fashion has nowhere to go but in circles' - this is definitely true in a business and design context such as with upcycling, vintage, ethical global sourcing or sustainable fashion to consumers in the UK. 
There are numerous resources in the library that can help you research sustainable fashion businesses or practices with help from our very popular Fashion Industry Guide and workshops which sometimes focus on fashion. 
For vintage and upcycle fashion design inspiration – download the 'Guide to Fashion Resources at the British Library' that we prepared earlier this year.
Seema Rampersad on behalf of the Business & IP Centre