15 November 2013
Duke of Edinburgh visits Business & IP Centre
The Business & IP Centre hosted a royal visit this week as His Royal Highness the Duke of Edinburgh was taken on a tour of the Centre and met some of its users.
Led on a short tour of the Centre by our Entrepreneur in Residence, Stephen Fear, Director of Audiences, Frances Brindle and Head of Business and Research Audiences, Isabel Oswell, the Duke also met some of our Innovating for Growth businesses including Simply Organic, Yoomi, Squid London, Love Brand & Co and Ohyo.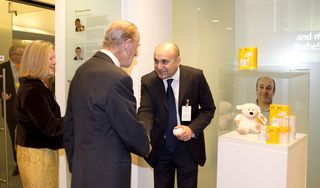 Isabel Oswell, The Duke of Edinburgh and Jim Shaikh, Yoomi
Gail Mitchell, Sally Ann Russell and Michael Pattinson, who all specialise in offering business and IP advice in the Centre were manning the Reference Desk and Gail showed the Duke a range of patents from the Library's collection, with examples ranging from the historic Dambusters bouncing bomb design and a stabiliser for four-in-hand carriages, to more recent innovations including the Dyson bladeless fan and the Ohyo collapsible bottle, which the Business & IP Centre helped to create. 

Gail Mitchell and The Duke of Edinburgh
Talking to a few users of the Reading Room, the Duke discovered that all kinds of research was taking place including an oncologist developing a new breakthrough drug, a couple of fashion designers and a champagne importer.  The Duke did enquire how one would go about conducting research into organic farm shops, which aroused suspicion that he could be sending the Prince of Wales here soon!
The Duke's visit arose after a chance conversation with the Library's Entrepreneur-in-residence Stephen Fear over lunch with a number of business leaders and dignitaries in Bristol, after which point the Duke accepted an invitation to come in for an informal visit to see the Centre and to learn more about the work it does supporting entrepreneurs and small businesses to start, grow and run a business.
Our recently appointed Business & IP Centre Ambassadors including Tim Campbell MBE, Doug Richard, Matthew Rock, Lord Bilimoria and Shazia Awan all spoke to the Duke about the important work of the Centre and our national network in supporting entrepreneurship across the country.
From royalty this week to the Dragon's next for Global Entrepreneurship Week, who knows who we'll have in next!
Chloé Titcomb on behalf of Business & IP Centre