22 November 2013
Local area business information in the Business & IP Centre
Quite often start-up businesses as well as existing businesses are looking for business information and relevant statistics in their local area. Many times, growing businesses that are looking to expand are in need of information on other areas as well.
Quite a few businesses that are in our Innovating for Growth programme are looking for specific local information and statistics in areas outside London, such as suitable premises, local demographics, labour statistics etc, because they are planning to expand all around the country through franchising.
A couple of very useful information sources that are available online are provided by the Office for National Statistics, organised in a way that summarized and/or detailed statistics can be accessed within specific geographic area, searchable by name or full postcode:
Neighbourhood statistics, allowing you to find local statistics on demographics, education, health & care, housing, local economy, crime & safety etc.
Labour market statistics – Local Authority Profiles, allowing you to find local labour market profiles, including the most recent available figures, which can be also compared with the relevant figures of other areas and the whole country, on population, employment, occupation, qualifications, earnings etc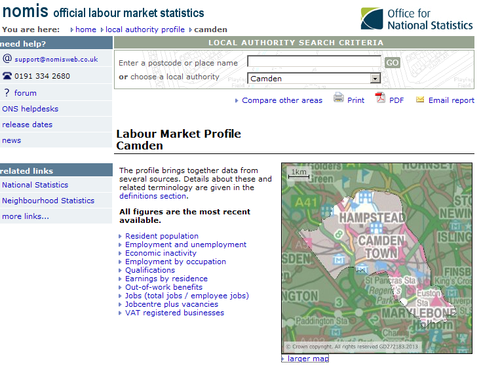 Another useful source of local business information, which can be accessed in the reading room of the Business & IP Centre, is the COBRA (Complete Business Reference Adviser) database. COBRA is a business encyclopaedia covering all aspects of starting and running a business.
The Local Area Profiles (LAPs) is a specific section in COBRA. Each Local Area Profile lists local information sources for prospective start up businesses in that area and for existing businesses seeking sources of business support in their local area, including relevant web links on:
Business support and advice sources
Financial support sources
Resources providing details of available business premises
Business networks
Business directories
Libraries
Local authority trading licenses and business rates
Capturing and combining information and data from all these sources can be used by businesses, who want to operate in specific geographic areas, in order to understand the local business environment and potential customer profiles.
Irini Efthimiadou on behalf of Business & IP Centre