07 November 2013
The Internet has revolutionised marketing
If, like me, you use the Internet frequently, but still need to improve your understanding of online marketing, I recommend that you attend the Online Marketing Masterclass, taught by Alasdair Inglis of the small business marketing consultancy Grow.
Right from the start of the class, Alasdair made the most of the available time by taking us through the essential elements of online marketing, including:
The importance of thinking about lead generation in terms of inbound marketing
Email marketing – the grandaddy of low-cost marketing
SEO and keyword research
Google Pay-Per-Click (PPC) – the reason why yellow pages is worth pennies
Content marketing
Blogging
Facebook PPC
 Alasdair explained the technical aspects of the above topics with the help of graphics and visual cues, which made everything easy to understand. He also gave us exercises that were good for networking with other workshop attendees – in my case with Rachael from video content company Vividecho.
One of the most useful exercises was the keyword-ideas exercise, which showed us how to do keyword research and set up SEO. This information will be extremely useful in a competitive market, as it will help you make the 'first page of Google' and get people responding to your online advertising.
Google records every search people make for phrases and keywords in every country in the world, and makes this data available to everyone.  Alasdair showed us Google AdWords, which allows you to make a list of keywords, so that when someone types one of your keywords into Google, your company will show up above the competition.  To do this effectively requires dedication and persistence, as well as a good business strategy – it's advisable to have a clear strategy for your search campaigns.
Online activity can make marketing accurate.  Be it art or skill, your company can use these techniques to ensure a good Return on Investment and a good success rate.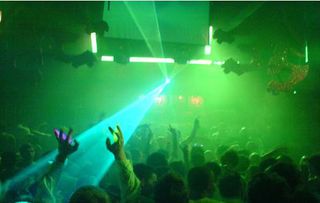 Trance Party
Photo Source: WikiMedia
Another exercise we carried out was searching for keywords related to trance music, and ads based on the fact that one of the attendees, William, runs the trance- party business, Sydiom.  It was a revelation to me that by using this technique alone, we found out not only the number of searches for 'Trance Parties in London' but also that people were searching using the term 'Progressive Trance'. This information was right on track (pardon the pun) to help William promote his work.  
One interesting but strangely challenging exercise was creating an AdWords and AdGroup example.  It was more difficult than I expected trying to fit the right words into limited space to get the highest impact!


 Another tip from Alasdair when setting up your PPC campaign was to use keywords that target locations relevant to your business. For example, you could target phrases such as 'Bicycles in London'.
Personally, I found there were only a few technical things you need to understand to optimise your online campaigns. This workshop explains how to use the various techniques and provides a good introduction.  It might also help you decide whether you want to outsource this aspect of marketing to an SEO expert! Either way, you should definitely be doing this for your business and if you get it right - you will benefit.
Content marketing, such as books, podcasts and video are other forms of online marketing that can be effective. You can use the Content Marketing Matrix to ensure that your strategy and marketing remains effective.  It was also suggested that you look at what content your competitors are sharing – since your 'competitors are your best friends'!
Blogging and Facebook PPC were tools mentioned, with the latter targeting customers by location, town, city, gender, connections etc.  I think most of us will be used to these ads by now. However, you'll learn to be on the other side, pushing them out to potential customers. 
The Online Marketing Masterclass was very detailed, so I am unable to put everything in this post. Do attend the workshop if you want to get that competitive advantage. Doing the right research the right way will always lead to better results.
Seema Rampersad on behalf of Business & IP Centre