05 December 2013
Neoshop – Boutique de L'innovation France: Collaborating, Connecting and Showcasing
I visited the city of Laval in France to attend the official opening of the Neoshop which is a unique concept store entirely dedicated to innovation and is part of an EU (Interreg) funded project on Open Innovation, of which the British Library and Neoshop (run by Laval Mayenne Technopole) are both partners.
Nowadays innovative startups often have difficulties with selling their products and finding the right audience. Neoshop was set up to make these business goals reachable.

Photo Source: Neoshop
The Neoshop is located in a fresh new boutique shop on one of the main shopping streets with nearby 'boutiques' and a market square in Laval. They were especially busy for the Laval Festival in September and the area is known for its Christmas market so the next couple of weeks are due to get busier. 
Project partner Christian Travier pointed out that, "The difference with the Open Innovation project is that companies can give us the products – the Neoshop sells it – the companies get paid.  This is the difference to selling normally. For the companies there is no cost at the beginning".
For interested companies, there are reports on customer feedback and management sales information for the products.  It was truly exciting to see, feel, interact and even smell some of the innovative products in the Neoshop such as:
Brumes Gourmandes - a collection of premium alcohol-based cooking sprays.
Ma P'tite Balise - the Geolocation system which enables parents to monitor their children while they are playing outside.
Papado – award-winning easy to clean toilet seat.
e-Motion - 3D e-Motion Tech from Toulouse.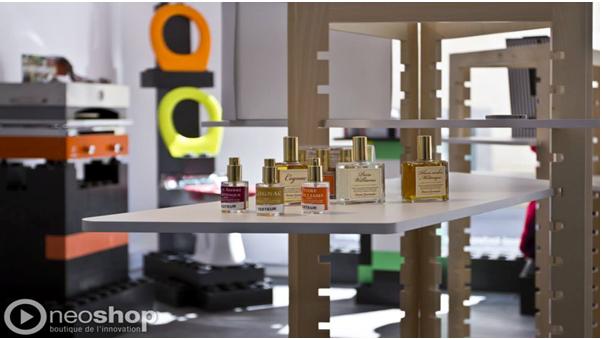 Photo Source: Neoshop
Besides a selling space the Neoshop is multifunctional with spaces which all provide:
Guidance and networking: Creators will get assistance with commercialization of their innovative products and help with forming connections with distributors and manufacturers depending on their needs
Regular customer feedback for the continuous improvement process
Co-working space: designed to provide inspiring workspace for independent workers or collaboration with other companies
Promotion of innovation: conferences, product presentations, meetings with creators
Fib Lab and Living Lab: designed to manufacture and test innovative products
Café: a friendly space created to enable customers to enjoy their time and to help them develop professional network.  This space an also be used for corporate events
In addition, there were products from our Flemish Voka Ghent Partners and London-based Innovating for Growth companies that were invited to test and showcase their products at the Neoshop.
SpyLamp2 - bicycle GPS tracker disguised as a bicycle tail light.
Paper Tango – London based company specializing in origami inspired gifts but with Parisien designs too.
Cath Tate Cards – humorous selection of cards and gift designers.
It was exciting to showcase and report on these in person to our partners and some of the benefits for international businesses are:
The possibility of testing the sale of your product abroad
Promotion of the product in France
Cost and time reduction of the international implementation of the product – Implementation of the product abroad is really expensive, both in terms of money and time.  With the Neoshop you can reduce the costs to minimum
Creation of the new revenue streams for your company – If your product is well received in France, you will enjoy higher revenue
Networking – The Neoshop will help you to network with B2B and build connections or interactions if required.
The opening was 'Un grand affaire et fete' attended by the Mayor of Laval, Government Minister with local dignitaries, designers, Neoshop companies and press in attendance for the official launch.  It was a super opportunity for me to meet everyone, represent the Centre and to understand the practical aspects of the open innovation boutique. 
Collaborating on this project, there were obvious synergies with other products and the initiatives at the Neoshop and with our international partners.  I brought a couple of items bring back to showcase in London and our Voka Ghent partners hosted a 'Bicycle' themed event whereby we were able to send the Spylamp 2 there too.  They were extremely excited about the product for Ghent as numerous bicycles get stolen all the time – they didn't need any prompting to show and tell there too!  
Seema Rampersad on behalf of Business & IP Centre