14 January 2014
Empatika: fitted furniture with a difference
I first met Tristan Titeux of Empatika when he joined our Innovating for Growth programme in September 2013 after attending one of our special 'bring a friend' Growth Clubs.
Empatika specialises in designing and making contemporary bespoke fitted furniture and also offer an eco-friendly option of furniture made of recycled cut-offs (see our post on Recycling Business Resolutions).
They are passionate about what they do, listen to the ideas of their customers, consider their needs and in partnership with them create a design that matches exactly what their customers have in mind.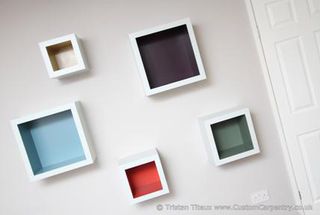 Random Floating Tubes, designed by Empatika
Although already a thriving business, Tristan applied for a place on the programme because he wanted to grow. Innovating for Growth gave him one-to-one advisory sessions with our expert partners and advice on his business growth strategy, his branding and marketing approach, his product development strategy and his trade mark protection.
 I chose to follow Tristan during his time in the Innovating for Growth programme by attending his one-to-one advisory sessions and observing his progress throughout the programme.
As a member of the Innovating for Growth project team, I did research work for Tristan and helped him identify market and consumer trends in the home and furniture industry, relevant quality and environmental standards, contact details of possible partners. I also helped him with trade mark clearance search, before he applied for new trade mark registration.
The programme helped Tristan identify the essence of his business and the business values that make his products and services different from his competitors, so that he can then establish a network of partners around the UK who will apply the same values and principles under his brand.
As a result, he is in the process of re-designing his website, trade mark and promotional material to reflect his business essence and values. He is also in the process of acquiring suitable business partners who will follow his stated business values and ethos.
Watch this space for the next stage for Empatika!  
If you are an ambitious London-based established business want to apply for up to £10,000 worth of funded advice and support tailored specifically for your business, have a look at our Innovating for Growth programme and apply before 24 March.  
Irini Efthimiadou on behalf of Business & IP Centre