08 January 2014
Recycling Business Resolutions
As another year begins, it is an ideal time for us to think of those business resolutions that we always thought about but find it difficult to put into gear.  One of my own is to recycle more since taking a tour of the EcoPark at the London Waste Company.
They collect rubbish… but they do so much more such as diverting waste from landfill responsibly by recycling and generating renewable energy.  Some examples are by producing 292,100 Mwh of electricity a year and 10,000 tonnes of compost from the 35000 tonnes of kitchen and garden waste – compost which you can buy from local councils in North London.  Since my eye-opening and nostril-pleasing visit I have increased my own rubbish recycling and gained amazing insight and understanding of the possibilities of recycling rubbish.
There are a number of innovative ways that global and national businesses are doing this in a big way, such as Veolia Environment in this article in the Evening Standard. You may already have ideas in your head, but my challenge here is to research and learn other ways that small businesses and individuals can create a business out of recyclables before it gets to the bin or landfill.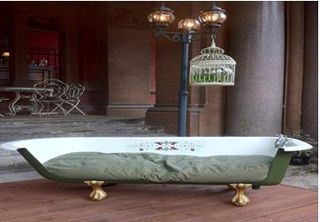 Reclaimed bath at Gilbert's Garden Bar, St Pancras, London.
Ravensbourne college is a great grassroots example of encouraging innovative designers and sustainable businesses based on recyclables as showcased at their Penrose Festival. Some of these include jewellery, fashion, home wares, laser-cut sculptures, paradox oil lamp made of recyclable light bulbs sourced from the recycle machine at IKEA, and lamp-shades cut into city shapes produced from different shops from around London. 
On a larger scale Treehugger has more examples of items such as washing machines to chairs, vintage bone china tea cups to bracelets and even old phone booths into public aquariums in Japan. 
Closer to home, we have had businesses that have used the Business & IP Centre for setting up and growing their recycling businesses.  Some of them took part in our Spring Market last year, including Boodiblu who design jewellery out of recycled china and Motties who make shoes that are constructed entirely from reclaimed materials that would otherwise go to waste – with £1 from every pair sold going to the homeless charity Emmaus.  In our Innovating for Growth programme we also have an entrepreneur, Tristan Titeaux of Custom Carpentry, who designs bespoke furniture out of waste off-cuts, which otherwise would go to landfill.     
Custom Carpentry's bespoke furniture made of reclaimed materials. 
In conclusion, it seems like it is not only a good new year's resolution for households and businesses but "trash can be cash". There are some good business ideas and evidence out there that recyclables can be environmentally responsible as well as can be a sustainable and profitable business. 
Don't forget that we have lots of workshops and resources that can help anyone looking to start or grow their own business. Have a look at our calendar to see what's coming up. 
Seema Rampersad on behalf of Business & IP Centre