04 March 2014
Inspiring Entrepreneurs: Internet Icons: Tuesday 25 February
A highlight of our 'Web in Feb' Business & IP Centre series of events in February was an evening with Inspiring Entrepreneurs: Internet Icons in partnership with Barclays. The speakers were Nick Robertson of ASOS, Kathryn Parsons of Decoded and Nick Jenkins of Moonpig.  Frances Brindle, Director of Audiences at the British Library, introduced the evening and informed us of the prediction that 25% of all retail sales will be online by 2016. Shopping via online and mobile channels is becoming the norm and, according to eMarketer, over 90% of internet users shopped online in 2013. Retail sales on ecommerce sites have reached £45.5 billion.
In the spirit of online, the audience of 255 in St Pancras and another 200 across 4 live screenings in Birmingham, Liverpool, Newcastle and Sheffield, and on computer screens across the world via webcast.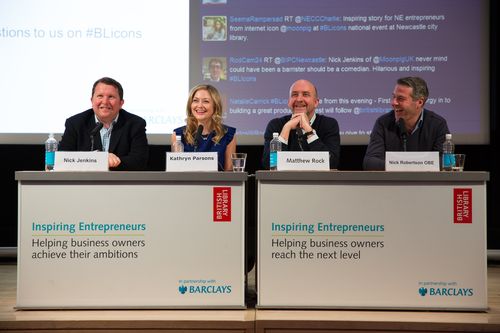 First up was Nick Robertson, co-founder and CEO of ASOS.  Nick co-founded ASOS.com, a fashion and beauty retailer pioneering online fashion in the UK, and now increasingly the world, with sales approaching £1billion. Starting his talk with a glitzy video of the last six months of ASOS, Nick's story began with the ups and downs of building a fashion brand without a high street presence. He stressed the importance of being 'laser focussed' on what you do. But also staying flexible and being prepared to 'to kiss a few frogs'.  His final tip was, don't sell out too soon; if you have a great idea – stick with it online and it will grow.
Next up was Kathryn Parsons, founder of Decoded, who wants to teach 'Code in a Day' and is pioneering global code education. Recently nominated as one of the top five most innovative companies in the UK, Decoded launched Data in a Day in 2013, aiming to demystify big data for business, and Code Ed to empower classroom teachers. Kathryn told us she used the Business & IP Centre in London to plan her business three years ago. She is keen for 'women to claim their digital vote!'  She amazed the audience by revealing Decoded had spent just £27 on marketing, instead using imagination and creativity to get their message across. 
To end, she spoke about the reality of women programmers who are doing business in the tech industry in the UK. She then showed us the list below of '5 Things I have learned about Programming' from a seven year old girl.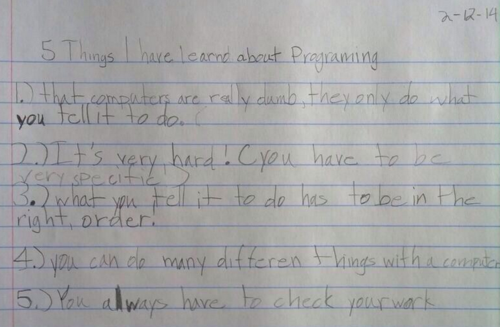 The last speaker, Nick Jenkins was a wonderfully entertaining whilst being surprisingly informative and wise. Nick claimed he would now be a boring lawyer now, if he hadn't failed all his A levels, which meant he studied Russian at University. This was followed by eight years in Russia trading sugar for Glencore.
He chose to use the internet as his primary basis for a business due to the low cost of starting up. To start Moonpig.com all he needed was a website, a printer and two sets of plain card in stock. Initially he relied on word of mouth to spread the message about the service.
Nick kept an eye on their main competitor by ordering a card from them once a quarter and comparing the order number on the receipt to see how much it had increased. He used this technique to measure the successes of his rival's television advertising campaign and saw that it made economic sense. This led to Moonpig gradually increasing their screen advertising until they were spending £800, 000 a year. Nick realised Moonpig were open to the same form of competitive intelligence, so introduced four random letters in the middle of their order numbers. In a classic case of the law of unintended consequences, this led to complaints caused by some of the rude words produced.
 Nick confessed that initially the price he set for their cards was set too low. But he very was reluctant to increase it until his finance director gave him two choices. One, leave the price as it is and definitely go bust. Two, increase the price and maybe go bust. After increasing the price by £1 they were pleasantly surprised to see that the sales did not go down, and they went into profit.
Eventually the business grew and became stable and as Nick mostly enjoys the growing phase, he decided it was time to move on and look for his next startup venture.
Nick stressed the importance of hiring staff that will be as excited about the startup as you are, they will be happy to weather the storm the early days bring.  His final pieces of advice were; be decisive, allow staff to make decisions, and the importance of luck in business success.


Seema Rampersad on behalf of Business & IP Centre