11 March 2014
Legal Issues of Web 2.0 and Social Media by Stephen Kunciewicz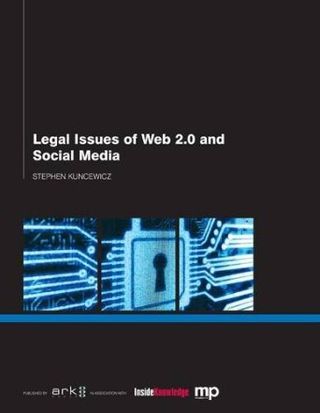 How do you ensure that your organisation's valuable intellectual property is not being misused, copied or redistributed by others?
And what rights and remedies do you have if a third party has been illegally using your intellectual property?
And on the other side of the coin, what responsibilities does your organisation have with regard to employees' use of social media – should an employee make a potentially libellous comment online about a competitor, using a work computer, what involvement might a company be deemed to have?
These are the questions posed by Stephen Kuncewicz at the beginning of Legal Issues of Web 2.0 and Social Media. Everyone knows that today's businesses must be social-media-savvy. Blogs, the ubiquitous FaceBook, LinkedIn, Twitter even, these are not just for private individuals, they are for businesses to use as well, both for gathering and for disseminating information. But we are also all aware of their reputation as a legal and ethical minefield.  The law has been struggling to keep up with technological developments, and social media users are often quite unsure about where they stand.
Stephen Kunciewicz is a lawyer at Halliwells LLP, and probably about as well-qualified to write on the topic as anyone alive. He takes the reader through the subject in just over 200 jargon-free pages, illustrating each point with real-life (and in some cases famous) examples.
The book is divided into five sections:
Placing social media in the legal context
Social media and copyright
Social media and brands
Social media and privacy, confidentiality, defamation
Social media and criminal law.
This book would seem to be a must-have for every start-up and SME in the land, but for one thing: the price. On Amazon, new copies are selling for around £300. However, we have two copies here at the British Library. One is held by our Document Supply Service, and the other is available in the Business & IP Centre, in the Small Business Help section.
Rupert Lee on behalf of Business & IP Centre