13 May 2014
Act Local, Think Global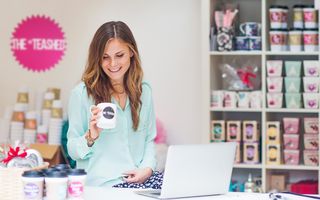 Our Inspiring Entrepreneurs: Going Global local Newcastle entrepreneur, Jules Quinn from The *Teashed shares some of her stories about cracking global markets.
You can hear more from Jules at the Newcastle screening of Going Global on 2 June. Find out more and book your Newcastle ticket.
With 7 out of 10 of us in the UK owning a smart phone, we all literally have the world at our finger tips. A quick jump onto Google search and we can land at the shop of a potential supplier in Asia, who within 24 hours has sent you quote and samples are in the post. Skype allows us free face in front of face conversations across the world, whilst simultaneously being able to refer to websites, email each other files or share via Dropbox. To have a chat with Tim in Timbuktu is just as easy as chatting to Sheila in Sheffield. Exception of course being time difference and language barriers.
But we are lucky, we have English as our mother tongue and it is common across the globe to find people, especially in business, who speak English. Having travelled extensively for business, I have not yet faced a language barrier that has meant we couldn't do business. And with time difference, well, if you are running your own business you will be up working all night anyway so it doesn't matter!
I found all potential tea suppliers for The *TeaShed through Google and only two years later did I have the time and money to go and visit them. Language has not been a problem as our suppliers all speak English and time difference is only 5 hours. Global suppliers = simple.
Importing and exporting is also not as scary as you think. Yes, there are a lot of hoops to jump through, boxes to tick and fees to pay, but all in all it's a pretty simple process and you normally will have agents who deal with it for you. I did once hear about a man who lost 1 million dollars worth of TVs out at sea and didn't have any insurance though! Make sure you insure freight.
So once you have your international suppliers sorted and your logistics then you need to start attracting overseas customers. There are various ways through trade shows, agents, distributors but again the easiest is right in front of you now; the internet.
Search international competitors – into which stores in their country do they sell and then contact them directly. Search types of shops in particular areas. Perhaps the easiest place to start is British shops abroad. Often these shops will regularly import from the UK and so will have consolidation somewhere in the UK anyway.
Social media is an excellent way of creating international brand awareness. You may have to change platforms for some countries but Facebook, Twitter, Instagram, Pinterest are all a great start.
The one thing to really do your research on, are the different laws for each country, for example in regards to packaging, IP, import/export and agents. UKTI can give a lot of advice on these topics and often have workshops you can attend. 
One area we looked closely at and indeed had guidance from Business & IP Centre Newcastle was to trademark or not to trademark. We went ahead and applied for a UK trademark straight away for The TeaShed and got advice on a community trademark (European).
They have a great deal of knowledge, which can be used to help protect yourself when selling abroad. IP will most probably be of huge importance to your company and therefore putting safety nets in place early on is recommended.
With research and precautions in place, the world is your oyster. The UK is undoubtedly a great market to target but it is also only a tiny part of the world. We have such fantastic infrastructure here, built upon hundreds of years of international trading, that you can import and export in a click of your button and wake up to an inbox bursting with orders.
Don't just see what is in front of you. Look for what you can't see.
Jules Quinn on behalf of Business & IP Centre
Our next Inspiring Entrepreneurs: Going Global will be held in London and screened live in Newcastle as well as live webcast. Tickets are going fast so book yours now!