23 May 2014
Celebrating a year of boosting the North East Economy at Business & IP Centre Newcastle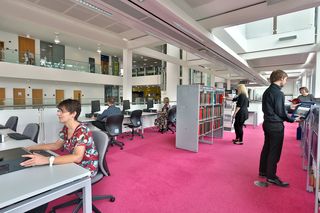 The Business & IP Centre Newcastle at Newcastle City Library today celebrates its first birthday. The Centre is part of the British Library Business & IP Centre National Network and was the first to open outside of London.
In pilot stage before, it officially launched as a Business & IP Centre on 23 May 2013, the Centre offers North East entrepreneurs and SMEs free access to a wealth of databases, market research, company data, journals, directories and reports. It hosts a programme of free and low-cost one-to-one advice and workshops delivered by trained staff and business experts on a range of topics including starting up, business planning, marketing and intellectual property.
A vital part of the North East's economic growth agenda, the Centre has been a resounding success, helping to launch new North East businesses and help established businesses grow to the next level.
Highlights from the past year include:
2489 helped with business and intellectual property enquiries 
220 intellectual property surgeries held
53 events held
929 event attendees
Join the team on Monday 2 June to celebrate at Inspiring Entrepreneurs: Going Global. The event will encourage businesses to expand by looking beyond their traditional markets and think internationally to survive and thrive.
After hearing from local success story, Jules Quinn, founder of The *Teashed and taking part in a live, interactive webcast with Lord Bilimoria (founder of Cobra Beer), Sian Sutherland (Founding Partner & CEO of Mama Mio and Mio Skincare) and Will Butler-Adams (Managing Director of Brompton Bicycle), you  will be able to network with other local businesses and entrepreneurs and raise a toast to the Centre.  
Jules Quinn, The *Teashed
Book your free place at Inspiring Entrepreneurs: Going Global
Congratulations to the brilliant Business & IP Centre Newcastle team on such a fantastic first year!
Aaron Hussey on behalf of Business & IP Centre