Inspiring Entrepreneurs: Going Global

Last Monday was our Going Global Inspiring Entrepreneurs event kindly sponsored by Barclays Bank. As well as the audience in the British Library conference centre, the speakers were also screened live in the Newcastle Business & IP Centre in their Central Library.

Once again the evening was ably chaired and moderated by Matthew Rock, DueDil editor-in-chief and Real Business co-founder.

First up was Will Butler-Adams Managing Director Brompton Bicycle.

Bromptons were first produced in 1988 and are famous for their folding design. Over the last twelve years, Butler-Adams has transformed them from a niche company to the UK's biggest bike-maker. Brompton now make over 52,000 bikes per year and employs approximately 230 workers. All Bromptons are designed and built in West London and are exported to more than 44 countries with 80% of sales from overseas.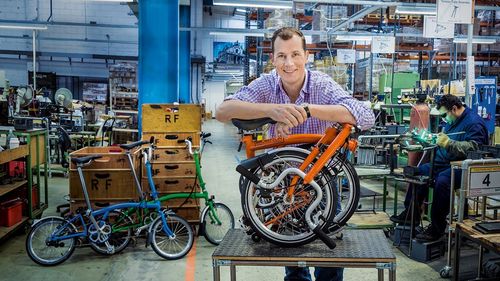 Will started with a short demonstration on the stage of how quick and easy it is to unfold a Brompton bike. He explained that the bike is pretty much all they do, and admitted that although the engineering is sexy, the bike is not something that will attract the 'birds'.

Will talked about how he met the inventor of the bike and was entrance by the product and the potential for the company that he felt was stuck in the dark ages. At that point it had 24 staff, sales of £1.7 million. They now make a profit of £27.5 million and have a staff of 240. They make 950 bikes a week and sell to 44 countries, "and its bloody good fun".

For a long time Brompton was a business where they couldn't make enough product to meet demand. The easy answer would have been to stay with home market as the profits are bigger and you have more control over distribution. He said it takes about five years for the bike to become established into a new market. But that you should believe everyone who tells you how complicated exporting is.

Will's advice is to treat it like a holiday. Choose a market you think has potential. Get the UKTI (UK Trade & Investment) to help you research the local market and check out the local trade shows. But don't spend too long doing research or you might never get started. Then meet local people and get an understanding of their market. He explained how they tackled the China market cautiously, and how in that case unusually they own the distribution and retail outlets.

He said Brompton don't focus on the business or the brand, instead they focus on producing the best product and service for their customers. He feels strongly that these are the most important asset of any business. It takes longer but it gives you a solid basis to build your business on.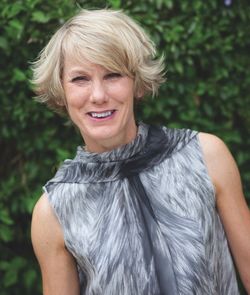 Next was Sian Sutherland, Founding Partner & CEO of Mama Mio and Mio Skincare

Sian is a serial entrepreneur with a varied background in advertising, restaurants, film production and brand creation, Sian was an early winner of the National Magazines' Entrepreneur of the Year for her first business, British Female Inventor of the Year and received the coveted CEW Achiever Award in 2010.

After creating a new beauty category with their maternity skincare brand Mama Mio eight years ago, she launched their second brand, Mio, focused on the fitness market. Their approach has always been to behave differently as a beauty business; giving their 'fit skin for life' brands a distinctive and very approachable personality developing a unique position in the skincare market.

Sian explained how Mio is the most selfish skin-care brand on the market. They work on the principle that if it works for the founders then it will work for their customers.

Mio is aimed at active women and promises to give them fit skin for their whole life.

This new brand grew out of Mama Mio which is for pregnancy and is already available in 18 countries  through 4,000 stores and spas. In addition 30% of sales are through their website. For instance Germany is now their fourth biggest market but sales are only available online.

Sian outlined several lessons she had learned over the years including the number one lesson for trading in China - register your trademarks first.

1.    Have a plan
a.    But make sure it's your roadmap and not a straightjacket
b.    Be able to measure your success
2.    Do a few things really well
a.    Don't spread yourself too thin, and don't try to do everything at once
b.    Seek like-minded partners who want to create like-minded businesses
3.    Be distinctive
a.    The UK doesn't need more stuff
b.    And nor does the rest of the world
c.    So work out why your products will sell
4.    Be where your customers are
a.    Be in the right stores, on the right sites, in their homes, at the right events
5.    Invest in spreading the buzz
6.    Use your size
a.    It can be a huge advantage to be small and nimble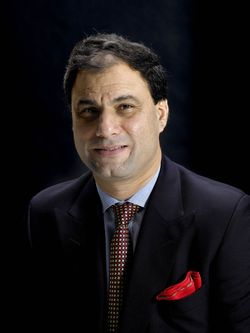 Finally onto the stage was Karan Bilimoria.
Founder and Chairman of Cobra Beer which he founded in Bangalore South India in 1990, it has grown into a £126 million business which exports to nearly 50 countries. In 2006 he became a member of the House of Lords and he is the founder and president of Zoroastrian Chamber of Commerce. Lord Bilimoria has been a strong supporter of the Business & IP Centre since it first opened, and has spoken at a number of our events over the years.

His introduction was to get everyone in the audience to ask themselves a question - what is the purpose of your life and how will you measure your achievement? For him it has been about aspiration, inspiration and perspiration, and the attitude that an entrepreneur will never take a 'no' as a 'no'. Starting a business is always against all odds - it is a David vs Goliath challenge.

One of the biggest challenges a start-up faces is overcoming the credibility gap – the answer is to have faith, passion and belief in your product and brand. But you also need to be ready to 'Adapt or Die' to changing circumstance and different markets.

Karan spelt out his Eight P's of business success.
-    Have the right Product
-    At the right Price
-    In the right Place
-    Promotion is key
-    Phinance is essential
-    Passion will drive the business
-    Without Profit the business will not survive

He ended his session with an entertaining advertisement showing a fictional boss running Cobra beer by day and Braco a brassiere company by night.

A lively question time followed moderated by Matthew Rock and included Will Butler-Adams telling the audience not to get too obsessed by being made in the UK. The most important thing is providing the best quality and value for money for your customers.

When asked about their biggest mistakes, he said that Brompton make loads of mistakes, but the key is to try to limit each risk to a size that won't kill the company. That makes them more adventurous and able to make decisions more quickly. For Cobra Beer their speed of growth proved their undoing as they were too highly geared and suffered when the financial meltdown of 2008 happened. Fortunately they were rescued by Molson Coors and have continued to grow since then.
Neil  Infield on behalf of Business & IP Centre team.