08 July 2014
Book review - The New Business Road test by John Mullins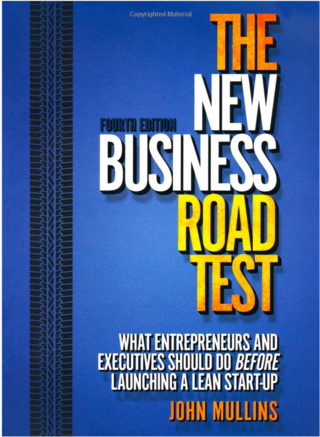 The New Business Road test – What Entrepreneurs and Executives Should Do Before Launching a Lean Start–up by John Mullins.

The book states that every year two million entrepreneurs actively engage in starting a business in the United Kingdom. However, many do not get the business venture off the ground. For those that do, the majority will fail!

The book suggests that the reason why there are so many entrepreneurs perusing their dream business is one of opportunity: 'but most opportunities are not what they appear to be as business failure statistics demonstrate...'

To balance this the book instructs the reader on how to road test your business idea first before launching and it provides the toolkits which explain how to do this, as well as supplying useful case studies. Also included is helpful a insight into the 'live or die' questions such as:
Is the Market and Industry attractive?
Does the opportunity, offer customer benefits as well as competitive economic sustainability?
Can you deliver the results you seek?
Chapters in the book cover what to do before launching a lean start-up, and focuses on how you can to learn what you don't know. It offers suggestions on: do it yourself market research for your new business, and covers how you obtain information for evidence based forecasting.

This valuable book is aimed at anyone who would like to start a lean start-up business, helpfully the book also has an accompanying app which is available on iTunes and Android. The app itself makes it easy to assemble all the evidence needed to conduct a road test for your new lean business.
If you would like to learn more about Lean Startup and the techniques used, you may be interested to know that the Business & IP Centre run a variety of workshops throughout the year.
To book your place and to view a list of all the workshops and events for July and August and beyond, please see our website.
Sonya Pinnock on behalf of the Business & IP Centre team