08 August 2014
Transformers: Age of Extinction - Intellectual Property in disguise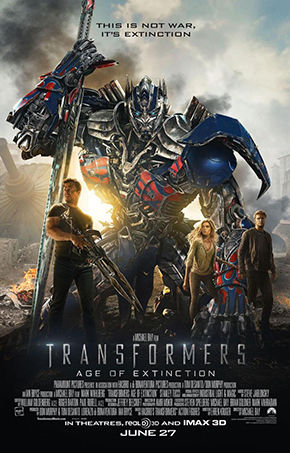 Spoiler alert! Unfortunately it was difficult to examine the IP mentions below without revealing a little of the plot, so if you haven't seen the film yet and plan to, look away now.
A couple of weeks ago, I went to see the film Transformers: Age of Extinction. I was interested in the film as Ohyo, one of the Business & IP Centre's Success Stories, has produced a limited edition of their bottle to tie in with its release. As well as being a very entertaining - almost three hours of robots, aliens, and robot-alien-dinosaurs, the IP geek in me also found much to enjoy in the many mentions of intellectual property within the film.
One of the main characters, Cade Yeager (played by Mark Wahlberg) is pretty much your standard action hero – rugged, wisecracking, good with a gun. But he's also a struggling inventor, and as such is rather more au fait with the concepts of intellectual property than you'd expect from your average blockbuster protagonist. He jokes about IP, and worries about ownership of his creations.
Discussing an invention with his friend near the beginning of the film, their main debate is over intellectual property rights. And his reaction on using a huge alien gun is 'Oh, man. I'm so gonna patent this sh*t.' (It's doubtful, of course, that he actually could, but then this isn't really a film built on gritty realism.) And it's not just Yeager: in another scene, during a battle between Bumblebee (an Autobot robot) and Stinger (an apparently new and improved Decepticon copy of his opponent), the former comments ruefully: 'I hate these cheap knock-offs'. (Then he feeds his rival's head to a two-headed robotic pterosaur, not an approach we'd normally recommend in regard to IP infringement). 
Perhaps the scriptwriters are simply demonstrating a healthy dose of self-awareness, as there is, of course, a huge amount of valuable intellectual property contained within a brand like Transformers, spanning as it does a multitude of media. From the film to the merchandise to the name itself, Transformers will be covered by a variety of IP protection, from trademarks and copyright to patents. Below is the 1985 patent (number 4,516,948) for the Optimus Prime toy, by designer Hiroyuki Obara.
The film also offers some good advice for all would-be inventors out there, in a scene where Cade Yeager confronts a scientist whose creations have had dire repercussions for the world: 'You're an inventor like me, so I know you have a conscience. Don't let your creation take control.'
Whilst, of course, most good inventions have positive outcomes, you can take control of – and learn to protect - your ideas by learning more about intellectual property here at the Business & IP Centre. 
Sally Jennings on behalf of the Business & IP Centre