26 September 2014
Monday night's event in partnership with Barclays and screened in the Newcastle, Sheffield and Manchester Business & IP Centres, as well as Exeter and New York, aimed to inspire entrepreneurs to create new markets and take the UK by storm!

The speakers talked about their journeys in creating some of the most exciting new products and services on the market today, and re-imagined existing markets in the world of digital, beauty and food.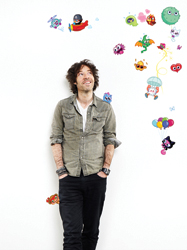 First on stage was Michael Acton-Smith OBE, CEO and founder of Mind Candy, creators of childrens phenomenen Moshi Monsters.
Michael has been described by the Daily Telegraph as "a Rock Star version of Willy Wonka" and by the Independent as "a polite version of Bob Geldolf".
 He shared his roller-coaster ride over the last fifteen years and some of the lessons learnt. When he first started in business with his school-friend partner, he imagined his life would be something like Tom Hanks in the movie Big in which he gets to spend his days playing with toys. They decided the newly emerging World Wide Web would be the best place to sell gadgets and toys to adults. The online world was so new they had very little competition, but sadly for the same reason they also had very few customers in the beginning.
To help raise money to fund the venture they sold their bodies to medical science (for a week anyway) and raised £400 each. A big early lesson learnt was being careful about the name of your business. They soon discovered that although HotBox.co.uk was a nice catchy web address, HotBox.com was a well-established pornography website in the United States.
This led to some embarrassing conversations with friends and family. A name change to FireBox  soon followed and the business began in earnest with their first best-seller a shot-glass chess drinking game.
Michael was a fan of video games on his ZX Spectrum computer, and this inspired the creation of MindCandy. Their first game was based on Masquerade, the best-selling book and treasure hunt by Kit Williams. Sadly PerplexCity turned out to be a commercial disaster, with the lesson learnt, to do market research before you pursue a personal passion.
He explained how Moshi Monsters was inspired by the success of the simple idea that became the Pet Rock phenomenon. After a slow start during the first two years, growth became rapid, leading to the 80 million
registered users today.
The brand now has now expanded offline to include books, toys, music, trading cards, video games and even a big screen movie. Understanding the temporary nature of all internet services, Michael is now looking to his next project PopJam, designed for mobile devices.
 Michael's tips for success included, think big - but start small. And look at the opportunities the disruptive power of the internet and new technologies create for business.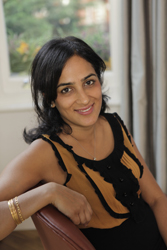 Next up was Vanita Parti founder of Blink Brow Bar. Vanita pioneered walk-in eyebrow bars and is largely responsible for bringing the ancient technique of threading into the 21st century.
Her 'lightbulb' moment came in 2004 after many happy years working as a brand manager for British Airways. But the time demands of two small children and full-time work were not compatible. Starting her own business was the answer to having more time for her family, and she recognised a gap in the market having to travel across London to get her own eyebrows threaded.
The initial phase involved trying to find and speak to the right people in department stores. This proved very tricky and resulted in lots of negative responses. This is where tip no.1 comes into play - be unashamedly persistent. Fenwick's of Bond Street was the only store prepared to try out her idea. And with just one chair, instead of the relaxing coffee lounge Vanita imagined. From this small beginning, thanks to word-of-mouth marketing and loyalty cards, the brand grew gradually into other department stores.
Protecting her trade mark and brand were some  of the issues that Vanita felt she needed help, with the onset of competition. But for Vanita maintaining the premium level of the brand was crucial, and this involved turning down quite a few offers along the way. Ten years on Blink Brow Bars are now in 25 locations, and are just about to launch in the USA. In the early days Vanita was upset when staff she had recruited and trained left to set up rival brow bars, but she realised that competition is a fact of business. The key is to keep on step ahead, and to always maintain the quality of the brand. Her brand promise is to take the pain out of beauty regimes and leave women looking and feeling fabulous.
Vanita's top tips were:
Understand what a brand is
Have a vision and don't give up on it
Don't be distracted from your 'main thing'
Be unashamedly persistent
Have a financial plan - you need to make money to protect your business
Keep it interesting - repackaging something existing be a successful strategy
Finally we had the flamboyant Sam Bompas co-founder of Bompas & Parr, who specialise in flavour-based experience design, culinary research, architectural installations and contemporary food design.
From 2007, when Bompas & Parr was founded as a craft jellymonger, the studio has rapidly grown from just Sam Bompas and Harry Parr to its current complement of ten - a team of creative specialists, designers, architects, cooks, technicians and administrators who work across a wide range of projects.
Projects include a fruit salad inspired jelly boating lake in Kew Gardens, multi-sensory fireworks for London's New Year's Eve celebrations and a neon jelly chamber.
Sam strode onto the stage in his shiny shirt and colourful trousers and immediately asked for a volunteer. After a rather lengthy pause, a brave member of the audience came forward. His job was to time Sam's talk. But instead of holding a stop-watch, he was asked to hold a small piece of Gallium, on the basis that it would take about 15 minutes to melt in his hand. There was the slight problem due to the poisonous nature of Gallium, so a rubber glove was added.
Sam started his talk by telling us he has never taken on investment, and doesn't really aim to make money - just to have fun with new ideas.
He skipped through a set of intriguing slides, ranging from architectural jellies to a breast bouncy castle recently installed in the New York Museum of Sex for an erotic themed event.
Sam's 'lightbulb' moment was eating an expensive jar of mushroom pate from his local Borough Market, and discovering it only contained about three percent mushrooms. He reasoned the same principle applied to Jelly, except on a more extreme level, and with water instead of butter. How could they not make lots of money?
Unfortunately the jelly stall project got off to a bad start as they couldn't afford the moulds, discovered jelly making is actually really difficult, and Borough Market said no. But the jelly idea stuck and they combined Harry Parr's architectural training to produce a jelly mould of St Pauls Cathederal.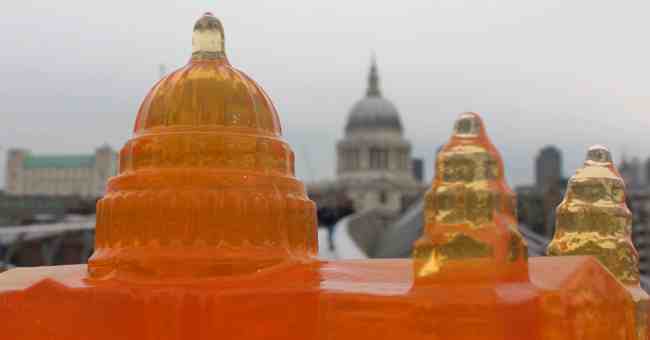 They learned the tricky technique of jelly making the hard way, with regular outbreaks of the dreaded 'jelly finger', But sadly never mastered the ambitious 'wobbly bridge' jelly.  Another lesson was that it very difficult to make large sculptures made of jelly even with the best made moulds.
The next step was to hold an architectural jelly banquet, for which the tickets sold out in days. The only problem was the high expectations of their customers, which they met by making the banquet an experiential event.
As you can probably tell, Sam is always thinking about the next project. His most important tip was to do something you love, and that stories are crucial in business.
He wouldn't leave the stage without a quick demonstration of his current obsession - gherkin light-bulbs. He plucked three from a jar and pushed them onto a rather dangerous looking contraption. On the count of three from the audience he plugged this device into the mains. At this point I was glad to be sitting at the back of the room. However, there was no explosion, and after a short delay the gherkins glowed brightly.
Later on during our Questions and Answers session, moderator Matthew Rock mentioned that Bompas and Parr's financial records seemed quite healthy, and all this talk of Jelly and parties were on a profitable business.
Neil Infield and Seema Rampersad on behalf of the Business & IP Centre