10 September 2014
New database in the Business & IP Centre: Local Data Online
Adding to the extensive list of databases that we currently have, we have also now introduced a new database at the Business & IP Centre: Local Data Online (LDO).
LDO complements our existing market research and company databases by providing insights into the ever-changing UK retail and leisure landscape, allowing users to instantly understand the health and make-up of high streets, retail parks and shopping centres. Field researchers from the company spend over 2,000 hours a week in the field collecting and aggregating information for the database.
The database's functionality allows you to search and extract information in a number of helpful ways. You can examine the retail make-up of a particular location – for instance a city, town or region – with the results displayed on a map. Retail units are then broken down by industry classification, so users would be able to pinpoint, for instance, the number of coffee shops in a certain area - and see what percentage of the whole this number represents.
They can also download location summaries, and lists of companies along with addresses and contact details.  Key statistics include the number of vacant units, opening and closure rates, and the mix of independent and chain businesses.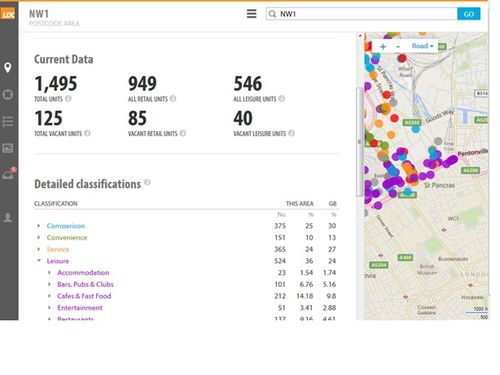 A second method of searching is by industry classification. Type in your industry sector – for instance 'cafés & fast food' - and your region, and the database will show you the top 20 companies in this industry/area, the growth or decline rates by units or net change, and distribution between high street, shopping centres, retail parks, and other.  
Finally, you can choose to look at the 'retailer overview', which gives location coverage details for specific companies, and percentage change over the last year. This feature allows you to compare up to 5 companies, so you could examine the retail presence across the country for Costa Coffee versus Starbucks, for example.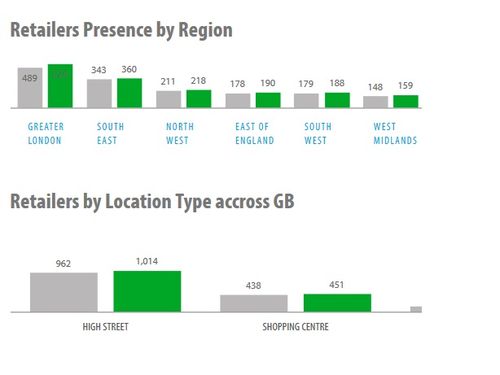 Local Data Online is useful for a number of reasons – to examine geographical trends, research local opportunities or competition, assess the suitability of a particular location for your business, or to create marketing lists. For instance, an entrepreneur opening a new coffee shop may wish to examine the make-up of an area to see if there are already lots of similar businesses already operating, or look at the mix of independents and chains to see how their business would fit in.
They could also look at the number of vacant units and openings and closures to examine the general retail health of the area. Suppliers of coffee beans, on the other hand, may wish to use the map functions to create a list of coffee shops in their locality that they could then market their product to. Or, if they want to research a particular B2B customer, the retailer profile would illustrate the company's coverage across the country and the growth/decline rates of their outlets.
To access Local Data Online you need to visit the Business & IP Centre reading room. Find out more. 
Sally Jennings on behalf of Business & IP Centre