Supporting female entrepreneurs
Happy International Women's Day to all! Here in the Business & IP Centre we have been successful in supporting female entrepreneurs and greatly increasing their chances of success.  Just last week we hosted 'Celebrating Women in Business Conference' organised and run by Enterprising Women. Enterprising Women are the largest national organisation solely focused on female enterprise. The conference brought together influential speakers in the run up to International Women's Day including the Rt Hon Nicky Morgan MP, Secretary of State for Education and Minister for Women and Equalities' and the Rt Hon Lord Young of Graffham CH DL.
Inspired by successful women
We also run a series of major events called Inspiring Entrepreneurs, which feature a panel of role model entrepreneurs sharing their personal stories of setting up and running a business and giving their top tips to aspiring entrepreneurs.  The panels always include influential women including the late Dame Anita Roddick, Martha Lane Fox co-founder of Lastminute.com, Kanya King founder of MOBO Awards, Julie Deane founder of the Cambridge Satchel and Cath Kidston to name but a few.
Of course International Women's Day is a special celebration of achievement, but in the Centre we support women entrepreneurs all throughout the year - from that first spark of inspiration to starting up a business and growing it. Many women attend our regular programme of workshops, clinics and networking events surrounded by other entrepreneurs and small business owners. We have helped Dana Elemera founder of Arganic, Gemma Pearce founder of Loopwheels and Jessica Rose founder of the London Jewellery School among many more. 
Business & IP Centre by numbers 
Since we opened in 2006, we have welcomed over 400,000 people through the doors, including repeat visits
Delivered practical advice and training to over 50,000 people last year, 60% of those were women
The latest statistics from the Small Business Survey published by the Department for Business Innovation and Skills showed that only 1 in 5 businesses are owned by women
However, we helped to create 2,775 businesses over the period 2006-2012, of which 40% were owned by women, 29% by ethnic minority groups and 10% by disabled people
We are currently conducting another impact study so we expect the percentage of women to be even higher.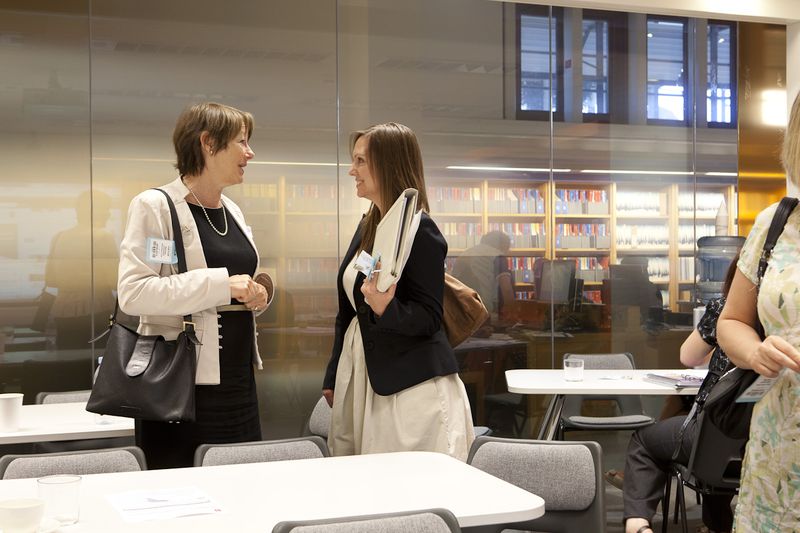 Across the country
We are now replicating the Business & IP Centre model across the country and have set up a network of six Centres in major city libraries, many of which are truly iconic buildings – they are accessible to all and some even have crèche facilities. Our latest stats show that our library partners have also been successful in attracting women, with exactly half of people attending workshops and one-to-one clinics being female and 30% being from ethnic minority groups.
Mandy Haberman, the inventor and founder of the non-spill AnyWayUp cup - cup, is just one of many successful female entrepreneurs who have used the Library to research and protect their idea, as well as learn the essential skills to set up and run a business.  She called the Centre a 'safe house' for inventors and entrepreneurs like herself. We're open to all and we've got a great track record in supporting female entrepreneurs - do come and use our services.