04 August 2015
How to research your local area
In the Business & IP Centre we often get enquiries about how to research a particular geographical area. With an increasing interest in 'keeping trade local' and in the provenance of products, many start-ups are choosing to establish and market themselves as 'local' businesses - for instance working with the community, or sourcing suppliers from the nearby area. Others are simply interested in finding out more about their area in terms of customers, competitors and marketing opportunities.
Luckily there is a wealth of information available on specific localities and entrepreneurs can use this information to pinpoint their target market and tailor their promotional activity. For instance, a retailer of high-end luxury goods might want to focus their business in an affluent area, in order to attract high-earning local customers. A new restaurant might think twice about opening on a street with lots of established competition – but it may benefit them to know about nearby markets and food-sellers who could act as suppliers. A fashion designer could research local events and networks where there's potential to sell or promote their products. Below are a few of the resources you can use to research your area.
At the British Library Business & IP Centre
Local Data Online (access via terminals in the Business & IP Centre)
Local Data Online gives data and insights for locations, business types and companies. Its searchable map tool lets you select a specific area and examine the overall retail make-up, identify local businesses, or check the geographical spread of an industry or company. It also gives addresses and contact details for individual shops, lists available vacant units, and gives a demographic profile of the area.
You can search for a specific location, company and/or retail category, and information is displayed on easy-to-read maps and diagrams. Extra information for locations includes vacancy rates, the mix of independent shops vs. chains, crime statistics, average earnings and house prices.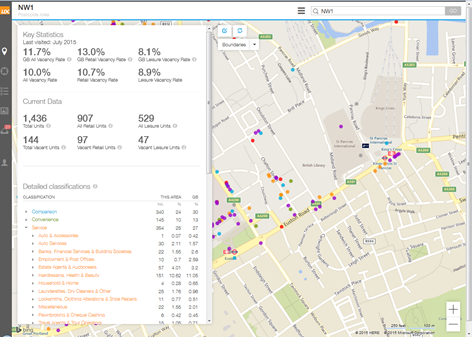 COBRA (access via terminals in the Business & IP Centre)
COBRA is an encyclopaedia of practical information for starting, running and managing a small business. Included in the database are a number of 'Local Area profiles', covering towns and regions throughout the country. A Local Area Profile will typically include information on sources of business support and advice, financial support, workspaces, business networks, business directories, libraries, local authority trading licences, business rates and HM Revenue & Customs.
Company databases: FAME, MarketIQ, Kompass, ORBIS, OneSource (access via terminals in the Business & IP Centre)
Our company databases are searchable by location, meaning that you can create lists of companies operating in a specific geographical area.
Grantfinder (access via terminals in the Business & IP Centre)
Gives details of 4,000 grants, loans and awards, searchable by geographical area.
Other Sources
Business & IP Centre National Network
The Business & IP Centre National Network provides entrepreneurs and SMEs across the country with free access to a wealth of databases, market research, journals, directories and reports. There is a programme of free and low-cost one-to-one advice and workshops delivered by trained staff and business experts on a range of topics including starting up, business planning, marketing and intellectual property. Find a Business & IP Centre near you.
Your local library
Many libraries will hold local information, newspapers, directories and data.
Social media
Social media can be a powerful research tool. Lots of local groups, associations and businesses will have a presence on social media websites such as Facebook, Instagram and Twitter - or try searching Twitter for the name of the area you're interested in to get rolling updates of what's going on in the area. 
Council websites
Your local council can provide helpful information about doing business in your area. Some councils also run business support programmes. 
ONS Neighbourhood Statistics
ONS Neighbourhood Statistics allows you to find detailed statistics or a summary report for specific geographic areas. Covers areas such as crime, economics, education, health, housing, income, lifestyle, population, migration, physical environment.
Official Labour Market Statistics (NOMIS)
NOMIS allows you to find detailed labour market (population, employment, economic activity, qualifications, jobseeker's allowance claimants) statistics for specific geographic areas.
Netmums
As highlighted in an earlier blog, the website Netmums has comprehensive listings of small businesses in a local area, from garden services to website design.
Google Street View
Google Street View is invaluable for seeing what a neighbourhood actually looks like, street by street.
London-specific
Sally Jennings on behalf of the Business & IP Centre