How to take your business from a start-up to growth stage
Growing a business isn't easy. Moving into new markets, developing your brand, and protecting your intellectual property require determination, hard work and support. Which is where our Innovating for Growth programme comes in: a free three month small business support programme, funded by the European Regional Development Fund and run at the Business & IP Centre at the British Library, it provides expert advice and support for businesses looking to grow in areas including strategy and sustainability, branding, intellectual property, marketing and product development.

Pictured above: Victoria Eggs used the Business & IP Centre to grow her business
Recently Innovating for Growth businesses came together to celebrate their completion of the programme and the progress they had made on their business growth. The programme has, to date, assisted just under 240 businesses and helped them collectively to generate more than £14m in Gross Value Added for London. Innovating for Growth participants have also won an impressive roster of awards, from Overall Best Business in London to Great British Entrepreneur Award, and the project itself was a finalist in last year's RegioStars Awards 'Smart Growth – SME Innovation', the only London project to be nominated by the Greater London Authority.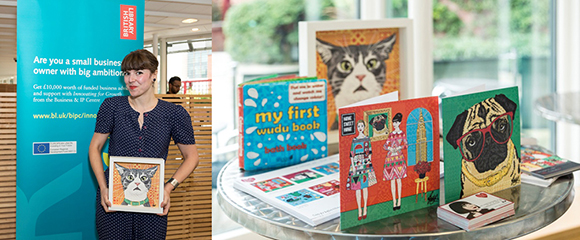 Pictured above: Rose Hill grew her business with the help of our Innovating for Growth programme
At the Innovating for Growth showcase event Amelia Rope of Amelia Rope Chocloate, Jo Ayoubi of Track Surveys and David Showell of Cycle Confident Ltd gave some advice for those looking to start and grow a successful business: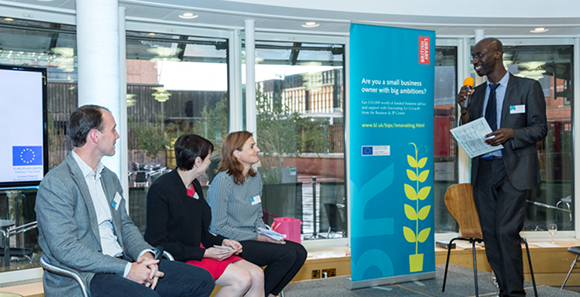 From Amelia:
Test your market with any new concept before you put a lot of money into it
Get out there, meet people, chat about your product
Get out of bed with a mantra of Go. For. It.
Mistakes happen, accept them and just work at avoiding the same mistake when it presents itself to you again
From Jo:
Stay in touch and in front of your customers and contacts; send them short, regular emails (not sales emails). There are lots of competitors and it's easy for people to forget about you.
Never burn your bridges: even if you're hurt or upset, don't fall out with people. You'll probably bump into them at some point in the future.
Be curious about things that are happening outside your business, as you may find new ideas and ways of staying ahead of your competition that way.
From David:
Take time to recruit (hard as it may be).
Accelerate your selling when you are growing. You are doing something right so don't slow down, even if operationally you may be stretching yourself.
Accept growth is a relentless task at all times creating challenges and opportunities. Rise to the challenges and take the opportunities. That is what entrepreneurs do. 
Experiences of growing a business
During the event some of the businesses told us about their experience of growing a business. A common theme among participants was the need for clear, constructive guidance and support, and the opportunity to network with other small businesses trying to develop and expand.
"Overall, we've had a really positive experience of the programme. We were delighted to have been chosen to take part and we've taken away some great ideas. We're feeling excited and inspired about the future - a bit like we've fallen in love with our company all over again. We've also met lots of like-minded business owners that we're going to stay in touch with, so that we can keep sharing our experiences and supporting each other." Cristina Harvey, The First Word
"Innovating for Growth has given us a wealth of knowledge across key areas of business. We've been given the tools to help our business grow from market experts and were busy implementing what we've learned. I've also had my eyes opened to the incredible information resources that the library offers. It's an outstanding programme and resource and we feel lucky to be part of it."Dominic White, Ovio.
The Business & IP Centre was launched with the aim to support businesses, entrepreneurs and inventors grow their organisations by using our valuable resources and expertise and working with a network of trusted partners. Innovating for Growth has been delivered with thanks to the GLA, ERDF and our deliver partners: ABA, asb law, Gearing Up, Makersco and Red Ochre. 
Innovating for Growth is part-funded by the European Regional Development Fund