23 February 2016
Spotlight on … Mumsnet founder, Justine Roberts
Justine Roberts founded an online haven for parents who need advice from others who have been there and done it. We're excited to be welcoming Justine at the Library later this month to hear how she got her business off the ground and made it the success it is today. But before that we took the opportunity to ask her some of our burning questions…
What was your background before starting Mumsnet and where did the idea for your business come from?
The idea for Mumsnet came from a disastrous first family holiday. My twin daughters had just turned one, and after twelve gruelling months we all needed a bit of R'n'R. Sadly we chose the wrong destination, in the wrong time zone, at the wrong resort with, frankly, the wrong children. If only, I thought, we could have tapped into a network of people who'd already worked out that under-fives and jet lag do not mix - before we'd shelled out a small fortune.
And if that network could advise about family holidays what about pushchairs, sleep and nits? Indeed all those rich and varied experiences that newbie parents are entirely unprepared for.
On my return the idea still seemed compelling. I embarked on a marathon surfing session and discovered that, while there was no shortage of parenting websites, there were none offering advice and recommendations from the people who knew best: other parents.
What steps did you take to get Mumsnet live and how did you drive traffic to the site at the very beginning?
Back in the early days I had many aliases and I would go on forums to ask myself questions - so that I could answer them. I remember one moment when a pregnant friend told me about her pregnancy palpitations and I ruthlessly told her to ask on Mumsnet. I felt a bit guilty about it, but by the time I'd logged on again to reply, she'd already got an answer from someone else – and I remember punching the air and thinking this might just catch on.
But traditional marketing wasn't for us. We didn't have the budget and had to be more imaginative. So we pleaded with members to talk about us and recommend a friend, and sent them posters to put up at local nurseries. 
I wrote a big piece on a diary of a dotcom startup for The Times' Saturday magazine, which brought in a lot of people. I continuously tried to think of ideas that editors might like to boost user numbers. What helped enormously too was the fact that the site was free.
In your opinion, what key elements make Mumsnet such a success?
With Mumsnet, you get always-on, anonymous, advice and support from other parents. If it's 2 am and your newborn won't latch on properly, you can start a thread on Mumsnet and you'll have responses (sometimes from people living on the other side of the world) almost instantly. And if you've found that your sex life has gone horribly downhill since having a baby, it's not something you'll necessarily want to discuss with people you know in real life - but you can get loads of support and information online.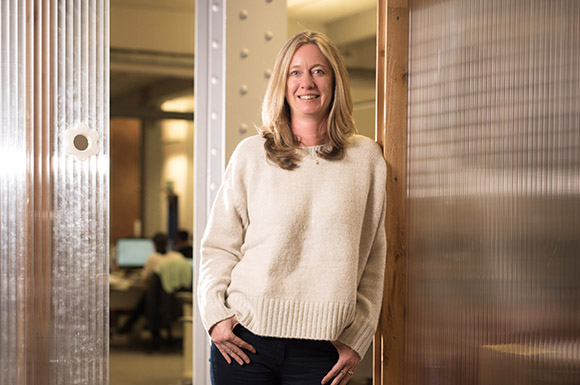 How can someone make money from their website or blog?
Mumsnet worked as a community long before it worked as a business. Financially it was a long haul; I didn't earn a salary for five years, and it was eight years before I could afford to move out of the back bedroom into an office. It needed a lot of faith. Sometimes it takes time to build something real. 
We've never had any formal rounds of investment beyond initial seed funding. Having almost no external shareholders means that we can focus on what's good for the company and the community without worrying about hitting profit targets. I have a very simple way of running the business – we never pay out more than we're getting in. We only hire incrementally when we can afford people and not just for a few months but for the next year at least; I didn't want to expand and then contract, because of all the trauma involved.
We make our money through display advertising plus insight market research for parenting product companies. Advertisers used to be wary of forums, ploughing money into baby magazines that had a tenth of our circulation instead - but that's changed now, which should make it easier for new start-ups.
Try to find a business model that works for the kind of site you have - free or subscription, user-driven or content-driven. We found that market research is a not-unpopular way for brands to interact, compared with really intrusive adverts; asking users what they think has worked well for us.
How has Mumsnet changed your life?
I started my career in the very male-dominated spheres of City banking and sports journalism, where too often I'd watch female colleagues having to pretend their families didn't exist. So when I started Mumsnet, my aim was to create a company that recognised one essential truth: if you're a parent, family always comes first. Of course the irony is that I work longer hours than I ever have before - which is what you have to do if you want to be successful - but I also have flexibility, and never have to miss an important family event or school sports day.
I love being part of something that's so vibrant and funny and useful (and largely female, from the staff at Mumsnet HQ to the audience).
If you had one piece of advice for anyone thinking of starting their own online business – what would it be?
Make sure your business addresses a real need. If you know that it's going to be useful or solve a problem and if you keep providing a valuable, responsive service to your users, they'll give you the confidence you need. Mumsnet users are like a 24-7 focus group for us; feedback can sometimes be less than glowing, but it's a great way of ensuring you stay on track and can be confident about the direction you're taking. Listen to your target audience, and change your plan if necessary.
Rewatch the Inspiring Entrepreneurs: Internet Icons 2016 event and hear more from Justine along with Ning Li, Co-founder and CEO of MADE.com and Renaud Visage, Co-founder of Eventbrite, in the following video (Part 1):
Inspiring Entrepreneurs: Internet Icons 2016 event (Part 2), where members of the audience where able to raise any questions, taking the opportunity to quiz our panel of internet icons and find out how they have created some of the best-known global internet brands:
Lastly, you can rewatch Justine Roberts segment just dedicated for her to express the journey and successes on how she was able to created one of the well-recognised global internet brand: