11 February 2016
Spotlight on … Original Dating
We got to know Andrew Summersgill, Founder and MD of Original Dating, when he took part in our three-month small business support programme Innovating for Growth.  Since 2003 Andrew has worked hard to get his business off the ground and it is now London's leading singles event and speed dating company – helping people to meet and find romance. We thought we would ask Andrew a few questions about starting a company that deals in the business of love.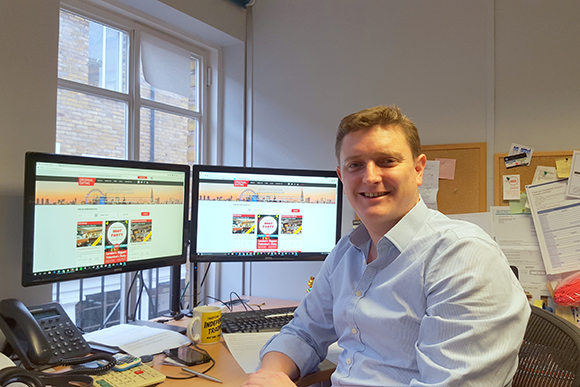 Hi Andrew! Tell us a bit about your business and how you came up with the idea.
Back in 2003, when I started Original Dating, speed dating was a brand new import from the United States. The format was getting a lot of press and TV coverage and speed dating was becoming a craze that people wanted to try. Picking up on this, myself and a friend searched for an event taking place in South West London where we lived. We couldn't find one nearby, so after a research trip to a competitor's event, we decided to promote our own version. The demand was such that the first event sold out, practically over night, and the business grew from there. Shortly afterwards I was able to leave my job in publishing and focus full time on growing the speed dating business.
There are lots of dating apps, matchmakers and dating events out there – how do you make Original Dating stand out from the crowd?
We've always focused on providing a high quality experience to our clients and I believe this has helped us stay ahead. Most of our business comes from client referrals, so this approach has paid dividends. Our core offering hasn't changed dramatically over the years but we're always improving the formula. We add a lot of value through our unique post-event matching and messaging system. Using either our mobile app, Mixeo or our website, clients can chat privately to people they 'matched' with at events until they are comfortable to meet up for a date.
As we've grown, we we're introduced lots of niche speed dating events designed for people with specific interests. Nowadays, we cater for lots of interest groups including literary, movie lovers, foodies and more. We find that by making our events more tailored the success rate goes up dramatically.
We've also established a series of large-scale parties for groups of up to 300 people which remain some of the largest singles parties in the UK.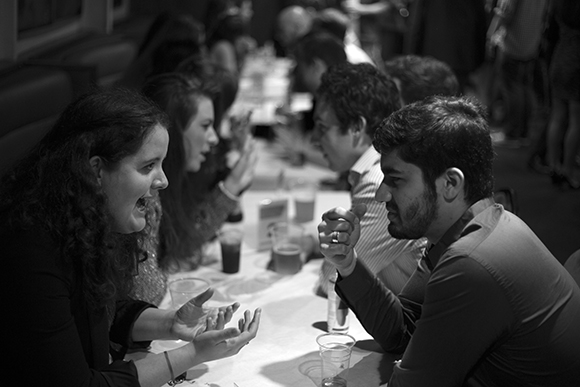 You must have lots of fun running this type of business but what have been the main obstacles you have faced along the way?
Running a business like this is a bit like juggling. In the early days there's only you to keep track of marketing, admin, events management, customer service and staffing, so it's a challenge to manage your time effectively to get everything done. I had to quickly learn to prioritise what was important and not allow myself to get side-tracked. 
When I started out, I was reluctant to trust my staff to run events so I found myself attending every one and in most cases taking over. That's a very tiring way to operate and I've now learnt to train people well and trust them to do their jobs.
There was also a period where I allowed my admin and record-keeping to get out of hand. This resulted in some fairly large late penalties from the taxman and the mess took a while to get out of. I learnt my lesson, sought some help and learnt to delegate the jobs that aren't central to growing the business.
You started off in Clapham but now run events all over London – what steps did you take to expand.
I've always had a picture of my ideal customer in mind. I know the kind of job they have, the kind of bar where they socialise, what they wear and even where they buy their groceries. We expand to new event locations based on the likelihood of meeting a lot of these kind of people there, be it where they live or work. This strategy has worked well and it's made it easy for our target market to find out about us and use our services.
I've also taken a few risks which have, in the most part, have paid off and in turn expanded the business. When I wanted to start organising bigger events, I was asked to agree to some pretty hefty minimum spend and hire agreements in order to book the venues we wanted. It was nerve-wracking because I couldn't have afforded to paid them had we needed to cancel. Fortunately, we've never had to cancel one!
As Valentine's Day is approaching can we get some tips from you for planning the perfect date?
I would never pretend to be a dating expert! However, my advice for planning the perfect date would be to avoid the clichés and go for something totally original that's tailor-made for your special person. Don't underestimate the benefits of some good forward planning. Give yourself plenty of time to work out how to make your date feel special. Avoid over-the-top extravagance. Care, thought and attention to detail tend to mean much more than pounds spent.
What type of questions are the best ones to ask during a speed dating event?
We always advise people to avoid mundane questions. Never start a speed date asking where someone lives or works. Everyone will be meeting a lot of people so you want to stand out from the rest. Very few people think their work defines them as a person so try to dig a bit deeper. You only have four minutes to get a snapshot of each person so you want to find out if you have common ground quickly and make a good impression. Here's some interesting questions we've heard that could lead to some interesting conversations.
"Who would play you in the movie of your life?"
"What would your dream super power be?"
"What are the 3 items you own that you couldn't live without?"
"What is your favourite holiday destination?"
"If you could only eat one style of cuisine for the rest of your life what would it be?"
Do people who come to your events ever find 'the one'?
Absolutely! We're able to see from our data that an average of 80% of people match with at least one person at our events. We don't always find out what happens afterwards but we regard this as a good start.
We get to hear about around 12 weddings per year and we know anecdotally that a great many relationships begin at our events. We're sure that there are a fair few weddings that we don't know about too.
Funnily enough, the first couple to ever marry having met speed dating, met at one of our events in 2004.   It was truly speedy as they were married 20 days after the event! The press at the time said it wouldn't last but we recently read they have celebrated their 10-year anniversary. They certainly proved everyone wrong!
We are now taking applications for the next Innovating for Growth programme find out how you can apply today.
Innovating for Growth is part-funded by the European Regional Development Fund