24 March 2016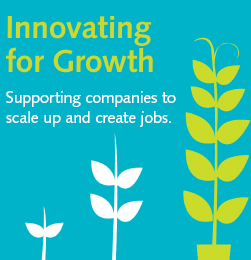 The second Innovating for Growth project (match funded by the European Regional Development Fund ERDF and the British Library) will be starting in a few weeks. So this seems a good time to step back and take a look at the first one.
Initially a three year project, but extended by an additional year, Innovating for Growth was a new venture for the Business & IP Centre in several aspects. For the first time we specifically targeted growing companies, rather than our traditional market of inventors and start-ups.
This was perfect timing for us, as we had managed to help generate quite a few successful small business during our first five years. They were looking for help to get themselves to the next level, by developing new products or services, or moving into new markets.
We took a different approach by developing a three month programme of tailored support, instead of our previous generic support model of advice and workshops. This suited our customers, who were under much tighter time pressures from the day-to-day running of their businesses, compared to those in start-up phase. For the same reason we recruited two Relationship Managers in the shape of Julie Simpkin and Jeremy O'Hare. They came from the existing team working in the Business & IP Centre, so had a good understanding of how new business managers think.
Victoria Eggs used the Innovating for Growth to help grow her business
In addition we recruited a team of partner organisations to deliver the support these growth businesses required. These covered the following elements:
• Strategy – Red Ochre
• Marketing – Amanda Prout
• Intellectual Property – asb law
• Branding - ABA
• Product and service development - Makersco
• Business sustainability – Red Ochre

So how did we actually do? The answers to that question can be found in our Economic Impact Analysis infographic. 
In summary the project helped 241 companies create 249 jobs (25% above target), and increased their turnover by £77million (378% above the £18m target).
For every £1 of public sector money spent the project generated a payback of £7.60.
In addition we achieved above target results for the socially inclusive and environmental elements of the project. We helped; 43% female-led businesses (%53 above), 39% Black, Asian and minority ethnic-led business (34% above), 4% disabled-led businesses (25% above), and 7% environment businesses (56% above).
Overall 97% of the businesses completing the programme were very satisfied or satisfied, and 98% said they would recommend the programme to others.




My two favourite quotes from customers were:

"The British Library helped us transform our business. They were fantastic and have put us in a really great position."
"The Relationship Manager is 'the glue' that holds the programme together."
For me our customers results and opinions are the best indicator of success we could have, but it was also nice to be recognized by the ERDF when the project was shortlisted for the RegioStars Europe wide award. And being asked to host a visit from EU Commission Vice-President Kristalina Georgieva last October was a great honour.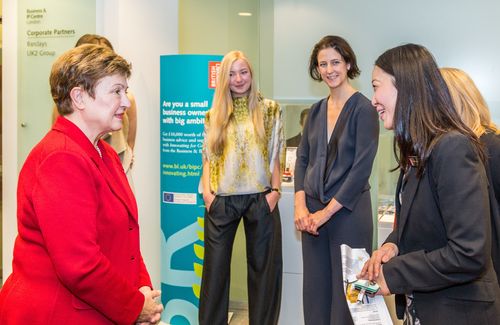 Project Manager Christina Murphy welcoming EU Commission Vice-President Kristalina Georgieva
I would like to thank everyone involved in making this such an amazing success for the British Library. The Business Marketing team headed by Isabel Oswell, and the Reference and Research team headed by Nigel Spencer provided important support to the Innovating for Growth team. Thanks also to our partners who played a vital role in delivering the project, and adapting to the programme as it developed over the four years.
But main credit must go to Irini Efthimiadou Growth Programme Service Liaison Manager, Francesca Cesare-Pintorno Programme Coordinator, Jeremy and Julie Relationship Managers, and finally Christina Murphy Project Manager, who nurtured the programme from its first hesitant first-steps to become such a confident British Library success story.
You can find out about the second Innovating for Growth project on our website.
Neil Infield on behalf of Innovation and Enterprise Team