28 October 2015
Last night Kanya King MBE, CEO and Founder of the MOBO Organisation, took the stage in the British Library before heading to another in a series of events leading up to one of the biggest British awards shows of the year – the MOBOs. The Business & IP Centre at the British Library and the MOBO Organisation joined forces to bring together a panel of leading lights in the creative industries, including June Sarpong MBE, Yinka Ilori and Levi Roots, who shared their groundbreaking stories of what can be achieved with the right attitude and determination.
The event was part of MOBO's 'Rise With Us' Season, taking place this month, designed to recognise the achievements of diverse artists, designers and entrepreneurs and inspire the next generation of up and coming talent.
The panel shared their individual stories of starting up and gave some invaluable tips for people wanting to follow in their footsteps.
Kanya King MBE
Kanya started the MOBO Awards from her bedroom in 1996 to give a platform to emerging talent who would go on to achieve global success. Now MOBO, one of the most recognisable brands in British music, helps create more opportunities for exceptional talent across all of the creative industries; in her own words 'Inspiring a generation who dare to dream'. Success wasn't without its barriers for Kanya. While she had passion and determination she also had no contacts in the music industry, no money and most people told her it wasn't possible. Finally she got her break when a meeting with an LWT Executive resulted in a broadcast slot with Carlton Television. With only six weeks to pull together the first MOBO Awards, and with many people still doubting that an audience would be interested in celebrating diverse talent, the odds were against her. However, that first show was a hit and, now in its twentieth year, the MOBO brand is bigger than ever.
Kanya gave some tips to the entrepreneurs in the audience including: be passionate about what you do and make sure to prioritise - focus, focus, focus. Her advice is that you don't always have to get it right, you just have to get going and persistence is key – 'never give up on your dreams'. She didn't get where she is today because of talent but because she refused to give up.  She emphasised that much more can be achieved when you have a team around you that is united in your belief.
Yinka Ilori
Yinka Ilori is a London-based designer specialising in up-cycling vintage furniture, inspired by the traditional Nigerian parables and African fabrics that surrounded him as a child. When he started off as a designer he felt that there weren't a lot of black designers and there weren't many people for him to relate to. He wanted to give up many times but his family were consistent in their support for him and told him to keep going.
Since starting up, he has exhibited internationally in solo shows, runs regular workshops and is involved in many projects. One of his most recent projects is partnering with the British Library shop as part of the current West Africa: Word, Symbol, Song exhibition. Yinka came to the British Library when he was starting up to do research in order to find his unique selling point to build his brand. His main piece of advice for entrepreneurs? Remember to tell your story how you want to tell it.
June Sarpong MBE
June, one of the most recognisable faces of British television, is also the Co-founder of the WIE Network (Women: Inspiration & Enterprise). WIE is dedicated to women in leadership and it's not surprising June is involved when she said that fight for empowerment and equality get her out of bed in the morning. She is driven to empower everyone in society to be the best we can be and believes it leads to a stronger economy, safer planet and overall a fairer and better world. Speaking at the event, her mandate was clear: we have to ensure women and those from diverse communities are empowered.
June's number one piece of advice was 'before you start to worry about what other people think about you, worry what YOU think about you!' Like Kanya she also emphasised the need to learn to control your thinking, have a goal and focus on it.
Levi Roots
A MOBO nominated reggae artist, a pioneer in Caribbean food and culture, Dragons' Den star and with a new 'rastarant' opening soon, Levi shared his story about starting his Reggae Reggae sauce in his small Brixton kitchen and giving back to the community by visiting hundreds of schools, universities and prisons each year as part of his School of Life tour. His journey to becoming a successful entrepreneur was shaped by his experiences. His advice for entrepreneurs is to work with someone who knows more than you – a mentor. But his biggest piece of advice? Be true to yourself.
As June said at the event, 'It's a very exciting time to be creative in Britain' and we couldn't agree more. If you are starting, running or growing a business and need some help, check out our week-long series of events coming up in November for Global Entrepreneurship Week. 
Join the MOBO Season #RiseWithUs
19 October 2015
To celebrate our new exhibition West Africa: Word, Symbol, Song, furniture designer Yinka Ilori will be speaking at our Inspiring Entrepreneurs event on Tuesday 27 October on how to set up and grow your business.  His stunning chairs are featured in our West Africa exhibition Shop. We asked him a few questions.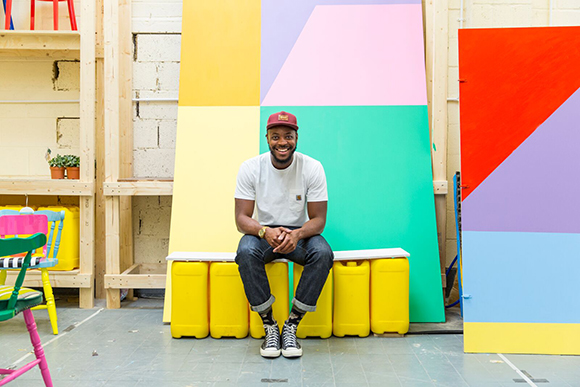 Can you tell us a little about yourself?
My name is Yinka Ilori and I am a furniture designer/artist based in London. I tell meaningful yet humorous stories through furniture using traditional Nigerian parables that I grew up with as a child. I love colour, chairs and storytelling!
Where do you take your inspiration from?
I take my inspiration from traditional Nigerian parables, storytelling, colour, music and people. The most enjoyable part about my work is that it allows me to travel to different countries, so I am constantly inspired by all these elements which then enables me to come back to the studio and put back into my work.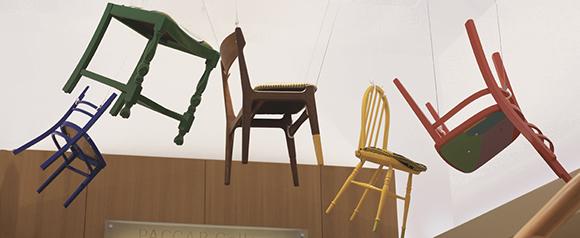 Can you tell us about how you've worked with the Library
I have worked with the British Library on a few occasions and the first was when I was launching my brand Yinka Ilori. I came to the British Library Business & IP Centre to do some research on my market, understand my industry, my competitors and who was buying furniture!
There were a lot of key things I wanted to research and there were so many books and online resources with statistics. The research provided me with the information I needed in order to find my unique selling point and have a powerful brand.  I did lots of research while writing my business plan in preparation to present it the Prince's Trust; the Business & IP Centre came in at a pivotal time, in the early stages of my business.  It's been really great working with them and the members of staff were really informative, helpful and polite.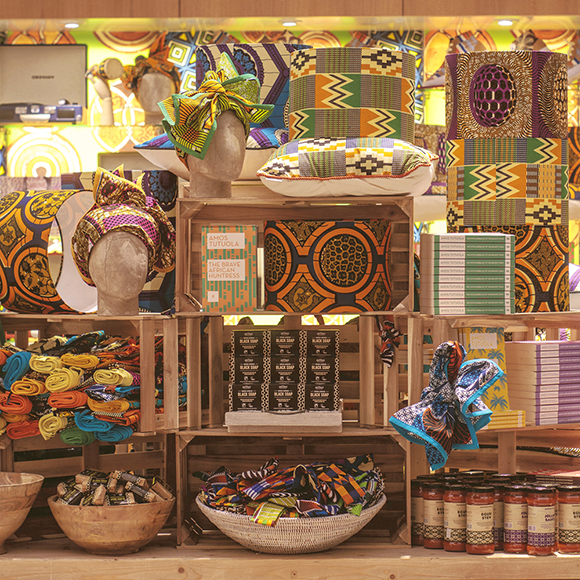 Can you tell us about your involvement in the West Africa Shop display?
To have my work displayed in the British Library Shop as part of the phenomenal event West Africa: Word, Symbol, Song is magical. To have my work presented as an installation for this event fitted perfectly, as my work encompasses the themes 'word, symbol and song', so when I received an email about the collaboration I believed it was meant to be. I am really looking forward to seeing this open, and listening to some great speakers one in particular the prolific speaker Wole Soyinka and also looking forward to the Felabration event too! Fela Kuti's music is phenomenal; I call him the master of words and word play.
What's next for your business and how are you planning to grow?
What's next is to grow my business internationally and tell my stories worldwide. We need to remember no one can tell our stories better than ourselves as we have lived and seen it through our lenses. I will be looking at possibly having my first pop-up shop soon, so watch that space and also look out for more collaborations.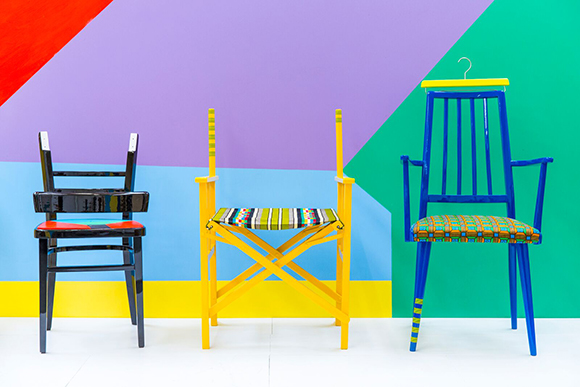 My advice for anyone starting a business is to head to the Business & IP Centre and research your market and your competitors. Remember work hard, persevere and be nice, because it doesn't cost a thing!  
08 October 2015
A A K S was founded by Akosua Afriyie-Kumi with the aim of creating sustainable jobs in Africa and introducing the world to weaving techniques used by the women of Ghana. Handcrafted in Bolgatanga, A A K S creates bags in styles that maintain the spirit and durability of their ancestral counterparts, characterised by bright exuberant colours. 
A Ghanaian native after a time in London, Akosua graduated from Kingston University London with a BA (hons) fashion degree and amassed an impressive resume of fashion industry experience. Whilst in London she used the Business & IP Centre's workshop programme and networking opportunities to help build her experience and business acumen. She continues to attend Business & IP Centre's webinars online from Ghana, where she is now based.
Since launching early this year, A A K S has been shortlisted as an emerging designer from Africa by Vogue Italia, has panelled for the Guardian UK Small Business Network and now stocks her bag collection in Anthropologie amongst other retailers. 
We got in touch with Akosua to ask her some questions about her experience of starting a business.
Where did the idea for your business come from?
I grew up around basket bags as a child in Ghana, I used to give them as gifts and also use them for storage. I remember having a lot of 'I wish it was more like this, I wish it was more like that' moments - I wanted it softer, almost foldable and also more colourful with blends of colours which were tasteful and modern with a beautiful finish and detail.
Building on this idea I started researching bag designs and fibres and found a lot of attractive benefits which were in line with the vision and ethos I had for my dream brand. I established A A K S after seeing a gap in the market for beautifully handcrafted bags. I knew I wanted to go out on my own and pull together all my passion and talents to create something unique that would be fulfilling both personally and professionally, so I embarked on my journey to Ghana to make this happen.
What planning did you do before starting up?
Prior to starting, I did a lot of design research into different types of weaving around the world, I studied fashion so I had a clear idea of what I wanted to achieve three dimensionally and creatively. I visited the British Library Business & IP Centre to be able to learn about the business side of my work and the team were of great help in directing me as a startup business on essential topics such researching into a new market, e-marketing, intellectual property rights and finding information on my competitors. As a creative person, I initially lacked this information and skill which are now part and parcel of my business.
What is unique about your business?
We strive on being a transparent, sustainable brand that designs small capsule collections so we can focus on quality and authenticity. All our bags are handwoven by craftsmen and women using organically sourced materials. Our weavers are directly paid fair wages and their skills are greatly enhanced. In the long run, we hope that our brand will go someway to contributing to the revival and sustenance of weaving as a thriving art.
What challenges or obstacles have you had to overcome?
It was challenging at the start to identify the community that could bring my ideas to life, then when I stumbled across the community of weavers with the right skill set, we couldn't communicate due to a language barrier. Weavers only spoke a local language, so I had to use drawings and hand gestures at the start and later found an interpreter. This challenge was overcome quickly when I started learning the language from the weavers and we are having a joy of a time working together.
What is the most rewarding/challenging aspect about your job?
The most rewarding part of my job is being able to work for myself and building a strong sustainable brand in Africa that is recognised worldwide. The challenging aspect is not having much time in the day to get things done quickly. Since our work is done by hand, everything takes days to complete, but this is the beauty of our brand - and our product – and we make sure we communicate this to our clients.
Your bags are handmade by artisan weavers in Ghana. How important is working with local producers to your business? 
Weavers bring a new light to my brand. Their skills are harnessed to produce top quality products and they are earning a steady income from doing what they love. Words such as 'empowerment', 'passion' and 'lasting' describe what I feel these group of artisanal weavers bring to each creation of our bags and the preservation of their art. Working with the weavers has also impacted my life and I hope my work can encourage weaving to be valued as a major income earner for many in the cooperative.
You are involved in all steps of the production process. How do you balance design work with overseeing the business end of things?
It's very exciting to be involved in the design and making process of each bag, but sometimes it can get overwhelming to balance it with other aspects of the business as I work singularly with the weavers. I make lists which is a great productivity booster and allows me to set times in the day to do my accounts, write emails and also find time to do creative work.
Come along to our next Inspiring Entrepreneurs event which will celebrate the contributions of Black British entrepreneurs and creative talent in the UK with a panel including: MOBO CEO and Founder Kanya King MBE; June Sarpong MBE, TV presenter and Founder of Lipgloss Productions; Yinka Ilori, Designer and Levi Roots, Reggae Reggae entrepreneur and MOBO nominated musician.
Sally Jennings on behalf of the Business & IP Centre
08 August 2014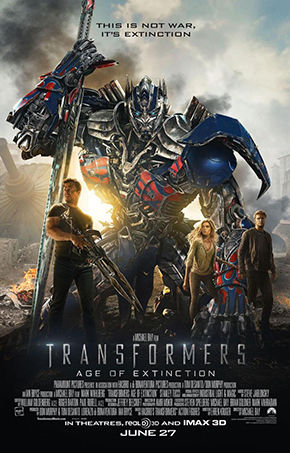 Spoiler alert! Unfortunately it was difficult to examine the IP mentions below without revealing a little of the plot, so if you haven't seen the film yet and plan to, look away now.
A couple of weeks ago, I went to see the film Transformers: Age of Extinction. I was interested in the film as Ohyo, one of the Business & IP Centre's Success Stories, has produced a limited edition of their bottle to tie in with its release. As well as being a very entertaining - almost three hours of robots, aliens, and robot-alien-dinosaurs, the IP geek in me also found much to enjoy in the many mentions of intellectual property within the film.
One of the main characters, Cade Yeager (played by Mark Wahlberg) is pretty much your standard action hero – rugged, wisecracking, good with a gun. But he's also a struggling inventor, and as such is rather more au fait with the concepts of intellectual property than you'd expect from your average blockbuster protagonist. He jokes about IP, and worries about ownership of his creations.
Discussing an invention with his friend near the beginning of the film, their main debate is over intellectual property rights. And his reaction on using a huge alien gun is 'Oh, man. I'm so gonna patent this sh*t.' (It's doubtful, of course, that he actually could, but then this isn't really a film built on gritty realism.) And it's not just Yeager: in another scene, during a battle between Bumblebee (an Autobot robot) and Stinger (an apparently new and improved Decepticon copy of his opponent), the former comments ruefully: 'I hate these cheap knock-offs'. (Then he feeds his rival's head to a two-headed robotic pterosaur, not an approach we'd normally recommend in regard to IP infringement). 
Perhaps the scriptwriters are simply demonstrating a healthy dose of self-awareness, as there is, of course, a huge amount of valuable intellectual property contained within a brand like Transformers, spanning as it does a multitude of media. From the film to the merchandise to the name itself, Transformers will be covered by a variety of IP protection, from trademarks and copyright to patents. Below is the 1985 patent (number 4,516,948) for the Optimus Prime toy, by designer Hiroyuki Obara.
The film also offers some good advice for all would-be inventors out there, in a scene where Cade Yeager confronts a scientist whose creations have had dire repercussions for the world: 'You're an inventor like me, so I know you have a conscience. Don't let your creation take control.'
Whilst, of course, most good inventions have positive outcomes, you can take control of – and learn to protect - your ideas by learning more about intellectual property here at the Business & IP Centre. 
Sally Jennings on behalf of the Business & IP Centre
Innovation and enterprise blog recent posts
Tweets by BIPC
Innovation and enterprise links
Other British Library blogs