04 April 2019
Royal Mail published a report on delivery for online shopping, Delivery Matters. In this guest blog post, they explain how businesses can make their customers happy by making their online shopping, and returns, experience as convenient as possible...
As online shoppers become increasingly savvy, they look for reasons to shop with a particular brand. The perfect example of this is the growing trend of being able to 'try before you buy' – already offered by numerous retailers. This is a convenient and flexible way of shopping online and is proving increasingly popular with online shoppers. In fact, 76% of consumers said they would 'definitely' or 'maybe' purchase more items if they were offered a 'try before you buy' option, with shoppers saying they would order an average of three extra items each month.
With 17% of global retailers already adopting this kind of model, it's important to consider putting 'try before you buy' at the heart of your returns offering – and staying one step ahead of your competitors when it comes to customer satisfaction. By giving people what they want (and expect), it is more likely they will continue to shop with you in the future.
One in three (34%) of those that return items have used 'try before you buy' services. 18 – 34-year-old shoppers (49%) are more likely to use a service like this if it was available. Clothing (52%) and footwear (39%) are the categories people are most likely to use this service for, followed by electrical goods (39%). Two in five shoppers (40%) believe they would purchase more items if a retailer offered a 'try before you buy service'.
Reasons for returns
The average online shopper in the UK sends back an online purchase every month*. Over half (53%) of those that return clothing or footwear said the most common reason to return is because the item didn't fit or was the wrong size.
The study, part of Royal Mail's annual Delivery Matters report, reveals women are more likely to return something because the item is not what they expected. Men are more likely to return a non-clothing item because it's incompatible or not useful for its intended purpose.
Clothing (75%), electrical goods (42%) and computer software/hardware (33%) are the most commonly returned items. Over half of clothing is returned because it didn't fit or was the wrong size. For electrical goods, the most common reason for returns is because the item was faulty or arrived damaged.
What online shoppers want
According to the study, six in ten (60%) online shoppers will not use a retailer again if they have a difficult returns experience so it's important to get it right. To keep customers returning to purchase time and again, retailers should make sure their returns experience is a simple and affordable one.
There is a recurring theme when it comes to what online shoppers want when they return items: ease and convenience. People want the option of local, easy access, as well as knowing they won't have to wait indoors all day for someone to come and pick their parcel up. They also want to use a returns provider they can trust. Royal Mail continues to lead the way on that score, with over three times as many online shoppers trusting them to return their item over their closest competition. Shoppers need to be able to trust that their items will get back to who they bought them from safely to get their refund. With branches up and down the UK, people prefer returning items at the Post Office® more than anywhere else.
Speed of refund after an item has been sent back is also important, with 93% of shoppers believing it's crucial to receive a notification of a refund after they have returned something. Almost three quarters (73%) of respondents think it's important for retailers to provide clear returns information on their site and at the point of purchase, as well as wanting marketplace sellers to make returns information easy to find (68%).
Peace of mind and reassurance are key when returning items so it's important to provide tracking. Not only does tracking allow someone to keep up-to-date on where an item is at any given time, it also provides the much-needed proof of posting and delivery which are vital when someone is expecting a refund.
Key conclusions
'Try before you buy' is a huge trend that appears set to stay. Smart sellers can satisfy savvy shoppers by offering them this convenient, flexible returns option. What's also clear is that the returns process needs to be as easy as possible with many online buyers not prepared to shop with a retailer again if they have a difficult returns experience.
Factors such as speed of refund remain important, as does clarity of information about a company's returns policy at the point of purchase. Shoppers now expect more from sellers and increasingly want to be able to return an item how they want, where they want and when they want. If retailers keep up with change and meet customers' expectations then shoppers will continue to buy from them again and again.
*Taken as an average from the research that revealed online shoppers, on average, returned three packages within a three month period.
The research was independently conducted by Trinity McQueen and based on a sample group of 1,503 UK online shoppers that make returns.
13 November 2018
We couldn't resist asking the Queen of Shops herself, Mary Portas, a few pressing questions before she takes to the stage at Inspiring Entrepreneurs: Work Like A Woman with Mary Portas.
Some of our Innovating for Growth programme graduates and Ambassador, Julie Deane OBE, picked Mary's brain on surviving in business during a challenging economic climate, the rise of digital and more. Here's what they asked...
Alice Asquith, founder and creative director of Asquith: 
With the closure of some key High Street stores, what advice would you give to someone starting out in this rather challenging retail climate?
It depends on where you want to place yourself. The future of great High Street retail will be around experience, knowledge and incredible service. If you can put that at the heart of your business and you believe your offer is unique and relevant to that market and you're not being screwed over on rent, you have a chance. There's so much more I'd ask you but these are the first things you should be asking yourself. Why would somebody make the effort to come to my shop? if you can cover the above you have a chance.
Where would you recommend for women to network if they'd like to meet other like-minded retail business owners?
There are hundreds if not thousands of great networking groups across many sectors. They all offer different things so it's totally dependent on what you're looking for right now. If you can't find one that's giving you what you need, start your own.
What would you say are the key ingredients and factors to successful collaborations with likeminded partners?
Understand the word collaboration. A symbiotic relationship where both parties benefit and support each other. Collaboration is about being better together than apart. Often collaborations are done with one thinking about their benefit alone. You need to consider your collaborator's reputation and how they'll benefit too.
Julie Deane OBE, founder of Cambridge Satchel Company:
Should businesses concentrate on establishing themselves in their home market before casting their eyes overseas?
Absolutely. And especially when you're selling something that's connected culturally to your market. I've seen too many business who've gone international and the power of their brand back home has eroded.
Rowena Howie, founder of Revival Retro:
Up and down the country there are small specialist shops providing a remarkable in store experience whilst trying to respond to a digital economy. What advice does the Queen of Shops have for bricks and clicks micro-businesses trying to pay a living wage, offer flexible working and create opportunities for amazing people, whilst still paying rampant rents, unfair rates and facing competition on a global level? Where do you consider the focus should be for small retailers looking to grow and create opportunity?
Focus on community, customer experience and identity. If you nail those three you stand a chance.
If you missed Mary's talk, you can catch up on our YouTube channel.
29 April 2015
My working day at the Business & IP Centre starts as I wake up from a daydream on the tube at King's Cross, to the announcement "Exit here for the British Library", which is just a few minutes' walk away from my office.
I am on 'desk-duty' today, so head straight out to the reading room where all our information resources are located (and freely available with a Reader Pass). The day officially starts from 9:30am Monday to Saturday (except for Mondays at 10am), when the Centre literally opens for business. We take it in turns to cover the enquiry desk, where we answer questions from customers, assist with our impressive set of business databases and give information advice. Today kicks off with an elderly customer who wants a list of contact companies who make butchers' cutting boards. It is his first visit to the Library, but he has impaired vision and also isn't confident using computers, so I help him use the Kompass database. It takes us about 15 minutes, but together we are able to generate a list of businesses he can contact.


Today, just like every day in the Centre, half of our customers are brand new. During my two hours' of desk duty I help 15 people with their research enquiries and download the information they require. These include showing our business databases, our hard copy market research publications, our trade and business directories and our small collection of business start-up books. I often refer people to our set of Industry Guides created by the team to help navigate our content by topic. In my experience most of our customers come in with a business idea but are unsure of what resources are available to help them get started.
Some people require help with ordering from our collection of 17 million hard copy publications using Explore the British Library, and to find publications sitting on our shelves in the reading room. Questions vary from a quick request for a login or download from a database, to a more complex enquiry that will take much longer. This is where we directly get to interact with our customers and make use of what we call the Reference Interview.
It is at this point that I meet Tg Tea Founder Sophia Nadur. She is researching a green tea RTD (Ready to Drink) product which she was planning to launch. TG Tea is an organic green tea drink that is also low in calories, so Sophia is looking for scientific and market research. I find it exciting to see the results of this kind of research in the Centre – and I have been promised some samples from Sophia so I can see what the finished product looks and tastes like. 
Although the majority of our customers are business start-ups, we still have visits from plenty of patent researchers looking for current and historical inventions. We also provide help and advice relating to the other intellectual property strands of trademarks, copyright and registered designs. And our customers range from sixth form pupils, undergraduates, MBA students, academics, inventors, start-ups and growing small businesses.
I always feel proud to be a part of the Centre when I see our busy networking area open for ad-hoc working, small business meetings and of course networking. There is definitely a buzz in there today as I walk through on my way back to the office.
After my reading room duty I return to the 'hidden' part of the Business & IP Centre.  There we work on telephone, email and Questionpoint enquiries. Today I answer questions on a variety of topics, and sometimes have to refer for help to other subject specialists within the British Library, partners and even externally. One example of a query received by telephone was an older lady asking for evidence of the 'Iron Cows' she remembered in her childhood. They were milk dispensers available from high-street shops, out of opening hours. Generally though, the queries are business or intellectual property related.
I check my emails throughout the day for queries received by the Business & IP Centre's Research Team, who offer a priced research service mainly for patent searches (prior art), business information and Public Availability Dates (PADs) for use in legal cases. The client base for this service is international, ranging from start-ups and IP specialists to legal firms. Today I respond to a request from a regular client from a pharmaceutical firm in Italy for some patent-related information.
Lunchtime has arrived, so I stop for something to eat and head to the British Library's staff restaurant. It is a good time to catch up with colleagues from across the Library. Today I end my break with a visit to the British Library Shop to see what merchandise they have in store to buy a present for a friend.
I head back to the office. Throughout the day there are various tasks or projects going on behind the scenes. I spend quite a bit of time sharing information I hope will be useful to the rest of the team. I share information, knowledge and best practice with other colleagues, departments and partners who deliver our services and projects. Each member of the team also run workshops in the Centre and are sometimes invited to run them at external events.  We offer workshops such as 'Beginner's Guide to Business Information' and 'Beginner's Guide to Intellectual Property' to help customers understand and access information. We also host webinars which can be accessed by a national and global audience. 
I respond to a customer who would like to book a Business & IP Clinic, and so pass this request to a team member who coordinates the clinics. These clinics can be really helpful to early stage start-ups, as a place to talk through their ideas in private with an impartial listener. Together we can get a clearer picture of what they want to do and the next steps they need to take.
It's about 3pm in the afternoon and as I work with information, part of my day is used to keep abreast of the news, current affairs, business subjects and online content on social media. Social media platforms are one of the drivers of Open Innovation and collaboration that our team has championed in our Open Innovation international project. I frequently collaborate and connect with others to share information on hot topics, events and useful contacts. Social media tools are great for inspiration and marketing, and they allow us to share knowledge, insights and stories from both inside and outside the Centre. Today I share a story on 'How to Run a Chocolate Business' relating it to one of our Innovating for Growth programme clients Amelia Rope, who coincidently has a chocolate-making business and is featured in one of our success stories videos.
Occasionally my day ends late when we have evening networking events and talks.  The Business & IP Centre Inspiring Entrepreneurs events have been running for a number of years and they take months of organisation. Usually it is all hands on deck to pull off these events and tasks are delegated to us to organise, host, attend, usher, register, network, market, tweet, blog and answer any queries that delegates may have.  We have had a back catalogue of archived past Inspiring Entrepreneurs videos available to view on You Tube, along with screenings in our Business & IP Centre's around the country and anyone can join in via our live webcast.
So now I have told you about my typical day in the Centre which makes me reflect on the perks of the job.  Working at the British Library, I also get to see our exhibitions and our current one is celebrating the 800 year anniversary of the 'Magna Carta' and occasionally I have a wander around the Sir John Ritblat Gallery of Treasures (did I mention that this gallery is free for everyone?). I also enjoy attending an interesting evening (or weekend) talk on any topic under the sun, but mostly I love the sense of satisfaction I get when meeting fabulous interesting people, including the seasoned and budding entrepreneurs that come into the building.
This is just an overview of my day in the life at the Business & IP Centre and only scratches the surface of what we do. I hope to see you around the Business & IP Centre London in the near future and please do say 'Hello'!
Seema Rampersad on behalf of the Business & IP Centre 
28 July 2014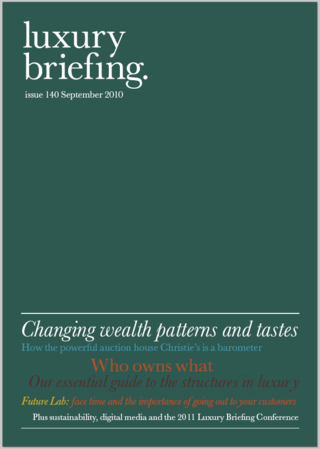 Luxury Briefing is a quarterly bulletin for the luxury industry. It includes articles on trends in the industry, news of new luxury products and services, interviews and company profiles and the 'TAG Luxury Stock Index'.

Although the Business & IP Centre has some market research from for example Verdict, on luxury goods, this makes an excellent edition in background reading for anyone researching this industry.
"Luxury Briefing is always a pleasure to read. It is well edited and filled only with interesting and relevant information and comment. Whilst primarily aimed at the luxury market, it is also relevant to the wider world outside." Sir Terence Conran

The website includes a sample issue and a complete index.


10 July 2014
A few months ago dating business Lovestruck was headlined in the business news for winning Best International Business at the British Young Business Awards.  Lovestruck was not only a success in the UK but their Chief Technology Officer and Co-Founder is quoted as saying "Many felt that the odds were far too stacked against us when creating a new premium online dating brand to challenge the entrenched, resource rich competition, so we are delighted that our growth abroad in particular Hong Kong and Singapore has been recognised".
Soon after this award announcement I noticed Business & IP Centre customers looking for this topic in our collection and it seems our customers also have ambitions to create dating businesses.  I too began to investigate the subject on our resources and databases for news and market research that are available free in the centre helping me to understand the industry and landscape for dating and matchmaking businesses. 
The dating and matchmaking business is not a new business idea and old adverts in printed format and business models have been around as long as the classifieds in newspapers.  In this BBC article there are examples of dating sites going way back in history.  As recent as the late 1990's , I saw in printed copies of Your Dog magazine held at the British Library that pet owners advertised details of their dogs – but with the owners personal details for a match made in dog harmony.  However, with the growth of the web, there have been many changes both on setting up dating businesses and on using the sites in the dating game. There is little or hardly any stigma left for using sites and services.  The current market is prolific and was valued at £170million in the UK by Swedish company Metaflake. This is a trend that is also replicated in other regions of the world as demonstrated by this world map.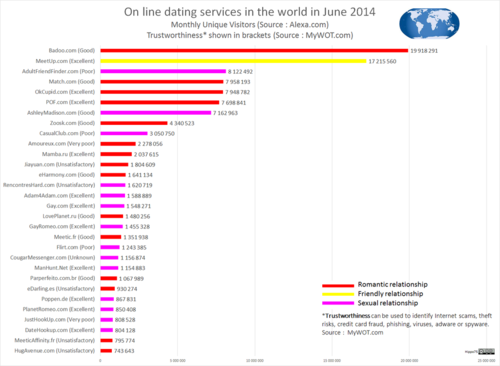 Source: Wikipedia Online Dating Services
Dating service businesses are formed usually on their own genre, with a unique selling point (USP) based on clientele, such as Lovestruck, eHarmony, Match.com, My Single Friend and Christian Connections.  Newspapers and even radio stations aim for their own readership and audience with their sites such as Guardian Soulmates by the Guardian and 'The Dating Lab' by The Telegraph.  Some of these businesses are steering an industry on issues for the benefit of their customers and their own future standards.  There are two main bodies that are a good starting point for researching the industry and they are the Association of British Introduction Agencies (ABIA) (see also their directory) and Online Dating Agency (ODA).  Some of the concerns are authenticity and fake profiles, data privacy and security and consumer protection. The associations are set up to be used by premium brands to put together a code of conduct to protect the industry against poor practices and to uphold high standards of behaviour by the dating service providers in the UK. If you are thinking of setting this type of business, these two sites are useful for tips and best practices for consumers and providers.
In terms of the market research available into this sector, there is a useful Key Note Singles Market report in the Business & IP Centre – produced a couple (no  pun intended) of years ago but the analysis, facts and figures are still insightful for understanding customers behaviour.   For example, I discovered that 11.7% of the surveyed Singles Market confirmed that they had met their partners online. Regionally, those in the North (27.2%) were most likely to have met dates or partners online, while there were no respondents living in the East Midlands, South West or Wales. Personally, I find this is hard to believe!
When asked 'What is the worst thing about being single?" they provided amusing answers which in highest ranking are "No one to talk to",  "Having to Do the Household Chores all by Myself", "Having to Go to Places on my own", "Lack of Physical Contact" ,"People assuming you have a Partner", or "Money Worries". With answers like these, there are 32.2% of the single population actively dating. 
Another interesting fact is where people like to meet. When asked the question "Where have you met potential dates or partners?" the respondents gave the following answers in ranking order – Place of Education, Pubs and Bars, Club and Work with the least favourite places for meeting people are surprisingly Online, Dating Agencies and Speed Dating.  This doesn't actually distract from the fact that the dating business can be profitable and online with people still using these sites. Speed Dating may not be popular according to this survey but in this similar format, we hold regular events at the Centre called 'Speed Mentoring' sessions with experts to give you advice on the topic of day.   This works really well for networking and making contacts.
If you use the London Underground trains, you cannot avoid noticing the 'Tube' adverts aimed at this same single market in the city. You can see advertisements with various agencies vying for the competition to gain some market share with some eye-catching adverts appealing to commuters. The adverts also show the various brands on the market, the differences in their target audience and inner aspirations in a partner such as the Christian Connections advert tailored for Christian customers.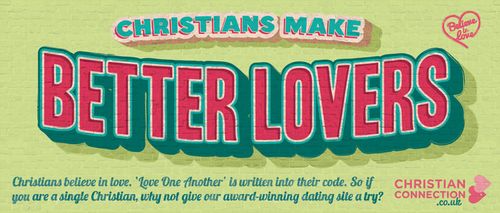 Source: London Underground Advertising campaign by Christian Connections
Big Data generated by online business are also used to market businesses and to understand client preferences and behaviour. Data can be useful to push adverts, to create apps and for further innovations but they don't seem to guarantee success in relationships as mentioned in this BBC article.
In a discussion with one of our Innovating for Growth delivery partners, Christopher Pett, who is a Product Development Consultant at Makerco, observed that "this is a great example of a service offer that is expressed from the customer's point of view, which people so often forget to do. In one advert, the guy was saying how he listened to his prospective partner's favourite album before their first date. That's such a simple way to demonstrate that users will establish meaningful relationships with each other before they meet and take time to get to know each other. It's a tacit offer that has an emotional impact on potential customers". 
The customers are at the core of these businesses.  Their buy-in to your service or product will help you gain more of the market and in turn, run a successful business.  Don't waste anytime – make a date to use the resources such as the Cobra reports on Dating Agencies or Speed Dating Organiser in the centre to research about your particular idea.  The British Library is also an ideal place to spend time socially such as looking at our exhibitions and as a meeting place with someone in our restaurant for a date!
Seema Rampersad on behalf of Business & IP Centre
Follow Seema on Twitter: @SeemaRampersad
14 March 2014

Founder of JH Public Relations and Colour blind cards, Jessica Huie shares her top tips to help you get media coverage for your business.
However brilliant your product or service, if nobody knows about it then your business will struggle to make sales, and a business without sales is a failure in motion.
Here are some tips on how to make sure your business is planted firmly in the awareness of your target audience.
Inject your human interest story into your branding
Nothing is more powerful than authenticity in PR. If you genuinely believe that your business adds value to your customer's lives, then it's important to communicate that personally.
By being visible rather than relying on your faceless brand to sell itself, you allow your customers the opportunity to understand the ethos behind your brand and your business values, and if you are marketing to the right audience then your values will resonate with them and make them more likely to buy.
Do this by asking yourself what the inspiration behind your business was, what is your vision? How are you improving, changing or inventing something which will benefit your audience?
Give your customers an insight into the entrepreneur behind the business through your PR materials and watch how effective this PR approach can be.
Be patient and consistent
PR is not a quick hit.  It requires a consistent and ongoing effort in order to be most effective.
A customer's buying journey begins with awareness followed by familiarity before moving to consideration purchase and then loyalty. So the more that customers become aware of your brand the better – hence where the outdated all publicity is good publicity line comes from.
Equally, unlike advertising (which is more expensive,) PR is not guaranteed. It requires the creation of a news angle e.g. 'Huie's brand secure record sales targets in Selfridges,' 'Celebrities endorse Huie's brand,' in order to capture the imagination of the media and inspire them to write about you/your business.
Create a 12 month plan
If we consider the first part of the year, New Years Day, Valentines, Mother's Day, these occasions may well have an impact on your customer's buying patterns.
Creating a press release which is 'pegged' to these occasions will increase your chance of securing media interest, so plan ahead and be aware of media lead times so you don't miss out on a PR opportunity.
Stay abreast of current affairs and their relevance to your business
If we look at the stories currently in the media, each of these news stories may represent a PR opportunity depending on your business or service.
By staying aware of current news you can include reactive PR into your strategy as well as proactive, producing press releases offering a contribution to a current news debate, a solution to a problem being discussed or an alternate opinion.
Truly understand your customer
A useful exercise is spending time thinking about your customer in depth. Where do they live, how old are they, where do they grocery shop, go on holiday, are they property owners? Once you can answer these questions you'll begin to create a picture of your customer which will allow you to easily move on to the next point…
Seek out ideal potential partners for cross promotion
By understanding your customer you can identify other brands that share your target market. This synergy creates the perfect opportunity to collaborate with brands who may be bigger or more established than you and cross promote by marketing to their audience as well as your own and of course returning the favour.
List five brands that are not your competition, but share your target audience as your partnership targets.
Be giving
It was one of rap music's richest entrepreneurs, Russell Simmons who said "you can never get before you give." It's a blueprint which can be hugely effective once you work out what you can actually afford to give away. Free stuff creates a buzz, awareness, encourages people to try your products, creates positive brand association and a buying habit.
In this era it's easy to create a product designed purely to be given away free. Think e-books and audio tapes, the ideas are endless.
Be creative
Creativity for me, is the best part of PR. Unlike advertising, which has a very set agenda and sales pitch, PR is whatever you decide to make it.
Are you a fashion brand? Then create a piece for the royal baby, run a take-away food chain? Deliver to the homeless on Christmas day.
PR can do good whilst creating opportunities to secure media coverage in the process.
Think global
Your business reach is only as limited as your mindset. If you or your PR team are creating a press release, why limit your focus to the UK?
The vast majority of media is also online now and if your business is international then you'd be crazy not to raise awareness globally.  That said, focus on one territory at a time for maximum impact.
Ensure you have effective tools
Undeniably the most important tip. Your press release is your business shop window and will create a first impression.
Ensure it is professional, and includes all of the crucial information, and use the first paragraph to sum up your news angle succinctly.
If you want to learn more about how to make the most of PR opportunities on a tight budget, come along to Jessica's workshop How to generate PR for your business held in the Centre.
Jessica Huie on behalf of Business & IP Centre
04 March 2014
A highlight of our 'Web in Feb' Business & IP Centre series of events in February was an evening with Inspiring Entrepreneurs: Internet Icons in partnership with Barclays. The speakers were Nick Robertson of ASOS, Kathryn Parsons of Decoded and Nick Jenkins of Moonpig.  Frances Brindle, Director of Audiences at the British Library, introduced the evening and informed us of the prediction that 25% of all retail sales will be online by 2016. Shopping via online and mobile channels is becoming the norm and, according to eMarketer, over 90% of internet users shopped online in 2013. Retail sales on ecommerce sites have reached £45.5 billion.
In the spirit of online, the audience of 255 in St Pancras and another 200 across 4 live screenings in Birmingham, Liverpool, Newcastle and Sheffield, and on computer screens across the world via webcast.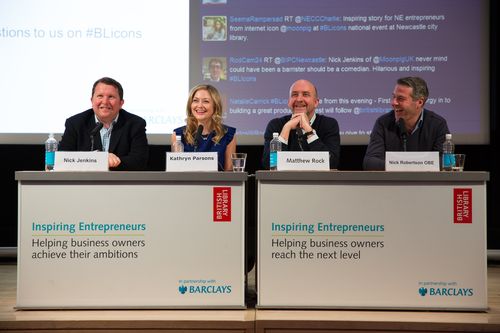 First up was Nick Robertson, co-founder and CEO of ASOS.  Nick co-founded ASOS.com, a fashion and beauty retailer pioneering online fashion in the UK, and now increasingly the world, with sales approaching £1billion. Starting his talk with a glitzy video of the last six months of ASOS, Nick's story began with the ups and downs of building a fashion brand without a high street presence. He stressed the importance of being 'laser focussed' on what you do. But also staying flexible and being prepared to 'to kiss a few frogs'.  His final tip was, don't sell out too soon; if you have a great idea – stick with it online and it will grow.
Next up was Kathryn Parsons, founder of Decoded, who wants to teach 'Code in a Day' and is pioneering global code education. Recently nominated as one of the top five most innovative companies in the UK, Decoded launched Data in a Day in 2013, aiming to demystify big data for business, and Code Ed to empower classroom teachers. Kathryn told us she used the Business & IP Centre in London to plan her business three years ago. She is keen for 'women to claim their digital vote!'  She amazed the audience by revealing Decoded had spent just £27 on marketing, instead using imagination and creativity to get their message across. 
To end, she spoke about the reality of women programmers who are doing business in the tech industry in the UK. She then showed us the list below of '5 Things I have learned about Programming' from a seven year old girl.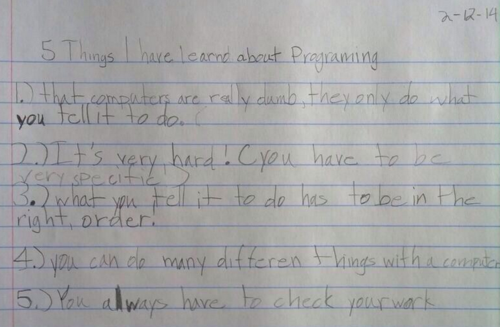 The last speaker, Nick Jenkins was a wonderfully entertaining whilst being surprisingly informative and wise. Nick claimed he would now be a boring lawyer now, if he hadn't failed all his A levels, which meant he studied Russian at University. This was followed by eight years in Russia trading sugar for Glencore.
He chose to use the internet as his primary basis for a business due to the low cost of starting up. To start Moonpig.com all he needed was a website, a printer and two sets of plain card in stock. Initially he relied on word of mouth to spread the message about the service.
Nick kept an eye on their main competitor by ordering a card from them once a quarter and comparing the order number on the receipt to see how much it had increased. He used this technique to measure the successes of his rival's television advertising campaign and saw that it made economic sense. This led to Moonpig gradually increasing their screen advertising until they were spending £800, 000 a year. Nick realised Moonpig were open to the same form of competitive intelligence, so introduced four random letters in the middle of their order numbers. In a classic case of the law of unintended consequences, this led to complaints caused by some of the rude words produced.
 Nick confessed that initially the price he set for their cards was set too low. But he very was reluctant to increase it until his finance director gave him two choices. One, leave the price as it is and definitely go bust. Two, increase the price and maybe go bust. After increasing the price by £1 they were pleasantly surprised to see that the sales did not go down, and they went into profit.
Eventually the business grew and became stable and as Nick mostly enjoys the growing phase, he decided it was time to move on and look for his next startup venture.
Nick stressed the importance of hiring staff that will be as excited about the startup as you are, they will be happy to weather the storm the early days bring.  His final pieces of advice were; be decisive, allow staff to make decisions, and the importance of luck in business success.


Seema Rampersad on behalf of Business & IP Centre
15 August 2013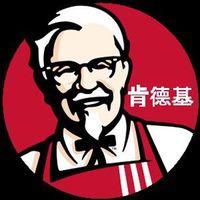 Last week the BBC published a fascinating report on the progress US companies have made in the rapidly growing Chinese market for consumer goods and services. Western brands 'more popular' in China.

The number one brand in China is fast food chicken restaurant chain KFC from Yum! Brands. The Chinese market contributes about half of Yum! Brands' overall profits. The company has about 4,400 KFC units in about 850 cities in China. It first entered the market in 1987. But in banking and telecoms Chinese companies still dominate.

The BBC asked global brand research company Millward Brown to find the 20 most powerful foreign brands in China, the ones that have gone in and succeeded where many others have failed.
A discussion on the Today Programme between presenter John Humpries and Peter Walshe Global Director of Brands at Millward Brown, produced a great definition of what makes a succesful brand:

Peter Walshe
Products that are delivering great quality in a meaningful way to consumers, are the ones that are bought again and again, by those very discerning consumers.

John Humphries - The assumption has been that in the West, you can sell anything to anybody if the advertising is good enough, and the marketing is good enough.

Peter - I certainly wouldn't agree with that at all. You can announce something , and providing your advertising clearly annunciates what it is that is special, good and interesting about that product or brand, people will listen, and they may well try it. But when they try it and it doesn't live up to that promise, you're in big trouble.

One of the reasons Omo is doing so well is that it has listened and adapted to its consumers locally. The way that you wash clothes is quite different in China, compared to some other markets. They have very carefully listened to consumers and created products that are relevant.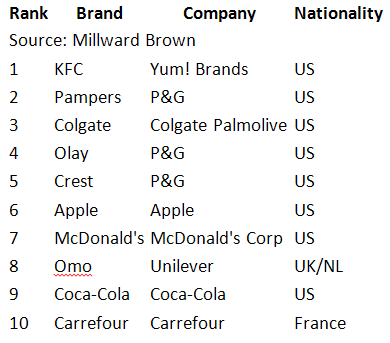 Here are some success tips from some of the top brands via Millward Brown:

Get in early
All of the brands have been pioneers in China, entering before 2000.

Understand your market
The Chinese market is changing quickly and many of the companies are learning to keep up.

Be bold
Having got in early, many of the companies are building on that advantage. Some of the numbers are staggering.

City strategy
Many of the brands that spoke to us stressed the importance of looking beyond the coastal cities of Shanghai and Beijing to the staggering growth and new consumers in cities across the country.

Build your team
Running a business in China is difficult to do from outside the country, and many of these multinationals tell us that their success is built on finding the best Chinese talent and joint venture partners.
Neil Infield on behalf of the Business & IP Centre
Chloé Titcomb on behalf of the Business & IP Centre - See more at: http://britishlibrary.typepad.co.uk/business/index.html#sthash.EudJwOtt.dpuf
Chloé Titcomb on behalf of the Business & IP Centre - See more at: http://britishlibrary.typepad.co.uk/business/index.html#sthash.EudJwOtt.dpuf
Chloé Titcomb on behalf of the Business & IP Centre - See more at: http://britishlibrary.typepad.co.uk/business/index.html#sthash.EudJwOtt.dpuf
Chloé Titcomb on behalf of the Business & IP Centre - See more at: http://britishlibrary.typepad.co.uk/business/index.html#sthash.EudJwOtt.dpuf
03 July 2013
Although 'Cooking Up Success' has come to an end for 2013, we still have some great stories from food and drinks businesses who have a wealth of advice to offer.
Innovating for Growth business, Blueberry Hill, share their story of starting a growing a small business:
"Oh, where to start?!
Setting up Blueberry Hill has been one of the most rollercoaster rides I have ever experienced! 
Neither Ella or I came from a food background, so as we looked at setting up the business, we were starting totally from scratch.  Although this meant we definitely ended up going the long way round on occasions, we have learnt everything together and both have a deeper understanding of how all our business processes work.
Before launching into the partnership we decided to test our working relationship, as although we were friends from university, we knew this doesn't always mean you can work together!
While still working full time, we started slowly by selling some home-baked goods at local markets over weekends. Baking through the night on a Friday after a long week at work tested our stress levels but allowed us to see how we each dealt with customers and the finance side of things. 
After a few months of this, and some long nights writing a business plan we decided to take the plunge, and Blueberry Hill was born.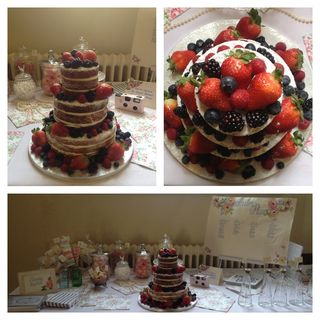 Blueberry Hill creations
Things change on a daily basis, the business plan gets amended and nothing ever goes quite to plan so it can sometimes feel like a bit of a whirlwind. We have learnt that you have to be flexible and open-minded, but also make sure you stick as much to your plans as possible or it is super easy to get distracted! 
We definitely fell into the trap of starting to work in the business too much and not on the business, and are only really now, one full-time year in, forcing ourselves to step back and look as objectively as possible at what we have achieved. 
Our crucial tips for going into a food business are;
Do all the H&S paper work from the start because as you grow it makes life a lot easier;
Don't be afraid to following your gut as this is usually right;
Make sure you remember to take some time to yourself!"
Rachel Reynolds, co-founder of Blueberry Hill on behalf of Business & IP Centre
Blueberry Hill have taken part in our Innovating for Growth programme which offers London-based small businesses the opportunity to get £10,000 worth of free bespoke advice and support.
19 June 2013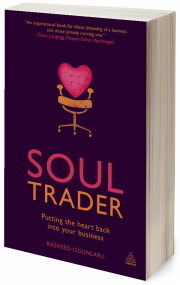 Back in October last year I reviewed Rasheed Ogunlaru's book Soul Trader - Putting the heart back into your business.
He has now developed these ideas into a workshop held in the Business & IP Centre, sensibly called Soul trader: Your life, your business.
Rasheed kindly invited me along to see how it can help you build a business in balance with your life, and in tune with your heart.
In the workshop we covered his eight 'C's for succesful business:

1. Clarity:
Identify your mission, talent, values and brand to develop a clear strategy to propel your business growth.

2. Customers:
Look at your business through customers' eyes to win custom, profit and loyalty.

3. Courage:
Gain inspiration to give you the same determination as a winning athlete.

4. Co-operation:
Building your network so you can create beneficial collaborations and partnerships.

5. Conversations:
Learn how to connect, create and convert leads to sales in person and online.

6. Creativity:
Know when to work, rest and be at your best so you can achieve a life balance.

7. Compassion:
Connect from the heart to be transformational not transactional.
Once again Rasheed used his unique combination of the heart and head to help the workshop attendees develop a vision of their business and life, as well as the practical steps they would need to take to acheive them.
I highly recommend this workshop for anyone about to embark on a business venture, or for those who are established but have lost sight of their business purpose.
Innovation and enterprise blog recent posts
Tweets by BIPC
Innovation and enterprise links
Other British Library blogs