16 March 2022
Female founded start-ups represent a growing share of investment activity – in the UK in 2011, only 11% of start-ups were women founded and by 2020, this number had risen to 32%. In the male dominated space of entrepreneurship, women founders are often underestimated and overlooked; while we have made progress, there's still more to be done. To mark Women's History Month, we're delving into the experiences of two entrepreneurs we've supported to learn how they overcame discrimination in business.
First up is Innovating for Growth alumna Eleanore Richardson, who alongside her mother, Teresa, owns Fulham Scalp and Hair Clinic.
"My mum certainly has some stories of working as a black female entrepreneur and as I have entered the business with her in the last five years there are a few things that have brought me back down to reality in terms of the challenges that women face in business.
My mum has worked in the hair industry for the past 45 years. She moved from working in a salon to working from home as a hairdresser when she started her family; part-time availability for hair stylists wasn't a realistic career and banks wouldn't lend her the capital to open her own salon. She worked out of our utility room and bathroom for 30 years and with that income, sustained two children (and our many after school activities), a mortgage and bought a flat in Portugal.
Over those years, the banks slowly offered my mum an overdraft for her sole trader account but she never used it because she had always associated debt with poor financial management."
When Eleanore was studying for her A-Levels, Teresa also stepped back into her own studies and re-qualified as a Trichologist. Soon after qualifying, she found a retail space that she could run her clinical practice from. However, even though she was a successful business owner for the past 35 years, she was asked for a guarantor to support her retail lease application. Financially independent and in her fifties, she didn't find this appropriate, but was forced to compromise by signing an eight-year lease with no break clause instead.
Upon realising that their business was making enough money to register as a limited company instead of a sole trader, Eleanore and Teresa went to several banks and opened a business bank account. Whilst one bank was happy to offer them a sole trader account with a £12,000 overdraft, the only business account they were keen to offer was with a £2,000 overdraft. They eventually went with another bank that offered a measly £6,000 overdraft and meant that their cash flow was still too tight to invest in growth.
Several years later, Teresa was ready to move clinics and they were in a position to develop their clinic hair care range into a product range ready to be sold to retailers. Despite presenting a business plan in an effort to increase their £6,000 overdraft, the bank turned them down. This made no sense to Eleanore, "I had been offered bigger overdrafts as a student earning nothing, yet here was a successful business that made money every year and had never had to dip into an overdraft, had grown organically year after year, and yet credit options were non-existent." They postponed development of their range for three years out of fear that the investment would deplete their cash flow, and there were no obvious alternatives to financing that weren't fraught with high interest rates.
Fulham Scalp and Hair has also been operating in Luanda, Angola, which is Teresa's birthplace. There she has a loyal customer base who have grown with her over the years but many customers and onlookers still don't understand how a business like theirs can generate enough interest and enough revenue to fund a satellite clinic in Luanda. "Rumours of my mother having a wealthy benefactor are always amusing, but depressingly remind me that the expectation for women to run a successful, international business is still questioned.
Last year an investor in Angola who was keen to buy a stake in our Angolan business propositioned us. When negotiations began, it emerged that he was only going to accept a majority stake in all of our business holdings internationally and was going to establish his own solicitor as a business consultant with a 5% stake. The mind boggles at how foolish they must have assumed an older black woman and her younger daughter must be.
This I find is the most common theme being a woman in business, and it hasn't really changed from the time of my mum starting her own business through to me joining and leading it. Women continue to be underestimated in their own businesses, and this seems to be particularly brutal for women of colour or for very young (looking) women. For mum she had been underestimated by so many of the services and employees previously hired, that it was a relief to work with her daughter who she could completely trust and not be on her guard with. Personally, I have had to correct solicitors, landlords and accountants on their own work and have even had one rep from an organisation ask if I need to chat with my "mummy" before signing off on membership."
Our next business is The Fermentation Station, founded by Amy and Sam who received support from BIPC Liverpool in relation to their trademarking. We spoke to Amy to learn how her experience as an entrepreneur has been different to that of her partners'.
"Being a female business owner has its advantages and disadvantages. In Liverpool, having access to support through The Women's Organisation provides many advantages to being a female business owner in the city, but I believe this is a privilege that many don't receive.
Whilst it wasn't impossible to be a female business owner 30 or 50 years ago, the challenge was much greater than what we see in 2022. Things have certainly come a long way but we still have a lot of progress to make in how we view women in business.  I often think my Nan would have achieved even more remarkable things during her working years had gender roles been different back then. She was an outstanding woman with a genetic eye condition that she never let stand in her way."
It is also important to encourage young girls into entrepreneurship, when Amy was in high school the only future presented to her was one of academia. "We were told that it was a safe route into employment that meant that we didn't need to rely on a man - can you guess I went to a single sex school! Whilst I am eternally grateful for the solid upbringing they gave me, the option of becoming an entrepreneur was not one that I was encouraged to explore. I think often this causes 'impostor syndrome' as we feel we aren't skilled for the role, whilst men are more likely to take the leap without second guessing whether they're qualified to do so."
Having been a Company Director for six years between The Fermentation Station & H2A, Amy has built up confidence to present herself as a business leader and leave the impostor syndrome at the door. When asked about whether she has noticed a difference in the way she is treated by investors, suppliers or clients in comparison to Sam she pointed out that unconscious bias is always at play.
"I believe that many think that Sam is the driving force behind our business – that's until I open my mouth, and he is often granted commendations for behaviours that I perform regularly. When we have been challenged with difficult customers or stockists, who are unprepared to acknowledge or accept my response, I have now resorted to responding to them by pretending to be Sam; you would be surprised how quickly their tone & response changes when they believe it's a man they're speaking to."
Overall though, the advantages of being a female founder outweigh the disadvantages, Amy has been the company director of a mother-daughter team and a male-female team which have both been incredible experiences for her. "I think it's completely dependent upon the personalities of your fellow directors or founders, and with both businesses I held close personal relationships. Sam and I work well together not because we are different genders or sexes but because our working styles complement each other."
25 January 2022
A new year is a time of reflection, it's a perfect opportunity to make important changes and set goals you'd like to accomplish in the year ahead. For small businesses, 2021 remained unpredictable under COVID-19 conditions and in order to adapt, pivots were essential - a tricky environment to set goals and resolutions in. We spoke to businesses we have supported, through Innovating for Growth, our National Network and Start-Ups in London Libraries programme, to find out what their top three resolutions are for this year. If you're struggling to set resolutions of your own, we hope they inspire you!
Triple Double is a creative studio, founded by Paul Jenkins, that unleashes how youth engage in sport and education, using the power of design and creativity to transform their lives. Innovating for Growth alumni Paul doesn't usually set resolutions focusing instead on goals, this year he's decided to use themes to guide him rather than setting fixed aims:
Responsibility. We can't control what happens, but we can choose how we react. This year I'm going to take more responsibility and empower those around me to do the same, so we can collectively highlight and fix the problems, not just put a band-aid over them.
Future Thinking. 'What is the future of... X?' These are the questions I want to be asking this year, and beyond, within the spaces of youth, sport and education that Triple Double works in. Using design and creativity to be in pursuit of the answers rather than just trying to predict them.
Team. I want to continue to identify people around me that truly understand why I'm doing what I'm doing, and invest in these relationships – reducing or cutting ties with those that don't. It's impossible to speak and please everyone, so it's about spending time with those that matter most. Goes back to responsibility above ultimately.
Founded by Jennifer Lam and Jen Hoang, Stitch & Story gives novice crafters a stress-free experience in learning to knit or crochet, their all-in-one kits contain everything you need to get started and learn the basic techniques. Read on to find out their top three resolutions for 2022:
Focusing more on the systems and processes for the business. As our business grows, we're needing to find leaner and more automated ways of working so that our team has all the right information needed to make decisions. I often find systems and processes quite dull compared to the front facing parts of the business, so this year I'll be making extra efforts! 
Delegating more to my team so that I can get away from the day-to-day and focus more on planning for the business.  
Make sure I plan in adequate leave/holiday in advance - otherwise I'll end up with the bad habit of not taking any time off. 
Tina was inspired by Taiwanese bubble tea concept and British tea drinking culture to develop a delicious, well-balanced, vegan tea latte beverage - HumaniTea. As well as taking part in the start-up arm of the Innovating for Growth programme, she was also mentored by a successful entrepreneur from the scale-ups programme. Then, in 2021, HumaniTea began being stocked in the British Library canteen! Let's see what Tina's plans are for the coming year:
Make HumaniTea accessible to even more people by launching our Vegan Tea Lattes into a nationwide retailer
Explore new product development ideas to expand our range of HumaniTea Oat Milk Tea Latte flavours, like turmeric and rooibos
Increase our sales to support more wellbeing and sustainability initiatives through growing our list of stockists in the UK and abroad
Amaze Associates, founded by Fiona Wedderburn-Graham and Jennifer McLean, is a transformational coaching company that empowers individuals and  businesses to achieve their goals and to navigate work and life challenges. Their top three resolutions are:
Review the business plan and celebrate our achievements: as often we don't lift our heads above the parapet long enough or take time to consider what we have actually achieved.
Take social media by the horns: By planning/scheduling reels and stories in advance and introduce lives as part of our marketing strategy. 
To be limitless: As a business we have set an aspirational income target, this acts as a real motivating factor for us and has informed our goal setting for this year.
ArtPerÚK, founded by Katherine Tinoco, is a business created to share Peruvian culture with the wider community in London and the UK, through the art and enjoyment of dance. ArtPerÚK burst onto the UK dance scene in mid-2019, offering Peruvian folkloric dance classes representative of the three regions of Peru: Coast, Andes and Jungle. Katherine let us know what her top three business resolutions for the new year are:
Run events and performances outside London to increase Peruvian folklore visibility
Create new and energetic choreographies with traditional costumes to increase our variety and diversity
Run a Dance Performance with more than 30 dancers in one Theatre in London.
Hellen Stirling is the founder of Small Stuff, an eco-conscious children's store in South Yorkshire. Hellen used BIPC South Yorkshire's free market research reports and recently their IP support to become a trade marked brand. Her three goals for 2022 are:
Continue to grow and expand Small Stuff, both online and in real life by taking on more specialised staff to share the load.
Collaborate with the local community, support and engage with other local businesses, shoppers and residents to get Crookes high street on the map!
Travel and promote the business nationally, but going back to Small Stuff's roots and utilising pop-up spaces and empty units around the country to promote the brand and our sustainability ethos.
Paul Pringle, Founder and Managing Director of Solarglide, who are based in the North East, produce blinds, curtains and window shades for ships. They received help from BIPC North East to help take their business to the next level in terms of sustainability. This year, Paul is looking forward to progressing three things:
We're looking at the transport we use, when we travel to shows or to see customers in other parts of the world. What we can do to either offset that, which is not really the way we want to go, we want to try and get as low a carbon footprint as we can, so we're just looking at every aspect. The support we're getting to take that forward is great. It just means we're getting guidance on how to go about it. I was unsure where to turn, now I feel a lot more confident. Our goal is to get the lowest possible carbon footprint that we can get as a business. Yes we're a manufacturer, but we've got lots of other ideas and ways in which we can reduce our power consumption, the processes to make us more environmentally friendly and also the products and see what else we can do to make them more sustainable.
One of the big developments happening at Solarglide is we're going very motorisation with everything we do. For the last 10 – 15 years it's been all manually operated products we offer. We are now heading into the era of motorisation, i.e. blinds and curtains. We're investing heavily in research and the development of our products.
The other area is we've moved in to the yacht industry, which is still under the umbrella of maritime and we've developed a whole range of products for the yacht and super yacht market. It's an exciting time for us. We're also looking at land-based projects, without diverting too much away from the maritime market, i.e. motorhome, caravan, as our products fit that type of environment very well as well. We'll stay true to our maritime roots and won't diverge too much.
28 April 2020
Comfortably one of the biggest pains starting or running a business is getting on top of all the business numbers and jargon. Johnny Martin's workshop Get cashflow confident aims to take away that fear of finance.
I'm an experienced Finance Director who now passionately explains business numbers and jargon. I'm also the author of Understanding Your Business Finances Workbook, entrepreneur in residence at the London College of Fashion and a mentor at the Royal College of Art.
I am based in Somerset where I run my own self-storage business and in my spare time, you can find me messing about on boats and off-road running.
"Demystifying business numbers to help you succeed in business."
What's covered in Get cashflow confident?
The workshop is currently being delivered via Zoom, whilst the British Library is shut. Whether the workshop is held virtually, or in person, it covers three key areas:
Understand the language
We cover the key financial reports i.e. profit and loss, cash flow and balance sheet and how they fit together.
Essential knowledge like the different types of profit, how to calculate break even and the importance of gross profit margin.
And we cover the biggest cause of confusion - why profit isn't the same as cash!
Forecasting
The main principles of forecasting and budgeting – often an area of considerable stress and anxiety.
How to forecast sales and the importance of sensitivity analysis.
How to use the Excel forecasting model
Top tips on financial management
Company administration like basics of VAT, online accounting systems and managing working capital.
Different trading formats e.g. sole trader vs limited company.
Business valuation and pre and post money valuations.
Who is this workshop for?
This is a practical and stress-free way to get the financial knowledge, confidence and tools to help you understand, forecast and manage when starting and growing a business. So if you are:
Uncertain about cash flow forecasting?
Feeling finance is getting out of control?
Confused by your accountant?
Struggling with your business model?
Apprehensive about VAT?
About to raise finance
Then my workshop will help you.
What to expect
By attending my workshop you will become more confident at:
Forecasting and managing your cash flow
Creating financial forecasts and projections
Understanding financial jargon and reports so you can communicate with investors and lenders
Day to day management of the financial function
Raising capital without getting caught out by investors
Understanding how to value your business
Financial management so you can avoid the common pitfalls facing your business such as working capital
I'll equip you with a range of practical tools and methods which you can implement straight away as well as a good foundation in business finance theory.
As part of the workshop, you will also receive
An Excel five year integrated forecast profit and loss and cash flow worth at least £400 for you to forecast your business
Copy of 90 minute video Talk Money worth £18
Workshop handouts, glossary and checklist
Post-workshop email support from me
"You must make commercial decisions based on what you know you can afford. Follow Johnny's clear and practical, simple to follow advice to help you thoroughly understand how business finances work."
— Lara Morgan – Founder of Pacific Direct, Startup Britain, UKTI ambassador
Visit the BIPC's workshops and events page to view all upcoming workshops, webinars and events.
09 October 2019
Each quarter, we pick 18 high-growth businesses to take part in our Innovating for Growth: Scale-ups programme, where businesses receive £10,000 worth of tailored and bespoke business support and advice. Not only do businesses gain three months of guidance, they also receive automatic membership to our Growth Club and their own Relationship Manager.
This quarter, we're following Haroun, Director of JRPass, a train travel company for those exploring Japan by rail. Haroun will talk us through each session as he progresses through the programme to get the successes and challenges of what it's like to run a growing businesses. You can see Haroun's previous posts about product innovation 1:1, intellectual property 1:1, marketing, branding, intellectual property, financial management, product innovation, marketing strategy, branding and research and developing a growth strategy on our blog. In his latest diary entry, Haroun has his second session on financial management...
If you have been following the blog you will know that at JRPass we are in the midst of planning another website offering new services. Over the past few months we have used the sessions on branding, marketing and product innovation to develop this further. This time, the second of the finance sessions, was really helpful as we dived in-depth into modelling with the adviser from Metavalue.
We have a couple of options on new partnerships for the website, so the main focus of the discussion was which of these would be the most viable option. The conversation involved our margin, potential site visitors, conversion rate, payment costs, staffing costs, average basket size and advertising/marketing budget. After we got grip of all these numbers and worked out a financial template, we agreed that the following assumptions and points would have to be further investigated:
Before any additional mark-up the initial business could be low-margin so it will be important to control costs.
We made assumptions on support costs and UK vs Japan-based staff. These would have to be validated.
It is important to test all the inputted data and update them as we start trading, for example average order sizes and conversion rates. Pirate analytics (yes, I said 'Pirate') will help as these allow you to track data on visitors, post per acquisition etc. A useful guide on start-up metrics can be found here.
Briefly, we also touched on a previous conversation about potential exit routes. Pitchbook news and Crunchbase were mentioned as good sources of news and information.
There's only one more session left and on in my final blog, for the benefit of prospective applicants, I will talk about how I feel you can get the best out of the scale-up course. Also, whilst we are talking about budgeting, inspired by all these spreadsheets and finance chat, we wrote a blog on budgeting for a trip to Japan.

Visit our website for more information about Innovating for Growth and how to register your interest for the next application round.
04 September 2019
Each quarter, we pick 18 high-growth businesses to take part in our Innovating for Growth: Scale-ups programme, where businesses receive £10,000 worth of tailored and bespoke business support and advice. Not only do businesses gain three months of guidance, they also receive automatic membership to our Growth Club and their own Relationship Manager.
This quarter, we're following Haroun, Director of JRPass, a train travel company for those exploring Japan by rail. Haroun will talk us through each session as he progresses through the programme to get the successes and challenges of what it's like to run a growing businesses. You can see Haroun's previous posts about product innovation, marketing strategy, branding and research and developing a growth strategy on our blog. In his latest diary entry, Haroun discusses what he learnt in his one-on-one session on financial management, a new module on the programme...
This week I had my financial management session with an adviser from MetaValue, a well-established business consulting firm. The adviser was very helpful and ever so patient as I peppered her with questions to the point that we overran our allotted session time. We covered a lot, including areas such as price sensitivity analysis and company structure. But the three main takeaways I had from our session were:
New Opportunity Margins
As I'm sure you can understand, I can't go into detail about this element of our discussion, but there is a good opportunity for an ambitious expansion for JRPass into a new area. In my one-on-one we looked at modelling the potential income, factoring in our suppositions and working out potential profit. This was useful in guiding us on how we test and tweak the model to help us achieve profitability. We have previously done some price sensitivity testing with services such as our meet and greet service.
Financial Plan
I actually laughed when this was mentioned as we have grown organically and haven't spent a lot of time on developing an actual plan for growth, however given that the business is now entering a new area we agreed that we should put together a strategy around the investment and costs required e.g. covering new hires and forecasts for pricing and volumes. I was provided with some example spreadsheets with pre-built formulae to do this as well as for the financial modelling that I previously mentioned. You can see one of these below. 

Exit Strategy
Our priority has always been to grow and scale-up the business, but it is also useful to hear about our options if we ever wish to exit. For founders of businesses, it is understandable that over a period of time, their ambitions can change, based on life events, market events, offers from other companies etc., so we need our governance to support this. We talked through a few scenarios and the advisor mentioned we should consider an independent valuation just for our internal use going forward. VC or Private Equity investment was mentioned and I agreed this wouldn't be right for JRPass as we enjoy working under our own direction, but potentially a trade sale could work. It is worth considering early on who potential minority shareholders/investors or future acquirers could be and, based on that, effectively growing the business so that it is attractive to them.
From this one-on-one, some conversations were a broad stroke and some in detail, but as with all of my sessions so far, I am finding it very useful to keep this all in mind as we scale-up.
Visit our website for more information about the programme and how to apply.
05 July 2017
So many small businesses lack IP awareness and understanding, but IP is something of an unsung hero and can prove critical in making or breaking a business.
The Business & IP Centre team are dedicated to helping entrepreneurs and SMEs understand what IP is and why it's important, what IP they might have created and how they might increase their business success and profitability by protecting and exploiting that IP in the future. Over the years the team have supported thousands of small businesses unlock the value of their IP, and much of the support we provide in the Centre uses case studies and real-life stories to demonstrate how having a handle on your IP gives you a huge commercial advantage.
One such example is Julie Deane OBE, founder of The Cambridge Satchel Company, who has taken her business from the kitchen table and a £600 start-up budget to a global success story with a turnover of £10 million. Along the way Julie has overcome numerous business challenges including managing designers, manufacturers and overseas distributors, establishing web and physical retail sites around the globe and dealing with thousands of imitator brands. Here, in a free 30 minute podcast with the Intellectual Property Office, Julie lays the truth bare on how she's developed strategies to tackle copycat websites, build the brand, keep putting the quality of the product at the heart of the business and "hang on to the passion that made you start the business in the first place."
 Here are our 3 'top tips' for what you need to know when it comes to your Intellectual Property:
Think about trade marks - Is your business name protectable in the countries that you wish to trade? Is it already being used or does the word have another meaning in a different country. Future investors will want to know that you have the rights to trade in the countries that they wish to trade in, and you need to consider this right from the start to give your business the best chance of success.
If you're creating a 'thing' - Do your research before filing for a patent; is there a market for your product? It is expensive and takes a long time to protect your idea so make sure you do your market research and can be confident that somebody will buy it at the end of the day. If you have paid for your product to be patented and want somebody to manufacture it for you, you also need to ensure you have agreements in place limiting their rights to your initial idea or design.
Founder's agreement - It is easy to set out a document with your business partner right at the start when setting up your business agreeing things like % of ownership and what should happen in the case of a dispute, or if one of you wish to sell then business and the other one doesn't. Once a dispute has started it is much harder and messier so you need to make sure all parties are clear on this from day one.
You can find further help, support and information on IP in any of the eleven Business & IP Centres up and down the country, including the British Library in King's Cross. Speak to any one of our specialist staff face-to-face, over the phone or by email. You can also log on to our free of charge online workshops to grow your knowledge about IP, and increase your chances of business success.
Julie Deane is Entrepreneur in Residence at the British Library and a huge champion for ambitious business owners. She recently gave advice and practical tips on Intellectual Property at the Library's Scale-up Summit alongside Will Butler-Adams, CEO of Brompton Bicycles. Cambridge Satchel and Brompton recently launched a range of colour-matching bags and bikes where the satchel fitted perfectly to the handlebars. This 'made-in-heaven' brand match caught the attention of the press and delivered extremely high sales. Will and Julie's opening keynote presentation on 'Getting your business in the media' was a great success too.
11 August 2016
Amplify are a trading firm that provide training and expertise for those interested in moving into the financial markets to become a trader. They have pioneered a new training programme, raising the industry standard for trading talent. We asked them about their unique approach to trading and how they have established their high-regarded reputation in the industry.
When was Amplify set up and what was it that inspired you to start the business?
We started Amplify in 2009 as a small trading firm in Canary Wharf. As we grew our team we wanted to create a new and better way to develop our new traders. Rather than relying on out-of-date models and theory, we wanted to revolutionise the way economics and finance were taught, using technology and experiential learning to make their training relevant to the markets today.
What challenges has the business faced along the way?
The industry is incredibly competitive and at first it was hard to make our mark. Reputation is everything, so we always tried to treat every person that has ever come into contact with Amplify with the upmost care and consideration.  This has meant growth has perhaps been slower than it could have been, but as we enter into our eighth year the hard work in building a reputation of quality and integrity is starting to pay off.
What has been the business's biggest achievement so far?
Many of the world's largest financial institutions, and some of the world's most prestigious academic institutions, use our technology to perform better and this is great justification of the value of what we do.  It's also excellent to see candidates that we have worked with landing some of the best roles in the industry, from central banks to hedge funds and investment banks. Receiving their feedback and seeing how well they have done is incredibly rewarding.
What one piece of advice would you give to any business owners struggling to take their business to the next level?
As soon as you can, hire an employee to manage the operation that you have built so you can get on with helping it grow.
You were successful applicants on our Innovating for Growth programme – how has it helped you?
The sessions during the three-month programme gave us an invaluable reminder to refocus on the bigger picture, along with giving us the necessary tools to create value from that focus.  For us the most useful elements were redefining our business strategy and implementation; making sure the whole team is aware of the business objectives and core values of the firm, and that all involved are on board in helping to achieve those objectives.
Finally, what's next on the horizon for Amplify?
Since the Innovating for Growth programme we have made our first hire abroad with our office in New York officially opening in September.  The co-founders have moved away from the London trading floor to be based in a separate location so we can be physically removed from the day-to-day running and focus on the growth objectives of the firm.  After New York opens in September, we start a road show in Hong Kong and Singapore this November.
Apply now for over £10,000 worth of business advice
Are you a start-up looking to scale up, like Amplify? Innovating for Growth is a fully funded three-month programme to help you turn your growth idea into a reality.
Covering everything from intellectual property to reaching new markets and branding, we'll guide you through every step of the way to help your business achieve its growth ambitions.
The programme is fully-funded by the European Regional Development Fund and the British Library.
29 July 2015
Books are migrating to e-readers, music is being streamed and accounting is now happening in the cloud. This is the quiet revolution that accountants whisper but dare not speak aloud. Accounting software is dead; it's online and upwards to the clouds. Online accounting has arrived.
It may sound a touch over the top but it's true. As a business, how you manage your books pretty much manages everything else. Your accounting is an important engine in your business. A well-oiled efficient system will reap rewards; a slow burner with too many miles will underperform and slow you down.
This is where online accounting in the cloud is so significant. Consigned to software history is the accounting package sold 'out of a box' installed onto your desktop, run on a local drive and perhaps backed up onto a different drive. It was fun while it lasted but now SMEs have multiple choices when it comes to doing their books.
And here lies the problem. Business owners are generally uncertain about how to choose an online accounting package that works for them. But help is at hand, outlined below are some helpful tips to help you decide on how to choose the best package.
Why choose online accounting?
It's easy to say the future is online but what are the actual advantages?
Firstly, you can access it anytime, anywhere and aren't bound to the PC in your office and you don't need to keep installing updates
Being on the cloud means information can be easier to share as well
It can save considerable time and keeps your records up to date
The question then is which online accounting package to choose? There are numerous packages you can subscribe to out there. Xero and Quickbooks are making inroads but there are lots of others too. There are well over thirty providers of online accounting, so choosing the right one for you can feel overwhelming. The best thing to do is to narrow your focus by asking yourself a few of the following questions:
How long has the software been around? In other words, is it market tested?
Is the software UK compatible? Can it deal with VAT? You will need a system that works effectively for VAT returns.
Can it work with multi-currencies (if you need to trade overseas)?
Can it integrate with other software easily (known as API) such as CRM or invoicing programmes?
Will it securely connect into your bank account? This can be very helpful when it comes to bank reconciliation and looking at a live picture of the financial state of your business.
What is the level of customer support? Are you able to call or use chat while online?
Having confidence in the provider you choose is important as they will be presenting all the data and running all the reports for you. Reports are your window into what's happening with the numbers in your business, so it's vital you can see what's going on clearly. It's best to see if your accounting software can run any of these types of reports clearly and effectively:
Profit and Loss reports
Balance Sheets (divided monthly)
Company snapshots
Debtors and Creditors
Product and Inventory reports (if needed)
Employee and payroll
Test, test, test
Most of the major online accounting platforms will give you a free trial. Riz Wasti from 2E Accountants and participant on the Innovating for Growth programme recommends you test the software first to see how it works for you. He suggests doing the following:
"Most online software offer 30 days trial period. That's your opportunity to test the software before relying on it. Use your real transactions, bank payments & receipts, sales invoices, bills and expenses, etc. Softwares will also have a Demo Company setup with data already entered. That's your opportunity to play with the software".
Migration to your online platform
Once you've selected the best online accounting package for you, do allow for time and some cost to migrate across from an existing platform. As ever, the devil is in the detail (and the numbers). Riz advises that:
"Migrating data from an existing system can be complicated. It's best to do it in stages, for example starting with sales invoices and bills in batches of months and reconcile bank statements for each month entered. The payment allocation process can be time consuming. Bank data can be uploaded in one go separately to sales and bills, but then bank payments need to match or be allocated."
All the more reason to do all the research you can on finding the right online accounting package for you. The effort is sure to be well worthwhile in the medium to long term for your business.
If, like most business owners, you sometimes feel confused about your finances in the business, the Business & IP Centre has help available: from how-to guides on running your business, to workshops including "Get Cashflow Confident" with our 'numbers coach', Johnny Martin.  
Jeremy O'Hare is a Relationship Manager for the British Library's Innovating for Growth programme, which provides £10,000 of fully-funded and tailored advice for businesses looking to grow. Since joining the British Library in 2005 he has worked with countless businesses, facilitating advice and research as well as providing workshops and information advice for start-ups and established businesses. 
12 January 2015
We all know that prevention is better than cure.  So, as the New Year gets under way here is a financial fitness checklist to help make sure you avoid catching a "cash" cold.
Time
Take your 2015 diary and block time out for Cash.  You will need time for a weekly, monthly and quarterly "meeting" both for personal finance and business finance.  The first step in any project is setting the time aside and the trick with finance is to make it a routine.  This is so important, which is why I allocated a whole chapter in my book "Understanding your Business Finances" to establishing financial routines.
Personal Budget
One of the biggest causes of business failure is out of control director's personal expense. I have seen it so many times trash otherwise successful businesses.  Sit down with your bank and credit card statements and work out a sensible budget.  Here is a good template from moneysavingexpert.
Directors' Loan Account
If you run a limited company, you can't just plunder the company bank account for personal expenses.  If you have a large balance owed to the company, you need to discuss it urgently.  There are significant tax penalties associated with this.
Terms of Trade
Make sure you have written Terms of Trade.  These set out your responsibilities, your customers and crucially, when you expect to get paid, and when ownership passes if you are selling goods.  If you haven't got Terms of Trade, get a copy of your competitors to see what kinds of things are included.
Business Agreements
Do you have any business arrangements that aren't in writing?  If so, confirm them by email and consider if they really should be in a legal agreement. I believe more cash is lost through bad documentation than any other reason.  This is especially true if you are undertaking a big project e.g. a database.  Again, I have seen this spiral out of control without documentation and agreed milestones.
VAT
When you register for VAT you become an unpaid tax collector.  However, it is then so easy to see lots of cash in the bank and think "Ok I can splash out!"  But it's NOT your money.  You will need that money when you do your VAT return – so why not open separate bank account for VAT and transfer an estimate of what you owe on a regular basis.  That way you won't get caught out.
Price
When was the last time you reviewed your prices? 80% of companies don't charge enough for what they do. Even a small increase in price can make a massive difference to profitability. Or perhaps mask a price increase by introducing a premium and budget range. 
Hire, Don't Buy
Save cash by hiring equipment rather than buying. Yes, it may be more expensive to hire but you will conserve precious cash resources as compared with buying. 
Cash Flow Forecast 
Finally, make sure you have a cash flow forecast going out at least 9-12 months into the future.  This will give enough time to do something if the forecast shows the business is in danger of running out of money, either because things aren't working out as anticipated, or the business is wildly successful but needs more working capital (money to fund stock and what's owed by customers).  There is a free forecasting template available at www.johnnymartin.co.uk  
If you do nothing else in 2015, at the very least set aside some time to look after your financial health and reduce the chance of catching a "cash" cold.
Johnny Martin FCA is an experienced Finance Director who now demystifies business numbers and jargon for business owners.  He is a partner at the British Library Business & IP Centre and runs a regular workshop Get Cash Flow Confident.  You can find his tools and templates and also his book "Understanding your Business Finances" at www.johnnymartin.co.uk
29 July 2014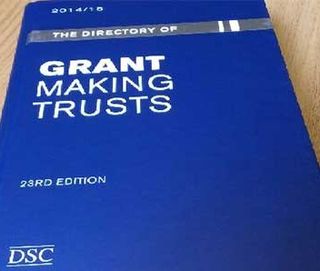 This is the 23rd edition of a book that is invaluable to fundraisers, charities, social entrepreneurs, community groups and anyone seeking funding for their project. The directory is annual and lists details of all the grant making bodies in the UK.

The organisations listed range from the small trusts set up for good causes to large funding organisations such as Children in Need.

Each entry outlines what is funded and not funded, ranges of grant available, sample grants within the last few years, names of trustees and the finances of the organisation. Guidance is also given on how to apply.

The directory in very comprehensive as it also includes organisations who say they don't want to be contacted on spec. The compliers leave them as it is a good indication of which organisations not to contact.

There are indexes of areas of funding (e.g. educational, special needs, arts, housing, health, recreation etc.). Also types of support (e.g. building, salaries, vehicles, equipment, project finance) and organisations that cover certain geographical regions within the UK and overseas.




Innovation and enterprise blog recent posts
Tweets by BIPC
Innovation and enterprise links
Other British Library blogs