28 April 2020
Comfortably one of the biggest pains starting or running a business is getting on top of all the business numbers and jargon. Johnny Martin's workshop Get cashflow confident aims to take away that fear of finance.
I'm an experienced Finance Director who now passionately explains business numbers and jargon. I'm also the author of Understanding Your Business Finances Workbook, entrepreneur in residence at the London College of Fashion and a mentor at the Royal College of Art.
I am based in Somerset where I run my own self-storage business and in my spare time, you can find me messing about on boats and off-road running.
"Demystifying business numbers to help you succeed in business."
What's covered in Get cashflow confident?
The workshop is currently being delivered via Zoom, whilst the British Library is shut. Whether the workshop is held virtually, or in person, it covers three key areas:
Understand the language
We cover the key financial reports i.e. profit and loss, cash flow and balance sheet and how they fit together.
Essential knowledge like the different types of profit, how to calculate break even and the importance of gross profit margin.
And we cover the biggest cause of confusion - why profit isn't the same as cash!
Forecasting
The main principles of forecasting and budgeting – often an area of considerable stress and anxiety.
How to forecast sales and the importance of sensitivity analysis.
How to use the Excel forecasting model
Top tips on financial management
Company administration like basics of VAT, online accounting systems and managing working capital.
Different trading formats e.g. sole trader vs limited company.
Business valuation and pre and post money valuations.
Who is this workshop for?
This is a practical and stress-free way to get the financial knowledge, confidence and tools to help you understand, forecast and manage when starting and growing a business. So if you are:
Uncertain about cash flow forecasting?
Feeling finance is getting out of control?
Confused by your accountant?
Struggling with your business model?
Apprehensive about VAT?
About to raise finance
Then my workshop will help you.
What to expect
By attending my workshop you will become more confident at:
Forecasting and managing your cash flow
Creating financial forecasts and projections
Understanding financial jargon and reports so you can communicate with investors and lenders
Day to day management of the financial function
Raising capital without getting caught out by investors
Understanding how to value your business
Financial management so you can avoid the common pitfalls facing your business such as working capital
I'll equip you with a range of practical tools and methods which you can implement straight away as well as a good foundation in business finance theory.
As part of the workshop, you will also receive
An Excel five year integrated forecast profit and loss and cash flow worth at least £400 for you to forecast your business
Copy of 90 minute video Talk Money worth £18
Workshop handouts, glossary and checklist
Post-workshop email support from me
"You must make commercial decisions based on what you know you can afford. Follow Johnny's clear and practical, simple to follow advice to help you thoroughly understand how business finances work."
— Lara Morgan – Founder of Pacific Direct, Startup Britain, UKTI ambassador
Visit the BIPC's workshops and events page to view all upcoming workshops, webinars and events.
09 October 2019
Each quarter, we pick 18 high-growth businesses to take part in our Innovating for Growth: Scale-ups programme, where businesses receive £10,000 worth of tailored and bespoke business support and advice. Not only do businesses gain three months of guidance, they also receive automatic membership to our Growth Club and their own Relationship Manager.
This quarter, we're following Haroun, Director of JRPass, a train travel company for those exploring Japan by rail. Haroun will talk us through each session as he progresses through the programme to get the successes and challenges of what it's like to run a growing businesses. You can see Haroun's previous posts about product innovation 1:1, intellectual property 1:1, marketing, branding, intellectual property, financial management, product innovation, marketing strategy, branding and research and developing a growth strategy on our blog. In his latest diary entry, Haroun has his second session on financial management...
If you have been following the blog you will know that at JRPass we are in the midst of planning another website offering new services. Over the past few months we have used the sessions on branding, marketing and product innovation to develop this further. This time, the second of the finance sessions, was really helpful as we dived in-depth into modelling with the adviser from Metavalue.
We have a couple of options on new partnerships for the website, so the main focus of the discussion was which of these would be the most viable option. The conversation involved our margin, potential site visitors, conversion rate, payment costs, staffing costs, average basket size and advertising/marketing budget. After we got grip of all these numbers and worked out a financial template, we agreed that the following assumptions and points would have to be further investigated:
Before any additional mark-up the initial business could be low-margin so it will be important to control costs.
We made assumptions on support costs and UK vs Japan-based staff. These would have to be validated.
It is important to test all the inputted data and update them as we start trading, for example average order sizes and conversion rates. Pirate analytics (yes, I said 'Pirate') will help as these allow you to track data on visitors, post per acquisition etc. A useful guide on start-up metrics can be found here.
Briefly, we also touched on a previous conversation about potential exit routes. Pitchbook news and Crunchbase were mentioned as good sources of news and information.
There's only one more session left and on in my final blog, for the benefit of prospective applicants, I will talk about how I feel you can get the best out of the scale-up course. Also, whilst we are talking about budgeting, inspired by all these spreadsheets and finance chat, we wrote a blog on budgeting for a trip to Japan.

Visit our website for more information about Innovating for Growth and how to register your interest for the next application round.
04 September 2019
Each quarter, we pick 18 high-growth businesses to take part in our Innovating for Growth: Scale-ups programme, where businesses receive £10,000 worth of tailored and bespoke business support and advice. Not only do businesses gain three months of guidance, they also receive automatic membership to our Growth Club and their own Relationship Manager.
This quarter, we're following Haroun, Director of JRPass, a train travel company for those exploring Japan by rail. Haroun will talk us through each session as he progresses through the programme to get the successes and challenges of what it's like to run a growing businesses. You can see Haroun's previous posts about product innovation, marketing strategy, branding and research and developing a growth strategy on our blog. In his latest diary entry, Haroun discusses what he learnt in his one-on-one session on financial management, a new module on the programme...
This week I had my financial management session with an adviser from MetaValue, a well-established business consulting firm. The adviser was very helpful and ever so patient as I peppered her with questions to the point that we overran our allotted session time. We covered a lot, including areas such as price sensitivity analysis and company structure. But the three main takeaways I had from our session were:
New Opportunity Margins
As I'm sure you can understand, I can't go into detail about this element of our discussion, but there is a good opportunity for an ambitious expansion for JRPass into a new area. In my one-on-one we looked at modelling the potential income, factoring in our suppositions and working out potential profit. This was useful in guiding us on how we test and tweak the model to help us achieve profitability. We have previously done some price sensitivity testing with services such as our meet and greet service.
Financial Plan
I actually laughed when this was mentioned as we have grown organically and haven't spent a lot of time on developing an actual plan for growth, however given that the business is now entering a new area we agreed that we should put together a strategy around the investment and costs required e.g. covering new hires and forecasts for pricing and volumes. I was provided with some example spreadsheets with pre-built formulae to do this as well as for the financial modelling that I previously mentioned. You can see one of these below. 

Exit Strategy
Our priority has always been to grow and scale-up the business, but it is also useful to hear about our options if we ever wish to exit. For founders of businesses, it is understandable that over a period of time, their ambitions can change, based on life events, market events, offers from other companies etc., so we need our governance to support this. We talked through a few scenarios and the advisor mentioned we should consider an independent valuation just for our internal use going forward. VC or Private Equity investment was mentioned and I agreed this wouldn't be right for JRPass as we enjoy working under our own direction, but potentially a trade sale could work. It is worth considering early on who potential minority shareholders/investors or future acquirers could be and, based on that, effectively growing the business so that it is attractive to them.
From this one-on-one, some conversations were a broad stroke and some in detail, but as with all of my sessions so far, I am finding it very useful to keep this all in mind as we scale-up.
Visit our website for more information about the programme and how to apply.
05 July 2017
So many small businesses lack IP awareness and understanding, but IP is something of an unsung hero and can prove critical in making or breaking a business.
The Business & IP Centre team are dedicated to helping entrepreneurs and SMEs understand what IP is and why it's important, what IP they might have created and how they might increase their business success and profitability by protecting and exploiting that IP in the future. Over the years the team have supported thousands of small businesses unlock the value of their IP, and much of the support we provide in the Centre uses case studies and real-life stories to demonstrate how having a handle on your IP gives you a huge commercial advantage.
One such example is Julie Deane OBE, founder of The Cambridge Satchel Company, who has taken her business from the kitchen table and a £600 start-up budget to a global success story with a turnover of £10 million. Along the way Julie has overcome numerous business challenges including managing designers, manufacturers and overseas distributors, establishing web and physical retail sites around the globe and dealing with thousands of imitator brands. Here, in a free 30 minute podcast with the Intellectual Property Office, Julie lays the truth bare on how she's developed strategies to tackle copycat websites, build the brand, keep putting the quality of the product at the heart of the business and "hang on to the passion that made you start the business in the first place."
 Here are our 3 'top tips' for what you need to know when it comes to your Intellectual Property:
Think about trade marks - Is your business name protectable in the countries that you wish to trade? Is it already being used or does the word have another meaning in a different country. Future investors will want to know that you have the rights to trade in the countries that they wish to trade in, and you need to consider this right from the start to give your business the best chance of success.
If you're creating a 'thing' - Do your research before filing for a patent; is there a market for your product? It is expensive and takes a long time to protect your idea so make sure you do your market research and can be confident that somebody will buy it at the end of the day. If you have paid for your product to be patented and want somebody to manufacture it for you, you also need to ensure you have agreements in place limiting their rights to your initial idea or design.
Founder's agreement - It is easy to set out a document with your business partner right at the start when setting up your business agreeing things like % of ownership and what should happen in the case of a dispute, or if one of you wish to sell then business and the other one doesn't. Once a dispute has started it is much harder and messier so you need to make sure all parties are clear on this from day one.
You can find further help, support and information on IP in any of the eleven Business & IP Centres up and down the country, including the British Library in King's Cross. Speak to any one of our specialist staff face-to-face, over the phone or by email. You can also log on to our free of charge online workshops to grow your knowledge about IP, and increase your chances of business success.
Julie Deane is Entrepreneur in Residence at the British Library and a huge champion for ambitious business owners. She recently gave advice and practical tips on Intellectual Property at the Library's Scale-up Summit alongside Will Butler-Adams, CEO of Brompton Bicycles. Cambridge Satchel and Brompton recently launched a range of colour-matching bags and bikes where the satchel fitted perfectly to the handlebars. This 'made-in-heaven' brand match caught the attention of the press and delivered extremely high sales. Will and Julie's opening keynote presentation on 'Getting your business in the media' was a great success too.
11 August 2016
Amplify are a trading firm that provide training and expertise for those interested in moving into the financial markets to become a trader. They have pioneered a new training programme, raising the industry standard for trading talent. We asked them about their unique approach to trading and how they have established their high-regarded reputation in the industry.
When was Amplify set up and what was it that inspired you to start the business?
We started Amplify in 2009 as a small trading firm in Canary Wharf. As we grew our team we wanted to create a new and better way to develop our new traders. Rather than relying on out-of-date models and theory, we wanted to revolutionise the way economics and finance were taught, using technology and experiential learning to make their training relevant to the markets today.
What challenges has the business faced along the way?
The industry is incredibly competitive and at first it was hard to make our mark. Reputation is everything, so we always tried to treat every person that has ever come into contact with Amplify with the upmost care and consideration.  This has meant growth has perhaps been slower than it could have been, but as we enter into our eighth year the hard work in building a reputation of quality and integrity is starting to pay off.
What has been the business's biggest achievement so far?
Many of the world's largest financial institutions, and some of the world's most prestigious academic institutions, use our technology to perform better and this is great justification of the value of what we do.  It's also excellent to see candidates that we have worked with landing some of the best roles in the industry, from central banks to hedge funds and investment banks. Receiving their feedback and seeing how well they have done is incredibly rewarding.
What one piece of advice would you give to any business owners struggling to take their business to the next level?
As soon as you can, hire an employee to manage the operation that you have built so you can get on with helping it grow.
You were successful applicants on our Innovating for Growth programme – how has it helped you?
The sessions during the three-month programme gave us an invaluable reminder to refocus on the bigger picture, along with giving us the necessary tools to create value from that focus.  For us the most useful elements were redefining our business strategy and implementation; making sure the whole team is aware of the business objectives and core values of the firm, and that all involved are on board in helping to achieve those objectives.
Finally, what's next on the horizon for Amplify?
Since the Innovating for Growth programme we have made our first hire abroad with our office in New York officially opening in September.  The co-founders have moved away from the London trading floor to be based in a separate location so we can be physically removed from the day-to-day running and focus on the growth objectives of the firm.  After New York opens in September, we start a road show in Hong Kong and Singapore this November.
Apply now for over £10,000 worth of business advice
Are you a start-up looking to scale up, like Amplify? Innovating for Growth is a fully funded three-month programme to help you turn your growth idea into a reality.
Covering everything from intellectual property to reaching new markets and branding, we'll guide you through every step of the way to help your business achieve its growth ambitions.
The programme is fully-funded by the European Regional Development Fund and the British Library.
29 July 2015
Books are migrating to e-readers, music is being streamed and accounting is now happening in the cloud. This is the quiet revolution that accountants whisper but dare not speak aloud. Accounting software is dead; it's online and upwards to the clouds. Online accounting has arrived.
It may sound a touch over the top but it's true. As a business, how you manage your books pretty much manages everything else. Your accounting is an important engine in your business. A well-oiled efficient system will reap rewards; a slow burner with too many miles will underperform and slow you down.
This is where online accounting in the cloud is so significant. Consigned to software history is the accounting package sold 'out of a box' installed onto your desktop, run on a local drive and perhaps backed up onto a different drive. It was fun while it lasted but now SMEs have multiple choices when it comes to doing their books.
And here lies the problem. Business owners are generally uncertain about how to choose an online accounting package that works for them. But help is at hand, outlined below are some helpful tips to help you decide on how to choose the best package.
Why choose online accounting?
It's easy to say the future is online but what are the actual advantages?
Firstly, you can access it anytime, anywhere and aren't bound to the PC in your office and you don't need to keep installing updates
Being on the cloud means information can be easier to share as well
It can save considerable time and keeps your records up to date
The question then is which online accounting package to choose? There are numerous packages you can subscribe to out there. Xero and Quickbooks are making inroads but there are lots of others too. There are well over thirty providers of online accounting, so choosing the right one for you can feel overwhelming. The best thing to do is to narrow your focus by asking yourself a few of the following questions:
How long has the software been around? In other words, is it market tested?
Is the software UK compatible? Can it deal with VAT? You will need a system that works effectively for VAT returns.
Can it work with multi-currencies (if you need to trade overseas)?
Can it integrate with other software easily (known as API) such as CRM or invoicing programmes?
Will it securely connect into your bank account? This can be very helpful when it comes to bank reconciliation and looking at a live picture of the financial state of your business.
What is the level of customer support? Are you able to call or use chat while online?
Having confidence in the provider you choose is important as they will be presenting all the data and running all the reports for you. Reports are your window into what's happening with the numbers in your business, so it's vital you can see what's going on clearly. It's best to see if your accounting software can run any of these types of reports clearly and effectively:
Profit and Loss reports
Balance Sheets (divided monthly)
Company snapshots
Debtors and Creditors
Product and Inventory reports (if needed)
Employee and payroll
Test, test, test
Most of the major online accounting platforms will give you a free trial. Riz Wasti from 2E Accountants and participant on the Innovating for Growth programme recommends you test the software first to see how it works for you. He suggests doing the following:
"Most online software offer 30 days trial period. That's your opportunity to test the software before relying on it. Use your real transactions, bank payments & receipts, sales invoices, bills and expenses, etc. Softwares will also have a Demo Company setup with data already entered. That's your opportunity to play with the software".
Migration to your online platform
Once you've selected the best online accounting package for you, do allow for time and some cost to migrate across from an existing platform. As ever, the devil is in the detail (and the numbers). Riz advises that:
"Migrating data from an existing system can be complicated. It's best to do it in stages, for example starting with sales invoices and bills in batches of months and reconcile bank statements for each month entered. The payment allocation process can be time consuming. Bank data can be uploaded in one go separately to sales and bills, but then bank payments need to match or be allocated."
All the more reason to do all the research you can on finding the right online accounting package for you. The effort is sure to be well worthwhile in the medium to long term for your business.
If, like most business owners, you sometimes feel confused about your finances in the business, the Business & IP Centre has help available: from how-to guides on running your business, to workshops including "Get Cashflow Confident" with our 'numbers coach', Johnny Martin.  
Jeremy O'Hare is a Relationship Manager for the British Library's Innovating for Growth programme, which provides £10,000 of fully-funded and tailored advice for businesses looking to grow. Since joining the British Library in 2005 he has worked with countless businesses, facilitating advice and research as well as providing workshops and information advice for start-ups and established businesses. 
12 January 2015
We all know that prevention is better than cure.  So, as the New Year gets under way here is a financial fitness checklist to help make sure you avoid catching a "cash" cold.
Time
Take your 2015 diary and block time out for Cash.  You will need time for a weekly, monthly and quarterly "meeting" both for personal finance and business finance.  The first step in any project is setting the time aside and the trick with finance is to make it a routine.  This is so important, which is why I allocated a whole chapter in my book "Understanding your Business Finances" to establishing financial routines.
Personal Budget
One of the biggest causes of business failure is out of control director's personal expense. I have seen it so many times trash otherwise successful businesses.  Sit down with your bank and credit card statements and work out a sensible budget.  Here is a good template from moneysavingexpert.
Directors' Loan Account
If you run a limited company, you can't just plunder the company bank account for personal expenses.  If you have a large balance owed to the company, you need to discuss it urgently.  There are significant tax penalties associated with this.
Terms of Trade
Make sure you have written Terms of Trade.  These set out your responsibilities, your customers and crucially, when you expect to get paid, and when ownership passes if you are selling goods.  If you haven't got Terms of Trade, get a copy of your competitors to see what kinds of things are included.
Business Agreements
Do you have any business arrangements that aren't in writing?  If so, confirm them by email and consider if they really should be in a legal agreement. I believe more cash is lost through bad documentation than any other reason.  This is especially true if you are undertaking a big project e.g. a database.  Again, I have seen this spiral out of control without documentation and agreed milestones.
VAT
When you register for VAT you become an unpaid tax collector.  However, it is then so easy to see lots of cash in the bank and think "Ok I can splash out!"  But it's NOT your money.  You will need that money when you do your VAT return – so why not open separate bank account for VAT and transfer an estimate of what you owe on a regular basis.  That way you won't get caught out.
Price
When was the last time you reviewed your prices? 80% of companies don't charge enough for what they do. Even a small increase in price can make a massive difference to profitability. Or perhaps mask a price increase by introducing a premium and budget range. 
Hire, Don't Buy
Save cash by hiring equipment rather than buying. Yes, it may be more expensive to hire but you will conserve precious cash resources as compared with buying. 
Cash Flow Forecast 
Finally, make sure you have a cash flow forecast going out at least 9-12 months into the future.  This will give enough time to do something if the forecast shows the business is in danger of running out of money, either because things aren't working out as anticipated, or the business is wildly successful but needs more working capital (money to fund stock and what's owed by customers).  There is a free forecasting template available at www.johnnymartin.co.uk  
If you do nothing else in 2015, at the very least set aside some time to look after your financial health and reduce the chance of catching a "cash" cold.
Johnny Martin FCA is an experienced Finance Director who now demystifies business numbers and jargon for business owners.  He is a partner at the British Library Business & IP Centre and runs a regular workshop Get Cash Flow Confident.  You can find his tools and templates and also his book "Understanding your Business Finances" at www.johnnymartin.co.uk
29 July 2014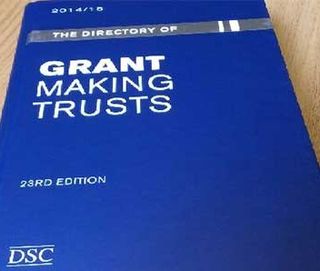 This is the 23rd edition of a book that is invaluable to fundraisers, charities, social entrepreneurs, community groups and anyone seeking funding for their project. The directory is annual and lists details of all the grant making bodies in the UK.

The organisations listed range from the small trusts set up for good causes to large funding organisations such as Children in Need.

Each entry outlines what is funded and not funded, ranges of grant available, sample grants within the last few years, names of trustees and the finances of the organisation. Guidance is also given on how to apply.

The directory in very comprehensive as it also includes organisations who say they don't want to be contacted on spec. The compliers leave them as it is a good indication of which organisations not to contact.

There are indexes of areas of funding (e.g. educational, special needs, arts, housing, health, recreation etc.). Also types of support (e.g. building, salaries, vehicles, equipment, project finance) and organisations that cover certain geographical regions within the UK and overseas.




16 July 2014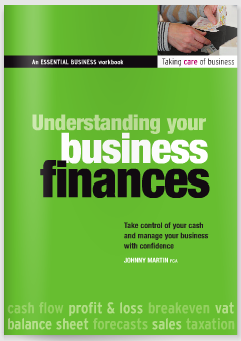 It is something of a cliché to say that most new business fail due to cash-flow problems. But it is also a truism.
Johnny Martin has made it his mission to get business startups to understand how their business finances work, or to use his words, "take control of your cash and manage your business with confidence".
In addition to his monthly workshops in the Business & IP Centre at The British Library he has now published a book. Understanding your business finances is part of the 'Essential Business workbook' series published by Cobweb, who also produce the essential Cobra database.
Johnny understands how most people starting a business are intimidated by the financial aspects and often hide their heads in the sand.
"Many people come unstuck when they start a business because they don't know what the numbers are telling them. Some don't even have any numbers to work with! Others manage to get through the early days create a really successful business, only to be ripped off by a so-called business partner who is 'dealing with the money'. (And believe me that happens a lot.)"
Johnny has worked hard to ensure the language, writing style, fonts and page layout of the book are as clear and simple he can, to make this vital knowledge as accessible as possible.
The content is divided into twelve chapters with a worksheet in each one, to turn the theory into practice:
Introducing the three key financial reports - Cash flow forecast - Profit and Loss report - Balance Sheet
Understanding the business model
Forecasting sales - researching your market and competitors - setting your process to make a profit
Getting to breakeven - fixed and variable costs - calculating your breakeven point
The profit and loss report (the P&L)
Introducing VAT
The difference between cash and profit
No one goes bust with money in the bank - monitoring and understanding your cash flow
Balance sheets and accounting principles - understanding the balance sheet
An introduction to financing your business - what type of funding is suitable for your business - sources of business finance
Day-to-day accounting in your business - who can help you with your accounting
Putting all you've learned into practice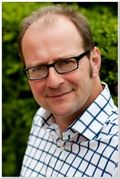 He has also include a 'Jargon buster' at the end covering topics from Accrual accounting to Working capital.
I will end this short review with another cliché, this time from the publishing world. 'Everyone should read this book'. Except in this case it really is true. If everyone starting or running a small business were to read and understand this book, the number of business failures would be significantly reduced. Resulting in a stronger economy and happier entrepreneurs and their families.
"You CAN do this stuff. It's sill okay to delegate finance to accountants or key members of staff, but don't abdicate the responsibility completely. No one is going to look after your interests better than you." Johnny Martin
Neil Infield on behalf of Business & IP Centre
11 July 2014
The statistics for small business failure make for grim reading. It's a fact that fewer than four in ten businesses survive past the first critical three years of trading to become sustainable. That's a lot of time, money and ruined dreams that could so easily have been avoided.
I've worked with many businesses here at the Business & IP Centre from early stage to high growth and have found that there are some key things to do at the early stage that will significantly reduce the odds of failure and even grow to real success. In fact our research has shown that using our resources and networks will reduce the chance of business failure to less than one in ten.

Firstly, one should remember when starting that the most important asset in the business is you. So it's vital that you're realistic with yourself and have your feet firmly on the ground. No matter what type of business you start or invention you want to exploit, it goes without saying that just because it's your idea, it doesn't mean it's a commercial idea and will make you money.
So you need to be vigilant and do everything you possibly can to minimise risk, but how?
There's no shame in knowing what you don't know.  As a business owner you will need to wear so many hats and have a wide skill set that it can feel daunting. But being an all-rounder doesn't mean you have to be brilliant at everything either (not everybody with sales skills makes a good marketer) but you sure need to understand some basic principles and practice for a lot areas.
A keen desire to pick up as much information and advice along the way is crucial. Thankfully you aren't alone. Many at the Business & IP Centre have benefitted from accessible, down to earth workshops that tell you the most important things you need to know, be it marketing or finance.
You can Get Cashflow Confident or grow your business online with our Marketing Masterclass Perfect for anyone exploring the possibility of a new business is our Start-up Saturday workshop  too.
Workshops are great opportunities to share experience and meet others too. You can start to create your own network of contacts to help you in all the areas you need to know. It may well become your lifeline.
Secondly one should find out as much as you can about the market you're moving into. Proper research is your gateway to better opportunities. To have a serious business someone needs to buy your dazzling new product or life enhancing service and it sure helps to know whom. Market research does just this by identifying consumer profiles, average spend, size of the market place, threats, opportunities and forecasts. All this is information gold-dust at an early stage that will save you so much time and money in the long run, even if it's as simple as helping to guide you on the right marketing strategy.
Published content by some of the larger researchers out there is beyond the budget for most early

stage businesses. The Business & IP Centre has taken this problem out of the equation by making freely available to its walk in users over £5 million worth of quality research on all major sectors and a good many small ones too.  What's more our Information Specialists in the Centre will point you in the right direction and show you what you need to know.
And thirdly one should ensure your new venture will need to be as safe from risk as possible. Getting the right legal structure and necessary insurance in place at an early stage will save you huge bills and endless stress later. Understanding what you need to do doesn't have to be as complicated as it sounds. A database in the Centre called COBRA (Complete Business Reference Advisor) tells you in plain English many of the legalities and insurance issues you'll need to address among other topics.
One should always consider what Intellectual Property there may be in the business too. Our Intellectual Property workshops and advice help to break down and explain how you can address this important asset in any business.

So addressing these issues will ensure your first step is a sure one. Of course there's much more to build on from here but these issues are absolutely fundamental to the viability of any venture.
Finally, I would suggest not throwing all your eggs in one basket. Don't quit your job just yet especially if you haven't even had a single sale! It's good practice to test and refine your proposition with a few customers that helps to prove the concept.
Remember, there's never a shortage of help and advice to guide you, so help yourself to reduce the odds of failure.
Jeremy O'Hare is a Relationship Manager for the British Library's Innovating for Growth programme, which provides £10,000 of fully-funded and tailored advice for businesses looking to grow programme.
Innovation and enterprise blog recent posts
Tweets by BIPC
Innovation and enterprise links
Other British Library blogs