01 October 2019
Start-up Day takes place on 11 October and the libraries involved in our brand new Start-ups in London Libraries programme did not want to miss out on being a part of the BIPC's biggest day of the year. For the first time ever, events will not only be taking place across the country in our BIPCs but also in the SiLL London boroughs - Bexley, Croydon, Greenwich, Haringey, Lambeth, Lewisham, Newham, Southwark, Tower Hamlets and Waltham Forest. The London boroughs have drawn on their local resources and localised knowledge to bring specific start-up advice to each of their business communities. 
Start up Day of 2019 has now taken place but you can find some of the recorded highlights from the events that proceeded during that years Start up Day from this blog by the Business & IP Centre.
There are activities going on from morning to evening across our partner boroughs. For more details, have a look below and click on any of the links to register our place in your local borough:
Morning
Some of our boroughs are taking part in our co-ordinated coffee morning which is a great chance for networking and to meet your local Champion. If you are close to Walthamstow Library, Brixton Library, the Woolwich Centre or Bexley's Central Library, register your place at these links and pop along for a coffee and a chat.
If you're looking for advice on digital marketing, stay on at Woolwich Library for a workshop on the topic, which will aim to help you identify the right channels for your business and give you advice on building your digital community through them. This is followed by a workshop on personal branding between 13.30 and 14.30.
From 10.30-13.00, Croydon will be having a mammoth Start-up Roadshow, with local exhibitors, such as Croydon Enterprise Loan Fund and Croydon Business Hub, and organisations like Santander who will be on-hand to offer guidance and advice. It's also a great opportunity to network so make sure to book your spot if you are near South London and head to Croydon Central Library for that.
Between 11.00-12.00 and 14.00-15.00, Tower Hamlets will be running introductory sessions to the library business resources at Idea Store Whitechapel. These workshops will take you through key information sources accessible in your library that can help enhance your business performance. Attendees can also use their own smartphones to access the Council website and be guided by staff to some of the services that have moved online. To request more information on Tower Hamlets' Start-up Day offering, please email the local Champion.
Afternoon
If you aren't able to make it to the British Library for our jam packed afternoon of talks, some of the borough libraries are live streaming the panels and speeches direct to their libraries. You can find these at:
If you need help researching your market and protecting your idea, some of the boroughs are focusing on COBRA – the Complete Business Reference Advisor – Southwark is running a whole day training session on the system which you can book for here, while Newham is running a session on the system as well which is bookable here.
Lambeth's afternoon session will be between 12.00 and 13.45 and will be led by Drew London, a Lambeth-based branding and digital communications agency. The masterclass will be on branding and digital communications so head to Brixton Library if this is an area you are looking to focus on and are looking for tried and tested advice.
Lewisham will be hosting Santander who will give a talk on several topics such as cybersecurity (14.00 – 14.45), funding and finance (15.00 – 15.45) and starting a business on a shoestring (16.00 – 16.45) at Lewisham Library. With time for questions, it is sure to be a comprehensive afternoon with expert advice on starting up.
Evening
We are not 9-5 people in the boroughs so we also have some events taking place in the evening. If you are based near Haringey, there will be a talk on how to grow your Business and Client Base using Digital Media with local partners from Visual Marvelry, 4U2 and Frame Perfect
SEO is a term that can be thrown around yet still remain a bit of a mystery, yet it's integral to getting your business' name out there. Newham aim to help debunk it by running an evening talk by SEO expert, Mike Loomey, on making the most of Google for your business.
Lewisham will be hosting evening networking drinks between 17.00-18.00, while Lambeth's drinks event is in collaboration with Brixton Bid until 18.30.
So whether you decide to hop around different boroughs on the day or choose one and soak up everything that borough has to offer, Start-up Day is sure to have something that will set you on the road to making your idea a reality.
You can find a round up each of the borough's booking links (where applicable) below:
20 September 2019
Each quarter, we pick 18 high-growth businesses to take part in our Innovating for Growth: Scale-ups programme, where businesses receive £10,000 worth of tailored and bespoke business support and advice. Not only do businesses gain three months of guidance, they also receive automatic membership to our Growth Club and their own Relationship Manager.
This quarter, we're following Haroun, Director of JRPass, a train travel company for those exploring Japan by rail. Haroun will talk us through each session as he progresses through the programme to get the successes and challenges of what it's like to run a growing businesses. You can see Haroun's previous posts about marketing, branding, intellectual property, financial management, product innovation, marketing strategy, branding and research and developing a growth strategy on our blog. In his latest diary entry, Haroun has his second session on intellectual property with Briffa...
In the previous session we chatted about IP and Data Protection issues in general (you can see what I got out of the session in my previous blog on IP) and since then I have ensured that our agreements with third-parties and employee contracts reflect the IP and data considerations that were raised. This week we concentrated fully on trademark registration as we have been trading a while across many territories and it is something we have dipped our toe into, but only in the UK.
For the UK we covered the steps needed to successfully pass an UKIPO examiner and which classes we should be considering (you can see more guidance on trade marks on the .Gov website). We then talked about international trademarks as the market for JRPass is worldwide, with customers across the US, EU and Asia, so this is a logical step for us. The requirements vary widely according to national authority and some may be prohibitive cost-wise so you need to pick and choose carefully. The most cost-effective way of seeking protection in a number of territories (more than one or two) is to go through the World Intellectual Property Office or WIPO, which offers international trade mark protection. To do so you need an existing trade mark application in any one jurisdiction (EU or UK for example) to use as a 'base filing', you then pay a fixed fee to WIPO to access their system, and you can then choose to 'designate' any of the WIPO signatory states. Your base filing will then effectively be duplicated in these territories. 
The adviser told me that going through WIPO allows you to save considerable fees if you are filing in a large number of territories, as it is often cheaper than applying directly to the relevant IPO, and instructing local counsel. A WIPO mark can be filed here in the UK, which means that you do not have only have to deal with offices for each individual territory. If you only need one or two foreign registrations then it may be best to apply directly. Most IP firms work with foreign filing agents who can act as representatives in that case.
Not related to the session, but still talking about logos... I have been using the design marketplace 99designs recently and had a good experience, so would recommend giving it a go if anyone is in the market for new branding. Also, as I write this, it is the eve of the Rugby World Cup with Japan vs Russia kicking off the opening game! It is already an incredibly busy time for us in the office. Hoping it will be a great tournament for all. To find out more about how JRPass can help with travel during the World Cup, you can visit our website for more information.
Visit our website for more information about Innovating for Growth and how to register your interest for the next application round.
06 September 2019
Each quarter, we pick 18 high-growth businesses to take part in our Innovating for Growth: Scale-ups programme, where businesses receive £10,000 worth of tailored and bespoke business support and advice. Not only do businesses gain three months of guidance, they also receive automatic membership to our Growth Club and their own Relationship Manager.
This quarter, we're following Haroun, Director of JRPass, a train travel company for those exploring Japan by rail. Haroun will talk us through each session as he progresses through the programme to get the successes and challenges of what it's like to run a growing businesses. You can see Haroun's previous posts about financial management, product innovation, marketing strategy, branding and research and developing a growth strategy on our blog. In his latest diary entry, Haroun discusses what he learnt in his one-on-one session on intellectual property and how it's important to every business...
Again this session was really packed and I had a lot of questions for our advisor from Briffa who are Intellectual Property legal specialists. We covered the following main areas:
Copyright – Since the founding of the company we have used a lot of designers for our website. Many get caught by this, but the default position for designs is that copyright remains with the designer unless signed over. We discussed having everything in place contractually for our external contributors to sign over rights as necessary.
Trademarks – We discussed our current situation with regards to current trademarks and opportunities going forward both in the UK and US now that our website is well established. This is really important when you have spent a lot of time and money in creating a brand. You need to protect that goodwill and mind-space effectively.
Commercial Contracts – We reviewed our external contracts with third parties e.g. developers to ensure that our IP is fully protected and cannot be exploited by others.
Data Protection – I'm sure we have all been grappling with GDPR ad nauseam and Data Privacy! Once again we reviewed and ensured that we had proper policies in place that are tailored for your specific company, and reflected this in our terms and conditions and on our website. For us, as a company who depends on online payments, this also feeds into PSD2 and SCA changes which are coming in September (you can read more about the changes here: https://www.visa.co.uk/dam/VCOM/regional/ve/unitedkingdom/PDF/visa-preparing-for-psd2-sca-publication-version-1-1-05-12-18-002-final.pdf).
HR – We agreed to review and incorporate IP and Data Protection in our employee contracts. This is something that did not occur to me previously so was good to catch this one.
As you can see there was a ton covered here and a lot of i's to dot and t's to cross that can affect your daily working practices. I think we have been ok with these areas previously, but as any company expands rapidly it is easy to lose sight of these basic legal protections and responsibilities to the point that it could easily prove to be a banana skin down the road. It's the type of thing that many companies just kick down the road or ignore until it's too late as we all would prefer to concentrate on the fundamental nuts and bolts of our companies. However it is really important to make sure this is all organised competently and safely, and this session really brought that home.
Visit our website for more information about the programme and how to apply.
07 August 2019
Rose Hill is a graphic artist who has garnered renown for her personal commissions and her 'Make Your Pet Famous' series. She trained as a textile designer at the Chelsea University of Arts and took part in the BIPC's Innovating for Growth programme in 2015. Here, in celebration of International Cat Day, she shares how furry friends have shaped her work and business. 
What is your business? 
I'm Rose, a graphic artist. I create award-winning Pop Art designs - from painted murals to my personally commissioned 'Make Your Pet Famous' artworks which are now sold in Harrods. My 'Make Your Pet Famous' collection is where I illustrate your pet in my Pop Art style. Each piece is lovingly designed in North London and made in England. 
What inspires your work?
I love creating art and am particularly keen that my work brings people joy and pleasure. The art I create is fun and approachable and it aims to reflect what you like best about the world around you, which, let's face it, more often that not, is your pets! The colour palettes I use are very bright, which is important because of the effect that colour can have on your mood. 
Pattern and texture is also a big inspiration in my work. Each piece of artwork has 64 geometric patterns layered into it. I hand draw every pet using a Surface Pro laptop. It allows me to draw straight onto the computer screen as if it was a pen and paper. Using a variety of drawing techniques including line drawings, I assemble together every element of their face and body and then insert the different colours and tones of patterns in each feature and change the opacity of each of them to give depth and tone. All have at least 10 layers and most have considerably more. I love mixing the modern technology with the traditional style of craftmanship. To add to that, each work is printed onto brushed paper to make it look like it is on fabric.
Seeing the customer's reaction after I've taken them on the creative journey with me from start to finish is also very inspirational.
How did you put your offer together and find customers?
The process of getting customers for Make Your Pet Famous was very organic. A customer commissioned me to draw their dog, Lola. At that time I had 11 dogs in my card and stationery collection and needed 12 for my first Trade Show. So I asked if I could use Lola in my collection. They loved the idea and so did everyone else! When I was at trade shows and would explain about Lola, people would ask if I could draw their dog too and add to my next collection. This continued to happen and after five more commissions I thought there was something in this. They would say 'You'll make my dog famous' and so that's how the name came about.
I got some lovely recommendations and positive feedback and the word began to spread more. Word of mouth has been a big part of me finding customers because normally when people get their works, they are so delighted they immediately tell their friends about it! This led to my 'Make Your Pet Famous' exhibitions which built on this relationship between humans and pets at a live event. And of course, social media is a wonderful way to meet people and connect with people. 
How did the Business & IP Centre fit in to your business journey?
I completed the Innovating for Growth programme which was incredible and would 100% recommend it. When doing your market research at the Business & IP Centre you can look at the Mintel and Keynote reports - which are normally hugely expensive and filled with important data - completely for free. They are an incredible tool and you can even send 10% of them to yourself for free, which is so helpful for continuing your research. Irini and all the staff at the Business & IP Centre are a fountain of knowledge and will help you with any question you may have. There are other great search tools for funding and other valuable information!
What advice would you give someone trying to find their niche?
Try stuff! Experiment and play. It's really important to enjoy what you are doing. When you work for yourself and/ or have your own business it can be incredibly tough and it's so important to truly LOVE what you are doing otherwise you may as work for someone else and know the income you will get each month. Create something you're passionate about and there are other people who are passionate about it too. Resilience and grit are key qualities to have.
How have you been able to grow the business?
Growing the business is really important but the most important thing is how you want it to grow! It's very easy to go down the garden path of what is selling the best and where you're making money which is of course very important. But more important, I believe, is to go where you will feel satisfied creatively, financially and mentally. It's a great idea to keep checking in with yourself regularly to see if your goals are still your goals. Artistic freedom has always been number one for me! So in my case, it meant letting the cards and stationery side of the business go so that I could concentrate on the creative side and personal commissions. I licensed my designs and got others to sell products for me so that I could concentrate on that.
What's been your best/most rewarding/most surreal moment in business so far?
Probably doing my 'Make Your Pet Famous' exhibitions in the last year, one in Warren Street and another in Japan. The private views for these were so special and among the best nights of my life. 
I've also been so lucky to have done so many amazing commissions and collaborations, for example getting a commission from Charles Saatchi (to illustrate and make his daughter a dress) straight from my degree show. I feel very proud to have drawn two artworks for Sadie Frost which has been featured in magazines like Red. There was also a commission to do a portrait for Robert Webb and his family. As I'm such an animal lover, doing a collaboration with ZSL London Zoo and Whipsnade Zoo was wonderful, as was a collaboration with the British Museum. Finally, having Harrods as a stockist to many items including the 'Make Your Pet Famous' range and designing a print and accessories especially for them under their own name has been incredible. Being able to sell my art and stationery across the world, places like Japan, America and Australia is an amazing feeling! It's an honour to be able to create a life and business that people love and want to be a part of.
How did cats start becoming a key part of your work?
When starting the 'Make Your Pet Famous' collection it began with dogs but very soon after everyone wanted cats. I was always asked 'where are the cats?' because everyone loves cats! They became an integral part of my offering from that point on, with Tupac as the first #MakeYourPetFamous cat.
Do you have any notes about intellectual property and your work?
The Business & IP Centre are very helpful in this area and would recommend you go and speak to them if you have any questions on intellectual property! They can direct you to specialists. They have all the details on copyright, trademark and registered designs and can help you to get protected, which they certainly did with me. 
You can find Rose's work at https://www.rosehilldesigns.co.uk/. She has recently put on another #MakeYourPetFamous exhibition in Islington and will be doing another one in October 2019 in Hackney. You can find all the details on her website. 
05 June 2019
Business & IP Centre Hull, part of our National Network, recently visit Porto, Portugal for the first PATLIB Summit. Sue Pleasance, Enterprise and IP Lead Officer attended, along with other representatives of national patent offices of the European Patent Office's (EPO) member states, their PATLIB centres, and their host organisations, European and international organisations involved in IP, technology transfer and innovation. The Summit gave attendees a chance to learn from each other and plan the way forward for PATLIBs across Europe. But first, what are PATLIBs?
The EPO supports a network of patent information centres (PATLIB centres) throughout Europe and has evolved from a grouping of national patent libraries, widely distributed in the member states.  PATLIB is an acronym for a PATent LIBrary, however not all PATLIB centres are actually libraries; a number of them are located in national patent offices, universities and chambers of commerce. The main aim of the network is to enable patent information centres to communicate with each other in a feasible and convenient way.
PATLIB Centres provide patent information and, depending on the national system for intellectual property rights, many also provide information on other intellectual property rights like trademarks, designs and models. PATLIB staff provide advice and guidance on searches for IP, some also perform searches for their clients.
Back to the Summit, my journey went well and I arrived stress free thanks to fabulous organisation skills of the team at the EPO and was ready to get involved with the Summit's activities and meet many friendly people from all over Europe to discuss and debate how we deliver intellectual property support and guidance.
How stunning the conference venue was Palacia da Bolsa! In particular the Arabian Room where our UK IPO representative Laura Phillips did a great job presenting on how we deliver PATLIB support. Over the two days we attended talks and took part discussions and workshops to discuss, debate and agree on actions needed to strengthen the network and improve and enhance services. Shout out to fellow PATLIB teams' Mel (Plymouth), Tony (Glasgow) and Ben (Leeds), the latter are also part of the National Network, for great company, lots of laughs and their adventurous spirit!
It wasn't all work and no play, Grelhador da Boavista was a hidden gem of fresh tasty traditional Portuguese food with HUGE portions, a great atmosphere, humour and quirkiness, which I'll remember for a long time.  Tasting the local beer, Superboc, was a bit hit and miss, had we known there was a whole lounge dedicated to it at the airport we may have waited!
We were also able to find out more about the history of the port, and what better way than by boat, with a trip up the river Douro from the Estiva Quay, followed by dinner at the Alfandega, with a traditional Fado performance.
I was glad we stayed in the city centre in the evening following Day 2 of the conference, where we made a trip to the famous exquisite bookshop Livraria Lello and experienced the traditional celebration Queima das Fitas do Porto, (Porto Burning of the Ribbons).
A lovely end to the evening was when Danielle from the Czech Republic spotted a fabulous local restaurant overlooking the river, serving excellent food, which we enjoyed whilst finding out more about each other's work and lives.
If it sounds like we had a lot of fun – we did! The fantastic hospitality of the EPO and the Porto community encouraged us to make the most of our stay. But we did work hard and I'm not sure how we managed to cram quite so much in!
The outcome of the event was a set of strategic recommendations to the EPO in a document called the Porto Paper. The Porto Paper can be found here.
Finally I arrived home shattered but with a firm sense of achievement and proud that the UK had contributed well towards the future developments of PATLIBs. It was a privilege to be involved in the summit and how it will benefit Business & IP Centre users from around the country, including Hull. At the Business & IP Centre Hull, we offer free access to databases, market research, journals, directories and reports; a programme of free and low-cost events including workshops on a range of topics such as business planning, social media, market research and intellectual property. Through ERDF funding we are also able to provide free workshops, events, seminars, expert clinics and one to one coaching and mentoring for anyone in Hull who wants to start or grow a business.
Sue Pleasance, Enterprise and IP Lead Officer at the Business & IP Centre Hull
Sue has been the Lead Officer for the PATLIB and Business & IP Centre based in Hull Central Library since 2016. She leads a team of trained staff to provide intellectual property support and guidance, workshops, events and seminars to support potential entrepreneurs and businesses in the area.
29 May 2019
The Intellectual Property Office (IPO) is the official UK government body responsible for intellectual property (IP) rights including patents, designs, trade marks and copyright. The IPO operates and maintains a clear and accessible intellectual property system in the UK, which encourages innovation and helps the economy and society to benefit from knowledge and ideas, as well as helping people get the right type of protection for their creation or invention. Here the IPO outlines the basics of IP and explains how you can discover your IP rights.
Intellectual property (IP) rights grant you the ability to take legal action if others attempt to make, use, import, copy or sell your creation.
The four main types of IP rights are:
Copyright

Designs

Patents

Trade marks
Protecting creativity
Work in the creative sector? You've probably heard a lot about copyright but may not fully understand how it protects your work.
Copyright is a property right which is intended to reward the making of, and investment in, creative works. Copyright protects literary, dramatic, musical and artistic works, sound recordings, films, broadcasts and published editions.
In the UK, copyright comes into being automatically when a qualifying work is created; there is no formal registration. The term of protection for most copyright material is the life of the creator, plus 70 years from the date of their death. Check the website for more information on how long copyright lasts.
Copyright grants the creator the right to authorise or prohibit copying, distribution to the public, rental/lending, public performance, adaptation, and communication to the public.
Visit our website to find out more about the rights granted by copyright.
A flair for design
Crafter or designer?
Design refers to the appearance or 'look' of products. The look of your design includes the appearance, physical shape, configuration and decoration. This can be 2D patterns or 3D designs.
Registering your design allows you to gain a marketing edge by preventing others from using it without your permission.
Automatic design rights do exist in the UK (UK Unregistered Design Right) and in Europe (Unregistered Community Designs).
Unregistered UK design right automatically protects your work for 10 years from when it was sold, or 15 years from when it was created, whichever is earliest. However, it only protects the shape and configuration of a design and does not include 2-dimensional designs like textiles and wallpaper.
Unregistered designs offer limited protection and can be difficult to enforce. Where disputes arise, you may have to prove the existence of your rights. Unlike registered designs, it will be your responsibility to prove intentional copying.
The IPO has an Instagram account with lots of useful information to help creatives know their rights, protect and champion their products. Follow us @ipforbusiness and use the hashtag #IP4biz.
The 'lightbulb' moment
Think you may have invented a market sell-out or something that could even change the world? Or perhaps something simple that just makes everyday life that little bit easier?
A patent protects new inventions and lets you take legal action against anyone who makes, uses, sells or imports your invention without your permission. You can only apply for a patent if you have created something that is inventive, new and useful.
A patent specification is a legal document and requires specialist skills to draft properly. Your chances of obtaining a patent are significantly greater if you use an attorney. Visit the website to find out why you should use an IP attorney.
The most common mistake made by inventors is revealing their invention before applying for a patent. It is your choice on whether you decide to take your product straight to market or apply for patent protection. However, if you have made your invention public, you could lose the possibility of obtaining a granted patent.
Sometimes, you may need help from a third party to create or distribute your products. Non-disclosure agreements (NDAs) are created when a business owner is speaking to potential partners such as investors, manufacturers and stockists.
NDAs are important when applying for patent protection. If a third party is helping you to create your product, make sure they sign an NDA, or it could affect your chances of gaining a patent. To learn more read our guidance on non-disclosure agreements .
Building a brand
Creating a brand that encompasses what you and your business offers is an important aspect of your business plan.
You may want something distinctive and unique that sets you apart in a crowded market. A trade mark protects your company name, logo, or a phrase. It can even protect a shape, colour, sound, aspect of packaging or any combination of these.
The registration of your company name with Companies House doesn't automatically protect it. You have the legal right to the name, but it doesn't stop other businesses from trading under very similar names.
The most effective trade marks are those 'distinctive' to the goods and services they protect. This allows consumers to identify your goods or service from your competitors. So, if your company name describes the products you sell or the services you offer, there's a good chance it won't be distinctive enough to be a registered trade mark!
It is recommended you search our trade marks database before applying to see if a similar trade mark to your brand already exists.
Sharing out the IP
A license grants a third-party permission to do something that would be an infringement of your IP rights without the license.
IP can be "licensed-out" or "licensed-in". You can "license-out" to another company in return for a fee. You can "license-in" if you want to use another company's IP to develop your own business and products.
Free online learning
The Intellectual Property Office's has a range of online learning tools to help you better understand your IP rights.
Our IP Health Check free online tool can help you identify what IP you own. Answer a series of questions and receive a tailored confidential report, based on what you have told us.
IP Equip tool is a free online CPD-accredited training tool. It takes your through four short modules and uses case studies to show why intellectual property is important.
More of a visual learner? Our IP Basics videos provide short, simple explanations of the various IP rights. They also cover licensing and franchising, how to avoid infringing IP and what to do if your business is a victim of IP crime.
Don't forget to sign up to our e-alerts to receive IP advice, events and updates direct to your inbox.
28 September 2018
Activities in 17 libraries around the UK. 101 business events delivered. More than 1,000 attendees across all locations. Webcast around the world. Start-up Day, in collaboration with Santander, once again proved to be a huge success. 
With a full day's worth of events, there's a lot of information and words of wisdom to take in from each speaker. Need a recap of what was said? Missed a crucial top tip? Want to relive it again? Or if you missed it, we've compiled all the videos of the speakers in this post, along with a key take away tip from each...


Top tip from Mintel senior consumer lifestyles analyst, Jack Duckett:
Consumer confidence is on a growth trajectory, meaning there are opportunities for brands to grow.
Set yourself goals, think how you want your brand to be perceived and choose the platforms which are appropriate for your business.
Top tip from author and motivational speaker, Anis Qizilbash:
Steep in your purpose... your success does not mean another person's loss. The more you make, the bigger impact you create.


Top tip from public speaking coach, Elaine Powell:
[Your pitch] is never going to be perfect. Always ask for feedback and take your performance to the next level, and the next level, and the next level. Never give up, it's a journey, not an end destination.
Top tip from author, motivational speaker and business coach, Rasheed Ogunlaru:
[Networking] online is the window to your world, meeting people in person is the door.


Top tip from former CEO of Tangle Teezer, Matt Lumb:
Don't try and do the 80 hours a week thing. You will burn out. Try and get that balance as you scale.


Top tips from:
Precious Jason, founder of Etieno Skincare: Being in business you have superhero days and you have days which are not so great… Be kind to yourself. 
Rebecca Slater, founder of Shine Creative Solutions: Believe in the idea you've got and to try and plan out the three most important things you need to get right.
Amy Fleuriot co-founder of Hiro + Wolf and Artisans and Adventurers: Don't expect it to happen overnight. If you're having to work alongside it, that's ok… Just keep at it.
Start-up Day 2018 was in collaboration with Santander. To see our events throughout the year, click here.
26 April 2018
April 26th is World Intellectual Property Day. "What?" I can hear you asking, why should there be a special day to celebrate Intellectual Property? Well, stop for a minute and take a look around you and I can guarantee that, whether you realise it or not, you will be surrounded by Intellectual Property.
Like the book you are reading (e-book or otherwise!), the iPod or MP3 player you are using to listen to music, the music itself, even the clothes you are wearing, every product or service we use in our day to day lives is the result of innovation. These innovations may be big improvements in function, or small changes in design that alter the way a product looks, either way these improvements will generally be protected by Intellectual Property (IP).
Intellectual Property (IP) is like any other piece of property and the owner of the Intellectual Property rights controls what, if anything, happens to those rights, including who can benefit from the work or from the investment the rights holder has made into the creation of the product or service.
So how does this affect you and your business?
Whatever business you are engaged in it is very likely that you are using and probably even creating a large amount of IP and, if you want to get the best possible commercial results from its ownership, you need to think about the steps you need to take to protect, manage and indeed enforce your rights.
Protect – register your IP rights where possible.
Manage – keep a record of all the IP you have and any IP that you license from third parties. Ensure renewal fees are paid and licenses are up-to-date.
Enforce – as the rights holder it is your responsibility to keep an eye out for any IP infringement and to take action to stop it. If you do not intend to enforce your IP rights then perhaps you need to reconsider whether or not you should register your rights.
So let's look at each form of IP in turn;
The first piece of registrable IP most businesses will have is a trade mark. Trade marks are used to indicate the origin of goods or services. They may be symbols, words, colours or even a combination of these, the choice is yours, but whatever the makeup of your trade mark it needs to be distinct enough to allow consumers to identify your products or services from those of your competitors.
As well as standard trade marks there are several other types of mark such as Collective marks, used to distinguish the goods and/or services of members of a particular association, or Certification marks, given for compliance with defined standards to anyone who is able to certify that their products meet certain standards e.g. ISO/TC 181 Safety of toys.
Trade marking is not to be approached lightly as your trade mark is likely to be one of your most valuable business assets.
Next, Copyright. Most of us when we think of copyright we think of books, music, films etc. but copyright will also exist in your website, the flyers or brochures you may produce for your business, the menus for your restaurant or café. All of these, provided they are your own original work or you have a license to use them if they were created by a third party, will be protectable.
Mark all of your original copyrighted material with the copyright symbol ©, the name of the rights holder and the year of creation, e.g. © British Library 2019.
If you are a designer then registered designs are probably something you should consider as registered designs protect what it is that makes an item attractive or appealing to its intended market. As the holder of the registered rights you will be assured an exclusive right to the design and thereby protection against unauthorised copying of the design by third parties.
Finally, patents (this is the biggie!)
A patent is an exclusive right granted for an invention. It provides patent rights holders with protection for their invention for a limited period, usually 20 years, subject to the payment of annual renewal fees. Having a patent for your invention means that your invention cannot be made commercially, or distributed or sold without your written permission. You get to decide who may or may not use the invention for the duration the period of protection. However, once the patent expires, after 20 years or if you stop paying the renewal fees, the invention will no longer be protected and will enter the public domain. Basically, it becomes available for anyone to use as they wish.
Probably lesser known, but just as important IP rights are Know How and Trade Secrets. Know How is the practical knowledge of how to do something, to get something done. This sort of knowledge will not necessarily be included in a patent for example, but will be necessary to finish the product, project or job. For examples of Trade Secrets; think of the Coca Cola recipe or the recipe for Irn Bru. These rights are not registrable and need to be protected using contracts and/or confidentiality agreements.
This post just touches on the subject of IP really as a way of highlighting World IP Day and anyone thinking of using IP or making any financially crucial or business crucial decisions based on IP should speak to an IP attorney. The website of the Chartered Institute of Patent Attorneys can help you locate an attorney in you local area via their website. Most IP attorneys offer a free 30 minute one-to-one advice session.
Alternatively, you can visit your local Business & IP Centre for free, impartial, non-legal advice. Click here to see the full list of Centres around the country. 
A final comment; innovation through the years has shaped the world we live in, from the simple hand cast nail invented more than 2,000 years ago to the invention of the wheel and the wheel and axle concept, from Gutenberg's printing press to the telephone, the electric lamp to penicillin, all of these innovations have made our lives easier, better and more interesting and, hopefully, the inventors and innovators of our generation will continue the trend.
Maria Lampert, Intellectual Property Expert
05 July 2017
So many small businesses lack IP awareness and understanding, but IP is something of an unsung hero and can prove critical in making or breaking a business.
The Business & IP Centre team are dedicated to helping entrepreneurs and SMEs understand what IP is and why it's important, what IP they might have created and how they might increase their business success and profitability by protecting and exploiting that IP in the future. Over the years the team have supported thousands of small businesses unlock the value of their IP, and much of the support we provide in the Centre uses case studies and real-life stories to demonstrate how having a handle on your IP gives you a huge commercial advantage.
One such example is Julie Deane OBE, founder of The Cambridge Satchel Company, who has taken her business from the kitchen table and a £600 start-up budget to a global success story with a turnover of £10 million. Along the way Julie has overcome numerous business challenges including managing designers, manufacturers and overseas distributors, establishing web and physical retail sites around the globe and dealing with thousands of imitator brands. Here, in a free 30 minute podcast with the Intellectual Property Office, Julie lays the truth bare on how she's developed strategies to tackle copycat websites, build the brand, keep putting the quality of the product at the heart of the business and "hang on to the passion that made you start the business in the first place."
 Here are our 3 'top tips' for what you need to know when it comes to your Intellectual Property:
Think about trade marks - Is your business name protectable in the countries that you wish to trade? Is it already being used or does the word have another meaning in a different country. Future investors will want to know that you have the rights to trade in the countries that they wish to trade in, and you need to consider this right from the start to give your business the best chance of success.
If you're creating a 'thing' - Do your research before filing for a patent; is there a market for your product? It is expensive and takes a long time to protect your idea so make sure you do your market research and can be confident that somebody will buy it at the end of the day. If you have paid for your product to be patented and want somebody to manufacture it for you, you also need to ensure you have agreements in place limiting their rights to your initial idea or design.
Founder's agreement - It is easy to set out a document with your business partner right at the start when setting up your business agreeing things like % of ownership and what should happen in the case of a dispute, or if one of you wish to sell then business and the other one doesn't. Once a dispute has started it is much harder and messier so you need to make sure all parties are clear on this from day one.
You can find further help, support and information on IP in any of the eleven Business & IP Centres up and down the country, including the British Library in King's Cross. Speak to any one of our specialist staff face-to-face, over the phone or by email. You can also log on to our free of charge online workshops to grow your knowledge about IP, and increase your chances of business success.
Julie Deane is Entrepreneur in Residence at the British Library and a huge champion for ambitious business owners. She recently gave advice and practical tips on Intellectual Property at the Library's Scale-up Summit alongside Will Butler-Adams, CEO of Brompton Bicycles. Cambridge Satchel and Brompton recently launched a range of colour-matching bags and bikes where the satchel fitted perfectly to the handlebars. This 'made-in-heaven' brand match caught the attention of the press and delivered extremely high sales. Will and Julie's opening keynote presentation on 'Getting your business in the media' was a great success too.
19 May 2016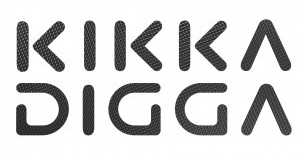 On Saturday I visited Plumpton College near Lewes, for their annual open day. On display amongst the new-born lambs, Sussex wines, tractors and chainsaws was a stand for Kikka Digga. With my curiosity for all things new, I sauntered over and chatted to the demonstrator Nick Skaliotis. It turned out this was the very first public outing for the his new invention, which he claimed would make digging gardens significantly easier.
Mid-way through our conversation I asked if Nick had patented his invention, he looked more closely at me and said, "I know you". It turned out he has been a regular in the Business & IP Centre at the British Library. In addition to getting help with his patent from our wonderful Inventor in Residence Mark Shehean. He also attended several of our workshops including lean start-up webinar, social media for business and trade marks.

After hearing Nick's story I just had to buy his product to see if it really did live up to his claims. Also, I hoped it would help me to avoid the lower back-pain I now get every time I dig over my vegetable patch.
As soon as I got home I took the two pieces of metal out of package and installed them onto my fork. This was as simple as the instructions indicated with just two items to clamp onto my fork.
As you can see from my photos below, I was able to dig over a small section of my very weedy heavy clay soil quickly and easily using Kikka Digga. And, even better, I had no twinges in my lower back afterwards. So I am definitely sold on the product.
I also like the name Kikka Digga, for being simple and memorable. And it has even more k's than the legendary Kodak brand. George Eastman said about the letter k, "it seems a strong, incisive sort of letter." I am also glad to see that Nick has registered the name at the UK Intellectual Property Office.
You can see a demonstration of the invention in action on YouTube. And keep up to date with Nick's progress on Facebook or Twitter.
I can't wait to see how the gardeners of Great Britain take to this wonderful invention.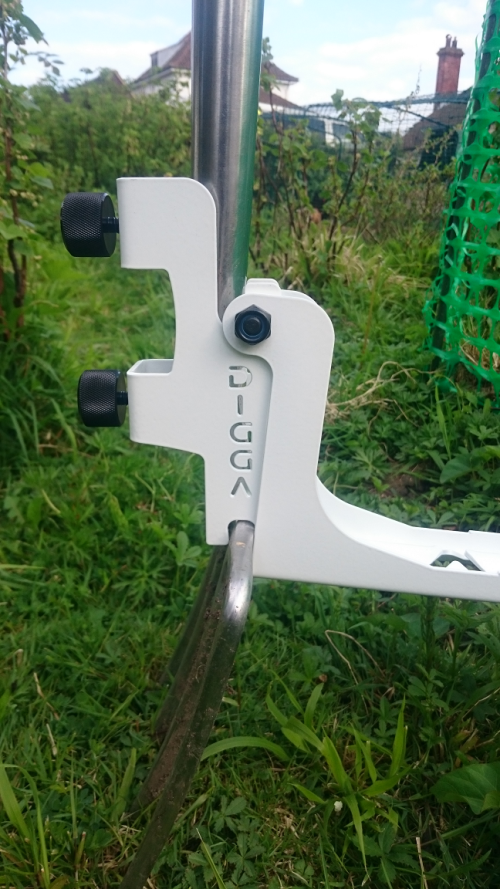 Kikka Digga newly assembled on my fork in seconds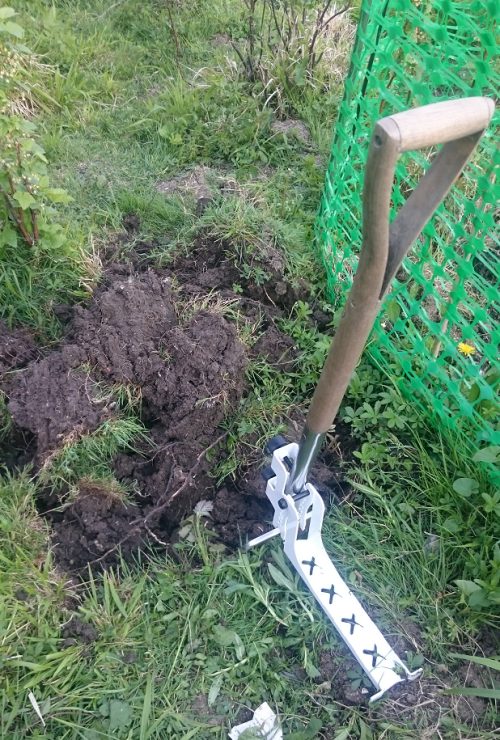 My first few digs into my heavy clay soil are surprisingly easy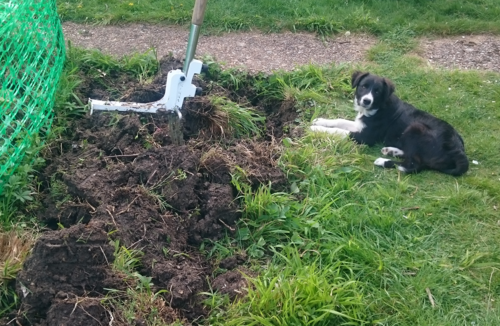 Misty is as impressed as I am by the speed and ease in digging up the plot.
By Neil Infield in the Business & IP Centre London team
Innovation and enterprise blog recent posts
Tweets by BIPC
Innovation and enterprise links
Other British Library blogs