25 October 2013
This week sees the publication of our new Intellectual property guides.
A brief introduction to patents and patent searching
A brief introduction to trade marks and trade mark searching
A brief introduction to registered designs  and registered design searching
A fourth guide, relating to Copyright, is in the pipeline.
These guides provide an overview on intellectual property as a whole and then a bit more in-depth information about the form of intellectual property covered by that particular guide. There is a section in each guide which covers searching and outlines the free databases available via the internet, what they cover and where to find the 'Help' section on each database.
These guides are designed to serve as a starting point for intellectual property searching and as a follow-on to the more detailed intellectual property guides published by the Intellectual Property Office UK (IPO UK) on their website at www.ipo.gov.uk  
You can find all of the guides on our website and we also run intellectual property workshops and webinars which you can book online.
Maria Lampert on behalf of the Business & IP Centre
02 September 2013
My new favourite trademark was spotted on my way to work today, and is rubbish.
More accurately, it is What a Load of Rubbish! And I was pleased to see they have registered both their logo and text at the UK Intellectual Property Office at UK00002525927.
I love their combination of a cheeky but memorable name, which is reinforced on their website whataloadofrubbish.com.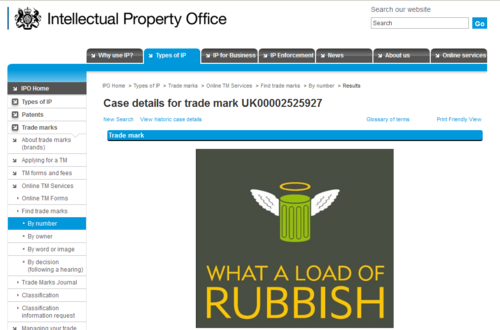 Their trademark registration page.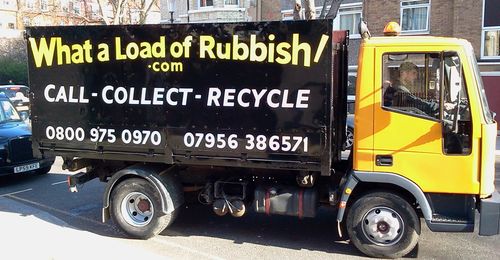 The lorry in question.
Neil Infield on behalf of the Business & IP Centre
Neil Infield on behalf of the Business & IP Centre
14 August 2013

Last week I attended an Innovating for Growth (I4G) project workshop on Maximising Your Brand. It was presented by Alistair Bullen and Rory Muldoon from ABA | The Business Brand Agency, in a very chatty and informal style.
The idea was to introduce some of the key elements of branding, and to indicate how they will be able to help companies on the I4G program in one to one meetings.
After introducing ourselves and delivering our thirty second elevator pitch, Alistair and Rory  explained the difference between a corporate identity and building a brand.
They used the analogy of a car to explain the role of branding. Until you lift the bonnet you can't fix the car, and until you know what the other cars are on the road are, you can't start the race. Also you need to be clear on what kind of car you want to be.
The first stage for ABA is to get under the skin of the company - not straight into 'fixing the logo'.
They asked us all to write down our ethos, and our competitors. This is what I put for the Business & IP Centre.
Ethos - To use our collection of business information to help start-ups and small companies
Competitors - Other libraries with business information (City Business Library), London Enterprise Agencies, University business support services.
Then they introduced the concept of how each companies Raw Ingredients feed into the Blend of Positioning, Personality and Brand architecture) which helps to define the Brand Essence.
Without working out what your Brand Essence is, you can't progress successfully.
There are four vectors of your brand:
Products and services - How people feel about the things you produce
Environment - The way people feel when they enter your office
Behaviour - The way that you answer the telephone
Communication - How you speak to your audience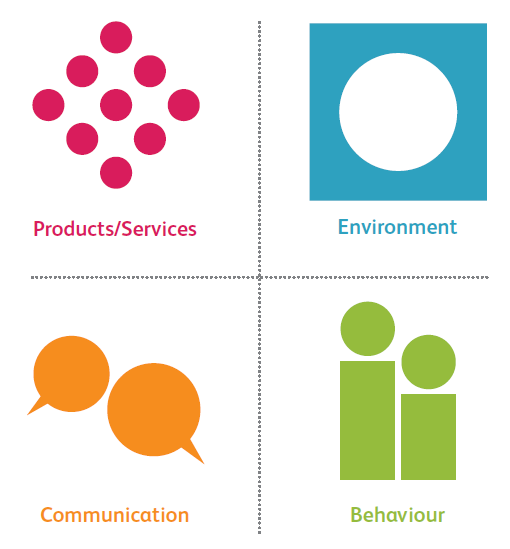 You should find out what your customers think about your service by asking them using a straw poll using Survey Monkey etc, but don't be defensive about the results.
We then spent  some time reviewing a set of brand personalities to see which two or three most closely matched our brand essence. I chose Sage and Explorer for the Business & IP Centre.
Next we watched an interesting TED talk from Simon Sinek on how great leaders inspire action. He said great brands start with the Why, not the What. For example Apple aim to make products that challenge the status quo, they believe in thinking differently. Because of this they make great products.
You should always start with Why you exist, then follow with How you operate and then What you produce.
The why is always much more compelling than the what, so make sure you use it in all your brand communications.
We then looked at models of brand architecture:
Monolithic - a single name that is master on all products or services in a range - products are identified by alpha or numeric signifiers - e.g. BMW
Endorsed - individual brands supported by a corporate master - working in tandem e.g. Kellogg's Cornflakes
Branded - product name is king e.g. Persil from Unilever
Alistair and Rory recommended a book called Fascinate - Your 7 Triggers to Persuasion and Captivation by Sally Hogshead.
Why are you captivated by some people but not by others? Why do you recall some brands yet forget the rest? In a distracted, overcrowded world, how do certain leaders, friends, and family members convince you to change your behavior? Fascination: the most powerful way to influence decision making. It's more persuasive than marketing, advertising, or any other form of communication. And it all starts with seven universal triggers: Passion, Mystique, Prestige, Power, Rebellion, Alarm, and Trust.
TEDxAtlanta - Sally Hogshead - How to Fascinate
And
Eating the Big Fish: How Challenger Brands Can Compete Against Brand Leaders by Adam Morgan.
I found the workshop challenging, but also engaging and fun, and I could hear the attendees animated discussions about their brand values as they left the session.
If you want to apply for £10,000 worth of bespoke advice and support for your business, have a look at our Innovating for Growth programme and see if you qualify. 

Innovating for Growth is part-funded by the European Regional Development Fund. 
Neil Infield on behalf of the Business & IP Centre
28 June 2013
One of the things that we stress at the Business & IP Centre is the importance of protecting your idea and brand with intellectual property so it was interesting to see the recent news that Tottenham Hotspur footballer (for the moment!), Gareth Bale has filed a trade mark application.
Trade marks are badges of origin. They distinguish the goods or services of one trader from another and can take many forms; for example words, slogans, logos, shapes, colours and sounds.
Gareth Bale's applications cover The 'Eleven of Hearts' image and logo, which refer to Bale's goal celebration and his current shirt number.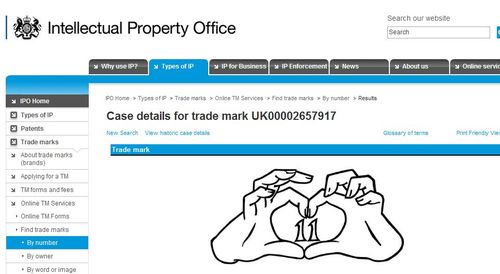 'Eleven of Hearts' trade mark application
Trade marks are registered for specific goods or services within individual subjects, known as classes.  The official application made by Gareth Bale, which can be found on the Intellectual Property Office website, covers a number of different classes and will be applied to products including jewellery, leather goods, umbrellas, parasols and clothing footwear and headgear.   
Figures of up to £10 million in earnings and endorsements have been mentioned in various reports and the trade mark is widely thought to be the first step in building a global Bale brand particularly ahead of his rumoured move to Real Madrid.
Other footballers who have also applied for trade marks include David Beckham who has applied as an individual but also under Beckham Brand and is estimated to be making up to £26 million.
Cristiano Ronaldo also holds trade marks for CR9 in classes covering a number of different things including services for providing food and drink, hotel accommodation, goods made from paper and cardboard and clothing, footwear and headgear.
Interestingly, CR9 is also registered under classes for games and playthings, decorations for Christmas trees and education. Perhaps Cristiano Ronaldo is already planning his future after football!
 The benefit of registering your trade mark is that it prevents anyone else from using it and making money from it. So watch out for Eleven of Hearts clothing coming to a shop near you!
Find out more about how you can protect your brand with our guides and workshops.
Chloé Titcomb on behalf of Business & IP Centre
Innovation and enterprise blog recent posts
Tweets by BIPC
Innovation and enterprise links
Other British Library blogs