28 October 2015
Last night Kanya King MBE, CEO and Founder of the MOBO Organisation, took the stage in the British Library before heading to another in a series of events leading up to one of the biggest British awards shows of the year – the MOBOs. The Business & IP Centre at the British Library and the MOBO Organisation joined forces to bring together a panel of leading lights in the creative industries, including June Sarpong MBE, Yinka Ilori and Levi Roots, who shared their groundbreaking stories of what can be achieved with the right attitude and determination.
The event was part of MOBO's 'Rise With Us' Season, taking place this month, designed to recognise the achievements of diverse artists, designers and entrepreneurs and inspire the next generation of up and coming talent.
The panel shared their individual stories of starting up and gave some invaluable tips for people wanting to follow in their footsteps.
Kanya King MBE
Kanya started the MOBO Awards from her bedroom in 1996 to give a platform to emerging talent who would go on to achieve global success. Now MOBO, one of the most recognisable brands in British music, helps create more opportunities for exceptional talent across all of the creative industries; in her own words 'Inspiring a generation who dare to dream'. Success wasn't without its barriers for Kanya. While she had passion and determination she also had no contacts in the music industry, no money and most people told her it wasn't possible. Finally she got her break when a meeting with an LWT Executive resulted in a broadcast slot with Carlton Television. With only six weeks to pull together the first MOBO Awards, and with many people still doubting that an audience would be interested in celebrating diverse talent, the odds were against her. However, that first show was a hit and, now in its twentieth year, the MOBO brand is bigger than ever.
Kanya gave some tips to the entrepreneurs in the audience including: be passionate about what you do and make sure to prioritise - focus, focus, focus. Her advice is that you don't always have to get it right, you just have to get going and persistence is key – 'never give up on your dreams'. She didn't get where she is today because of talent but because she refused to give up.  She emphasised that much more can be achieved when you have a team around you that is united in your belief.
Yinka Ilori
Yinka Ilori is a London-based designer specialising in up-cycling vintage furniture, inspired by the traditional Nigerian parables and African fabrics that surrounded him as a child. When he started off as a designer he felt that there weren't a lot of black designers and there weren't many people for him to relate to. He wanted to give up many times but his family were consistent in their support for him and told him to keep going.
Since starting up, he has exhibited internationally in solo shows, runs regular workshops and is involved in many projects. One of his most recent projects is partnering with the British Library shop as part of the current West Africa: Word, Symbol, Song exhibition. Yinka came to the British Library when he was starting up to do research in order to find his unique selling point to build his brand. His main piece of advice for entrepreneurs? Remember to tell your story how you want to tell it.
June Sarpong MBE
June, one of the most recognisable faces of British television, is also the Co-founder of the WIE Network (Women: Inspiration & Enterprise). WIE is dedicated to women in leadership and it's not surprising June is involved when she said that fight for empowerment and equality get her out of bed in the morning. She is driven to empower everyone in society to be the best we can be and believes it leads to a stronger economy, safer planet and overall a fairer and better world. Speaking at the event, her mandate was clear: we have to ensure women and those from diverse communities are empowered.
June's number one piece of advice was 'before you start to worry about what other people think about you, worry what YOU think about you!' Like Kanya she also emphasised the need to learn to control your thinking, have a goal and focus on it.
Levi Roots
A MOBO nominated reggae artist, a pioneer in Caribbean food and culture, Dragons' Den star and with a new 'rastarant' opening soon, Levi shared his story about starting his Reggae Reggae sauce in his small Brixton kitchen and giving back to the community by visiting hundreds of schools, universities and prisons each year as part of his School of Life tour. His journey to becoming a successful entrepreneur was shaped by his experiences. His advice for entrepreneurs is to work with someone who knows more than you – a mentor. But his biggest piece of advice? Be true to yourself.
As June said at the event, 'It's a very exciting time to be creative in Britain' and we couldn't agree more. If you are starting, running or growing a business and need some help, check out our week-long series of events coming up in November for Global Entrepreneurship Week. 
Join the MOBO Season #RiseWithUs
19 October 2015
To celebrate our new exhibition West Africa: Word, Symbol, Song, furniture designer Yinka Ilori will be speaking at our Inspiring Entrepreneurs event on Tuesday 27 October on how to set up and grow your business.  His stunning chairs are featured in our West Africa exhibition Shop. We asked him a few questions.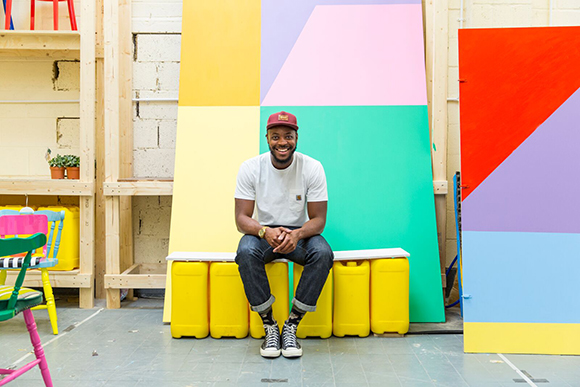 Can you tell us a little about yourself?
My name is Yinka Ilori and I am a furniture designer/artist based in London. I tell meaningful yet humorous stories through furniture using traditional Nigerian parables that I grew up with as a child. I love colour, chairs and storytelling!
Where do you take your inspiration from?
I take my inspiration from traditional Nigerian parables, storytelling, colour, music and people. The most enjoyable part about my work is that it allows me to travel to different countries, so I am constantly inspired by all these elements which then enables me to come back to the studio and put back into my work.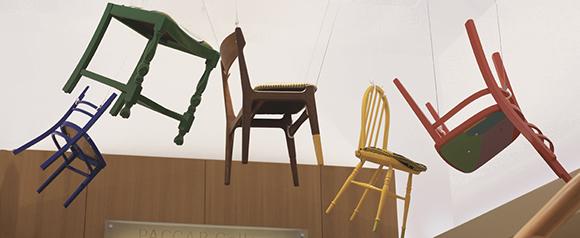 Can you tell us about how you've worked with the Library
I have worked with the British Library on a few occasions and the first was when I was launching my brand Yinka Ilori. I came to the British Library Business & IP Centre to do some research on my market, understand my industry, my competitors and who was buying furniture!
There were a lot of key things I wanted to research and there were so many books and online resources with statistics. The research provided me with the information I needed in order to find my unique selling point and have a powerful brand.  I did lots of research while writing my business plan in preparation to present it the Prince's Trust; the Business & IP Centre came in at a pivotal time, in the early stages of my business.  It's been really great working with them and the members of staff were really informative, helpful and polite.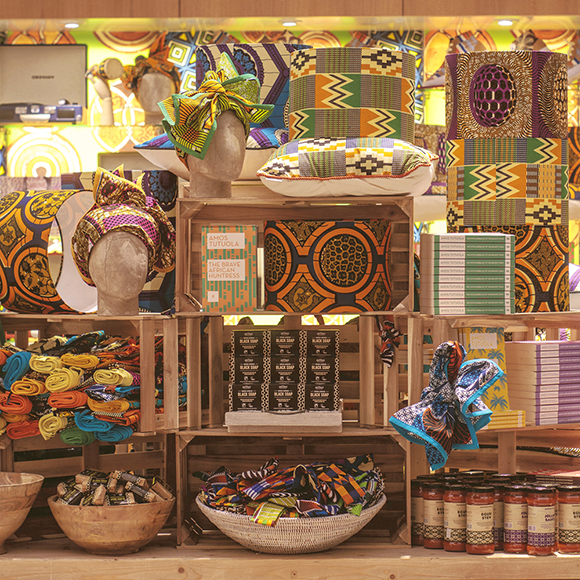 Can you tell us about your involvement in the West Africa Shop display?
To have my work displayed in the British Library Shop as part of the phenomenal event West Africa: Word, Symbol, Song is magical. To have my work presented as an installation for this event fitted perfectly, as my work encompasses the themes 'word, symbol and song', so when I received an email about the collaboration I believed it was meant to be. I am really looking forward to seeing this open, and listening to some great speakers one in particular the prolific speaker Wole Soyinka and also looking forward to the Felabration event too! Fela Kuti's music is phenomenal; I call him the master of words and word play.
What's next for your business and how are you planning to grow?
What's next is to grow my business internationally and tell my stories worldwide. We need to remember no one can tell our stories better than ourselves as we have lived and seen it through our lenses. I will be looking at possibly having my first pop-up shop soon, so watch that space and also look out for more collaborations.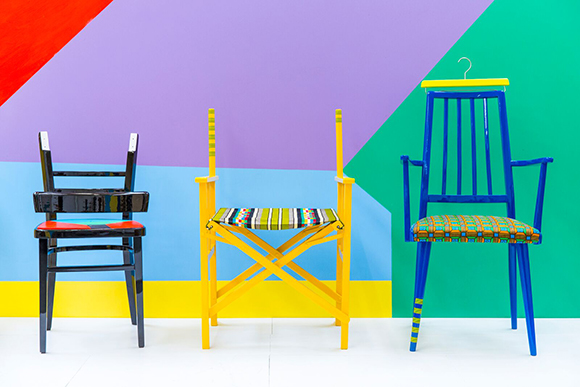 My advice for anyone starting a business is to head to the Business & IP Centre and research your market and your competitors. Remember work hard, persevere and be nice, because it doesn't cost a thing!  
Innovation and enterprise blog recent posts
Tweets by BIPC
Innovation and enterprise links
Other British Library blogs