Created between 1600 and 1050 BC, the British Library collection of Chinese Oracle bones (approximately 500 in total) are easily the oldest items held by the Library. By comparison  St Cuthbert's Gospel, the oldest intact European book dates to the early 8th century and the Diamond Sutra, the world's earliest complete survival of a dated printed book, was produced in 868.
The earliest Chinese script: Shang dynasty characters on fragments of an oracle bone dating between 1600 and 1050 BC. British Library, Or. 7694/1516
Over the autumn we worked closely with curatorial colleagues responsible for the Chinese collections to enable greater access and understanding of these fascinating bones.
Diviners of the Shang dynasty (16th-10th centuries BC) produced oracles (predictions or prophesies) by reading cracks on ox or antelope bones, and sometimes tortoise shells, that were either naturally occurring or after having being burned. Holes and characters were also drilled into the bones. Oracle bones from this era bear the earliest writing known in China.
Conservators initially examined the bones with a view to enabling their digitisation. Their visual appearance suggested the bones were brittle and vulnerable to movement and vibration. A condition assessment, however, revealed less fragility than originally envisaged. Karen Bradford, Preventive Conservator, supervised the digitisation process working alongside the imaging team. Karen also supervised filming the bones for Prof. Michael Wood 'Story of China' BBC series.

Divination cracks. Shang dynasty oracle bone, c. 1600 to 1050 BC. British Library Or. 7694/1535
Digitisation was completed but we were aware that there was a great deal more to be learned about their care. In November we welcomed two colleagues from the National Library of China (NLC) to share ideas and knowledge with us.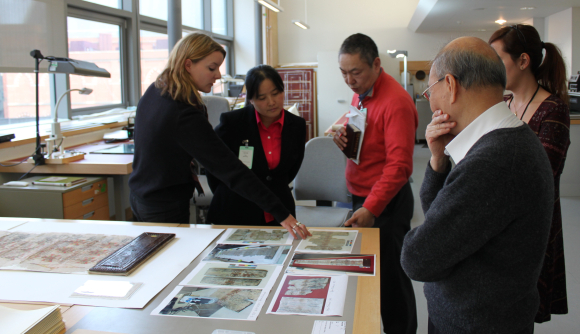 We discovered NLC hold upwards of 35,000 oracle bones. Ms Tian, Section Chief of the Document Preservation Section and Ms Xu, Exhibition Services both have extensive knowledge of these items. Perhaps unsurprisingly, the bones are considered to be some of the NLC's most significant cultural items.
A priority for British Library conservation was sharing ideas regarding appropriate storage. A prototype created by British Library conservators was debated that incorporated a Tyvek™ sling or hammock held in inert polyester foam, Plastazote™. The storage containers are bespoke to each bone and are designed to absorb vibration to prevent damage from movement. Importantly the mount does not require any adhesive or tape that may present danger of deterioration, staining or migration of the adhesive over time.
British Library Oracle Bones storage prototype.
Our NLC colleagues demonstrated a fairly similar approach. The silk covered box they brought to show us perhaps was more attractive than our prototype. The added priority for NLC was that any storage mount was also 'exhibition ready' i.e. a good enough appearance to be placed on display without further work or mounting.
National Library of China's silk covered storage box.
The greatest benefit of the collaboration was increased confidence to work with the bones. British Library conservation is now planning a storage project for the collection to provide optimum conditions for the long term. A further step will be to CT scan a small selection of the bones to discover more about their structure and condition.
Moreover, the ongoing project has given the oracle bones a higher profile in the British Library and we collectively understand their cultural significance better. It gave conservators an opportunity to share knowledge and have their ideas critiqued.
A small selection of the Oracle Bones are currently on view in the Sir John Ritblat Treasures of the British Library Gallery.

Beyond Paper: 3000 Years of Chinese Writing will be open until 17 January 2016 (photo by Tony Antoniou)
With many thanks to our British Library colleagues in the Chinese section, the National library of China and DCMS for funding the project.
Cordelia Rogerson, Head of Conservation