Before you think I have lost it, let me explain. The Duden dictionary has been the German authority on the German language. Unlike the Oxford English Dictionary the Duden's main function is to specify the correct spellings, often not giving the meanings of ordinary words, and the standard dictionary of the Duden also lacks the etymology of the OED. On Wednesday a new version of the Duden was launched; according to their web site the whole dictionary has 135,000 entries now. And this 25th edition has 5,000 new gems of German words such as 'twittern' (to use Twitter), 'Hybridauto' (hybrid car), 'Cloud-Computing' (yes, this is a German noun!).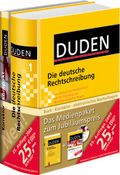 BBC News Online had a short article covering this launch, and highlighted the newly-added words: 'eine After-Show-Party', 'eine No-Go Area', 'das It Girl' and 'der Babyblues'. It also muses on the fact that a number of new words reflect the climate of the financial crisis and recession we are and have been in: 'Kreditklemme' (credit crunch), 'Konjunkturpaket' (stimulus package) and 'Abwrackprämie' (car scrappage bonus). Of course the Duden tries to cover the Zeitgeist of its time, and therefore updates its word list. There are two points which the BBC's article does not emphasise:
It's remarkable which words are loaned straight from the English (mostly words relating to technology and the showbiz) and which are not. Wouldn't it be easier to just loan the words of financial failure from the country of their origin, than make up your own? Wouldn't that deflect the own responsibility nicely to a wrongdoing in foreign parts of the world by using a foreign sounding word? Obviously this hasn't happened (see 'Kreditklemme'), and I have no answers to the above questions - if you find a scholarly study on this, please let me know.
Despite the stereotypes, many Germans like creating new words: especially, as in long compound nouns; it is almost like a party game for Germans. So the 32 letter example the BBC Online News page gives, 'Vorratsdatenspeicherung' (meaning telecommunications data retention), isn't such a surprise (note: the English term has actually more letters than the German term, if only slightly more).

So if you ask me whether I duden or not duden; of course I do – not least to check on the "German" spelling of a new word, which is loaned from the English, I have only heard and not seen written down yet. However, we Germans don't need the Duden to tell us about new offerings of words we may now use, we just have the urge to create them ourself: I just found a term for that, it's called 'Neuwortschaffungsdrangdringlichkeit' (drive-to-create-new-word-urgency; 35 letters).
[
CG
]