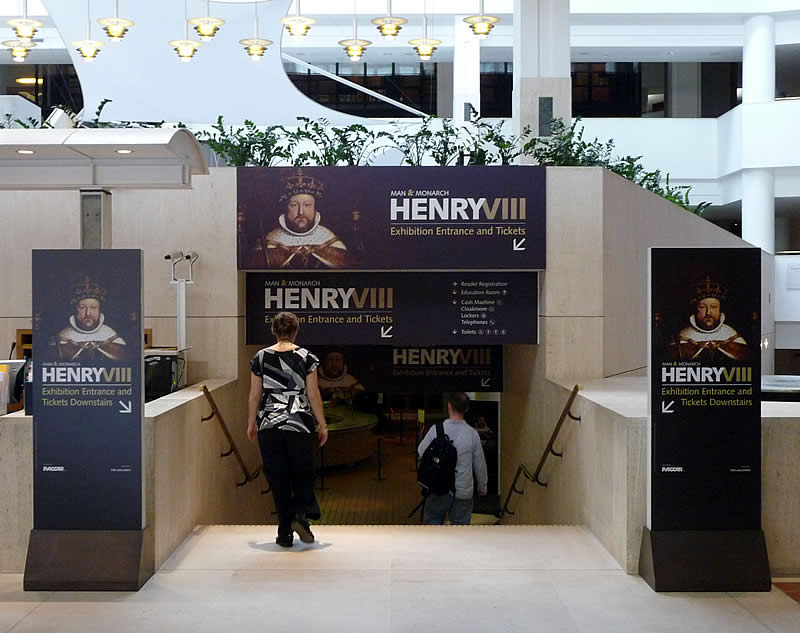 Those of you who have been to the British Library in the last couple of months, followed our events pages, or indeed looked at our home page, must have seen that we have been displaying items by and about Henry VIII in one of our galleries. This major exhibition is called: Henry VIII: Man and Monarch and is open until Sunday 6 Sep 2009.
Firstly, about love (or not): at a time when arranged marriages sound anachronistic if not outright inhumane and unacceptable for most citizens in Western countries, Anne of Cleves' marriage to Henry was maybe a bit like imagining Prince Charles being forced to wed Angela Merkel. Well, allegedly it was another German's fault that the marriage between him and Anne of Cleves didn't work: Hans Holbein's portrait of the future queen apparently gave King Henry the "wrong impression". Anyway, one can speculate that a woman in the early 16th century, coming to a foreign country and neither speaking the language, nor (as far as we know) being 'inclined to the good cheer [excessive drinking] in this country.' (British Library, Cotton MS Vitellius B xxi, fol 205, catalogue, p. 223) might not have been such an easy match for Henry VIII. If you want to be judgemental about her outer appearance, or are just curious: see Holbein's miniature portrait, either in the catalogue on p. 222, or in the exhibition (be sure to keep your eyes peeled, as it is really a very small portrait).
Anyway, even though I won't be taking the risk of being thrown in the Tower (or worse), I would say that there are always two in a relationship and Henry VIII's track record goes against him, or at least he does not seem to have tried very hard to make marriages work.
Secondly, one could think that there was an immediate connection between Martin Luther and Henry VIII through both of their anti-Catholic and reformist intentions. However, Luther's challenge to the Catholic Church and therefore the pope himself in 1517 (and subsequent activities of forming a "new church"), was met with opposition from London. Henry sided with the pope and even criticised Luther for his stance. At the time he was regarded as the Fidei defensor (see also catalogue, p. 103). Henry VIII, as Defender of the Faith (this being the Catholic Faith) put his name under a Latin reposte (Assertio septem sacramentorum adversus Martinum Lutherum, 1521; BL shelfmark 9.a.9). Luther didn't like this, and wrote a letter as a reply to Henry VIII (for excerpts from the letter: @ BL 4536.fff.16, pp. 27-28). Of course, as we now know, in the late 1520s and early 1530s Henry wasn't so keen on defending a pope any more, a pope who wouldn't agree to annul another marriage. Henry VIII tried to obtain some kind of spiritual approval from Luther, but over many years the German reformer did not agree to the Head of the Anglican Church's perspectives.
So Henry VIII and Germany seems to have been an unsucessful combination in many ways. All this shouldn't stop you from seeing the exhibition, or if you can't manage that, buying the exhibition catalogue which is very informative and illustrative, yet accessible. Oh, a final note: timed tickets; please click here to book a ticket now.
[CG]