Oh, you think, we are back to these Discoveries entries, and the next thing he is going to say is that he found this book by accident whilst looking for something else, and it will be a book to do with the dark past of the country he was born in. Okay, this one is actually different:

It's about a Brit who moved to Switzerland, giving us insights about living there.
I did actually search for "England" and "Schweiz" (Switzerland) to find publications in our collection on the theme of "England seen through the eyes of others", and after Switzerland, I might actually search for examples from Austria and Germany, but we'll see.
The title of this post's discovery is:

Langford, Reginald Augustus. England-Schweiz unentschieden. Wie ein Brite die Eidgenossen kennenlernte. Vignetten von Hans Fischer. (Zürich, [1957].) 10196.g.30.
Before I get carried away about the slightly humorous drawings by Hans Fischer (1909-1958), I should probably briefly translate the title of this book: England versus Switzerland, A Draw.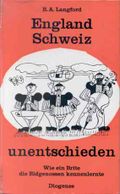 RA Langford's book touches, of course, on topics which are specifically Swiss, but there is a nice little story in this book, which is supposedly part of the Swiss male's characteristic. Now all worries about stereotypes aside, I could well imagine a German or an English man behaving in this way too; it is relatively amusing. Langford describes the scene for this story and recalls the dialogue below: imagine a young, female English teacher, and her new male pupil who wants to have conversation classes.
Teacher (in an encouraging and inviting way): Would you like to tell me about your work?
Student (not very keen): My work isn't very interesting – every day it's the same...
Teacher: That doesn't matter, just tell me something about it.
Student: Well, actually there isn't much to tell you.
Teacher: Yes, but what are you doing for a living? Business correspondence? Or accounting?
Student: Actually a bit of everything.
Teacher (trying not to lose her friendly and encouraging demeanour): What are your hobbies?
Student: Actually not many. [note: this doesn't make direct sense in German either]
Teacher: Are you a member of a local club or an association?
Student: No.
Teacher: Do you ski?
Student: No. […]
Ten minutes later, following a similar pattern…
Teacher: Are you interested in books? Student: Not really. No time to read.
Teacher: Maybe we should read something together now?
Student: Alright, if you wish. But actually I came to make conversation.
(@ BL 10196.g.30, pp. 69-70)
[
CG
]