On Wednesday it was Epiphany and although Twelfth Night used to be the grand climax of our Christmas celebrations, Epiphany isn't a big deal in Britain these days. It's mostly associated with the end of Christmas and taking down the decorations, and the connection with the Three Kings – or Wise Men, or Magi – of the Bible isn't necessarily well remembered. After all, given the presence of the Kings in Christmas carols, nativity plays and images on Christmas cards, and their association with the present-giving of Christmas day, it's easy to forget that the Bible story has them turning up some days after the birth of Jesus.
Old Epiphany traditions are also dying out in modern DACH, but the day remains a public holiday in three German states – Bavaria, Baden-Württemberg and Saxony-Anhalt – and the tradition of 'Sternsinger' is carried on to raise money for children's charities. Might this apparently greater awareness be due to the Three Kings' German connection?
Whatever the British remember about the Three Kings, we're unlikely to associate them with Germany. But in the middle ages many people would have done so since the shrine of the Three Kings in Cologne was one of mediaeval Europe's top pilgrimage destinations.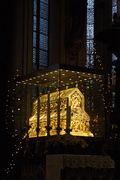 Photo by Frank Kehren
[Some rights reserved]







An odd place for the 'Three Kings of Orient' to end up, but it's a typically murky mediaeval relics story. According to legend the indefatigable relic-finder Empress Helena unearthed the Kings' remains in 'the Land of Ind' and brought them to Constantinople, whence they were later moved to Milan, and then given to (or taken by) the Holy Roman Emperor Frederick I (Barbarossa). who sent them to Cologne, where they have been ever since.
The story is told, along with various other legends of the Magi, in the Historia Trium Regum ascribed to the cleric Joannes of Hildesheim, and as a nod to the season, I decided to see what editions we hold of this work, and to try and tidy the catalogue records for our incunable editions of it (BL pressmarks: IB.4229 & IB.4230) We have the first Latin edition (G.11768), printed appropriately enough in Cologne in 1477 (was the printer cashing in on the pilgrim market, I wonder), and the first printed English translation of 1499 (BL pressmark: IA.55217). However we don't have the first German edition, printed in 1482.
There appear to have been few if any German translations at all between then and the first scholarly translations in the 19th century, so perhaps the Germans themselves were already less attentive to the Three Kings than they had been in the middle ages. But they retained the bones of Caspar, Melchior and Balthazar in their magnificent shrine at Cologne.
[SR]